Create a free account to unlock this article!
Get Started
Already a subscriber? Log In
In an exciting closing last lap, Drew Hunter became the new high school record-holder in the indoor mile with a time of 3:58.25 Saturday at the Armory Track Invitational in New York City.
"I didn't really expect to run under four, I'm just getting things going...but I'm in really good shape and I want to run faster now," Hunter said following his mile race.
Hunter's performance smashed the previous high school record set by Alan Webb (3:59.86) in 2001, which was also run at the Armory. Prior to Hunter's performance this weekend, Webb expressed his confidence in the high school phenom via Twitter Feb. 2 when he wrote, "He is better! And will run sub4 indoor."
Webb's prediction proved true on Saturday as the future Oregon Duck continued to break barriers on the track.
Loudoun Valley's Drew Hunter rewrites the record books again with 3:58.25 mile!!! pic.twitter.com/praXTjHYFc

— The Armory (@ArmoryNYC) February 6, 2016
Congratulations @drewhunter00 on your first of many sub4 miles. This is next great moment in track and field.

— Alan Webb (@alan_webb1) February 6, 2016
The Virginia native put himself in contention for a fast time from the beginning of the race by following in the back of the professional field of experienced veterans. Chris O'Hare commanded the lead, and brought the pace at 1:58.5 for Hunter's first 800m. The British athlete claimed the victory in a winning time of 3:54.59, and was followed by Sam Penzenstadler in 3:57.29, Daniel Winn (3:57.36), Morgan McDonald (3:57.83), Cristian Soratos (3:57.98), Craig Forys (3:58.02), and finally Drew Hunter for seventh overall in 3:58.25.
Following his victory, O'Hare looked behind him to see if Hunter had crossed the line under the four-minute mark. He joined Hunter who was standing anxiously at the finish, looking at the results screen, waiting to see if his performance dipped under the barrier.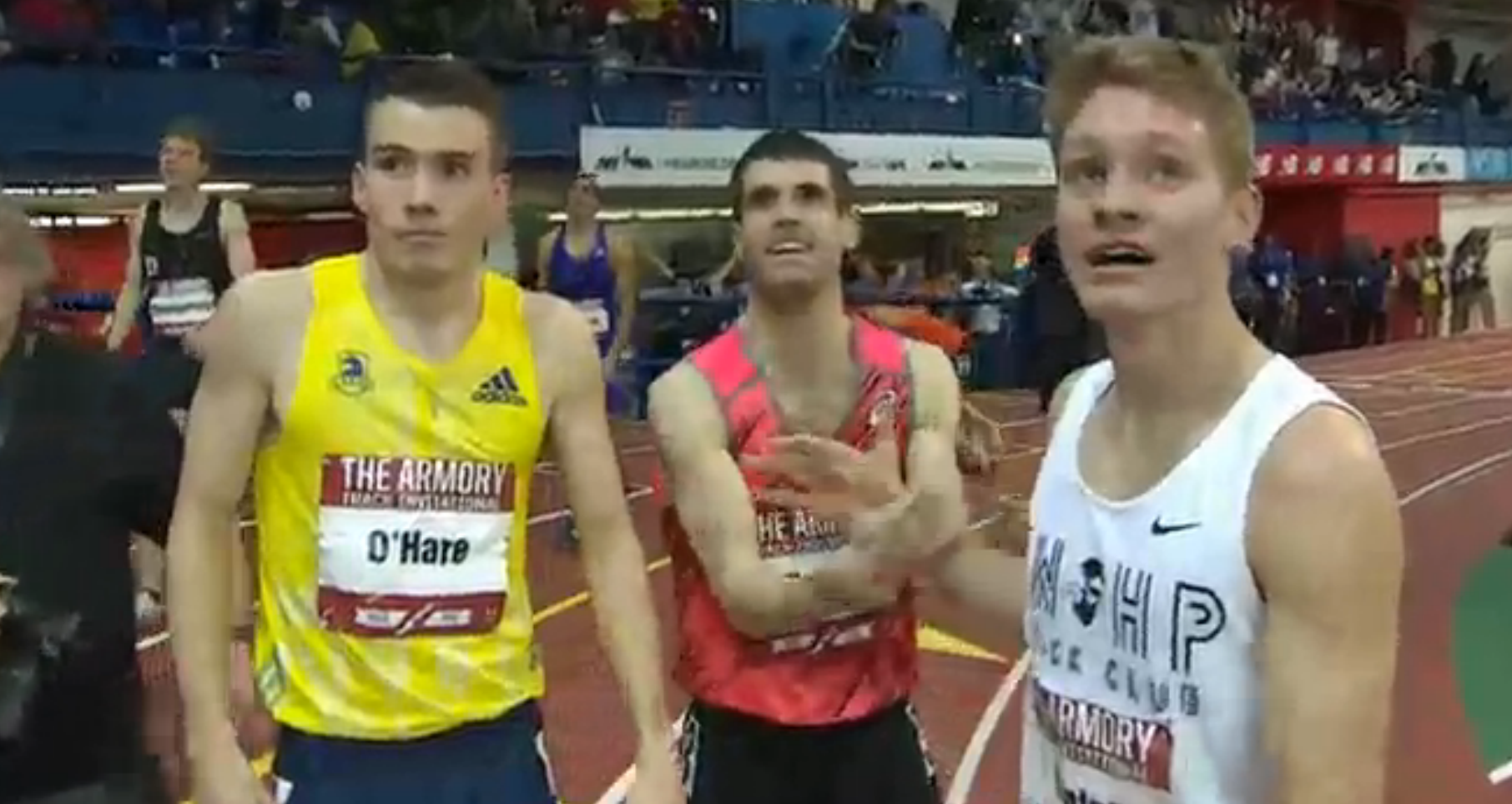 The official results finally appeared on the screen, and showed that Hunter not only smashed the four-minute mile barrier, but crushed the previous high school record held by Webb for 15 years.
The performance on Saturday was just an extension of Hunter's historic 2016 indoor campaign.
Just a week ago, the senior smashed the American high school record in the 3K at the Camel City Invitational,
where he ran 7:59, which is the fastest 3K ever run by a high schooler indoors or outdoors
. The performance bettered German Fernandez's previous all-time 3K record by 0.50-seconds.
The 2015 Foot Locker Champion's mile performance allows him to join a short list of high school athletes who have accomplished the feat. In 2015, track fans watched both Grant Fisher and Matthew Maton break four minutes in their senior seasons. With Hunter's indoor mile, he becomes the eighth high schooler ever to break the barrier.
The Elite 8:
3:53.43 Webb
3:55.30 Ryun
3:58.25 Hunter
3:59.38 Fisher
3:59.38 Maton
3:59.40 Danielson
3:59.71 Verzbicas
3:59.80 Liquori

— FloTrack (@FloTrack) February 6, 2016
If Hunter was currently running in the NCAA for the Oregon Ducks, his mile mark would place him ninth on the 2016 indoor qualifying list.