World's Fastest Stoner, Chris Barnicle, Talks After Trials DFL
World's Fastest Stoner, Chris Barnicle, Talks After Trials DFL
Chris Barnicle was, in another life, an excellent runner. In high school, he ran 8:50 for two miles (in 2004, when that was much faster than it is now); in
Feb 18, 2016
by Dennis Young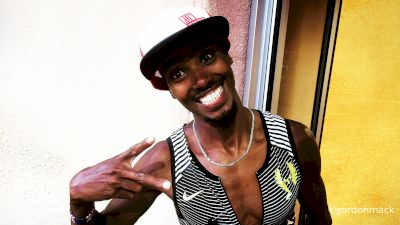 Chris Barnicle was, in another life,
an excellent runner
. In high school, he ran 8:50 for two miles (in 2004, when that was much faster than it is now); in college, he was an All-American for Arkansas and New Mexico, running 28:10 for 10K in the same race where Chris Solinsky ran
26:59
[which he refers to as the
easiest race of his life
]. As late as 2013, he was still fast enough to break sixty-five minutes for the half marathon and qualify for the Olympic Trials.
His fitness has declined precipitously since then. Barnicle calls himself the
world's fastest stoner
, and last week, he ran 3:45:34 for last place at the Olympic Trials--slower than the last place woman this year and the slowest men's or women's time since at least 2000. We caught up with him a few days after the Trials.
Is it true that you submitted PBR for your fluid stations at the Olympic Trials?

No. It's funny that--I read the Letsrun message boards, it's a guilty pleasure of mine, sometimes I even post under crazy aliases, though never about me and always just to fuck with people. I did not submit PBR at my fluid stations. I don't know where that rumor came from, but it's something that only the brilliant guys behind the keypads on message boards could come up with.
Did you submit anything to your fluid stations?

No, I didn't, which is kind of unfortunate, because I definitely, definitely really fucking needed fluids out there.
Yeah, I was going to say, it looked like a tough day.

Yeah, it was a tough day, but at the same time, it was a really, really special day. I was so dead out there. There were medics coming by and asking me if I needed to drop off--I feel like they were almost suggesting that I do it--but for me, I had to do it. I've dropped out of some races before, and I know there's no worse feeling in the world. So I really wanted to push myself to the finish line. When I finally got there, after all the cramps, after falling down at mile 22, it was well worth it.
You fell down at mile 22?

It could have been 21 or 23, I was kind of a little bit out of it.
But yeah, I kept getting these crazy little muscle cramps in my calves because I was so dehydrated. It had been switching back and forth between my calves and then the cramps hit both of my calves at the same time and I fell to the ground for maybe a minute. Some spectators ran over and tried to give me bananas, but I couldn't accept them because of USATF rules. Someone swung by, like a medic, and gave me some electrolyte pills, some Powerade, and some Clif shots. Those got me back on my feet and I was able to hobble to the finish.
@chrisbarnicle was the toughest guy on the course today! #NoShitsGiven #WorldsFastest Stoner #PocketTee pic.twitter.com/iooX4XykkV

— Dillon Gracey (@Scooter_Gracey) February 13, 2016
Did you eat any edible marijuana the morning of the Trials?

[Long pause]
No comment.
I worked really hard to make it to the finish line and to get my name in the results. I would hate for USATF to be able to change that to a DQ.
Have you seen any people giving you shit for running the Trials and finishing so far behind?

Yeah, of course. When I was out there, there was a guy that screamed "HEY, REMEMBER, THIS IS THE OLYMPIC TRIALS!" at me, and that was right when I really started to hurt. To him, and to anyone on Letsrun that's saying that type of thing, they need to go run more.
They need to train more. Honestly, that 1:05 standard [you can qualify for the OT marathon with a 1:05:00 half marathon] is pretty easy to obtain. So they can go get their Trials standard and train for it. I trained for it, I got my qualifier, that's why I was here on the starting line.
Going into the Trials, how fast did you think you were going to run?

That's a good question. I had one little tempo run where I ran ten miles in sixty-five minutes and felt pretty comfortable, that was a few weeks out. I did a three hour long run, no distance on that, just three hours, and I did a twenty miler that was pretty easy. So my thought going into the race was that I was going to run comfortably off the back and I'll slowly pick people off.
As I got three or four miles in, it didn't look like that was going to happen. I kept thinking there'd be people that were dying. But it was me that was dying. I was just trying to finish.
Do you wish you prepared a little bit better?

Oh, of course. I kind of feel like my body--the soleus injury that I've been dealing with flares up--every time I'd get a good workout in, it'd come back a little bit harder. I'd put in maybe a week worth of training, and then it'd come back. It's really been lingering. If I didn't have that, and I was able to train through it…I had one week that was a seventy mile week, and I wish I could have had five or six of those. But instead, I was running two or three days a week.
Do you feel like this was a success? Like, do you think that by finishing so far behind you were maybe a bad advertisement for marijuana and running high?

I really don't feel one way or another about what my race says about marijuana and running. The one thing that I can say for sure is that when I don't have THC in my brain, I can get very anxious, and very worried.
I've been in really big races before, and I would just panic, and that would lead me to do something really stupid. The best example I can give is my last collegiate race [
2010 NCAA Outdoor 10K
], I was ranked second going in behind Sam Chelanga. Right at the start, someone stepped on the heel of my spike, and my shoe went underneath my heel.
I ran like that for six kilometers, just because, you know, your brain's going crazy with so much adrenaline. I look back on that race so much and I think what could have happened if I relaxed, stopped, and tied my shoe. I could've finished the race at the very least, and maybe even gotten an All-American finish, which would've meant a lot to me.
I think the thing with marijuana--at the time, I wasn't smoking that much because I was maybe overly focused on running, which can create this OCD effect, in me at least. And I feel like cannabis gives me a balance in life, which is something that is necessary.
CLICK HERE FOR PART 2 OF OUR Q&A WITH CHRIS BARNICLE
Update
: we caught up with Barnicle again a year later after a 2:00 800m in Boston. Watch that interview below.