Chris Barnicle Q&A Part 2
Chris Barnicle Q&A Part 2
This is part 2 of our Q&A with Chris Barnicle, former stud runner and present-day self-proclaimed "world's fastest stoner." Last weekend, Chris finished las
Feb 18, 2016
by Dennis Young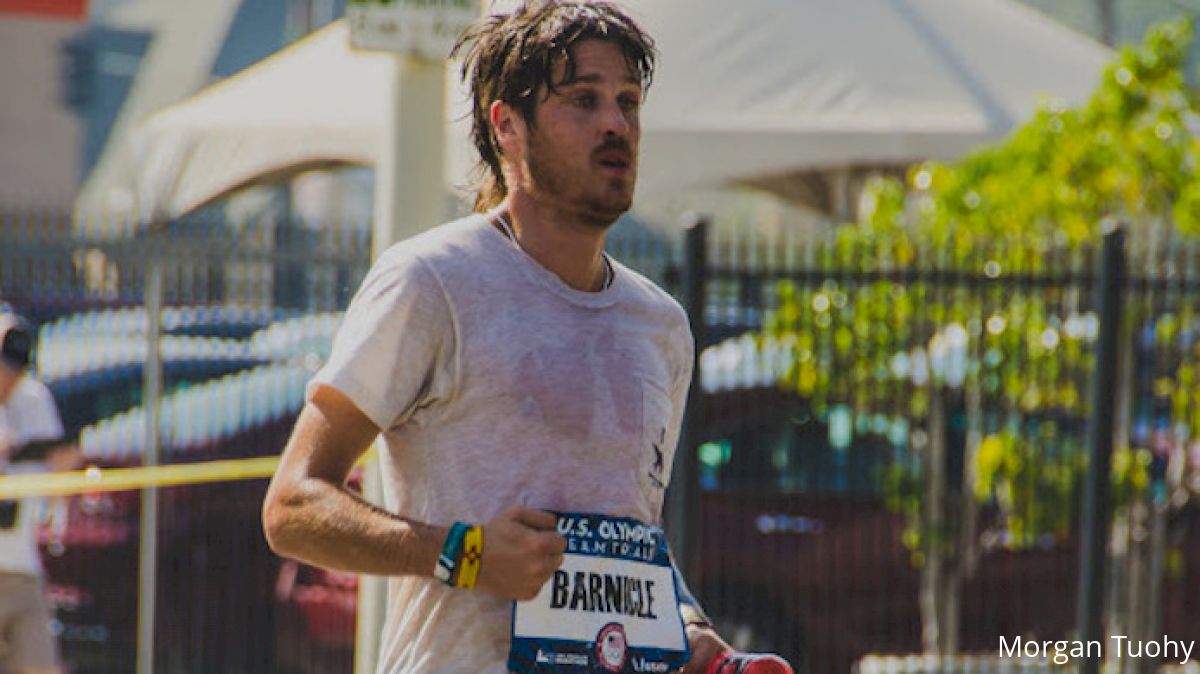 This is part 2 of our Q&A with Chris Barnicle, former stud runner and present-day
self-proclaimed
"world's fastest stoner." Last weekend, Chris finished last in the Olympic Marathon Trials by quite a bit;
part 1 of the interview
mostly focuses on that race.


So, even though you think marijuana could be performance enhancing, you don't think athletes should be tested for marijuana?


I can go devil's advocate on either side of whether marijuana should be banned. It is performance enhancing—to me, at least—in the way that caffeine is. It decreases your anxiety, it can give you more focus, gives you a little bit more of this crazy drive that we need as runners to push ourselves to that extreme edge.
That's what I get from cannabis. I don't know if everybody gets that. A lot of people say to me, "I don't know how you run a marathon or train stoned," but it can be beneficial.
Are we gonna restrict coffee? We can't have Starbucks cups at races anymore?
It's coming from the earth. And it's legal in some states! So these kids at the University of Colorado--they can't smoke marijuana while all their peers can?
I know firsthand that alcohol can be a lot more impactful in making bad decisions than cannabis can. That's something to think about when you have student-athletes. All of them need to loosen up at the end of the day. Well, not all of them, but a lot of them. If you give a kid a six-pack of beer, that could go a lot of ways, but if you give a kid a joint, he's probably just going to hang out at home.
Do you think other "performance-enhancing" drugs should be banned, then?


Of course, of course. EPO was invented is for people who are sick and dying. What's the name of the Kenyan female marathoner who got busted?
Rita Jeptoo.


She wasn't dying, she didn't need a doctor to prescribe her EPO. That's a completely different drug that's only performance-enhancing. There are many other sides to marijuana besides the altering effect it has on your mind, which may or may not be performance enhancing.
Is your competitive running career done with? Or are you going to try to make another Trials?


It's really hard to say. I've been trying to put together training for this marathon, and it was never really consistent. I only had about six weeks to do it anyhoo.
Even before the marathon [buildup], I still would run three times a week, anywhere from four to ten miles. And there was something in my spirit that was like, "I love to run." It's freeing, it's meditative, and at the same time it can be very competitive. And I like that. I like putting all of what I built against somebody else, and testing ourselves together on the track. It's a lot of fun.
Frankly, since walking away from the sport of running, I've lived a very different life. Quite often—like this weekend—I really feel like I miss the sport of track & field.
So, if you figure out your injuries and your Crohn's, would you think about making a comeback?


There was a guy I was coaching last fall who kind of got in my head about doing marathons. I was trying to get him an Olympic Trials qualifier. And he was insisting, "hey, you live in LA, there are so many little races where you could go make three, five hundred bucks."
Yeah, if I could put it together and get healthy, I'd love to.
I've read that you had a group of guys on the Arkansas team that you would smoke with, and you had to really rigorously avoid testing positive. How did you avoid testing positive in college?


We used to do what we'd call "great escapes." There were a couple times where me and the buddies that I smoked with would walk into practice on a Tuesday morning and an assistant coach would walk up to us like, "You've got a drug test tomorrow morning, Barnicle."
It wouldn't be an NCAA drug test, it'd be a school test where they'd actually test for THC out of competition. [WADA and USADA only ban marijuana in-competition]
I think I have the record among our buddies of passing the test in the tightest window after smoking, which was like thirty-six hours. What I did to my body in those thirty-six hours was probably one of the unhealthiest things I've ever done. I ran probably about twenty-four miles. I was in the sauna the whole time between classes, I was drinking too much water and too much orange juice. That was the first time ever that I drank coffee. One of my smoking buddies suggested that I use coffee as a diuretic, so I drank a coffee with three espresso shots.
So of course I was cracked out. That's when I did my twelve miler that evening, it was miserable. I had that test a couple days after the SEC championships indoors where I qualified for the indoor NCAA 5K. I ran the SEC 5K on Sunday night, we won the meet, I ended up having the best weekend of racing of my college career.My smoking buddies, we went and we celebrated. And the next morning, we walked in for our 7:00 AM morning run and there's the assistant coach who says that I have a drug test the following morning at 6:00. That's when the fasting began.
What was dynamic between you and your smoking buddies and the rest of your college team?

That's something that I look back at and laugh at. I'm sure they all knew, or at least had their suspicions. We were all goofballs, but at the same time, we were all secretive about our use. We didn't try to bring in new people to smoke with because we were paranoid about someone telling one of the coaches or whatever. And it's always easy for something to sneak out.
It was unique that we had that relationship, because it brought us all together. But at the same time, the constant worrying and the constant paranoia made for a less enjoyable high.
Do you feel like marijuana has been a net positive or a net negative in your running career?


This something that all of [the track internet] needs to read over. A lot of runners—and me personally—get overly focused and maybe even a little bit obsessive compulsive. I can go back to times when I wasn't smoking too much. I remember my sophomore year, I kind of had my own little bit of anorexia. I was so focused.
That's also when I first got diagnosed with Crohn's disease. I was 6-1, maybe 138 pounds, and I'm not a Kenyan style runner. I got big stocky calves, so the rest of my body frame didn't look healthy. I was sick. My whole body was just falling apart. And at the same time, my mental state was completely depressed. I had this apathy towards everything.
I feel like cannabis got me to open up and get out of that bubble.
You're not selling edible marijuana any more, right?


Yeah, I had a business called Zip Organics with my Arkansas teammates Daniel Lacava and Mickey Cobrin. We got into a couple shops when I first moved to LA, and we kind of had a little bit of a supply problem.
Dan ended up taking a real job, and Mickey and I started distributing purely flower. That's something that's a little more immediate. Today, I'm going to a new account and I'm probably going to be able to sell them three pounds almost on the spot.
What was the supply problem?

When I finished running, I moved straight to Humboldt County and had a really good plug. Then we had one guy up there, but he was kind of a flake; then we had a guy down in Oakland for a little bit, but he flaked on us. So then I moved down here to LA where I started supplying for these Koreans, who kind of have an endless supply of flower, and I worked for them for a little bit. Now I'm working for an official distribution company that follows all the 2018 regulations.
It's all medical. Everything that I do out here is within compliance with the law.