Create a free account to unlock this article!
Get Started
Already a subscriber? Log In
The Arcadia Invitational produces the best high school competition in the regular outdoor track and field season. And though it gains national attention for it's premier 3200m races (
See last year's in-depth preview
), this weekend we saw some of the country's top high school marks across the board. There were so many jaw dropping performances, but we had to lay out the best of the best.
Say Hello to the Future of Track and Field

Have you heard of Michael Norman, Noah Lyles and Josephus Lyles? Well get used to their names. This trio of seniors, Norman hailing from Vista Murrieta HS in California and the Lyles brothers from T.C. Williams in Virginia, dominated the sprint events at Arcadia and will go on to powerhouses USC (Norman) and Florida (Lyles brothers) next year.
Noah won the 100m in 10.17 (+1.2, tied for the eighth best performance in prep history) and the 200m in 20.48 (+0.0). Though his PBs from 2015 are faster (10.14, 20.18) and he faced virtually no competition, his Saturday performance at Arcadia marked his fastest season opener ever in both events. For reference, he didn't come close to those times until June last year! June!!
20.4 and 10.17 this is ganna be a great year

— Noah Lyles (@LylesNoah) April 10, 2016
His brother, Josephus, won two medals at the World Youth Championships last summer and ran 45.46 as a junior. But it was Norman's night in the 400m as he took the contest (their first head-to-head competition ever!) in 45.51 over Lyles' 45.94. Two high schoolers under 46-seconds for a non National championship competition is insane. Though Josephus didn't get the victory, he did not break 46 seconds until June last year, while Norman ran faster than his 2015 Arcadia victory (45.91) likely due to the elevated competition with the Lyles brothers flying over from Virginia.
Even if we don't see these young men race again in high school competition, Noah and Michael are already qualified for this summer's Olympic Trials. Josephus still needs to run under 45.40 or 20.50, which with nearly three full months until July, we don't think that will be a problem.
Sophomore Girls Dominate 3200m, NXN Champ Reigns Over Deep Field
Rylee Bowen stunned the loaded girl's 3200m field by winning in 10:13.20, but she had to hold off another sophomore, Annie Hill, over the final stretch to do so. Hill, a sophomore from Kalispell, Montana, finished in 10:14.14.
Bowen ran four seconds slower than last year's winning 3200m time (Dani Jones' blistering 10:09!), but the victory marks a massive breakthrough for the Sonoma Academy sophomore. She took down high profile Stanford commits Hannah DeBalsi and Fiona O'Keeffe, who took out the opening 1600m of the race in 5:06.
VIEW ARCADIA INVITE RESULTS

Bowen and Hill both shaved 16 and 17 seconds off their personal bests, further proving that the Arcadia 3200m is magical.
11 boys broke 9:00 led by 2015 NXN Champion Casey Clinger's 8:50.70 victory.
Clinger split 4:32 for the opening 1600m and followed back with a 4:16 second half. The American Fork junior close in 62 seconds and beat out other top preps Jon Davis (second, 8:51.17), Ben Veatch (fifth, 8:54.06), Eduardo Herrera (seventh, 8:55.01) and Garek Bielaczyc (14th, 9:00.60) in the process. With now two high profile victories to his name, Clinger will no doubt be the most sought-after recruit for the class of 2017.
NXN Champ Casey Clinger closes Arcadia 3200 with 62s final lap 2 lead 8 guys under 9min in US #1 8:50.7! @afhsevents pic.twitter.com/ozfV7lw2m7

— MileSplit US (@milesplit) April 10, 2016
Austin Tamagno Bounces Back with 1:50.93 800m Victory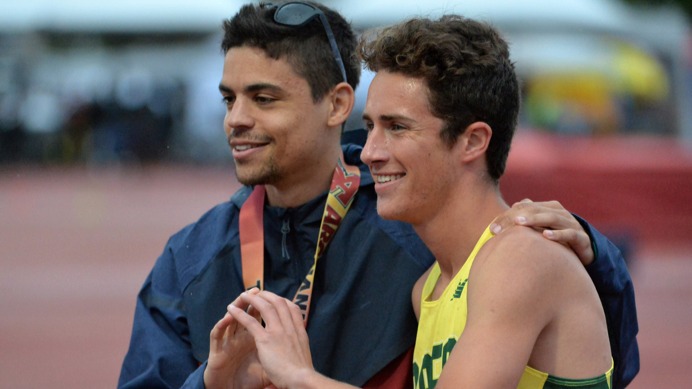 When Austin Tamagno ran 4:04.83 for the mile two weeks ago, it was overshadowed by the fact that he lost to fellow California prep senior Connor Dunne. When Tamagno, an Oregon commit, was hyped to win NXN this fall, he finished a disappointing 26th. Well, folks, Tamagno's Arcadia performance should be an indication that his final prep season at Brea Olinda will be his best.
The senior shaved over a full second off his personal best to win the 800m in 1:50.93, just .4 behind Dunne's U.S. #2 mark set at last week's Stanford Invitational. If anything, Tamagno's times this spring are an indication that he's rounding into form at the right time. For someone who has run 1:50, 4:04 and 8:54 for 3200m, Tamagno will be a huge threat when championship season begins.