NCAA Champion Mason Ferlic Signs With Aurum Sports Group
NCAA Champion Mason Ferlic Signs With Aurum Sports Group
Days after the elation of winning this year's NCAA steeplechase title, Mason Ferlic signed with athlete management agency Aurum Sports Group. He will be rep
Jun 15, 2016
by Taylor Dutch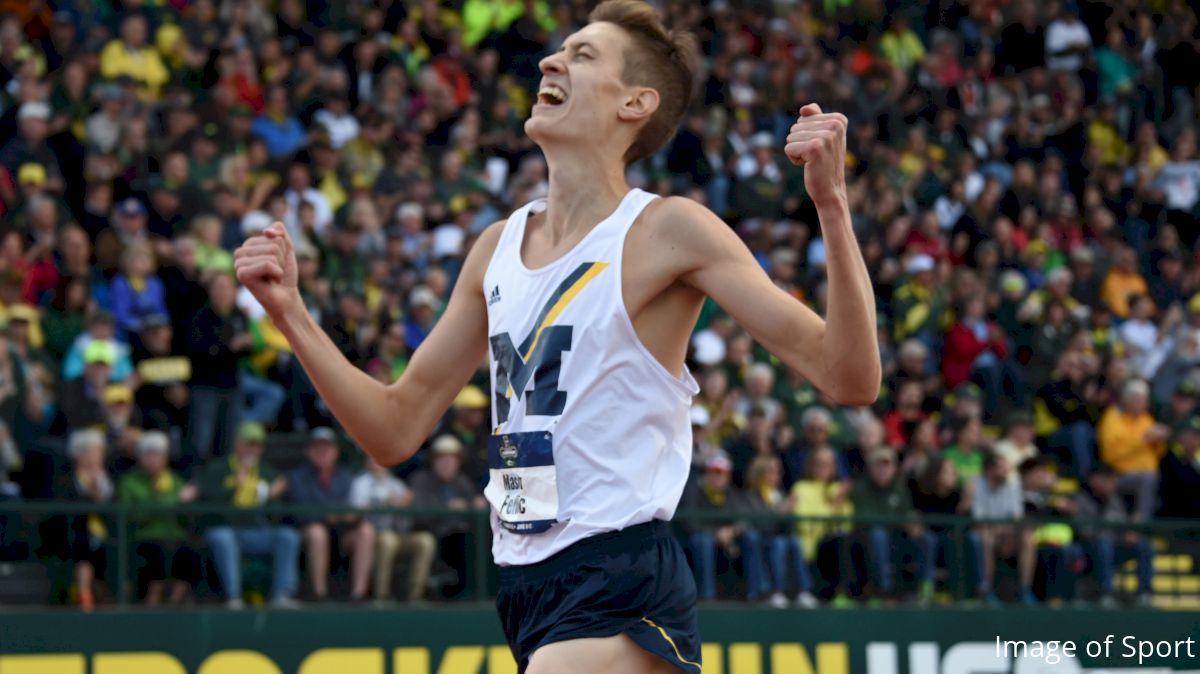 Days after the elation of winning this year's NCAA steeplechase title, Mason Ferlic signed with athlete management agency
Aurum Sports Group
. He will be represented by Dan Lilot.
"He [Lilot] has a great long-term vision for my career," Ferlic told FloTrack in a phone interview on Wednesday. "He's incredibly stats-driven, and as an engineer myself, that really resonates with me."
Ferlic is joining an agency that represents world, Olympic, and national finalists such as Kara Goucher, Dathan Ritzenhein, Chris Derrick, Mo Ahmed, Garrett Heath, Katie Mackey, and Jen Rhines, among many others.
A year after suffering a devastating fall in the NCAA Championship final, Ferlic won a title in the steeplechase on Friday in Eugene, Oregon. He led from the gun and set a blistering pace to distance himself from the field. Ferlic ran solo the rest of the way, and claimed the victory in a new personal best of 8:27.16—three seconds ahead of runner-up Frankline Tonui of Arkansas, and significantly below the Olympic standard.
"It was an exciting moment, and it honestly took a long time to sink in," Ferlic said. "It actually didn't sink in until after I got out of Eugene, and then finally I thought, 'That was crazy!' It's pretty cool to say that I'm the best in the NCAA at jumping over things."
In his senior year, Ferlic led the Wolverines to a ninth-place team finish at the NCAA Cross Country Championships, scored 20 points at the Big Ten Conference Championship with victories in the steeplechase and 5K, and earned his fifth career All-American honor with an NCAA title.
Watch the trailer for the "INSIDE: Michigan" two-part series:

With his eyes now on the U.S. Olympic Trials, Ferlic is weighing the options of a running career, including whether he should continue to train under his current coach—three-time Canadian Olympian, Kevin Sullivan—or join a professional group of steeplechase talent.
He told FloTrack that he hopes to decide on a sponsor and a training plan before the Trials. His personal best currently ranks eighth among the American competition in 2016.
"I'm the fittest I've ever been, I'm the strongest I've ever been. I went out there solo and ran 66s [laps] and I think with people around me, I could run 65s,"
Ferlic said after his race in Eugene.

"I think I can run 8:15 or faster."