2016 U.S. Olympic Team Trials
3 Protests Put Craig Engels Into 800m Final, Left Shaq Walker Out
3 Protests Put Craig Engels Into 800m Final, Left Shaq Walker Out
EUGENE, Ore. — A collision, two protests, and an appeal led to a nine-man 800m final at the U.S. Olympic Team Trials. Craig Engels and Shaquille Walker were
Jul 4, 2016
by Taylor Dutch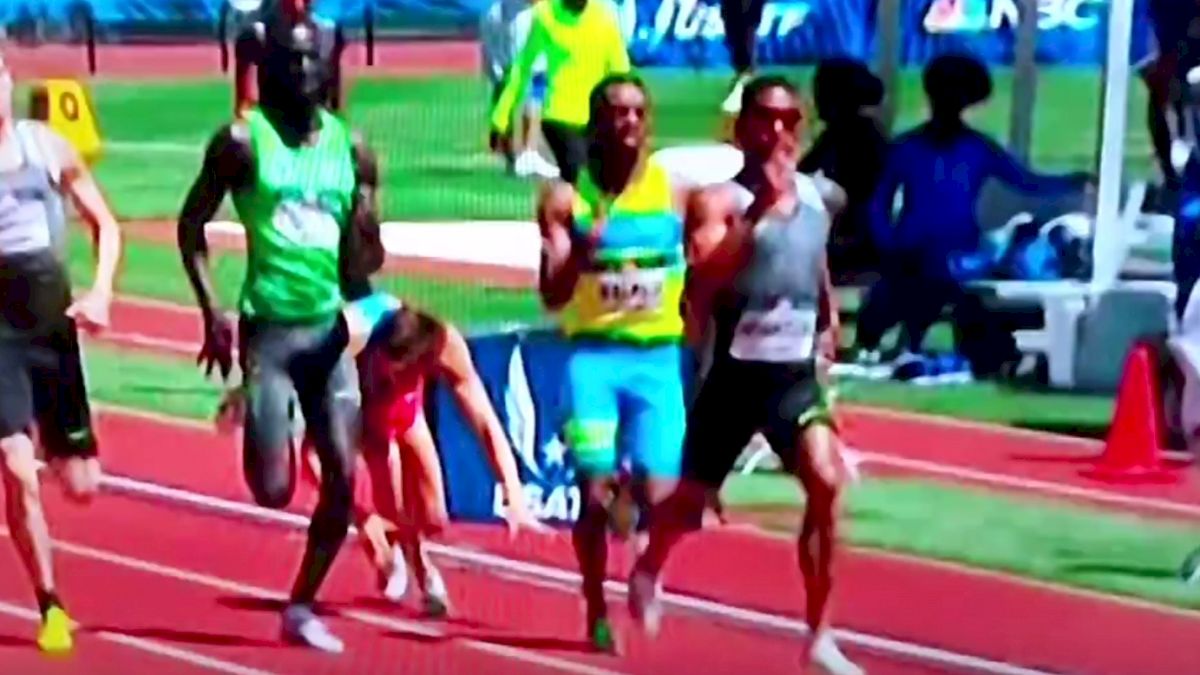 EUGENE, Ore. — A collision, two protests, and an appeal led to a nine-man 800m final at the U.S. Olympic Team Trials. Craig Engels and Shaquille Walker were the subject of a dispute in the second heat of the 800m semi-final where the two runners collided and finished sixth and fourth, respectively. A frenzy of protests from both parties ultimately resulted in Engels being allowed to advance to the final, leaving Walker out of contention for the next round.
Walker posted a video of the race on his Twitter page, which replays the final moments of the semi-final.
Walker was in second-place behind race leader Brandon Johnson coming into the final turn of the homestretch. Johnson had the inside of lane one heading into the final 100m while Walker ran behind him on the edge of lane one. Charles Jock was running on the inside of lane two in third-place while Clayton Murphy had the middle of lane two in fifth-place. Meanwhile, Engels was running behind Walker on the inside of lane one in fourth-place.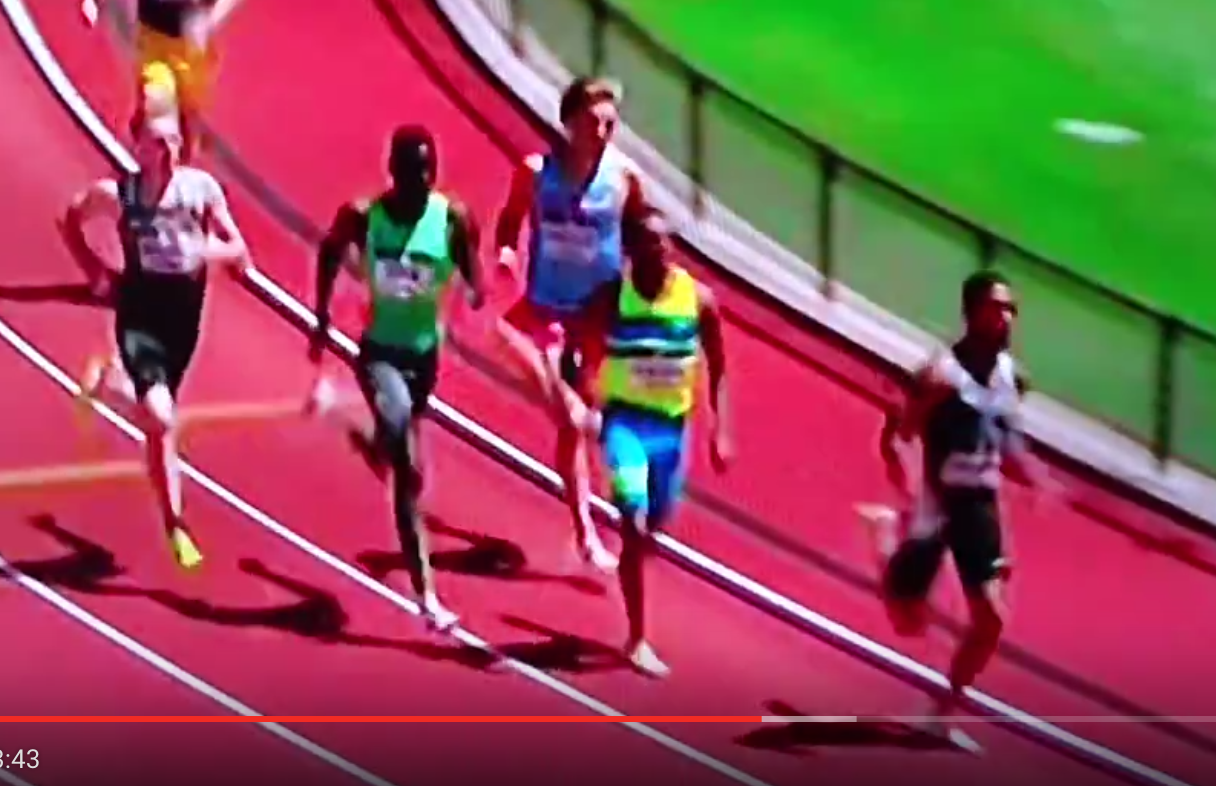 With roughly 90m remaining, Johnson moved to the edge of lane one, creating an opening on the inside rail. Walker responded by attempting to move to the left side of Johnson. As he moved closer to the rail, Engels ran into Walker and clipped his heels. Engels fell to the ground and finished sixth overall in 1:55.40 while Walker finished fourth overall in 1:47.93, behind Murphy, Johnson, and Jock.
The
USATF competition rules
state:
"Any competitor or participant jostling, running across, or obstructing another competitor or participant so as to impede his or her progress shall be liable to disqualification in that event. The Referee shall have the authority to order the race to be re-held, excluding the disqualified competitor or, in the case of a heat, to permit any competitor(s) seriously affected by jostling or obstruction (other than the disqualified competitor) to compete in a subsequent round of the race. Normally, such an athlete should have completed the event with bona fide effort. Regardless of whether there has been a disqualification, the Referee, in exceptional circumstances, shall also have the authority to advance a competitor seriously affected by jostling or obstruction or to order the race to be re-held if it is just and reasonable to do so."
Walker, a Brooks Beast, and his BYU coach Ed Eyestone filed a protest at 12:10 p.m. PT which claimed, "Shaquille was jostled and obstructed as he neared the finish line. He was in 3rd when tripped from behind, causing him to immediately stumble and lose his third position, completely losing momentum and finishing 4th. We want Shaquille advanced to the final."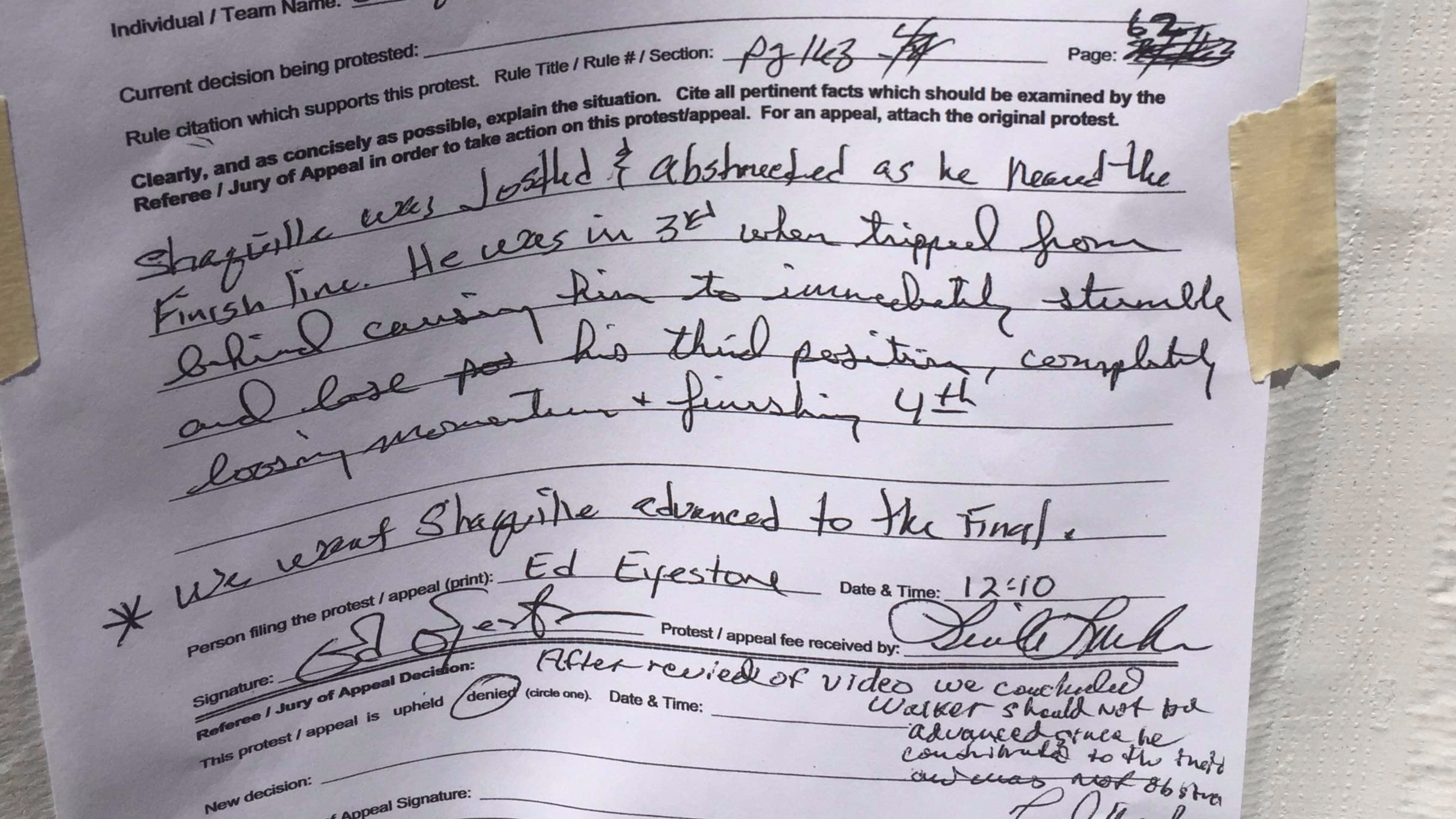 A USATF referee reviewed the protest and denied the claim after reviewing video of the race. Initially, Walker was also disqualified from the race.
Engels, an All American at Ole Miss, and his coach Ryan Vanhoy filed a protest at 12:35 p.m. PT. Vanhoy is the coach of the distance program at Ole Miss and works under head coach
Connie Price-Smith, who was also named head coach of the women's track team headed to the 2016 Olympic Games
.
"In the final 50m, Craig Engels was impeded by athlete Shaquille Walker, hip 4. Walker stepped to the inside of lane 1 as Engels was passing him on the inside through a clear lane 1 and obstructed him, impeding his progress and causing Engels to fall. We request that Walker be disqualified, and request that Engels be advanced to the final," Vanhoy wrote.
Engels' protest was reviewed by the USATF referee who upheld the protest and wrote, "After review of video we are advancing Engels to final due to impedance."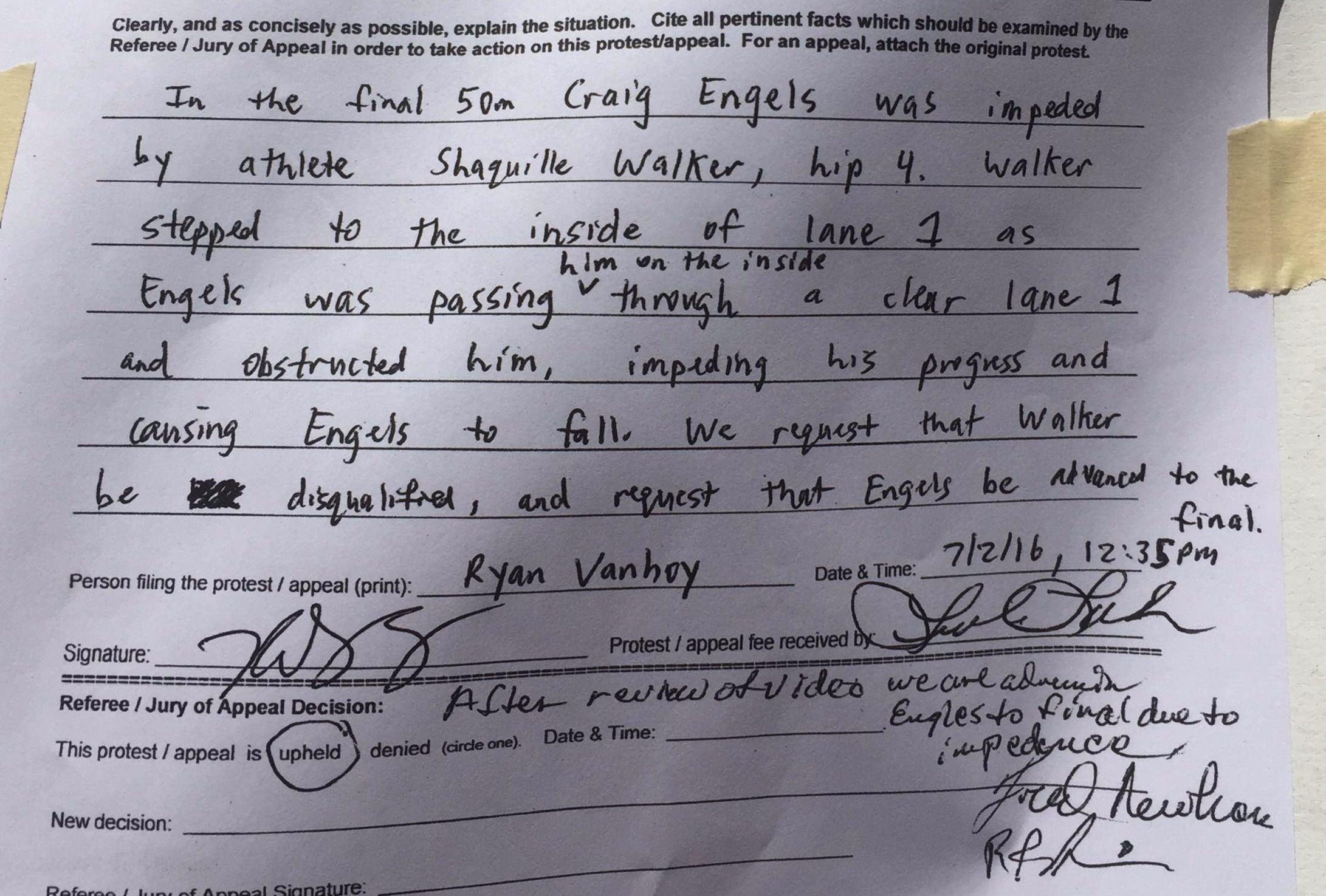 Upon hearing the referee's decision, Eyestone filed an appeal at 1:35 p.m. PT that read, "Shaquille was in lane 1 coming off the turn and never left lane 1. There is not room in lane 1 for two athletes to fairly compete. Shaquille was in front the entire time and was impeded by the other athlete who attempted to pass Shaquille on the inside where there was not enough room. At the very least, both athletes could be advanced to the final. These are exceptional circumstances."
At 1:55 p.m. PT, a referee reviewed the appeal and ultimately denied it without writing an explanation for the decision. The initial decision to disqualify Walker was changed. He stands as fourth-place in the official results, and was not allowed to advance to the final.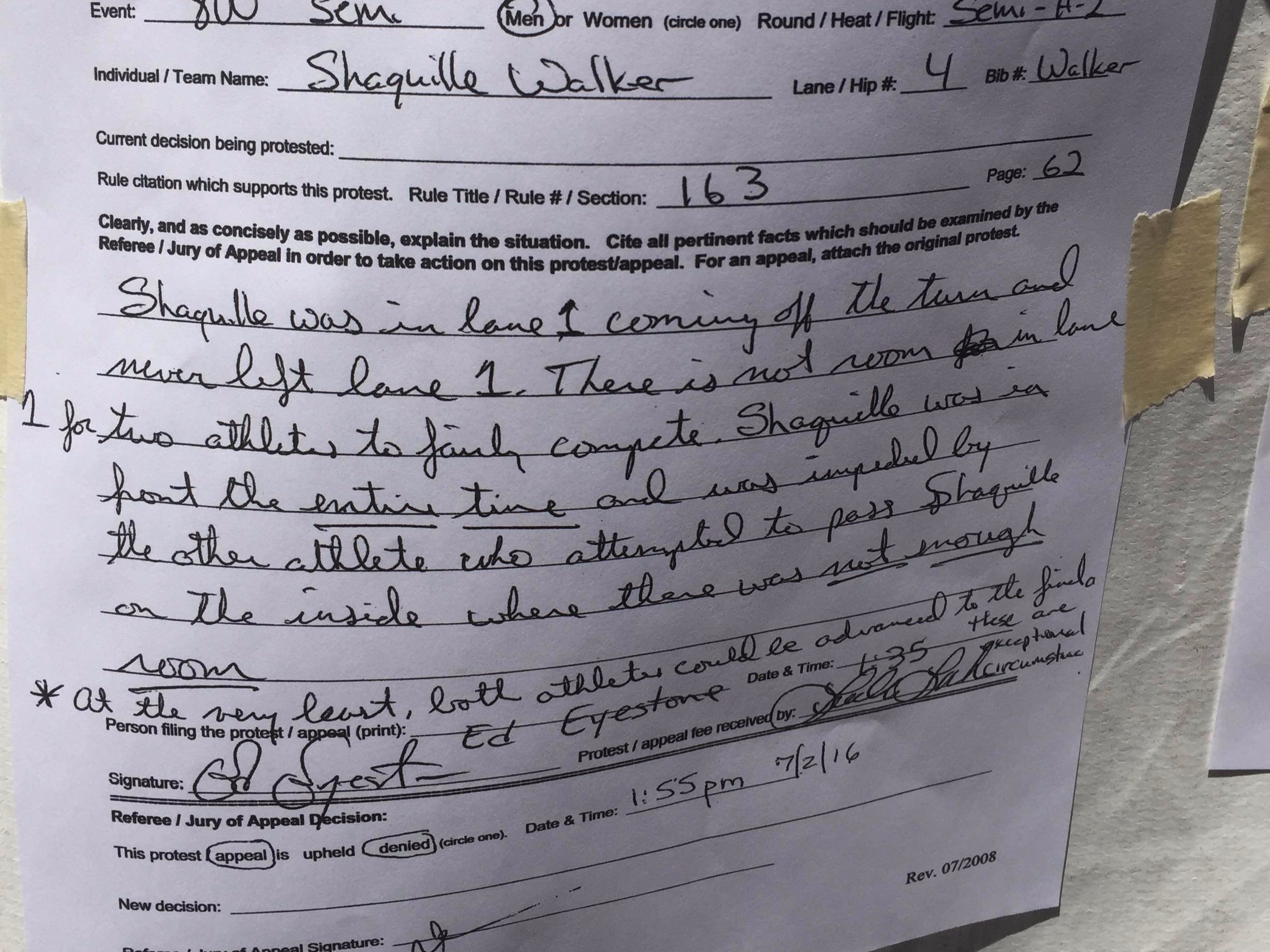 "I don't want to get cocky but I feel like I knew I had a right path to get into first place. I don't know how Clayton felt, but I feel like I could have been with him or in front of him if anything," Engels told FloTrack on Saturday after he was officially given the opportunity to compete in the final.
Out of the final and out of contention to make the Olympic team, Walker remembers the final moments of the race that caused him to lose momentum heading into the finish line.
"Brandon Johnson ended up moving out a bit — I don't think to cut me off or anything, but you just shift out sometimes — so to make sure I had a clear path to the finish line, I came inside of him a little bit. I was still in lane one the whole time, but I just came inside of him a little bit," Walker told FloTrack on Sunday.
"With 50 meters to go, I started feeling a hand on my hip and then one or two little clippings on my heel and then a major clipping that totally flattens me and takes all my momentum away," he said.
The 800m final will take place on Monday at 5:51 p.m. PT and includes Boris Berian, Erik Sowinski, Cas Loxsom, Isaiah Harris, Harun Abda, Clayton Murphy, Brandon Johnson, Charles Jock, and Engels.