2016 Olympic Games
Olympic Preview: Women's Sprints
Olympic Preview: Women's Sprints
Get your full rundown of the 2016 Olympic Games women's sprint competition, starting with the 100m preliminaries at 8:35PM (CT) on Friday, August 12. 100mLa
Aug 3, 2016
by Taylor Dutch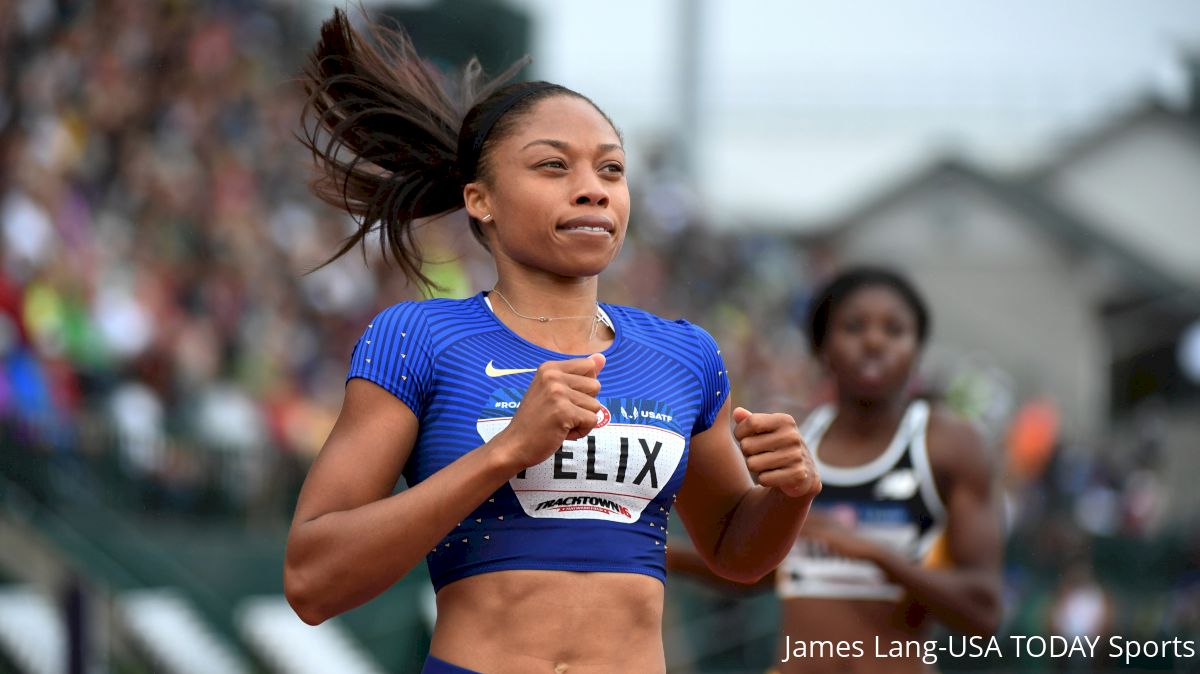 Get your full rundown of the 2016 Olympic Games women's sprint competition, starting with the 100m preliminaries at 8:35PM (CT) on Friday, August 12.
100m

Last three podiums:

2015 Worlds: 1. Shelly-Ann Fraser-Pryce, 2. Dafne Schippers, 3. Tori Bowie
2013 Worlds: 1. Shelly-Ann Fraser-Pryce, 2. Murielle Ahoure, 3. Carmelita Jeter
2012 Olympics: 1. Shelly-Ann Fraser-Pryce, 2. Carmelita Jeter, 3. Veronica Campbell-Brown
Team USA with season's bests:

English Gardner (10.74), Tianna Bartoletta (10.78), Tori Bowie (10.78)
Top three in 2016:

Elaine Thompson (Jamaica) -- 10.70
English Gardner (United States) -- 10.74
Murielle Ahoure (Ivory Coast) -- 10.78
Is defending champ Shelly-Ann Fraser-Pryce still a gold medal favorite?

For the past eight years, Jamaica's Shelly-Ann Fraser-Pryce has reigned supreme in the 100m, but 2016 has been a very different season. The two-time Olympic champion and defending world champion has been dealing with a toe injury, which resulted in a slower start to the season, increased uncertainty around her gold medal defense, and opened up some opportunities for her competition.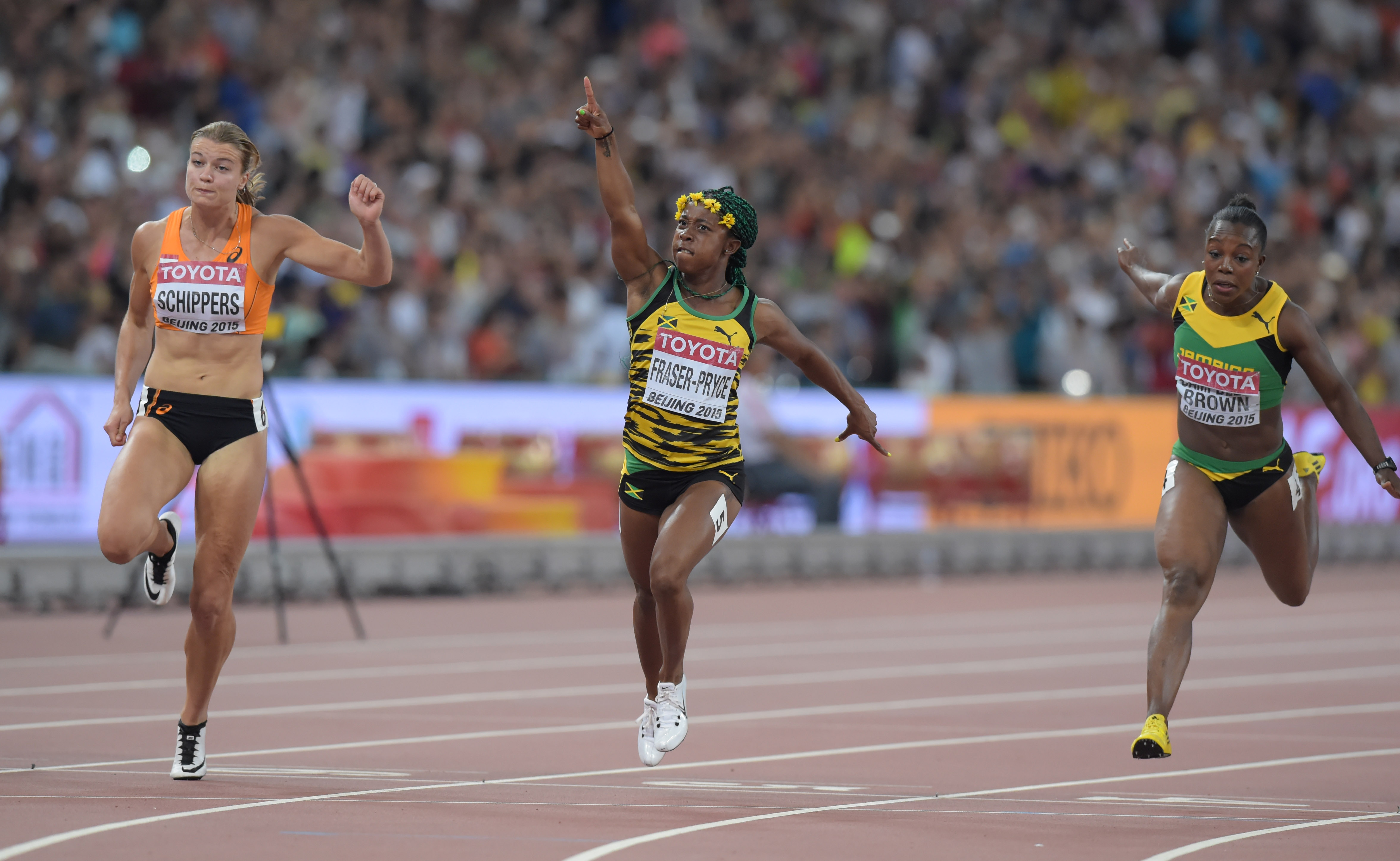 Pryce didn't begin her 2016 season until the Prefontaine Classic in late May, where she finished eighth overall in 11.18. Since Pre, Fraser-Pryce has notched a season's best of 10.93. She ran the mark at the Jamaican Olympic Trials, where she finished second to national rival Elaine Thompson--she ran 10.70 in that race, which tied Fraser-Pryce's national record and stands as a world lead. Her most recent performance was a third-place finish at the London Diamond League meeting, where she lost to Marie-Josee Ta Lou and Michelle-Lee Ahye.
For the first time in years, Fraser-Pryce isn't considered a favorite for gold at the Olympics, and several women are itching to replace her on the podium.
Who could medal?

Thompson leads the charge after beating Fraser-Pryce in her signature event at the Trials. She earned silver in the 200m at last year's world championships, and will also compete in the 200m at the Games.
Dafne Schippers is another major contender in this event after earning silver in the 100m at last year's world championship. The heptathlete-turned-sprinter from the Netherlands will also be a factor in the 200m--she won the world title last August.
The U.S. is bringing a dangerously fast squad in English Gardner, Tianna Bartoletta, and Tori Bowie, who are all on a hot streak after a record-breaking Olympic Trials final. Gardner led the trio in 10.74 to become the fourth-fastest American in history and the seventh-fastest sprinter in world history. Bartoletta and Bowie followed in second and third, respectively, in 10.78. It was the first time in history that three women ran under 10.80 with legal wind in the same race.
After finishing seventh at the 2012 Trials and missing the team entirely, Gardner is using this Olympic berth as "Rio redemption." Judging from her season to date, Gardner is well on her way to deliver.
Bartoletta and Bowie are also more than capable of making noise in the 100m after running personal bests in the Trials final. Bowie earned bronze at the world championships last year, and has shown her prowess when it comes to running rounds. She's also entered to run the 200m, the event where she shined most at the Trials. Bartoletta finished fourth in the 100m at the 2012 Olympic Games, and won the long jump at the 2015 world championships. She is also entered to compete in the long jump in Rio.
2013 world silver medalist Murielle Ahoure of the Ivory Coast should also be considered a contender in this 100m hunt after posting a personal best of 10.78 in June. The performance is a significant personal best for the 2012 Olympic finalist, and the fastest she's run since May of 2015.
200m

Last three podiums:

2015 Worlds: 1. Dafne Schippers, 2. Elaine Thompson, 3. Veronica Campbell-Brown
2013 Worlds: 1. Shelly-Ann Fraser-Pryce, 2. Murielle Ahoure, 3. Blessing Okagbare
2012 Olympics: 1. Allyson Felix, 2. Shelly-Ann Fraser-Pryce, 3. Carmelita Jeter
Team USA with season's bests:

Tori Bowie (21.99), Deajah Stevens (22.25), Jenna Prandini (22.39)
Top three in 2016:

Dafne Schippers (Netherlands) --21.93
Tori Bowie (United States) -- 21.99
Shaunae Miller (Bahamas) --22.05
Can Dafne Schippers get close to Flo Jo's world record?

Last year, former heptathlete Dafne Schippers burst onto the scene as a full-time sprinter, and unleashed jaw-dropping speed in the 100m and 200m. Her 2015 season was highlighted by a winning performance in the 200m at the world championships, where she swept the field in 21.63--the third-fastest time in history.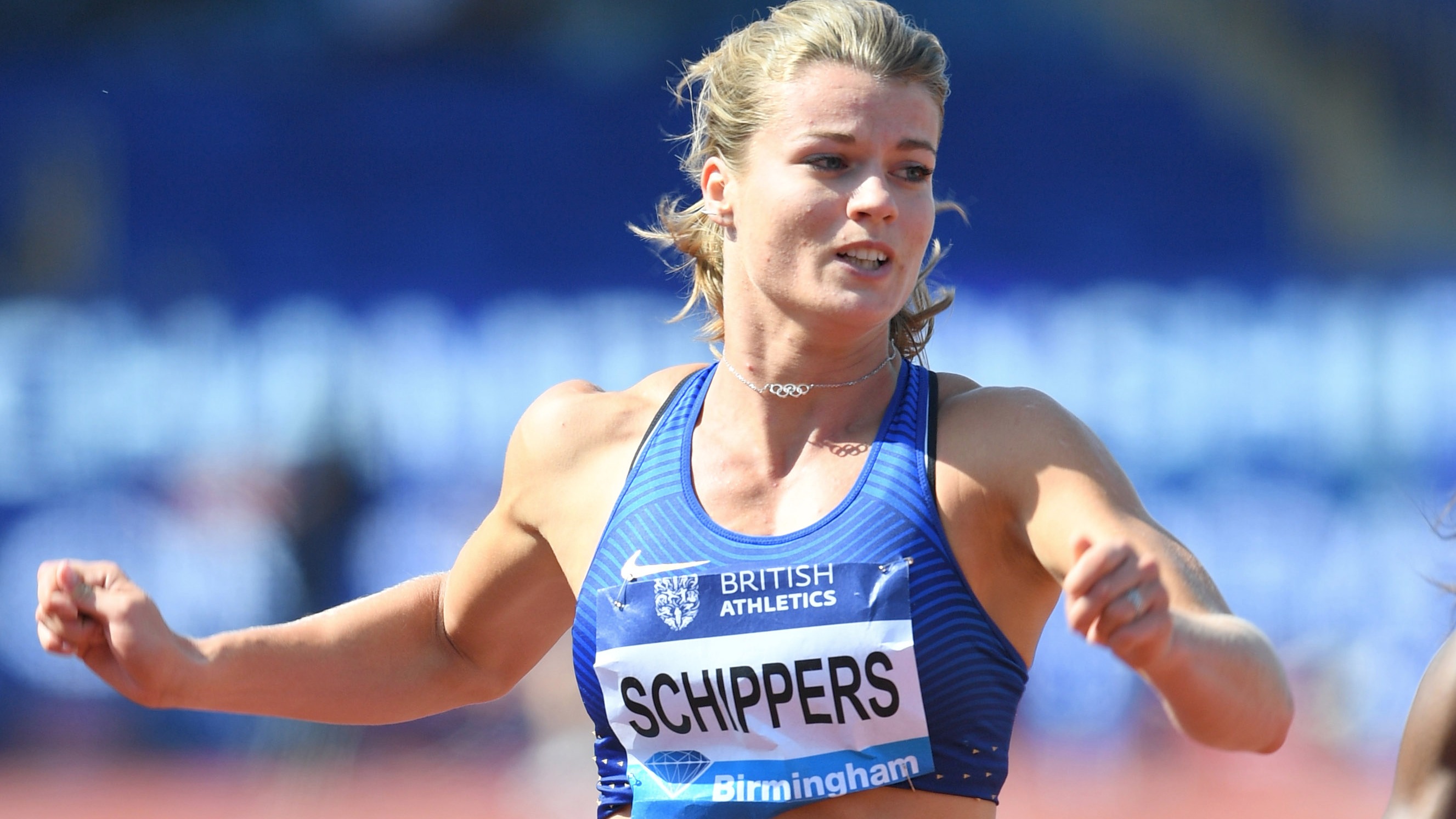 Her fastest time so far this season is 21.93, and she has won all but one 200m race in 2016. Her current season's best is also the world lead. The only other woman to run under 22 seconds this season is Tori Bowie, who recently clocked 21.99.
Although Florence Griffith-Joyner's 1988 world record of 21.34 is a lofty goal, Schippers is definitely capable of coming close to the longstanding mark in her gold medal pursuit.
Who is in the medal hunt?

Tori Bowie is poised to step up to the plate when it comes to challenging Schippers for gold. She recently won the Olympic Trials 200m race with a winning time of 22.25. Prior to the Trials, Bowie beat Schippers at the Prefontaine Classic, where she posted a world lead and personal best of 21.99.
Shaunae Miller of the Bahamas could also be in the mix after posting a national record and personal best of 22.05 in June. Miller will compete in the 100m, 400m and 4x400m relay in Rio. The 2015 world silver medalist in the 400m holds the 2016 world lead in the 400m, and could medal in both events.
Thompson, as mentioned in the 100m preview, will contend in the longer sprint after posting a season's best of 22.16. She earned a silver medal in the 200m in front of countrywoman Veronica Campbell-Brown at last year's world championships.
At 34 years old, Campbell-Brown owns the eighth-fastest time in the world this year. The three-time Olympic gold medalist has been on the podium a whopping 12 times in her career and could be a threat in any race.
How will the rest of the Americans do?

A current and former Oregon Duck make up the remainder of Team USA headed to Rio. Deajah Stevens and Jenna Prandini are riding runner-up and third-place respective finishes at the Olympic Trials. Stevens' Trials performance was a breakthrough--she beat Prandini and defending Olympic champion Allyson Felix. Prandini battled it out with Felix with a dramatic dive at the finish line to claim the third and final spot. It was the first time Felix failed to make the team in her signature event.
Rio will mark Stevens' first-ever senior-level international championship and Prandini's second international championship after making it to the semifinals at the 2015 world championships. Given the duo's lack of experience in an international final, it's hard to say how each will fare. But if they race as bravely as they did at the Olympic Trials, we could see impressive runs from both.
400m

Last three podiums:

2015 Worlds: 1. Allyson Felix, 2. Shaunae Miller, 3. Shericka Jackson
2013 Worlds: 1. Christine Ohuruogu, 2. Amantle Montsho, 3. Antonina Krivoshapka
2012 Olympics: 1. Sanya Richards-Ross, 2. Christine Ohuruogu, 3. DeeDee Trotter
Team USA with season's bests:

Allyson Felix (49.68), Phyllis Francis (49.94), Natasha Hastings (50.17)
Top three in the world in 2016:

Shaunae Miller (Bahamas) -- 49.55
Allyson Felix (United States) -- 49.68
Phyllis Francis (United States) -- 49.94
Can Allyson Felix remain on top?

Since moving up to the 400m, Felix has been a force to be reckoned with in the longest sprint event. She earned silver at the 2011 World Championships in Daegu, and claimed her first 400m gold at last year's championships with a personal best of 49.26.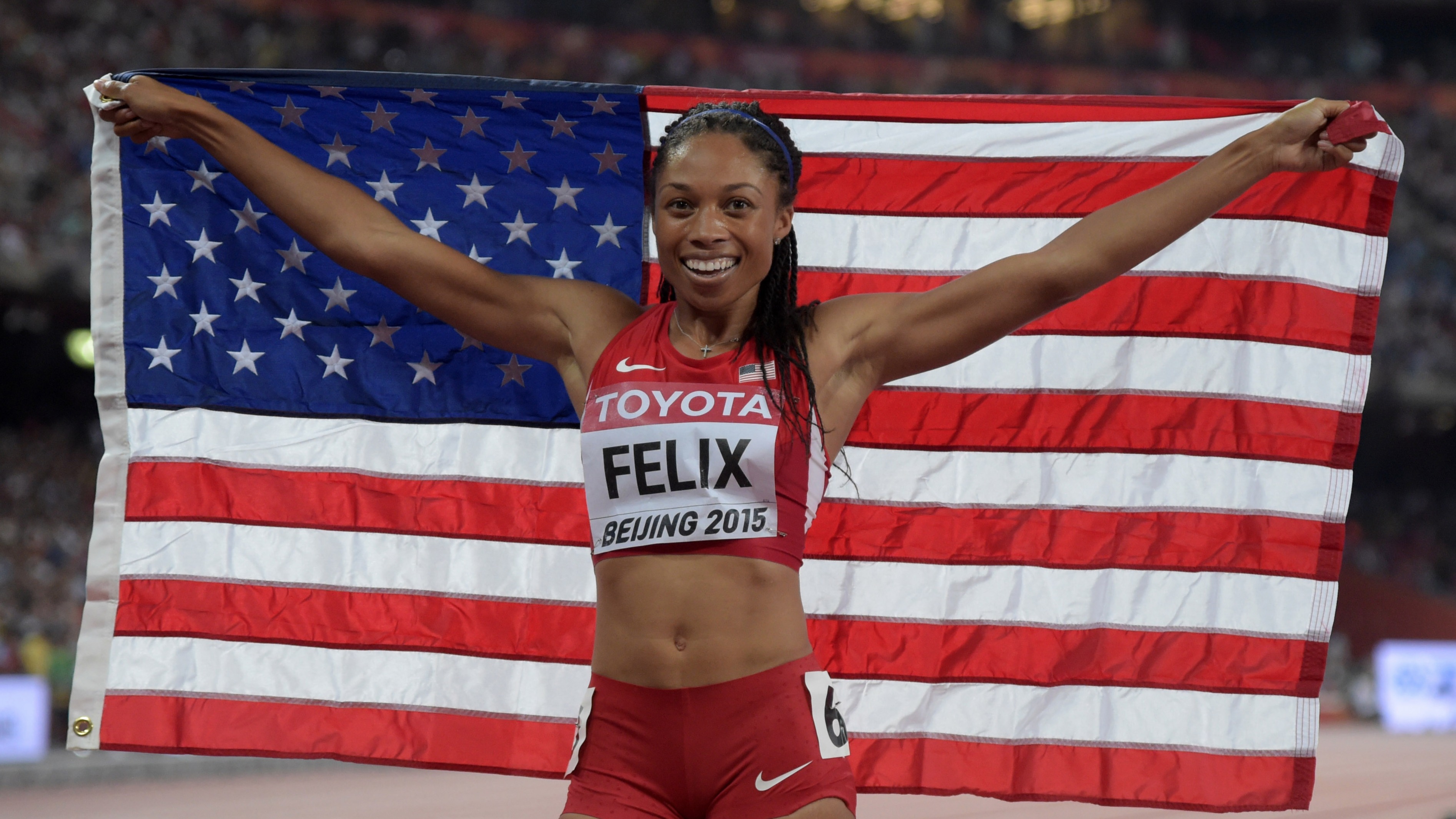 Coming off of her 2015 success, this year has been difficult for the four-time Olympic gold medalist. She suffered from an ankle injury in the spring that kept her out of competition and allowed just three outdoor races to prepare for the Trials.
Despite the physical uncertainty, Felix unleashed a jaw-dropping 400m victory in a then-world lead of 49.68, just shy of her best time ever. The performance silenced any who doubted the veteran sprinter, who proved she can shine even in the worst circumstances.
The competition

Felix's biggest competition will come from Shaunae Miller, who beat Felix's world-leading mark with a decisive victory at the London Diamond League meeting. The 2015 world silver medalist blasted a 49.55, which is also a sizable personal best.
Americans Phyllis Francis and Natasha Hastings are also poised to be medal contenders after stunning Trials performances. Francis finished seventh in the 2015 world championship final, which marked her first senior-level international championship. She is also running the fastest she's ever run, as demonstrated by her runner-up finish and PR at the Trials.
Hastings' third-place finish at the Trials marks the first time she has qualified to represent Team USA in a non-relay event. A mainstay of the U.S. 4x400m squad, Hastings will now be able to contend in the individual 400m after posting a season's best of 50.17 at the Trials.
Jamaica will also bring their stars in Stephanie Ann McPherson, Christine Day, and Shericka Jackson. Last year, Jackson finished third at the world championships to Felix and Miller. Each Jamaican athlete has posted a mark of 50.42 or faster this season.
A surprising addition to the field is 800m world champion Caster Semenya of South Africa. After Semenya won the 800m at the Monaco Diamond League meeting,
her coach told FloTrack that she plans on competing in the 400m/800m double in Rio
. Caster has run 50.74 this year, which stands as a new personal best. Although her season's best mark only ranks 14th in the world, Semenya will surely be one to watch in the 400m sprint.
Watch Felix talk about her progress at the Team USA training camp last week: