2016 Olympic Games
During Rule 40 Blackout, Emma Coburn Showcases New Balance on Olympic Stage
During Rule 40 Blackout, Emma Coburn Showcases New Balance on Olympic Stage
Emma Coburn appreciates her support crew, and she showed it after she earned her Olympic bronze medal in Rio. After crossing the finish line in third behind
Aug 15, 2016
by Taylor Dutch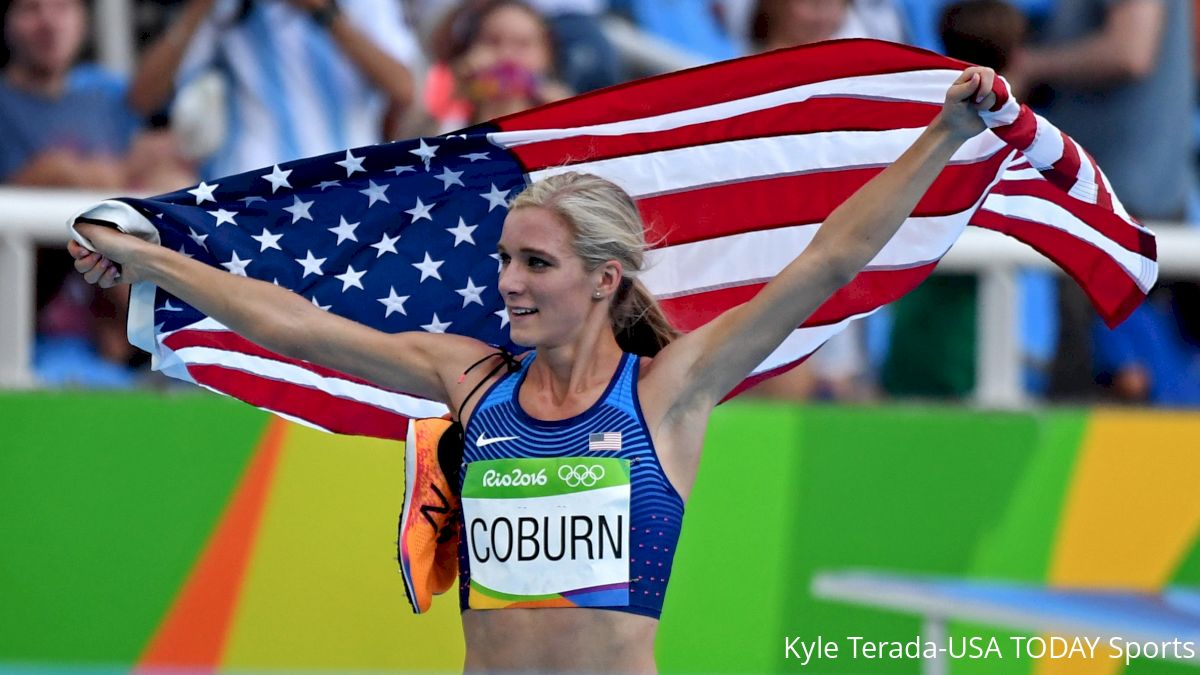 Emma Coburn appreciates her support crew, and she showed it after she earned her Olympic bronze medal in Rio.
After crossing the finish line in third behind Ruth Jebet and Hyvin Jepkemoi, respectively, Coburn immediately removed her New Balance spikes and draped them over her shoulder before carrying the American flag. As a result of the bold move, thousands of photos snapped during her victory lap included her sponsor, New Balance, which otherwise would not have been featured.
It's more than likely that Coburn,
who is vocal about sponsorship rights
, did this intentionally to spotlight New Balance in the middle of the Rule 40 "blackout period" and circumvent Nike's exclusive sponsorship rights with USATF.
According to
USATF's statement of conditions
for the U.S. national team, athletes are required to wear the designated Nike-issued team uniform provided by USATF during the entire duration of the Olympic Games. USATF distinguishes "uniform items" as "under-layer apparel, bandanas, headbands, hats, sweatbands, wristbands, socks, sports bras, travel bags, etc., but shall specifically exclude sunglasses, watches, and shoes."
USATF's statement of conditions also mandates that athletes agree to the following condition:
"I understand that I am forbidden from (i) altering, distorting, removing, or covering up the sponsor logo on any Team uniform items in any photographs, videos or other images of me."

According to these guidelines, it appears that Coburn followed the rules while also finding a way to feature her own sponsor.
New Balance signed Coburn after she graduated from Colorado three years ago, and has since supported her while she climbed to the top of the American record books.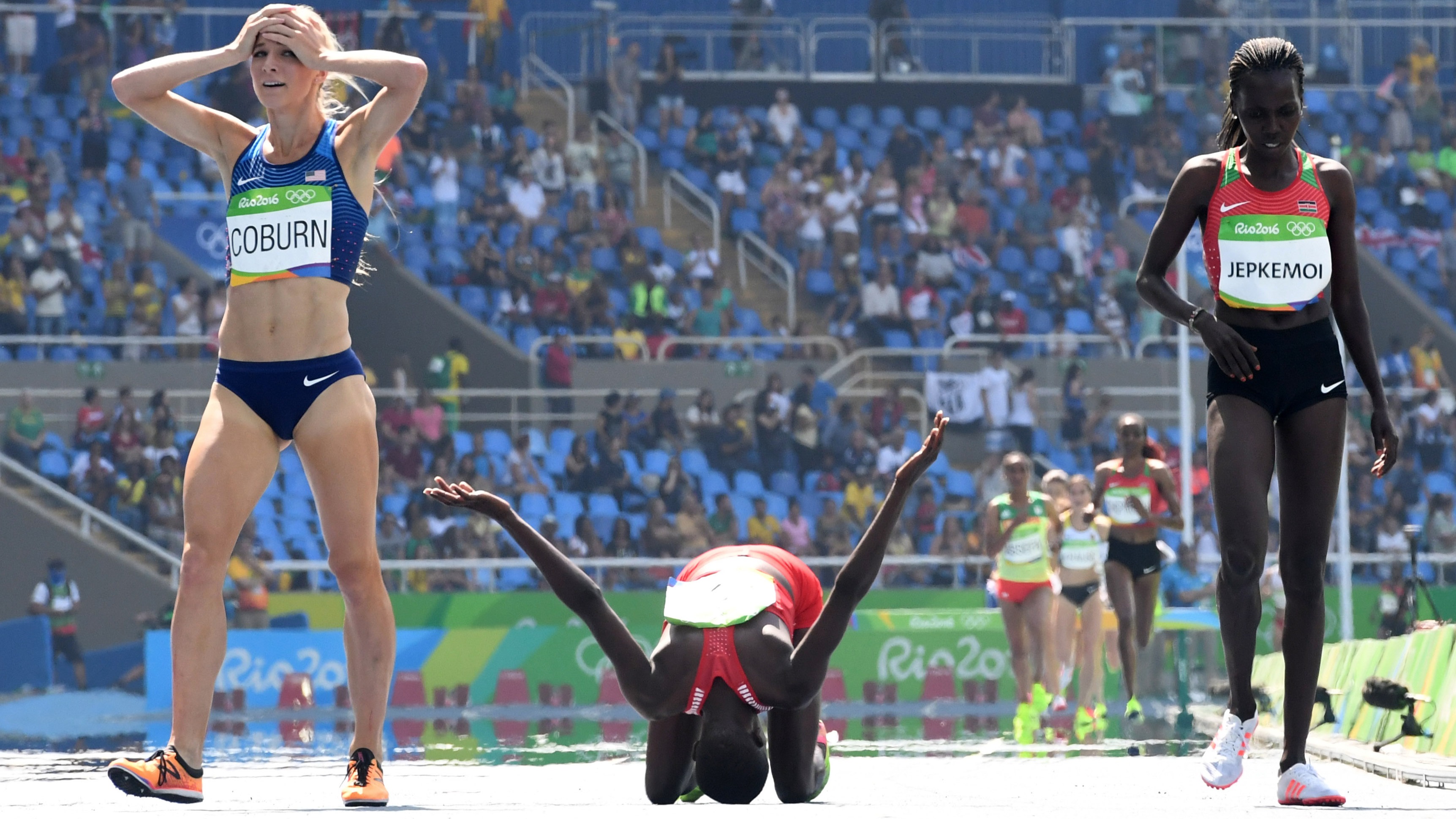 But during the Olympic Games, New Balance and Coburn cannot advertise or promote each other. The International Olympic Committee (IOC) issued a non-sponsor marketing blackout period mandated by Rule 40, which enforces restrictions around what athletes and sponsors can say during the Olympic period.
To advertise during the blackout, non-Olympic sponsors must submit a waiver in January with a marketing campaign plan, including a social media plan that cannot include any Olympic-specific intellectual property -- images like the Olympic rings, and even words like "Rio," "Olympics," and "medal." The company's marketing campaign plan must be approved by the United States Olympic Committee (USOC) in order to run during the blackout period.
Any company that does not submit an application or fails to secure approval from the USOC will not be able to promote the athletes they sponsor during the biggest championship in the sport.
As part of the U.S. Olympic team, Coburn is required to wear the Nike-issued Team USA uniform and warm-up apparel. Spikes, watch and sunglasses are the only pieces of non-Nike apparel she could wear during competition.
Prior to the blackout period, Coburn was vocal about her appreciation for New Balance's support, and noted she wouldn't be able to acknowledge her sponsor for several weeks.
#Rule40 starts tomorrow so I won't be able to say Thank You to my sponsor. THANK YOU FOR EVERYTHING @newbalance pic.twitter.com/udSEIPhsIA

— emma coburn (@emmajcoburn) July 26, 2016
Three weeks after the start of the blackout period, Coburn earned an Olympic bronze medal in the steeplechase -- the first ever for an American woman.
And Coburn made sure New Balance was there with her on the biggest stage in track and field.
Coburn's decision to take her spikes off, tie them together, and hang them around her shoulder allowed hundreds of photographers to capture a monumental moment shared with the company that helped get her there.
Even after the race Coburn reportedly mentioned New Balance in the post-race press conference, which according to the Rule 40 guidelines, she isn't allowed to do. Athletes are not allowed to mention a sponsor that is not an official Olympic sponsor in any press interview or social media post during the blackout. Luckily, Coburn caught herself.
.@emmajcoburn lets a reference to "new balance" slip. Quickly corrects, "I mean, the company that pays me..." Giggles from the press gaggle.

— Erin Strout (@erinstrout) August 15, 2016
Despite the restrictive nature of advertising around the Olympic Games, Coburn found a brilliant way to thank her support crew.