WATCH: Feyisa Lilesa Goes To Washington To Criticize Ethiopian Government
WATCH: Feyisa Lilesa Goes To Washington To Criticize Ethiopian Government
​Thanks to contributor Nick Gandolfo-Lucia for going to D.C., filming the video, and writing this recap. ​Feyisa Lilesa, the 2016 Olympic marathon silver me
Sep 13, 2016
by Dennis Young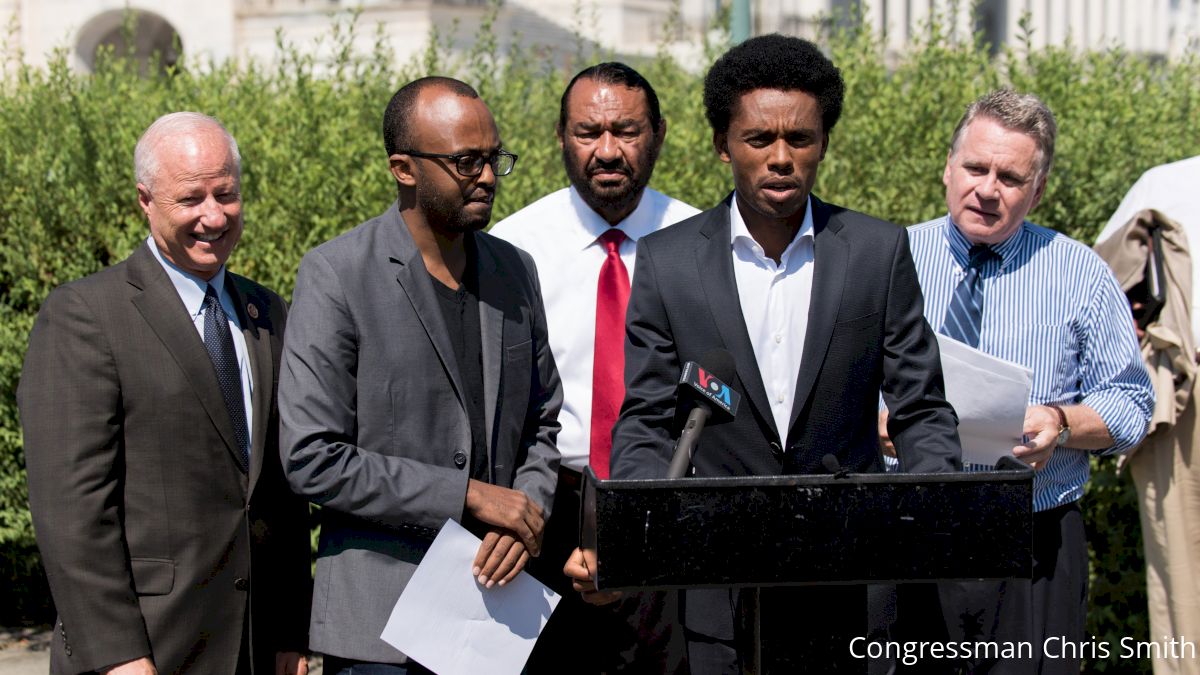 ​Thanks to contributor Nick Gandolfo-Lucia for going to D.C., filming the video, and writing this recap.


​
Feyisa Lilesa, the 2016 Olympic marathon silver medalist from Ethiopia, held a press conference today in Washington, D.C., to elaborate on
his protest against the Ethiopian government
and his post-Rio running plans.
Lilesa is a member of the Oromo people, the largest ethnic group in Ethiopia. At the press conference, he reiterated the recent abuse, murder, and imprisonment that the Oromo people have endured at the hands of the Ethiopian government. He asked the U.S. government to pressure the Ethiopian government to provide basic rights to the Oromo.
Despite his sober message, he appeared before the press in relatively high spirits and joked he probably would not be selected for the Ethiopian national team again due to his protests.
He also noted that the threats the Oromo face from the Ethiopian government were heavy on his mind throughout his training for Rio. He said he knew during his training that he would use the media spectacle of the Olympic marathon to bring the oppressive Ethiopian government to international attention.
Lilesa also stated he plans to resume his training in New Mexico, but did not offer specifics on who he would be training with. He said he doesn't currently wish to run for the United States, and hopes he will soon be able to run for Ethiopia again--provided the political situation there changes.
Three Republican and two Democratic congressmen proposed a
House resolution
condemning the Ethiopian government's treatment of protestors and calling on the U.S. State Department to increase its oversight of American aid to Ethiopia.
"The Government of Ethiopia undoubtedly sees itself as part of the Global War on Terror," Republican congressman Chris Smith said. "But violating the rights of its own citizens will only create the kind of frustration that will lead to domestic violence."
That echoes a sentiment from Lilesa's own article in the
Washington Post
today, where the marathoner wrote, "I fear that if the killing does not stop, people could abandon nonviolence in self-defense."
Lilesa is currently on a special skills visa in the U.S. You can watch a 12-minute cut of his press conference above or listen to the full hour below.