Rachele Schulist Overcomes The Lie Of Not Being Thin Enough
Rachele Schulist Overcomes The Lie Of Not Being Thin Enough
Michigan State's Rachele Schulist details her journey of battling body image obstacles to find joy in running once again.
Dec 5, 2016
by Taylor Dutch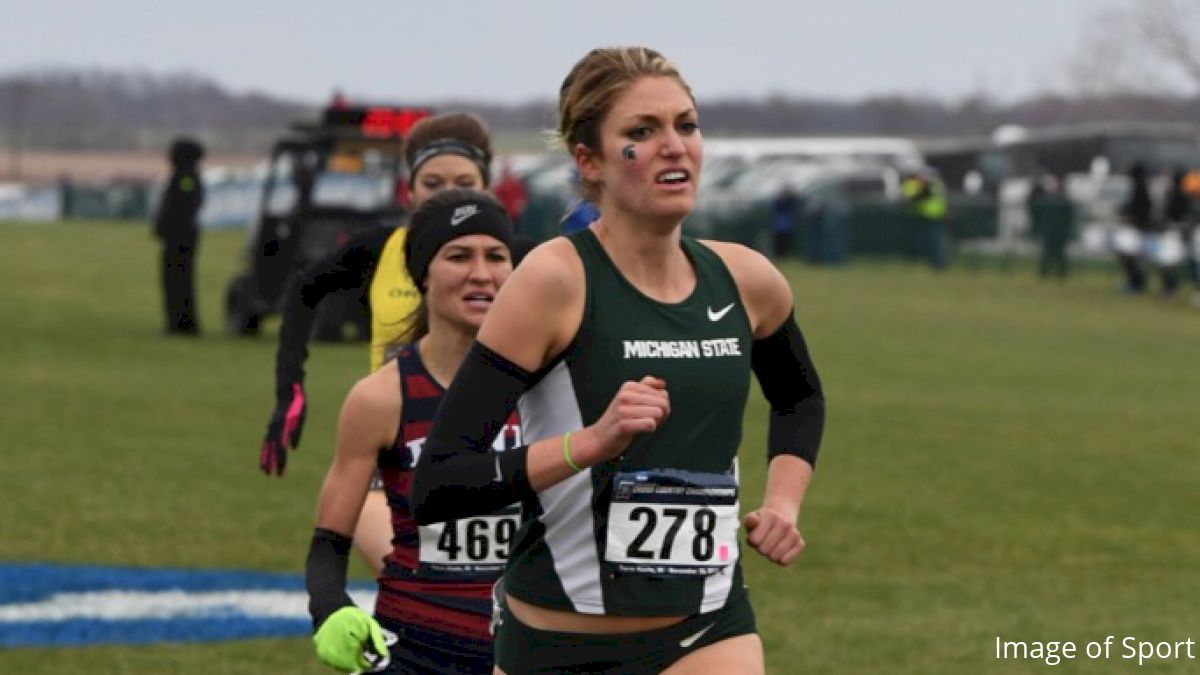 Rachele Schulist wants runners to know that "the idea that you have to look a certain way and be thin to be a fast runner is bullshit." Based on her own personal experience, which she detailed in a powerful message on
Instagram
, Schulist has learned that being unhealthy does not make for a sustainable college career in distance running.
The Michigan State All American began her post with two side-by-side images: one being her finish at the 2014 NCAA Cross Country Championships, the second being her finish at the 2016 NCAA championships.
"Left: NCAA 2014. Right: NCAA 2016. Look at the picture on the left. If in your mind this is what a 'good' or competitive distance runner looks like, please, keep reading," Schulist began the post.
In 2014, Schulist finished fourth and helped lead the Spartans to the program's first ever NCAA team title. It was a breakthrough year for the sophomore, who captured top five finishes in every race that season and earned her first All American honor. But as dominant and thrilling as her race results appeared, Schulist admitted that she was in truth, "very unhealthy" and "not happy."
"My coaches warned me about the consequences of running in this unhealthy state, but seeing as my running was going well I ignored them and figured they were wrong," she wrote.
Schulist's body began to break down in the fall of 2015 when she learned that she had a stress fracture. She spent the majority of the fall and winter recovering from her injury, and didn't race until February of 2016 when she opened up with a 9:44 indoor 3K. But as injuries often result, the mental battle of recovery proved to be even tougher for Schulist.
"Even though I knew being too small is not sustainable, it was hard for me to believe that I could achieve success and be the runner I used to be without it, and I allowed myself to believe this for the better part of this season…..I allowed this lie to dictate my running, and my running suffered as a consequence," Schulist wrote.
During the early portion of the 2016 cross country season, Schulist finished 19th at the Roy Griak Invitational and a disappointing 134th at the Wisconsin Invitational. The Wisconsin performance was a hard blow for Schulist to accept as she had once finished second at the same meet. At this point in the season and one day before the Big Ten Conference Championships, Schulist was overcome with doubt in her ability, but an impactful meeting with her coach Walt Drenth helped bring her out of the hole of self-doubt.
"My coach could tell from my race plan that I was not mentally engaged and the night before Big Tens called me in to talk," Schulist wrote. "He asked me at what point was I going to draw a line in the sand and put an end to whatever was holding me back from running the way I know I can. So I did."
"I made myself just let go. I let go to the insecurities and lies I was telling myself because I know who I am and what I stand for. And I stand for doing what is right and what is healthy," she wrote.
Schulist went on to place ninth at Big Tens, fourth at the NCAA Great Lakes Region, and 12th at the NCAA Cross Country Championships--just 12 seconds shy of her 2014 performance, but more importantly, while running in her healthiest state.
Read Schulist's full account of her journey on her
Instagram post
.