2016 FloTrack Beer Mile World Championships
Erin O'Mara Used Party Trick To Become Beer Mile World Record-Holder
Erin O'Mara Used Party Trick To Become Beer Mile World Record-Holder
Michigan native Erin O'Mara shocked the world last December with her women's world record at the FloTrack Beer Mile World Championships. Armed with Bud Light Platinum, O'Mara ran 6:08--nine seconds faster than the previous record and 30 seconds ahead of l
Dec 7, 2016
by Meg Bellino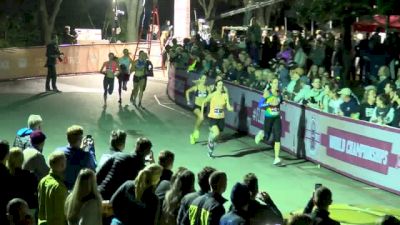 Michigan native Erin O'Mara shocked the world last December with her women's world record at the FloTrack Beer Mile World Championships. Armed with Bud Light Platinum, O'Mara ran 6:08--nine seconds faster than the previous record and 30 seconds ahead of last year's runner-up Kirsty Jahn. We checked in with O'Mara as she prepares to return to Austin to defend her title on December 17.
Watch the 2016 FloTrack Beer Mile World Championships LIVE on FloTrack on December 17!
FloTrack: How do you incorporate running and beer drinking into your life right now?

Erin: I don't run or drink beer as much as I should or would like to! I will try to change the beer drinking part over the next two weeks, but for the running I think it is "too little, too late."
What was it like winning last year's FloTrack Beer Mile World Championships?
Winning last year's FloTrack BMWC was and still is surreal. I think in beer mile a lot of pieces have to all fall in place, and I got really lucky.
You didn't train specifically for the beer mile in 2015, but you broke the world record! Why do you think you are so good at the beer mile?

I think it is all the chugging I did in my youth! Back then it was a neat party trick. Who knew it would ever win me $5k? Thanks for the opportunity, FloTrack!
O'Mara after winning last year's FloTrack Beer Mile World Championships:

Have you been doing anything different in terms of training for this year's championship? Have you raced any beer miles since last year's FloTrack race?

I did have ambitions of training harder and more specifically for this years FloTrack World Championships, but at this point I am try to line up as healthy as possible.
What was it like having media attention--regarding beer drinking--surround you after your world record last year?

The media attention is pretty limited. So I don't think theres been too much effect.
What are you hoping to accomplish at this year's event? What beer will you be drinking?

This year I plan to line up and run/chug the best race I can can that day. There are a lot of variable in the beer mile, so it can go to any individual on any day. As of right now I think I will stick with the same beer as last year. But a lot can change in two weeks!
What advice would you give to a first time beer mile participant?

Be prepared to hurt.
Catch Erin race at the FloTrack Beer Mile World Championship LIVE on FloTrack on December 17, 2016 at 12:30PM CST.