2016 FloTrack Beer Mile World Championships
Corey Bellemore Wins Beer Mile Worlds By 11 Seconds In 4:49
Corey Bellemore Wins Beer Mile Worlds By 11 Seconds In 4:49
Corey Bellemore won the FloTrack Beer Mile World Championships in 4:49.
Dec 17, 2016
by Dennis Young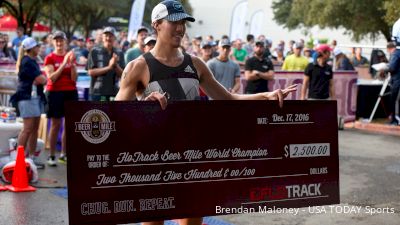 Corey Bellemore trailed after one beer, but quickly took over the FloTrack Beer Mile World Championships on the first lap and dominated the rest of the race. Bellemore, the world record holder, was at 67 seconds at the the start of the second beer, 2:21 at the start of the third, 3:36 at the fourth, and 4:49 at the finish.
Humid air and a slightly wet course slowed down times, as Bellemore's solo performance was just shy of Lewis Kent's contested 4:47 last year. Kent was second this year in 4:59. Behind the two Canadians, Chris Robertson of Iowa was the first American. He ran 5:03, less than a second ahead of Phil Parrot-Migas for third place.
Bellemore ran while holding a bottle opener--as opposed to the glove/twist-off method favored by most--but that clearly didn't slow him down.
More to come, including race video and interviews.
WATCH MEN'S CHAMPIONSHIP RACE
COMPLETE RESULTS