Ashton Eaton And Brianne Theisen-Eaton Are Retiring
Ashton Eaton And Brianne Theisen-Eaton Are Retiring
Ashton Eaton and Brianne Theisen-Eaton are retiring.
Jan 4, 2017
by Dennis Young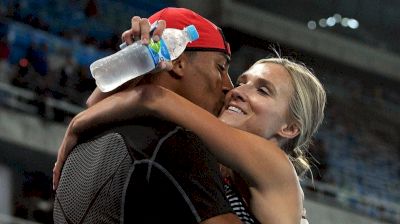 The greatest male decathlete of all time and one of the best female heptathletes of this generation are retiring. Ashton Eaton and Brianne Theisen-Eaton, who married in 2013,
announced on their website
that they are retiring from track and field. Both are 28.
Ashton holds the world and Olympic records and is the two-time defending world and Olympic champion. Outdoor gold eluded Brianne, who holds the Canadian record, but she won silver at the last two outdoor world championships and bronze in Rio. She won gold in the pentathlon at the world indoor championships this March in Portland, sweeping the multi-events with her husband, who won the heptathlon.
Ashton, one of the most thoughtful athletes in the sport, wrote that:
"Frankly there isn't much more I want to do in sport. I gave the most physically robust years of my life to the discovery and pursuit of my limits in this domain. Did I reach them? Truthfully I'm not sure anyone really does. It seems like we tend to run out of time or will before we run out of potential. That makes humanity limitless then, as far as I'm concerned. And I think that's inspiring."
And Brianne said:
"Before every 800m race, I'm in a panic. 'Why do I do this? This isn't fun. I'm scared and stressed out. I can't do this anymore. I'm retiring.' Then I cross the finish line, am surrounded by my competitors who instantly bring water, high fives, hugs and congratulate me on getting through another heptathlon, no matter the result...I instantly get excited for my next heptathlon."
But that didn't happen to her in Rio, where she writes that upon crossing the finish line, "I was mentally exhausted. I have never been so thankful to be finished [with] something in my life."
And now they're finished. Their records may stand for a while--no one in the world has come within 200 points of Ashton's world record in the last ten years, while only one Canadian woman has ever come within 500 points of Brianne's Canadian record ever. But a lot of medals just became a little easier to get.