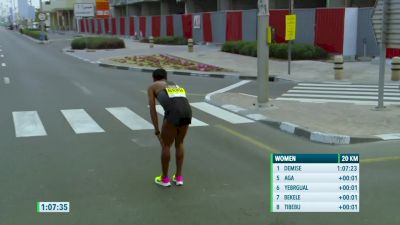 Just over an hour into the race at the Dubai Marathon, Kenenisa Bekele dropped out. He fell back early--trailing by seven seconds at 5K and 12 at 10K--before completely losing contact with the pack. His last split was 62:48 at halfway, 75 seconds behind the leaders. His countryman Sisay Lemma was through halfway in 61:33, just nine seconds over world record pace.
Bekele and his camp billed the race as a world record attempt, saying that he planned on coming through halfway in 61 minutes. (His 61:11 en route to a 2:03:03 in Berlin remains the fastest halfway split ever.) But Bekele suffered from a fall almost immediately after the starting gun fired and was unable to complete the race due to his injuries.
Bekele's thoughts of today's race. Although he could not finish, he is determined to be back in good shape in @LondonMarathon in April! pic.twitter.com/6fEoV5yHgy

— Global Sports Comm (@GlobalSportsCom) January 20, 2017
Though his stride looked uninhibited, Bekele was grabbing at his left side for most of the race. It's the second time in three years that Bekele has dropped out in Dubai; he stepped off the course 19 miles into the race in 2015.
In nearly the saddest scene possible, the 34-year-old 10K and 5K world record holder was last spotted trudging over to catch a cab back to the the finish.
Bekele is scheduled to race the London Marathon in April.