Here Is How Many Times U.S. Athletes Were Drug Tested In 2016
Here Is How Many Times U.S. Athletes Were Drug Tested In 2016
Here is how many times U.S. athletes were drug tested in 2016.
Jan 26, 2017
by Meg Bellino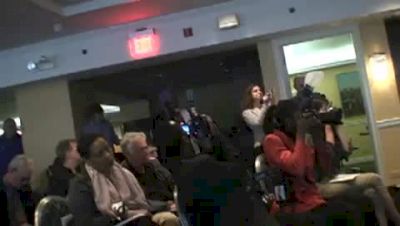 The above interview is from 2009 and titled "Too Many Drug Tests In Beijing". Asafa Powell and Tyson Gay are a part of an athlete panel at the 2009 Reebok Indoor Grand Prix. Powell says he was tested four times in one week in Beijing and it was "too much," while Gay said he is tested regularly all year, so he didn't find the Games' testing to be exceptionally intolerable. Although according to the USADA database, they only administered three tests to Gay in 2009. In 2013, both Powell and Gay served bans for testing positive for illegal substances.
--
Matt Centrowitz was tested by the U.S. Anti-Doping Agency 17 times in 2016. The next most tested athlete? Carmelita Jeter, who at age 37 failed to dip under 11 seconds in the 100m in 2016, was tested 15 times.
You can view the number of times an athlete was tested by USADA by year
at this link
. However, this number only indicates "the number of times USADA has organized a test on an individual athlete", meaning it doesn't include other testing entities' numbers, if the test was not requested/initiated by USADA, and other sports organization/event/International Federations/individuals' requests for tests.
The total numbers, minus athletes' names, are available
at this link
. And it's also interesting to note that track and field is the
MOST
tested sport by USADA. Between in competition and out of competition tests administered by USADA, track and field had 2785 total tests conducted in 2016.
Mixed martial arts had 2289, cycling 1398, and swimming 1071.
So what does this mean? Can you really make conclusions from simply looking at testing numbers? Justin Gatlin and Galen Rupp were tested 14 times in 2016, but compared to '15 (21 times), '14 (21 times) and '13 (28 times), this was one of Rupp's lowest years.
Here are all 481 athletes from the 2016 USADA database:
| Athlete | Test Count |
| --- | --- |
| Matthew Centrowitz | 17 |
| Carmelita Jeter | 15 |
| Justin A Gatlin | 14 |
| Galen G Rupp | 14 |
| Bernard Lagat | 13 |
| Allyson M Felix | 12 |
| Shalane G Flanagan | 12 |
| Kara Goucher | 12 |
| Lopez Lomong | 12 |
| Adriana Pirtea-Nelson | 12 |
| Abdihakim M Abdirahman | 11 |
| Evan Jager | 11 |
| Trell Kimmons | 11 |
| Aries Merritt | 11 |
| Brittney Reese | 11 |
| Jason A Richardson | 11 |
| Dathan J Ritzenhein | 11 |
| Ryan Bailey | 10 |
| Ashton Eaton | 10 |
| Molly Huddle | 10 |
| Mebrahtom R Keflezighi | 10 |
| Treniere Moser | 10 |
| Tori Bowie | 9 |
| Jessica Cosby-Toruga | 9 |
| Tyson Gay | 9 |
| LaShawn L Merritt | 9 |
| David Oliver | 9 |
| Wallace N Spearmon, Jr. | 9 |
| Nick Symmonds | 9 |
| Mikele Barber | 8 |
| Walter Dix | 8 |
| Debbie R Dunn Anderson | 8 |
| Sanya L Richards-Ross | 8 |
| Tianna T Bartoletta | 7 |
| Trayvon Bromell | 7 |
| Fernando Cabada | 7 |
| Gwen Berry | 6 |
| Amber J Campbell | 6 |
| Janay Deloach | 6 |
| English Gardner | 6 |
| Natasha Hastings | 6 |
| Kibwe R Johnson | 6 |
| Leonel Manzano | 6 |
| Sandi Morris | 6 |
| John H Nunn | 6 |
| Michael E Rodgers | 6 |
| Brianna Rollins | 6 |
| Jennifer Simpson | 6 |
| Angelo F Taylor | 6 |
| Maggie C Vessey | 6 |
| Boris Berian | 5 |
| Mary Cain | 5 |
| Michelle Carter | 5 |
| William Claye | 5 |
| Emma Coburn | 5 |
| Sharon E Day-Monroe | 5 |
| Marquis Dendy | 5 |
| Chris Derrick | 5 |
| Dexter Faulk | 5 |
| Queen Harrison | 5 |
| Jeffrey Henderson | 5 |
| Michael Reese Hoffa | 5 |
| Emily Infeld | 5 |
| Joseph Kovacs | 5 |
| Francena McCorory | 5 |
| Candyce McGrone | 5 |
| Inika McPherson | 5 |
| Hassan Mead | 5 |
| Nick Mossberg | 5 |
| Luke Puskedra | 5 |
| Shannon Rowbury | 5 |
| Jennifer Suhr | 5 |
| Brigetta L Barrett | 4 |
| Shadrack Kiptoo Biwott | 4 |
| Paul Chelimo | 4 |
| Nick Christie | 4 |
| Omar Craddock | 4 |
| Amy E Cragg | 4 |
| James -Trey E Hardee | 4 |
| Dawn Harper-Nelson | 4 |
| Kendra Harrison | 4 |
| Jordan Hasay | 4 |
| Andrew Hunter | 4 |
| Bershawn D Jackson | 4 |
| Eric Jenkins | 4 |
| Heather Kampf | 4 |
| Erik Kynard Jr. | 4 |
| Desiree Linden | 4 |
| Bryshon Nellum | 4 |
| Sharika Nelvis | 4 |
| Barbara Nwaba | 4 |
| Jasmine Stowers | 4 |
| Christian Taylor | 4 |
| Benjamin True | 4 |
| Brad H Walker | 4 |
| Ryan Whiting | 4 |
| Kara Winger (Patterson) | 4 |
| Devon Allen | 3 |
| Mike Arnold | 3 |
| Whitney Ashley | 3 |
| Kendall Baisden | 3 |
| Ben Blankenship | 3 |
| Marvin Bracy | 3 |
| Christian D Cantwell | 3 |
| Kelsey Card | 3 |
| Kerron Clement | 3 |
| Kim Conley | 3 |
| Ryan Crouser | 3 |
| Vashti Cunningham | 3 |
| Amanda Eccleston | 3 |
| Christina Epps | 3 |
| Phyllis Francis | 3 |
| Andrea Geubelle | 3 |
| Kate Grace | 3 |
| Quanera Hayes | 3 |
| Ryan Hill | 3 |
| Felisha Johnson | 3 |
| Lori S Jones | 3 |
| Sam Kendricks | 3 |
| Shamier Little | 3 |
| Chaunte L Lowe | 3 |
| Brenda Martinez | 3 |
| Bryan McBride | 3 |
| Imani Oliver | 3 |
| Jeff Porter | 3 |
| Jenna Prandini | 3 |
| Ashley Spencer | 3 |
| Cassandra Tate | 3 |
| Matthew Tegenkamp | 3 |
| Taylor Washington | 3 |
| Ameer Webb | 3 |
| Spencer Adams | 2 |
| Bradley Adkins | 2 |
| Morolake Akinosun | 2 |
| Mary Akor | 2 |
| Robert A Andrews | 2 |
| Esther Atkins (Erb) | 2 |
| Ricky Babineaux | 2 |
| Tavis Bailey | 2 |
| Andrew Bayer | 2 |
| Chris Benard | 2 |
| Hillary Bor | 2 |
| Brittany Borman | 2 |
| Tia Brooks | 2 |
| Katie Burnett | 2 |
| Hannah Carson | 2 |
| Kori Carter | 2 |
| Janet Cherobon-Bawcom | 2 |
| D'Angelo D Cherry | 2 |
| Kyle Clemons | 2 |
| Christian Coleman | 2 |
| Liz Costello | 2 |
| Logan Cunningham | 2 |
| Sean Donnelly | 2 |
| Kimberlyn Duncan | 2 |
| Jarret Eaton | 2 |
| Craig Engels | 2 |
| Juan Diego Estrada | 2 |
| Andrew Evans | 2 |
| Scott Fauble | 2 |
| Mason E Finley | 2 |
| Najee Glass | 2 |
| Marquise Goodwin | 2 |
| Erin M Gray | 2 |
| Arman Hall | 2 |
| Marielle Hall | 2 |
| Darrell Hill | 2 |
| Cyrus Hostetler | 2 |
| Shelby Houlihan | 2 |
| Charles J Jock | 2 |
| Jonathan Jones | 2 |
| Deena M Kastor | 2 |
| Deante Kemper | 2 |
| Shadrack Kipchirchir | 2 |
| Shalaya Kipp | 2 |
| Leonard Korir | 2 |
| Alfred G Kruger | 2 |
| Kyle Landon | 2 |
| Christopher Landry | 2 |
| Morgann LeLeux | 2 |
| Craig Leon | 2 |
| Casimir Loxsom | 2 |
| Noah Lyles | 2 |
| Maggie Malone | 2 |
| Michael G Mannozzi | 2 |
| Conor McCullough | 2 |
| Sydney McLaughlin | 2 |
| Tony McQuay | 2 |
| Miranda Melville | 2 |
| Maria L Michta-Coffey | 2 |
| Heather Miller | 2 |
| Dalilah Muhammad | 2 |
| Clayton Murphy | 2 |
| Brianne Nelson | 2 |
| Vernon Norwood | 2 |
| Courtney Okolo | 2 |
| Barbara Pierre | 2 |
| Elizabeth Podominick | 2 |
| Tori Polk | 2 |
| Chanelle Price | 2 |
| Colleen Quigley | 2 |
| Byron Robinson | 2 |
| Raven Saunders | 2 |
| Shakeelah Saunders | 2 |
| Garrett Scantling | 2 |
| Cale Simmons | 2 |
| Amina Smith | 2 |
| Erik Sowinski | 2 |
| Deajah Stevens | 2 |
| Jeneva Stevens | 2 |
| Mattie Suver | 2 |
| Kellyn Taylor (Johnson) | 2 |
| Erin Taylor-Talcott | 2 |
| Michael Tinsley | 2 |
| David Verberg | 2 |
| Jared Ward | 2 |
| Ariana Washington | 2 |
| Tara Welling | 2 |
| Chrishuna Williams | 2 |
| Kendell Williams | 2 |
| Ajee Wilson | 2 |
| Heather Wilson | 2 |
| Rudy Winkler | 2 |
| Jason Witt | 2 |
| Phoebe E Wright | 2 |
| Zachery Ziemek | 2 |
| Jessica (Pixler) Tebo | 1 |
| Harun Abda | 1 |
| Colby Alexander | 1 |
| Nia Ali | 1 |
| Avione Allgood | 1 |
| Alexandria M Anderson | 1 |
| Jeshua Anderson | 1 |
| Jordin Andrade | 1 |
| Garrett Appier | 1 |
| Ronnie R Ash | 1 |
| Joanna Atkins | 1 |
| Eric Avila | 1 |
| Thomas Awad | 1 |
| Elvyonn Bailey | 1 |
| Olivia Baker | 1 |
| Trevor P Barron | 1 |
| Diondre Batson | 1 |
| Jessica Beard | 1 |
| Molly E Beckwith-Ludlow | 1 |
| Chris Bernard | 1 |
| Michael Berry | 1 |
| Anne Bersagel | 1 |
| Cody Bidlow | 1 |
| Amanda Bingson | 1 |
| Angela Bizzarri | 1 |
| Jacob Blankenship | 1 |
| Erica Bougard | 1 |
| Aaron M Braun | 1 |
| Donavan Brazier | 1 |
| Ciarra Brewer | 1 |
| Leslie Brost | 1 |
| Kamaria Brown | 1 |
| Kristen Brown | 1 |
| Stephanie Brown | 1 |
| Dezerea Bryant | 1 |
| Cameron Burrell | 1 |
| Kayla Bushey | 1 |
| Quentin Butler | 1 |
| Tynita Butts | 1 |
| Donald Cabral | 1 |
| Peter Callahan | 1 |
| Jillian Camarena-Williams | 1 |
| Carolina Carmichael | 1 |
| Chris Carter | 1 |
| Pat Casey | 1 |
| Kristi Castlin | 1 |
| Kendra Chambers | 1 |
| Marcus Chambers | 1 |
| Quintunya Chapman | 1 |
| Alejandro Chavez | 1 |
| Jamie Cheever | 1 |
| Megan Clark | 1 |
| Samantha Cohen | 1 |
| Daveon Collins | 1 |
| Jason Colwick | 1 |
| Emmanuel Corvera | 1 |
| Terrel Cotton | 1 |
| Jacquelyn Coward | 1 |
| Donald Cowart | 1 |
| Kevin Craddock | 1 |
| Sam Crouser | 1 |
| Trey (Hiawatha) Culver | 1 |
| Hannah Cunliffe | 1 |
| Abbey D'Agostino | 1 |
| Jeffery Demps | 1 |
| Aaron Dinzeo | 1 |
| Hilary Dionne | 1 |
| Reginald Dixon | 1 |
| Riley Dolezal | 1 |
| Erin Donohue | 1 |
| Braxton Drummond | 1 |
| JaCorian Duffield | 1 |
| Dedric Dukes | 1 |
| Colin Dunbar | 1 |
| Adam Durham | 1 |
| Johnny Dutch | 1 |
| Dondre Echols | 1 |
| Alexa Efraimson | 1 |
| Lianne Farber | 1 |
| Patrick Feeney | 1 |
| Brianna Felnagle | 1 |
| Mason Ferlic | 1 |
| Hannah Fields | 1 |
| Erin Finn | 1 |
| Thomas FitzSimons Jr | 1 |
| Jessica Flax | 1 |
| Craig Forys | 1 |
| Bridget L Franek | 1 |
| Autumne Franklin | 1 |
| Tori Franklin | 1 |
| Thomas J Freeman | 1 |
| Courtney Frerichs | 1 |
| Trentavis Friday | 1 |
| Sean Furey | 1 |
| Eric Futch | 1 |
| Will Geoghegan | 1 |
| Peter Geraghty | 1 |
| Christopher Giesting | 1 |
| Tim Glover | 1 |
| Jarvis Gotch | 1 |
| Alia Gray | 1 |
| John Gregorek | 1 |
| Lauren E Hagans | 1 |
| Sara Hall | 1 |
| Kimberley Hamilton | 1 |
| Jason Harrell | 1 |
| Aleec Harris | 1 |
| Isaiah Harris | 1 |
| James Harris | 1 |
| Mike Hartfield | 1 |
| Jeremy Hicks | 1 |
| Kristen Hixson | 1 |
| Becky N Holliday | 1 |
| Mark Hollis | 1 |
| Josh Honeycutt | 1 |
| Scott Houston | 1 |
| Marisa Howard | 1 |
| Carlin Isles | 1 |
| Marcus Jackson | 1 |
| Anastasia Jelmini | 1 |
| Caroline Jepleting | 1 |
| Funmilayo Jimoh | 1 |
| Rachel Johnson | 1 |
| Avion Jones | 1 |
| Cambrya Jones | 1 |
| Dakotah Keys | 1 |
| Allison Kieffer | 1 |
| Max King | 1 |
| Elkanah Kipchumba Kibet | 1 |
| Stanley Kipkoech Kebenei | 1 |
| Annie Kunz | 1 |
| Jarrion Lawson | 1 |
| Tanasia Lea-Hoffler | 1 |
| Muna A Lee | 1 |
| William J Leer | 1 |
| Cory Leslie | 1 |
| Lindsay Lettow | 1 |
| Michael Lihrman | 1 |
| Peter Limo | 1 |
| Emily Lipari | 1 |
| Sabrina Little | 1 |
| Matthew Llano | 1 |
| Dentarius Locke | 1 |
| Craig Lutz | 1 |
| Katherine Mackey | 1 |
| Travis Mahoney | 1 |
| Felecia Majors | 1 |
| Jessica Maroszek | 1 |
| Brendan Martin | 1 |
| Cory Martin | 1 |
| Jada Martin | 1 |
| Bria Matthews | 1 |
| Tyler McCandless | 1 |
| Remontay McClain | 1 |
| Rachel McCoy | 1 |
| Cory McGee | 1 |
| Chantae McMillan | 1 |
| Misiker Mekonnen Demissie | 1 |
| Tony Migliozzi | 1 |
| Ebony Morrison | 1 |
| Miller Moss | 1 |
| Carly Muscaro | 1 |
| Katie Nageotte | 1 |
| Michael Norman | 1 |
| Leah Nugent | 1 |
| Matthew O'Neal | 1 |
| Keturah Orji | 1 |
| Desmond Palmer | 1 |
| Ford Palmer | 1 |
| Elizabeth Patterson | 1 |
| Ben Payne | 1 |
| Demi Payne | 1 |
| Sarah Pease | 1 |
| Tyler Pennel | 1 |
| Sam Penzenstadler | 1 |
| Alexis Perry | 1 |
| Anthony Peters | 1 |
| Samuel Pierson | 1 |
| Summer T Pierson | 1 |
| John Prader | 1 |
| Deanna Price | 1 |
| Allison Reaser | 1 |
| Malcolm Richards | 1 |
| John Cody Risch | 1 |
| Timothy Ritchie | 1 |
| Gil S Roberts | 1 |
| Kurt Roberts | 1 |
| Ricky Robertson | 1 |
| Jeron Robinson | 1 |
| Laura Roesler | 1 |
| Raevyn Rogers | 1 |
| Megan Rolland | 1 |
| Nick Ross | 1 |
| Khallifah Rosser | 1 |
| Michael Rutt | 1 |
| Mary Saxer | 1 |
| Nicole Schappert Tully | 1 |
| Jared Schuurmans | 1 |
| Donald Scott | 1 |
| Jenia Sears | 1 |
| Kenny Selmon | 1 |
| Kiah Seymour | 1 |
| Perry Shoemaker | 1 |
| April Sinkler | 1 |
| Emily Sisson | 1 |
| Gina Slaby | 1 |
| Michael Slagowski | 1 |
| Brittany Smith | 1 |
| Calvin Smith | 1 |
| Amanda J Smock | 1 |
| Patrick G Smyth | 1 |
| Duane R Solomon | 1 |
| Terrence Somerville | 1 |
| Neely Spence Gracey | 1 |
| Sami Spenner | 1 |
| Jaide Stepter | 1 |
| Robyn Stevens | 1 |
| Tabor Stevens | 1 |
| Tamas (Ray) Stewart | 1 |
| Nathan Strother | 1 |
| Jeremy Taiwo | 1 |
| Wendy Thomas | 1 |
| Curtis Thompson | 1 |
| Turquoise Thompson | 1 |
| Laura Thweatt | 1 |
| Jessica Tonn | 1 |
| Hillary Too | 1 |
| David Torrence | 1 |
| Tiffany Townsend | 1 |
| Stephanie B Trafton | 1 |
| Ryan Vail | 1 |
| Amy Van Alstine | 1 |
| Tim Vanliew | 1 |
| Rachel Varner-Geary | 1 |
| Shelbi Vaughan | 1 |
| Clayton Vaughn | 1 |
| Rebecca Wade | 1 |
| Shaquille Walker | 1 |
| Lauren Wallace | 1 |
| Heavin Warner | 1 |
| Reese Watson | 1 |
| Alexis Weeks | 1 |
| Kellie L Wells | 1 |
| Alisha Williams | 1 |
| Devon Williams | 1 |
| William Williams | 1 |
| Shakima Wimbley | 1 |
| Russ Winger | 1 |
| Melinda Withrow | 1 |
| Chase Wolfle | 1 |
| Benjamin Woodruff | 1 |
| Dontavius Wright | 1 |
| Audie Wyatt | 1 |
| Izaic Yorks | 1 |
| Sean Young | 1 |