2007 Texas Relays - University of Texas
Kara Goucher Is Not Retired, Was 'Pretty Upset' About Nike's New Shoes
Kara Goucher Is Not Retired, Was 'Pretty Upset' About Nike's New Shoes
Kara Goucher Is Not Retired, Was 'Pretty Upset' About Nike's New Shoes
Mar 20, 2017
by Dennis Young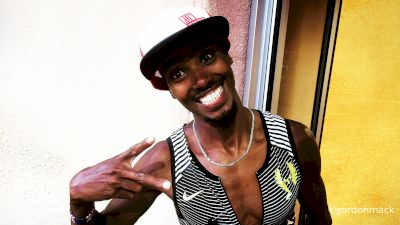 Kara Goucher hasn't raced since February 13, 2016, when she finished fourth at the Olympic Trials marathon. In a
new and very good
Runner's World
interview, she explains that her absence was due to two knee surgeries. She initially planned to run the track Trials, then to run a marathon this spring, and is now aiming for a fall marathon--but she'd take it if she were selected to the U.S. marathon team for this summer's world championships.
After one surgery in June for what she says was a "bone-on-bone situation" caused by a torn meniscus, she had an MRI that revealed a second surgery was necessary. She says that she's been healthy and training since November, but that her knee "will require more love down the road, but nothing I would want to do right now because it would pretty much end my [competitive] career to have anything else done on it at this point."
The part of the interview that will get the most attention, though, is her comments on the news that Amy Cragg and Shalane Flanagan wore experimental Nikes at the Olympic Trials.
Here it is in full
. (Note: it's a little unclear in the interview, but Bret Schoolmeester of Nike is married to Goucher's sister.)
Interviewer: What was your reaction to seeing that at the trials Amy Cragg and Shalane Flanagan were wearing an early version of the shoe that Nike is developing in its sub-two-hour marathon attempt?

Goucher: I was pretty upset when I heard about it. It's very sensitive because I know people that I care about involved in the development of those shoes, the research of the shoe. So it's a very complicated and sensitive issue for me. I just think if technology determined our Olympic team, then that's a problem. So we're just going to have to see what other people think. But that definitely opened up some old wounds.

It's very layered, given that the research was done here in Boulder [at the University of Colorado's Department of Integrative Physiology] and my old teammate was wearing the shoes. So these are all people I care about, I care deeply about my brother-in-law [Bret Schoolmeester, Nike's senior director of global running], I care deeply about Shalane [Flanagan], so it's just very complicated.

But at the end of the day, if technology is affecting races and what times people are running, if that is found to be an unfair advantage, then that's an issue.

​
​
OK, so, on one hand, this is exactly how
Nike is marketing its new shoes
--they're 4% faster than their previous fastest shoes, and they're good enough for the pros. Any
investigation into
the supposed unfair advantage that these shoes confer is good PR for Nike. Goucher finished 64 seconds behind Flanagan at the Trials, which is just a 0.71% gap. If Goucher claims that her shoes were 0.72% slower than Flanagan's--which she hasn't--then Nike has its best commercial ever.
On the other, what does "an unfair advantage" even mean when it comes to shoes? What is and isn't allowed? Maybe, as Haile Gebrselassie said last week,
all shoes are cheating
--so they may as well be as fast as possible. As Gebrselassie put it when asked what a clean athlete could run in the marathon, "You ask me, clean? No technology, no help? That is what Abebe Bikila ran in 1960. That was barefoot. The cleanest."