The United States' rich history of global success in the sprints is matched--and sometimes, nearly overshadowed--by a frustrating inability to get the stick safely around the track during relay races. The men's 4x100m relay has been disqualified in the final of the most recent Olympic Games and IAAF World Championships due to poor exchanges. Sometimes it's not even their fault--last year in Rio, a Brazilian athlete collided with Allyson Felix in the 4x100m prelims and knocked the baton out of her hand. Team USA was ultimately allowed to compete again in a solo time trial, through which they qualified for the final, then won Olympic gold. But I digress. See a full chart of
Team USA's poor history in global relays here
.
This weekend, the IAAF/BTC World Relays Bahamas at Nassau's T. Robinson Stadium offers a learning opportunity for the Americans to repair their image to the world and earn some hardware, all just blocks from the beach.
Nine-time Olympic gold medalist and eight-time world champion Carl Lewis has never been shy about critiquing the United States' shortcomings in the relays. The University of Houston assistant coach is primarily remembered for his long jump success, though six of those titles came in the 4x100m relay. So his approval of new Team USA relays coach Orin Richburg,
as reported by the IAAF
, is worth noting.
Also worth noting: the top eight finishers in the men's and women's 4x400m and 4x100m relays will earn automatic entry to the IAAF World Championships in London this summer. And, any team that breaks a world record will be awarded a U.S. $50,000 bonus by the IAAF. Below is a full breakdown of the prize money:
Team prize money for each race (all amounts are in US$):
1st -- 50,000
2nd -- 30,000
3rd -- 20,000
4th -- 12,000
5th -- 10,000
6th -- 8000
7th -- 6000
8th -- 4000
Now, we'll take a closer look at each scheduled event in Nassau and analyze the U.S. contingent's chances for glory.
Men's 4x100m
When:
Saturday, 10:36 PM ET
World Record:
36.84 (Jamaica)
Team USA Roster:
Ronnie Baker, Marvin Bracy, Leshon Collins, Justin Gatlin, Mike Rodgers
Team USA is actually the defending champion in the 4x100m here in Nassau. In 2015, the American quartet appeared to make a statement by winning over a Jamaican squad that included the world's fastest man, Usain Bolt. But Jamrock was back on top in time for WCs in August, as well as the Rio Games last summer, as the Americans were disqualified in both of those finals. If Team USA can make it through the heats and the final clean, it has a good shot at winning, as Bolt is not competing and former 100m world-record holder Asafa Powell is a late scratch for the Jamaicans.
But the real challenge may come from Team Canada. Led by Andre De Grasse, the Olympic bronze medalist for 100m, the Canadians took bronze in Rio this past summer in track's shortest relay and currently own the world leader in the 4x100m with a 38.15 from a Florida Relays win over several U.S. all-star squads.
Watch Andre De Grasse anchor Team Canada's world-leading 4x100m at the Florida Relays:
Women's 4x100m
When:
Sunday, 10:14 PM ET
World Record:
40.82 (USA)
Team USA Roster:
Morolake Akinosun, Tianna Bartoletta, Tori Bowie, Dezerea Bryant, English Gardner, Jenna Prandini
This final is projected to be a heated USA versus Jamaica battle; each nation has won one 4x100m title each at the World Relays. Jamaica's newly crowned sprint queen, Rio 100m/200m champion Elaine Thompson, will headline both of the short relays and will attempt to keep this title under green and gold possession. The 22-year-old made her 100m season debut just five days ago with a head-turning (albeit wind-aided) 10.75 (+2.2) and will race here with three of her compatriots who helped run to silver last year in Rio: Christania Williams, who was also eighth individually in Rio over 100m; plus Sashalee Forbes and Simone Facey, who ran in the relay heats.
Even still, it's hard to dislodge the Americans as favorites after winning this event in Rio. Bowie might be the best American female sprinter not named Allyson Felix, taking bronze in the 200m and silver in the 100m last year in Rio, in addition to the 4x100m gold. Only Felix is missing from that roster: Bowie, Bartoletta, and Gardner raced in the final in Rio, while Akinosun ran in the qualifying round.
Watch this Workout Wednesday from this past month, featuring Morolake Akinosun at the University of Texas:
Trinidad & Tobago could also be a factor; all five women on the roster were there to propel T&T to the bronze medal at the 2015 IAAF World Championships.
Men's 4x200m
When:
Sunday, 9:30 PM ET
World Record:
1:18.63 (Jamaica)
Team USA Roster:
Marvin Bracy, Justin Gatlin, Jarrion Lawson, Noah Lyles, Ameer Webb, Isiah Young
The United States has twice been disqualified at the World Relays in the rarely contested 4x200m, an event that has become almost unheard of outside of high school athletics. The Jamaicans seem to have figured out the unusual exchanges -- their green and gold uniforms have crossed the line first at each of the prior World Relays. Even without Usain Bolt, this group is rich in experience: Rasheed Dwyer (19.80 PB), Warren Weir (19.79 PB), Oshane Bailey (20.42 PB), and Nickel Ashmeade (19.85 PB) have all won an Olympic or World Championship relay title.
If the Americans can get the stick successfully around the track, they have a great shot to run fast and win. Gatlin, 35, is the epitome of experience, with nearly 17 years of elite racing experience (minus four years for a doping suspension) and five Olympic medals. On the other side of the spectrum is the 19-year-old Lyles, who will compete in his first-ever senior-level world championships. He won the IAAF U20 World Championships this past year over 100m and took fourth at the Olympic Trials in the 200m final as a high school senior. In his first year as a pro, Lyles has already won a U.S. indoor title and set a new world record for 300m in 31.87.
Nineteen-year-old Noah Lyles after winning the U.S. indoor title for 300m in a new world record:
Women's 4x200m
When:
Saturday, 10:21 PM ET
World Record:
1:27.46 (USA)
Team USA Roster:
Tori Bowie, Felicia Brown, English Gardner, Jenna Prandini, Shalonda Solomon, Tiffany Townsend
This battle is the first sprint final of the weekend and looks destined to be part one of three in the USA versus Jamaica duals. The United States won in 2014, but a botched handoff took them out of the running in 2015. Nigeria won the title that year, thanks in part to Blessing Okagbare, and it will once again be in the running. But Elaine Thompson looks to secure Jamaica's first 4x200m here after becoming the first woman to sweep the 100m and 200m in 28 years at the Olympic Games. She recently ran her first 100m since this past summer in a startling (and wind-aided) 10.75 (+2.2).
Bowie and Gardner ran on Team USA's winning 4x100m in Rio, while Prandini ran on the squad that took silver in Beijing at the 2015 WCs. The 31-year-old Solomon provides more experience for the young-leaning squad; she helped Team USA win the world 4x100m title in 2011 and was world junior champion for 200m in 2004.
Watch English Gardner run 22.97 in her season-opener at the Mt. SAC Relays:
Men's 4x400m
When:
Sunday, 9:56 PM ET
World Record:
2:54.29 (USA)
Team USA Roster:
Kyle Clemons, Paul Dedewo, Arman Hall, Tony McQuay, LaShawn Merritt, Gil Roberts
The U.S. men are a force in the 4x400m. The red, white, and blue are thus far undefeated in the mile relay at the IAAF World Relays -- having won in both 2014 and 2015 -- and have not placed lower than first in the IAAF World Championships final since 2003, when they were -- you guessed it -- disqualified. It's tough to place a bet against the defending Olympic champions here, but one must at least consider the Bahamas. The island nation has home-field advantage here in Nassau and No. 1 man Steven Gardiner recently set a national record and world-leading time with his blazing 44.26. Let's hope they can keep it close enough to produce an anchor battle at the end between Gardiner and Merritt, the Rio bronze medalist who boasts a PB of 43.65.
Women's 4x400m
When:
Sunday, 9:12 PM ET
World Record:
3:15.17 (USSR)
Team USA Roster:
Joanna Atkins, Phyllis Francis, Natasha Hastings, Quanera Hayes, Ashley Spencer
The U.S. women are not quite as dominant as their male counterparts in the 4x400m, but their winning streak still stretches over the past two editions of both the World Relays and the Olympic Games. The 30-year-old Hastings is the mile relay veteran of this group, having won two Olympic gold medals and six world titles in the event. This past summer in Rio, Spencer was the bronze medalist over 400m hurdles, while Francis was on the gold medal-winning 4x400m with Hastings. Hayes and Atkins have both run on world championship-winning 4x400m squads.
What do the Jamaicans have to offer in return? Twenty-two-year-old Shericka Jackson heads the contingent of quarter milers; the Olympic bronze medalist set her PB at 49.83 last summer in Rio and helped the Jamaicans earn silver in the 4x400m. Other runners from the Olympic quartet include Stephenie Ann McPherson and Anneisha McLaughlin-Whilby. That contest was decided 3:19.06 to 3:20.34, and while Team USA does not return Allyson Felix, neither does Team Jamaica return anchor Novlene Williams-Mills. It should be another close one.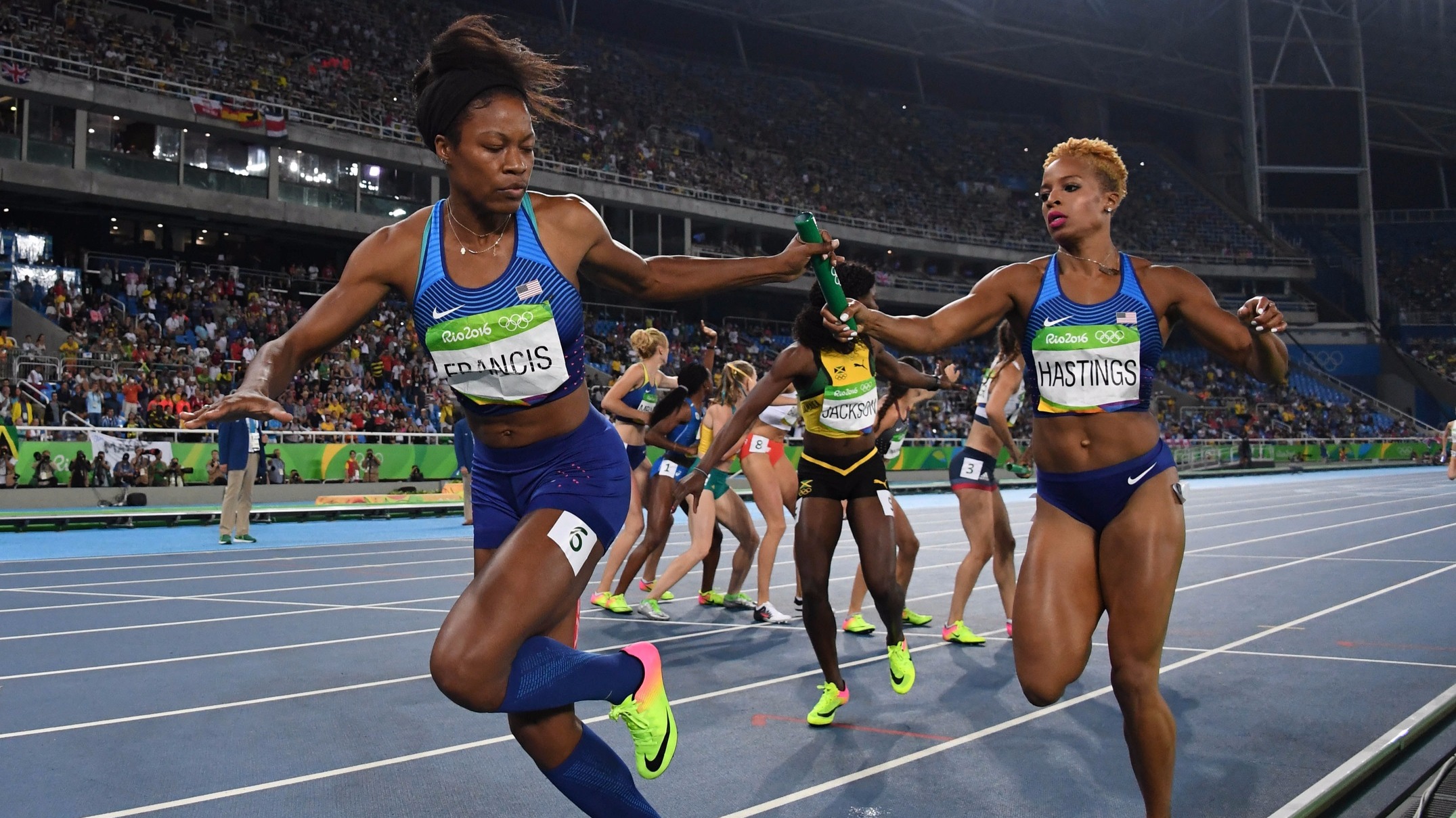 Men's 4x800m
When:
Sunday, 8:48 PM ET
World Record:
7:02.43 (Kenya)
Team USA Roster:
Charles Jock, Brannon Kidder, Casimir Loxsom, Clayton Murphy, Erik Sowinski
With the departure of the 4x1500m (2014) and distance medley relay (2015) from the IAAF World Relays' programme, the only event left for distance aficionados is the classic 4x800m -- by far the best "distance relay" on the books, anyway. The U.S. men enter Nassau as the defending champions per a five-second win over Poland in 2015, 7:04.84 to 7:09.98. Two from that group return this year, as 2016 800m indoor bronze medalist Sowinski and 600m world-record holder Loxsom are joined by Olympian Jock, Millrose Games 1K champion Kidder, and, of course, the 22-year-old Murphy, the surprise Olympic bronze medalist who has already blasted 1:43.6 this season. Sowinski ran 1:45.95 for third in that race after leading the field through 400m in 51.3.
Watch Clayton Murphy blast 1:43.6 at the Mt. SAC Relays:
The Americans will likely be challenged by Poland again, which has placed runner-up at both editions of the World Relays, as well as Kenya, the 2014 champions who already have two men under 1:45 this season: Kipyegon Bett (1:44.2) and Ferguson Cheruiyot Rotich (1:44.7).
Women's 4x800m
When:
Saturday, 9:25 PM ET
World Record:
7:50.17 (USSR)
Team USA Roster:
Kendra Chambers, Charlene Lipsey, Chanelle Price, Laura Roesler, Chrishuna Williams
The first final of the weekend will see Team USA go for its third straight title in the women's 4x800m. The 25-year-old Lipsey was a breakout star this indoor season after moving to Philadelphia to train with Ajee Wilson; the LSU product followed Wilson under the American record for 800m at the Millrose Games in February with an all-time best of 1:58.64 and went on to win the U.S. indoor 1K title. The four other women in the pool proved their fitness with a solid outing at the Mt. SAC Relays, where they finished two through five behind Oregon's Raevyn Rogers and all under 2:01.1. Roesler was top of the group in 1:59.54, her best run since 2014 and No. 2 in the world this outdoor season. Behind Roesler, the results were Price (2:00.38), Williams (2:00.41) and Chambers (2:01.1).
Watch the Team USA 4x800m pool take on the Mt. SAC Relays:
The Americans' recent display of fitness makes them seem untouchable, but the nations to keep an eye on are Poland, runner-up in 2015; Australia, third in 2014 and 2015; and Kenya, runner-up in 2014.
Mixed 4x400m
When:
Sunday, 10:30 PM ET
Team USA Roster:
Michael Berry, LaShawn Merritt, David Verburg, Phyllis Francis, Natasha Hastings, Jaide Stepter
The latest edition to the IAAF World Relays schedule doesn't have many rules. Squads must field two male and two female athletes but can race either gender in any particular order. This raucous crowd-pleaser may be the host team's best chance to win an event this weekend, as Bahamian heroes Shaunae Miller-Uibo and Steven Gardiner are among the best athletes in the world over 400m.
The United States and Jamaica must also be considered massive favorites for the title. Americans Merritt and Hastings are providing the senior leadership for their respective 4x400m squads; between the two, they have amassed four Olympic gold medals and eight world titles in the 4x400m. Youth stars lead the Jamaican lineup; 20-year-old Tiffany James dominated the IAAF World U20 Championship this past year in 51.32, while two-time U20 400m hurdles world champion Jaheel Hyde has run 46.66 for the flat 400m and 48.81 over hurdles.