2017 Prefontaine Classic
LIVE UPDATES: Prefontaine Classic
LIVE UPDATES: Prefontaine Classic
Follow along with live updates of the 2017 Prefontaine Classic in Eugene, Oregon. Friday night's action, also known as Joan Benoit-Samuelson Night at Hayward Field, will feature a 5K world record attempt from 1500m world champion Genzebe Dibaba.
May 27, 2017
by Taylor Dutch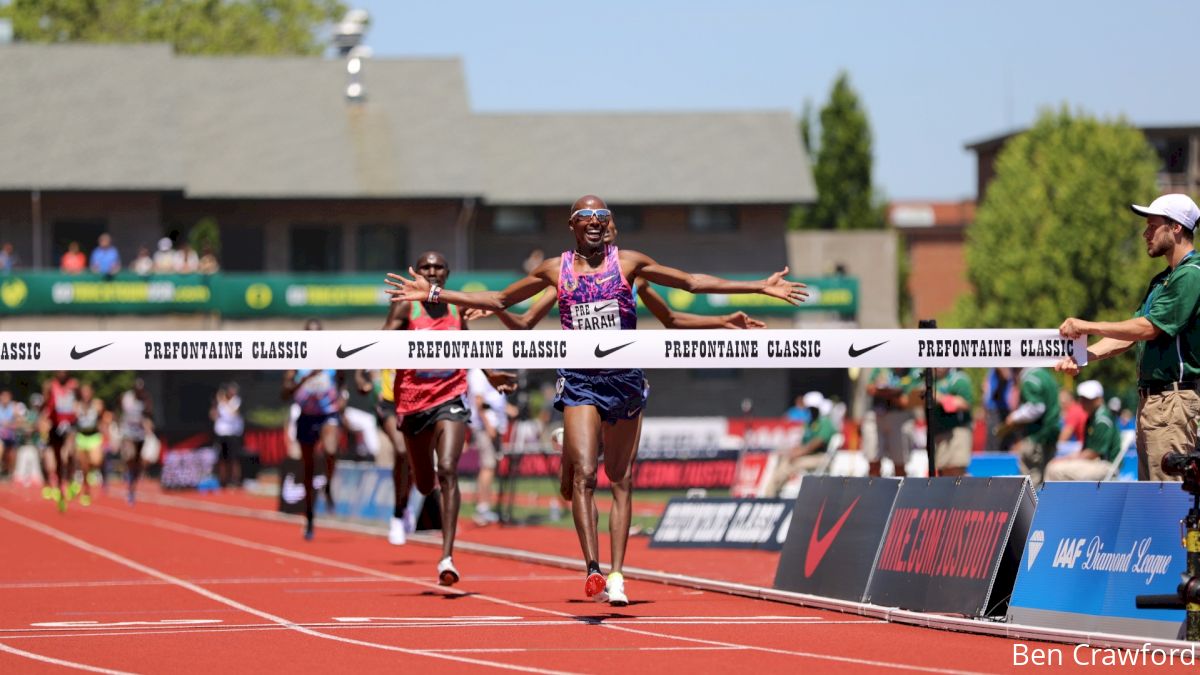 ​By Taylor Dutch and Johanna Gretschel
Follow along with live updates of the 2017 Prefontaine Classic in Eugene, Oregon. Friday night's action, also known as Joan Benoit-Samuelson Night at Hayward Field, will feature a 5K world record attempt from 1500m world champion Genzebe Dibaba. Saturday's action will continue with performances from world and Olympic champions, notably Mo Farah, Allyson Felix, LaShawn Merritt, Renaud Lavillenie, and many more.
Saturday Updates:


Men's Bowerman Mile
Is there seriously ANOTHER Ingebrigsten out here?! Filip is racing, after his two brothers ran the Invitational Mile earlier. Sixteen-year-old Jakob became the youngest sub-four minute miler about 45 minutes ago.
Andrew Rotich leads field through 56.26 for opening 400m
The pack is strung out... just over 1:55 at halfway
American Clayton Murphy well within the front pack...a fall! Souleiman falls to the ground.
Ben Blankenship to the front at the bell!
Managoi to the lead... Cheruyoit and Kwemoi right there too... all Kenyans. Murphy trying to move up but he's too far back
Kwemoi leads a Kenyan sweep in 3:49.04. Murphy in fifth as top American; 3:51.99 is about a three-second PB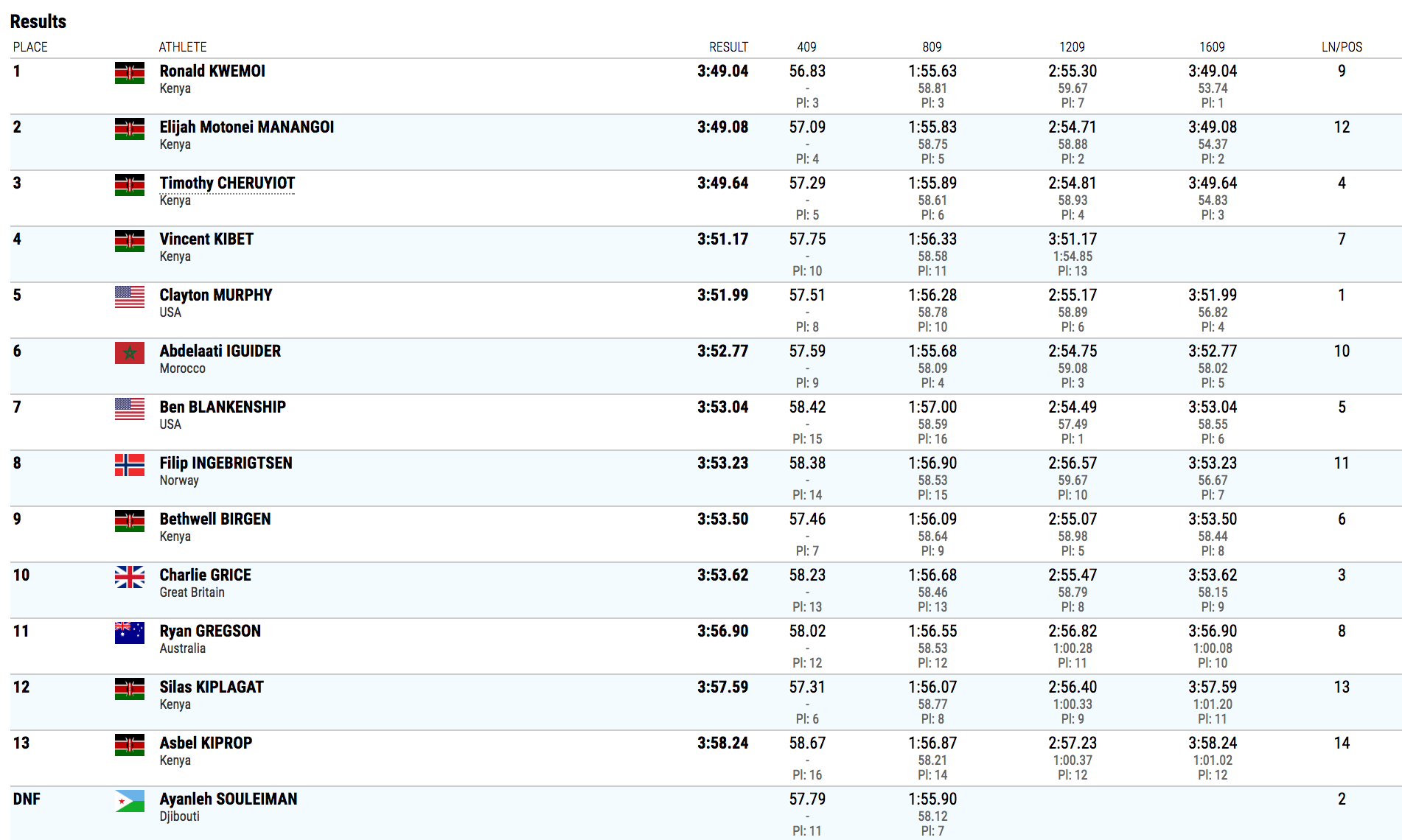 Women's 200m
Wow! American Towie Bowie takes down double Olympic champion Elaine Thompson! The Jamaican takes just third behind Shaunae Miller, the 400m Olympic champ from the Bahamas. All three women ran under 22 seconds, with Bowie's 21.77 (+1.5) being the fastest in the world this year.



Women's 1500m
Dana Mecke pacing in 64 seconds per lap, about 4:00.
It's Kate Grace up front with Laura Muir just behind. Faith Kipyegon on the outside
2:12 through 800m. Grace and Kipyegon lead behind pacer Mecke
Bell lap! Muir comes up on the outside but Kipyegon still in control, not letting her pass
Kipyegon moves past Grace, Muir past Grace
Into the homestretch, it's Kipyegon taking control. Muir trying to hold on for second but passed by Obiri
Kipyegon wins in 3:59.67.
Brenda Martinez out-leans early leader Grace to finish as top American, 4:03.56 to 4:03.59, but Grace comes away with a nice two-second PB. Simpson and Rowbury place eighth and ninth right behind them and were never a factor in the event.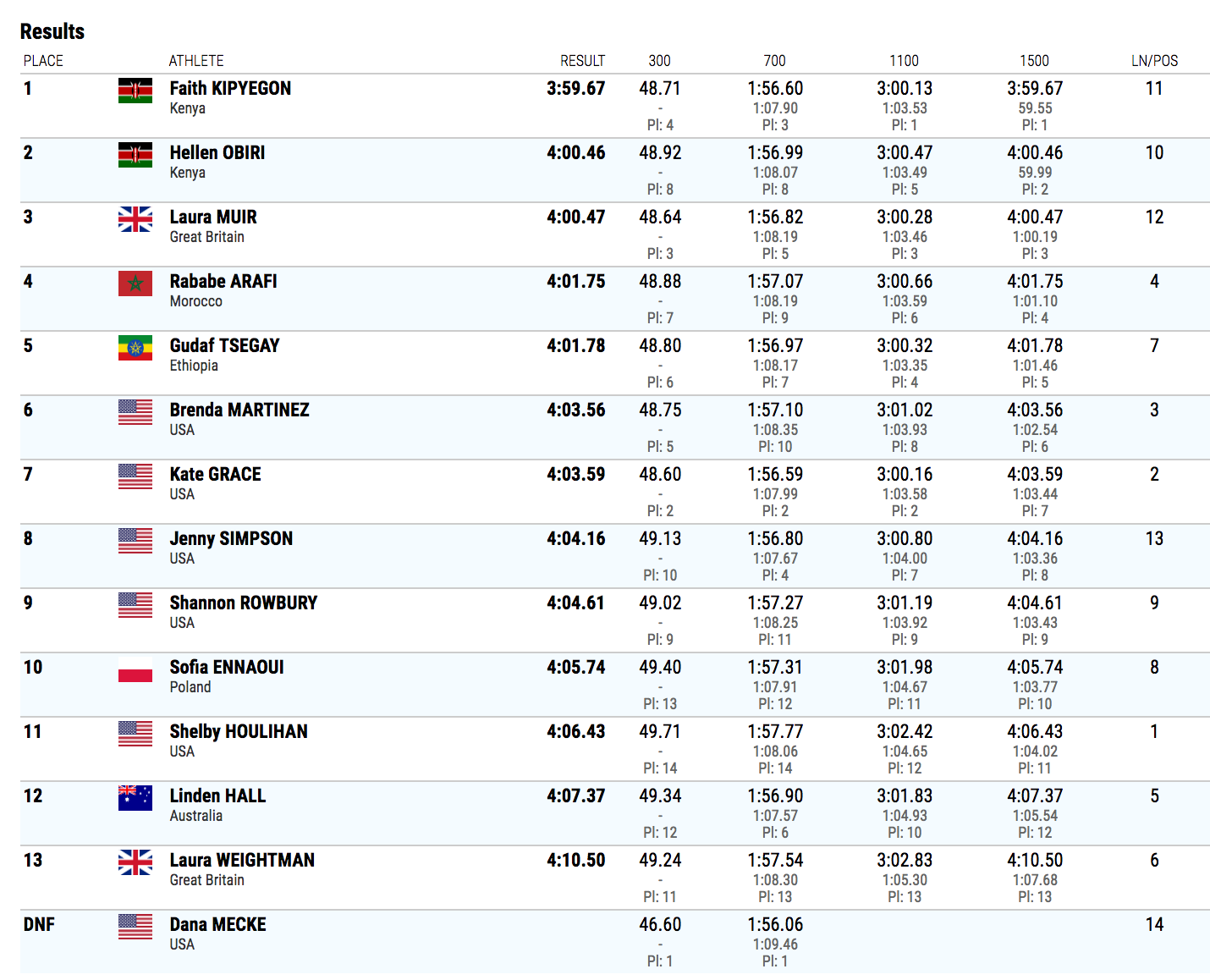 Men's 100m
Wow! Exciting win for Ronnie Baker as the American truly dominates the field. Slightly wind-aided 9.86 (+2.4). 23-year-old has never made a world team but looks poised to do so this year
Olympic medalists Andre De Grasse of Canada and Justin Gatlin continue to look sluggish, placing just fourth and fifth today.
"I got just as much a chance to win this as anybody else... I couldn't believe it [the time]. 9.86 was unbelievable," Baker said afterward.

Women's 800m
The top seven women from Rio are in this race! The only woman missing from the final is American Kate Grace, who is racing the 1500m later.
Kendra Chambers takes the field through 400m in 58.14, the field nearly a second behind.
Wambui and Semenya down the homestretch!
Wambui clearly struggling through the final 10 or so meters, while Semenya looks smooth through the finish. The South African Olympic champion wins in 1:57.78. About a second off her world leader. Wambui in 1:57.88, more than a second ahead of Olympic silver medalist Niyonsaba.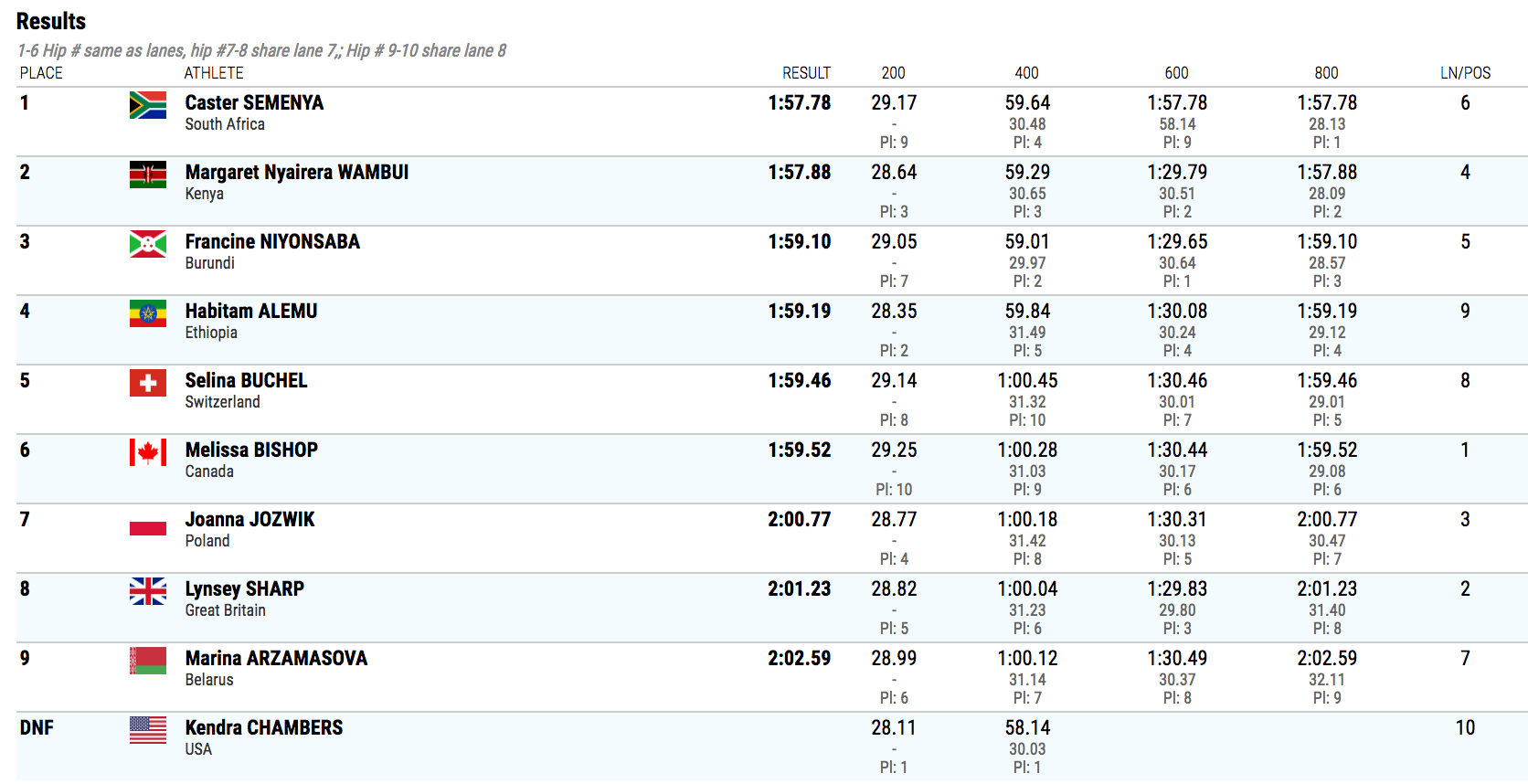 Men's 400m
LaShawn Merritt goes out hard, hangs on for the win over a fast-closing Baboloki Thebe of Botswana, 44.79 to 45.04. Not gonna lie, these guys look a little sluggish after watching Texas A&M's Fred Kerley set the collegiate record yesterday in 43.70.


Men's Invitational Mile
We could see two teenage sub-four miles here! D.J. Principe of Rhode Island, a Stanford commit, and 16-year-old Jakob Ingebrigsten of Norway are special guests here. If Ingebrigsten does it, he'll be the youngest sub-four miler in history. His older brother, Henrik, is also racing here.
58.11 seconds opening 400m, per Harun Abda of the U.S.
1:57 through 800m. Pat Casey leads, Soratos in second
And now we cut to the pole vault....
Soratos 2:57.31 through 1200m.
Andre of Brazil out front! 3:51.99
The younger Ingebrigsten does it! By a large margin -- sixteen-year-old runs 3:58.07! Principe runs just over, yet again -- 4:00.73. It must be excruciating to miss by less than a second, but he does walk away with a PB. Principe's prior best was 4:00.97 indoors at the New Balance Games.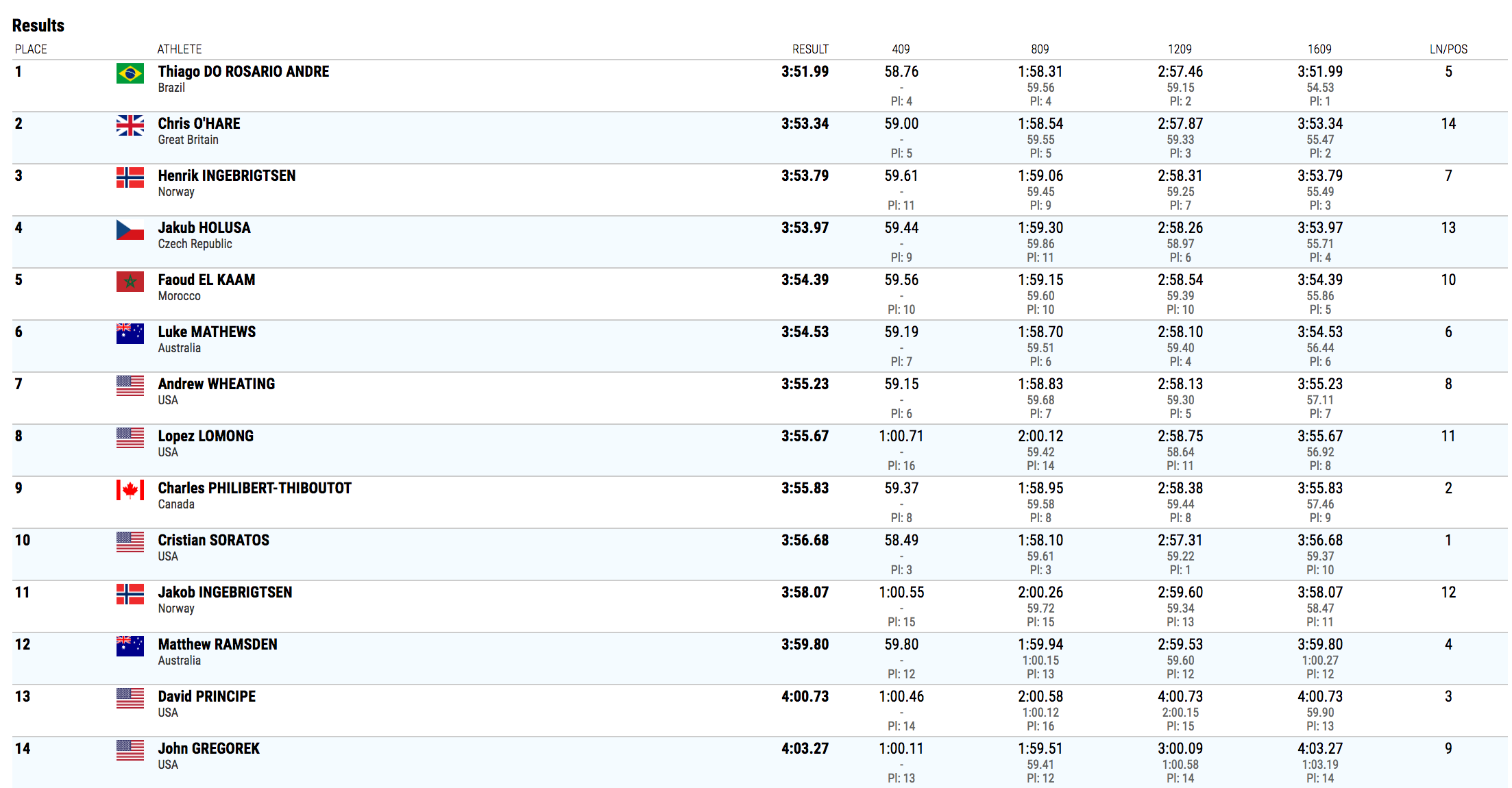 HE'S 16 AND SUB-4! #PreClassic pic.twitter.com/MFDWstg1xx

— Prefontaine Classic (@nikepreclassic) May 27, 2017
Women's 100m

American Morolake Akinosun takes home the 'W' in 10.94 (+2.1) over Murielle Ahoure of the Ivory Coast.

Boy's 200m
Super sophomore Tyrese Cooper - who already owns several national high school records - put the hurt on the elite prep field by winning the High School Boys 200m in 20.51 (+0.9), in what I am pretty sure is a new PB and is definitely the fastest time of the year for prep boys. Good to see after struggling through a minor injury during the prep season.
Women's 400m hurdles
Shamier Little of adidas got out hard in lane 1, but 2016 Olympian and fellow American Ashley Spencer ran a strong final 100m to take the win, 53.38 to 53.44, a new PB. Spencer's prior best was 53.72, run en route to a bronze medal performance at the Rio Games last summer. Little's mark is also a PB, her prior best of 53.51 coming from her NCAA title in 2016.



Men's 5000m
Riley Masters pacing the field for 12:55. Can anyone take down four-time Olympic gold medalist Mo Farah? He's won 21 of 22 5K track races since 2011, with his sole runner-up finish coming at the 2013 Prefontaine Classic due to a stomach virus.
Four minutes in, Ryan Hill is off the main pack.
Stephen Sambu currently pacing with four laps to go. Americans Leonard Korir and Paul Chelimo running in the front pack. Farah is mid-pack.
Just under two laps to go... Farah leads pack of five, including Albert Rop and Mo Ahmed. Everyone is wearing the same jerseys!
BELL LAP!
Farah throwing bows with Yomif Kejelcha on the homestrech!
Farah pulls away in the final meters to win, 13:00.70, over Kejelcha of Ethiopia, 13:01.21.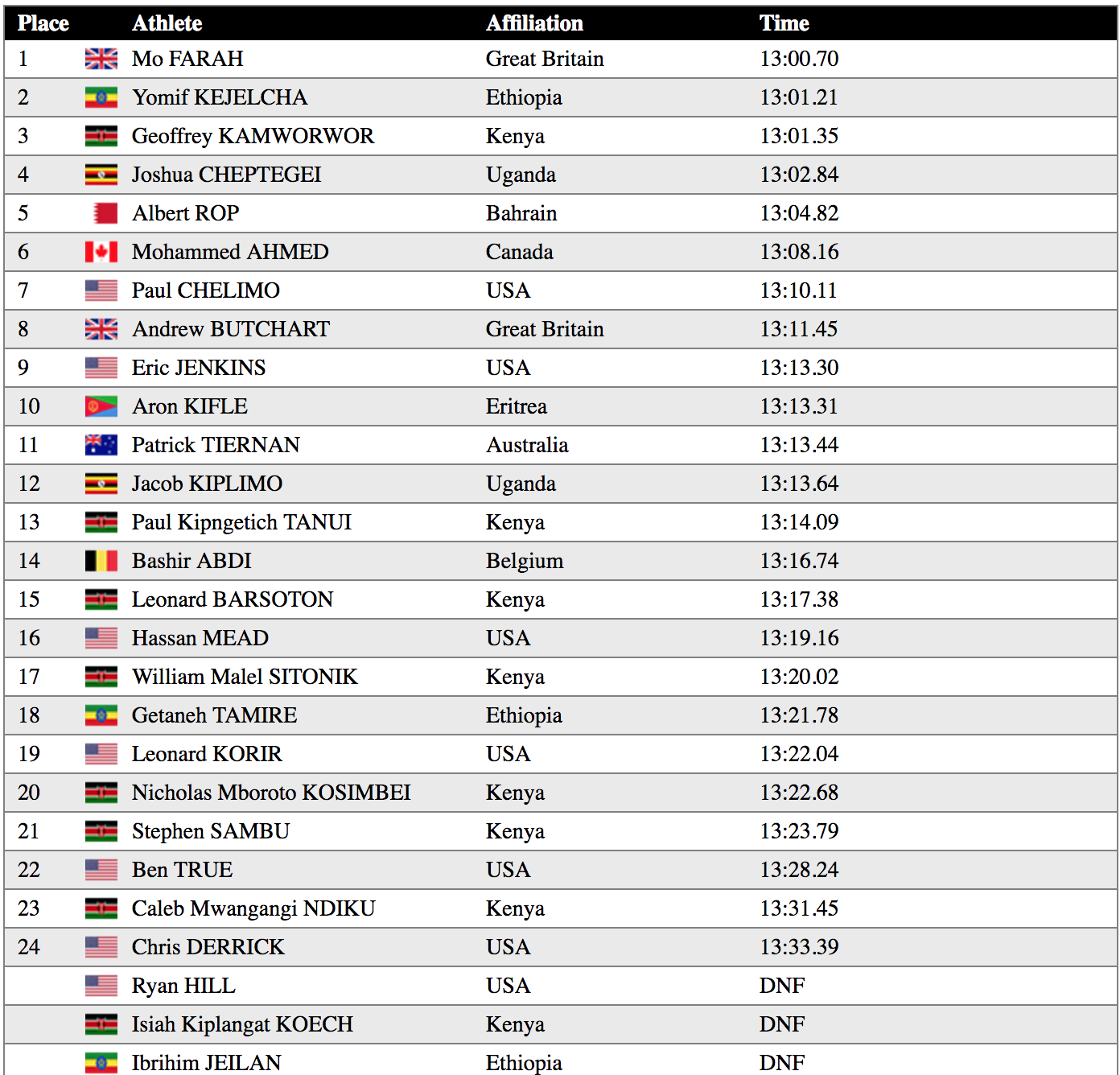 Women's 100m hurdles
All Americans here. Jasmin Stowers wins in 12.59 (+0.8) over Queen Harrison, 12.64. A season's best for Stowers and her first win at the Prefontaine Classic.
Men's 110m hurdles
Olympic gold medalist Omar McLeod of Jamaica wins decisively in 13.01 (+0.9), the fastest time in the world this year. LOL he calls athletics his "leisurely activity" in post-race interview.

Men's Pole Vault
17-year-old Mondo Duplantis is winning! He's the only one who hasn't missed yet.
2016 Olympic champion Thiago Braz of Brazil no heights.
Duplantis now in fourth, taking his third and final attempt at 5.81m/19-0.75. Lavillenie, Kendricks and Lisek have all made the height.
Mondo misses his final attempt. Shawn Barber also misses all three attempts. It's now a three-man battle between world record holder Renaud Lavillenie, Olympic bronze medalist Sam Kendricks and European indoor champion Piotr Lisek of Poland.
Mondo will place fourth in his first Diamond League. At 17 years old. Good experience. So impressed that he was the last one to miss a height.
Friday Updates:
Girl's 200m
Eighth grader Tamari Davis just schooled the high school runners with a blazing 23.21 win in the girl's 200m!
Women's 800m

58.87 for the first quarter led by Charlene Lipsey....Laura Roesler is right on her hip, Sammy Watson also in the mix.
For the first time in her career, Charlene Lipsey breaks two minutes in the outdoor 800m! 1:59.87 for Lipsey! She broke two minutes indoors (1:58 in New York), but Prefontaine is the first time that Lipsey has broken two on an outdoor track.
Women's 1500m
Gabriele Stafford of Canada takes the race in 4:07.43, the Canadian standout now has the world standard in the event. Katie Mackey follows behind her in 4:07.79 and Emily Lipari made a big move for third in 4:08.29.
Four-time cancer survivor Gabe Grunewald finished ninth overall in 4:15.04. Prefontaine marked her fourth race since being diagnosed with cancer for the fourth time in March.
Women's 3K Steeplechase

The women's steeplechase is off now, featuring Olympic champion Ruth Jebet and Olympic bronze medalist Emma Coburn. Coburn broke the American record at last year's Prefontaine Classic.
Emma is now leading the race with Stephanie Garcia right behind her, will update again after this commercial break....
Ruth Jebet is under nine minute pace now with Celliphine Chepteek Chespol who just took the lead from her. WOW Jebet just jumped back in front after Chespol lost her shoe on the water pit!!
Bell lap and now Jebet has picked it up! But it's still three women! Jebet, Chespol and Chepkoech!
Chespol fell in the water jump and came back to take the lead and the win!! She does it under nine minutes! Celliphine Chepteek Chespol just stopped to tie her shoe, came back and won the Prefontaine Classic! She just ran 8:58.78, the fourth fastest time ever!
Emma Coburn also came dangerously close to her American record!! Less than a second shy of her record run in Rio last summer! Full results below: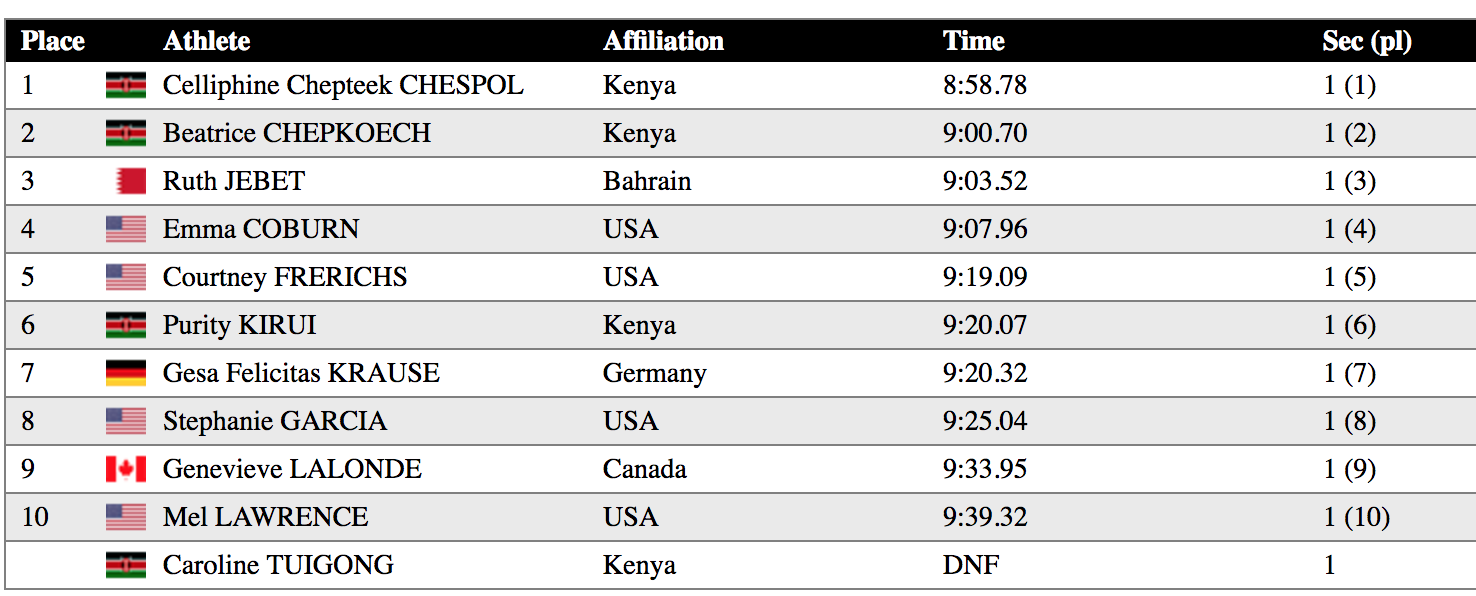 Women's 5000m (WR Attempt)
The women's 5K is up next! Genzebe Dibaba has her sights set on her sister Tirunesh's world record of 14:11. Genzebe has come really close to breaking it before (14:15 in 2015). Let's see if she can get it done today.
Dibaba is running right behind the two pace-setters through the 800m mark in 2:16 so right on record pace so far. Now in a commercial break and will update as soon as we're back.
Aaaaand we're back, Dibaba has apparently fallen off the pace, now six laps to go and six seconds off of world record pace. She has what looks like a 60-meter lead over Sifan Hassan and Lilian Kasait Rengeruk who are chasing her in second and third.
Now less than a mile to go for Dibaba. Two laps remaining and the chase pack that includes Molly Huddle is 200m behind her. It doesn't look like we'll see a record tonight unless she picks it up big time.
One lap to go and we're at 13:17 on the clock.
She misses the record but breaks the tape! Genzebe Dibaba clocks in at 14:25 for an unbelievable effort in the women's 5K. Solo for half of the race and kicked it in for an 11-second win over Regeruk. Top American and former American record-holder in the 5K, Molly Huddle finished eighth in 15:09. Full results below: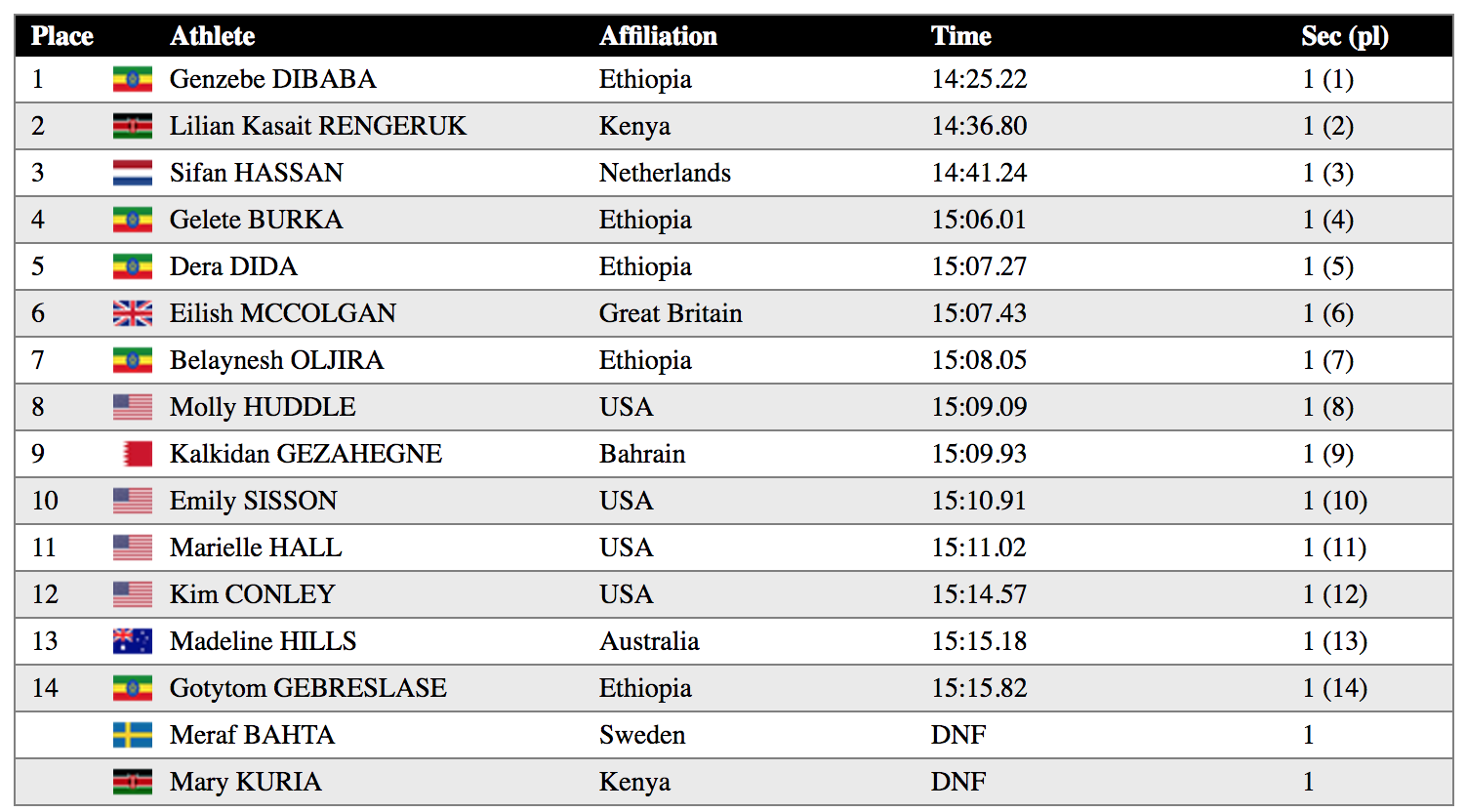 Thanks for joining me tonight! Tune in for more live updates tomorrow starting at 1:45 p.m. CT!