2017 Festival of Miles
Reed Brown Becomes The Tenth High School Sub-4:00 Miler Ever
Reed Brown Becomes The Tenth High School Sub-4:00 Miler Ever
Reed Brown Becomes The Tenth High School Sub-4:00 Miler Ever
Jun 2, 2017
by Dennis Young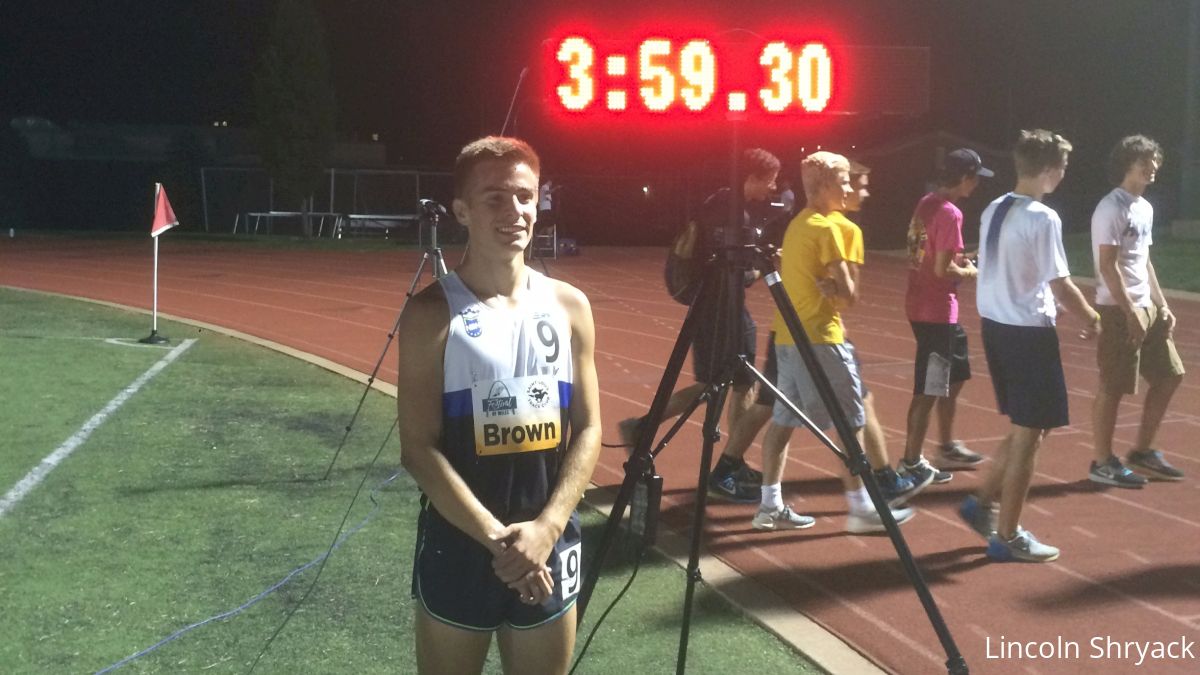 High school senior Reed Brown finished third in the pro men's mile in 3:59.30 at the Festival of Miles in St. Louis, making him the tenth high school boy to break four miles in the mile. His time makes the Oregon commit the No. 4 high school miler of all time.
Brown was buried in the pack early, near last place after crossing 400 meters in 61.5 seconds. But he began to move up in the last 600, positioned himself at the front of a chase pack behind Morgan McDonald, and closed in 56.8 seconds to break the barrier. McDonald, a Wisconsin junior, won in 3:57 and Rorey Hunter was second in 3:58.
Brown's official splits were 61.54 (presumably 409 meters), 60.88, 60.08, 56.80.
COMPLETE RESULTS
Three different high school boys--D.J. Principe, Sam Worley, and Cooper Teare--had run 4:00 miles this season, and Brown had only run 4:03. But the Foot Locker champion from Southlake Carroll, Texas got under the barrier first. This is the second straight major achievement for Brown after losing a Texas state title to Worley, who beat Brown for state championships in cross country and the 1600 meters.
Brown, Principe, Worley, and Teare are all scheduled to race each other at the Brooks PR Invitational in two weeks.
The time is the fastest outdoor mile by a high school boy since 2001, when Alan Webb ran the still-standing national record of 3:53.43. Only Webb, Jim Ryun (3:55.3), and Drew Hunter (3:57.81 indoors) have ever run faster than Brown as a prep.
Updated high school boys mile all-time list:

3:53.43 Alan Webb (2001)
3:55.3h Jim Ryun (1965)
3:57.81 Drew Hunter (2016)
3:59.30 Reed Brown (2017)
3:59.38 Matthew Maton (2015)
3:59.38 Grant Fisher (2015)
3:59.4h Tim Danielson (1966)
3:59.53 Michael Slagowski (2016)
3:59.71 Lukas Verzbicas (2011)
3:59.8h Marty Liquori (1967)
Five high school boys have now broken four minutes since 2015--as many as had ever broken the barrier before then. Like Brown,
Grant Fisher ran his sub-4:00 at the Festival of Miles.

Watch the full race here: