2017 Brooks PR Invitational
Brooks PR: The Road To Sub-Four Ends In Seattle
Brooks PR: The Road To Sub-Four Ends In Seattle
The boys' mile at the 2017 Brooks PR Invitational could be historic, as several athletes attempt to break four minutes for the first time.
Jun 17, 2017
by Johanna Gretschel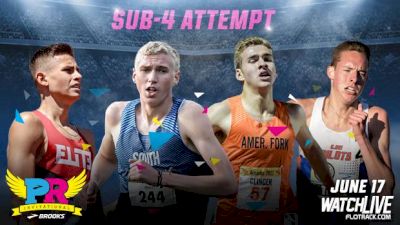 The mythology of the high school sub-four-minute mile may soon be a relic of the past. Maybe it already is.
Foot Locker National champion Reed Brown of Texas became the
10th prep runner to crack the barrier
when he ran 3:59.3 two weeks ago at the Festival of Miles. Norwegian phenom Jakob Ingebrigtsen, a 16-year-old,
became the youngest-ever sub-four-minute miler
after running 3:58.07 at the Prefontaine Classic. He then
lowered his age 16 world record to 3:56.29
at the Bislett Games in Oslo on Thursday.
For the past two years, two American high school boys have conquered the four-minute mile each spring: Matthew Maton and Grant Fisher in 2015 and Drew Hunter and Michael Slagowski in 2016. Brown is the only one to surpass the barrier so far in 2017, but the list of challengers is the deepest in history. In the
MileSplit U.S. high school rankings
, you need a sub-4:05 mile to break into the top 10 and a sub-4:01 to crack the top five.
Never before has more than one high school boy broken four minutes in the same race. But that could all change this Saturday afternoon at the Brooks PR Invitational in Seattle.
WATCH THE BROOKS PR INVITATIONAL LIVE ON FLOTRACK
The field for the boys mile at Shoreline Stadium includes Cooper Teare of California, who ran 4:00.16 at the Brooks Mt. SAC Relays and 4:01.29 at the Sacramento Meet of Champions, both solo, high school-only efforts; Sam Worley of Texas, who ran 4:00.61 at the Texas Relays ahead of Brown and 2012 Olympic silver medalist Leo Manzano; and D.J. Principe of Rhode Island, who has twice run four flat: 4:00.97 at the New Balance Games in January and 4:00.73 at the Prefontaine Classic three weeks ago.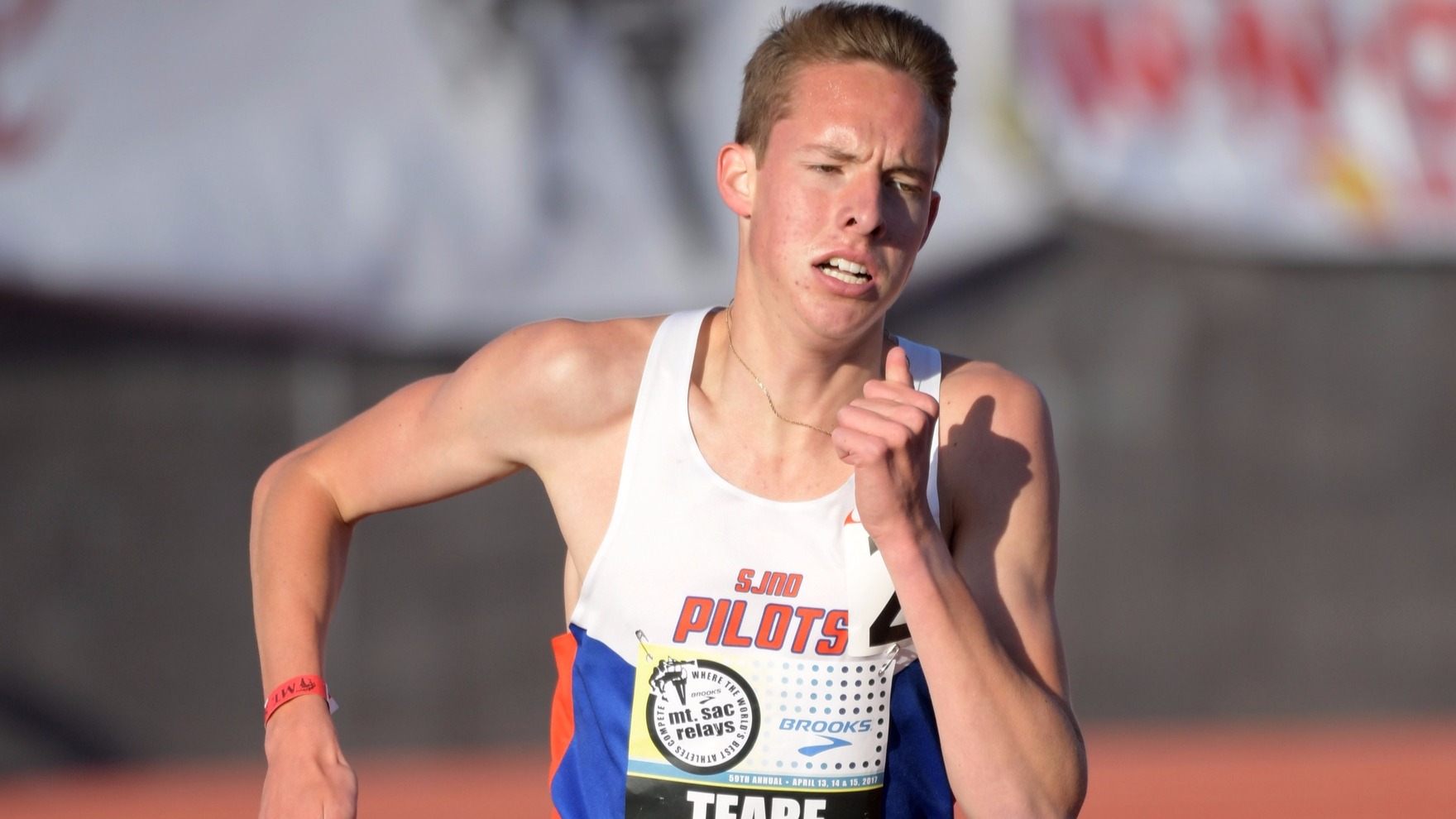 Cooper Teare: The California Distance Specialist Turned Miler
Of the four-flat trio, Teare's sub-four effort seemed the least likely and the result was the most shocking. He entered the Mt. SAC Relays with a mile PB of 4:06.6, and his track credentials slanted more toward distance races. He rose to national fame by winning the California state title for 3200m as a junior and this spring, won the
elite Texas Distance Festival 5K
, and set a 3200m meet record of 8:41.46 at the prestigious Arcadia Invitational.
However, he did show a hint of his mile prowess when he took down defending champion and future Oregon teammate Brown in the four-lapper at this March's New Balance Nationals Indoor. Regardless, when Teare's pacer at Mt. SAC left him just over 2:00 at halfway, it was a shock when he was able to hold things together and close in 58 to miss 3:59 by just 0.16. Runner-up Callum Bolger finished more than 10 seconds behind in 4:10.46.
Watch Cooper Teare run 4:00.16 at the Brooks Mt. SAC Relays:


"It's a little heartbreaking,"
Teare said after the Mt. SAC Relays win
. "It sucks being right at the cusp of sub-four, but knowing I did it pretty much solo for the second half just shows that what I'm doing is working."
When asked about the depth of this year's high school milers, Teare said, "It's crazy, man. There's so many fit guys this year. I think we can definitely have four or five guys under [four] in the same race if we trade off leads."
In the two months since then, Teare suffered a broken toe in practice and was unable to defend his state title in the 3200m, placing third to Bolger and Luis Grijalva in a dead sprint over the final 400m. Bolger, a 4:07 performer and Stanford recruit, will race the mile in Seattle, while Grijalva, an NAU commit, will race the two mile.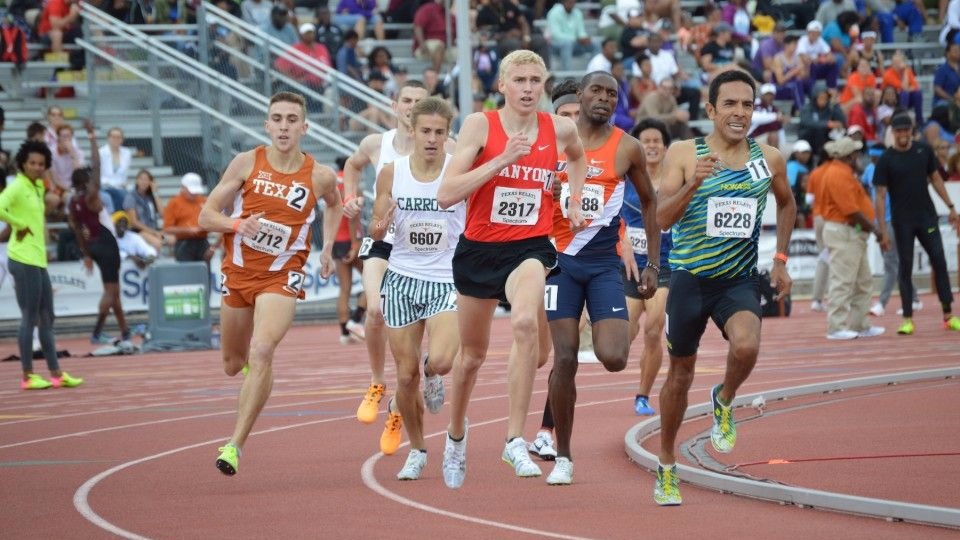 Sam Worley: The Texas Speedster
Down in Texas, it's almost unfair that Brown was the first to break four minutes, as Worley has proven to be the better middle distance runner all season.
At the Texas Relays, the New Braunfels Canyon senior used a 56.3 final lap to surge from 10th to first over the final 400m to defeat the likes of Manzano, Brown and Worley's future teammate at the University of Texas, Alex Rogers, by more than a second.
Worley won in 4:00.61, while Rogers ran 4:01.65 followed by Manzano in 4:02.02 and Brown in 4:03.23.
Watch highlight footage of Sam Worley's 4:00.61 Texas Relays win:
"I'm still in disbelief it happened,"
Worley said after the Texas Relays win
. "This is probably the most nervous for a race I've ever been and to walk away with a victory is unreal. [I wanted to] just lay it all out there, don't have any regrets, just go see what you're made of. It's bittersweet. I really wanted to be under four, but you have to be proud of the results you're given."
Worley later went on to sweep the 800m and 1600m at the Texas State Championship with nation-leading times of 1:48.25 and 4:02.3. While Worley won the 800m by two full seconds, he had to dig deep to get by Brown, who had won the 3200m the night before. The result was a nail biter, 4:02.3 to 4:02.49.
"I felt tired after the 800m, and I knew my body was going to be a little bit dead. [My coach] did a lot of brainwashing on me and helped me erase the doubt in my head and reset,"
Worley said after defending his 1600m state title over Brown
. "The goal was to stay as relaxed as possible and make a big solid move to separate myself from the rest of the field. I could tell going into the last lap that I was feeling fatigued so I had to wait until the last 300m to change gears.
"My sophomore and junior years racing against Reed taught me to never underestimate him. He has one of best 100m kicks, 150m kicks in the nation. It's lethal."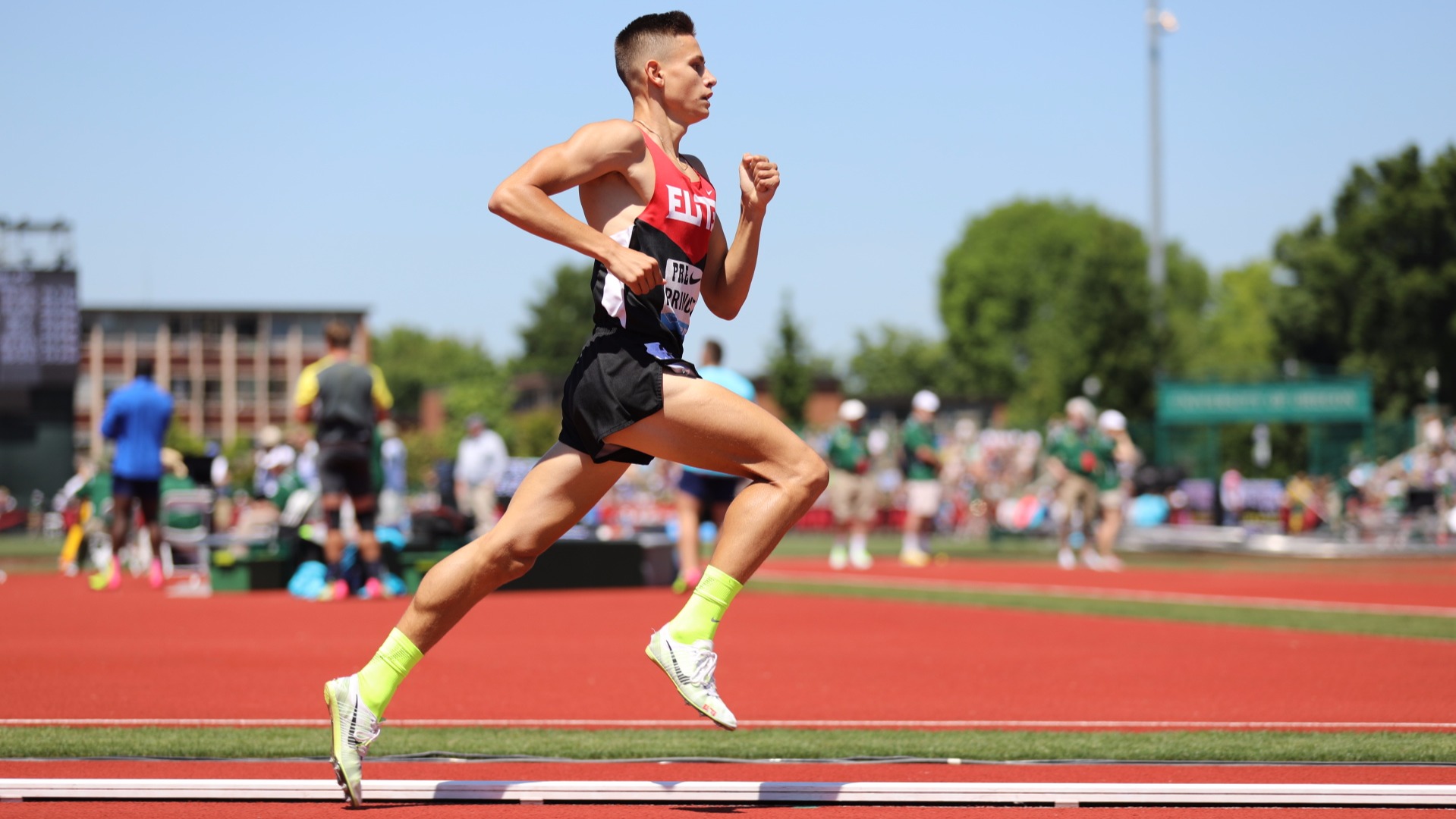 D.J. Principe: The Two-Time Four Flat Runner

Principe doesn't get the same in-state competition in Rhode Island as Teare does in California and Worley does in Texas. But by virtue of living on the East Coast, the Stanford commit has enjoyed more opportunities to compete against professional fields.
After a
surprise 4:04 full mile effort at a small meet in December,
Principe was invited to race in the professional section at the New Balance Games against the former prep phenom Hunter, who turned pro with adidas barely a month after graduating from high school last year. Hunter won the race at the New York Armory in 3:58.92, and
Principe finished third in 4:00.97
. Less than a month later, Principe returned to the Armory for an appearance at the Millrose Games, which netted a 4:02.96 run.
D.J. Principe talks to the media after his second sub-four attempt at the Millrose Games:
"In that [4:00.97] race I felt really smooth through 1200m," he said after the Millrose Games. "At this speed, it's tough... you've gotta be completely at the top of your game to run fast. [This season], I wanted to try and run fast in the mile in outdoor and see how close to the Rhode Island state record [4:04.2] I could get. I'm trying to get as many decimals off as I can."
He would take off a few more decimal points at May's Prefontaine Classic, where he clocked a new PB of 4:00.73 for 13th place overall. A week later, he competed in his final Rhode Island high school state meet, where he swept the 800m, 1500m, and 3K.
"I've had the chance to talk to a few guys in the [Brooks PR mile] race, and there's a group of guys that still want to get after it in the mile, myself included,"
he told MileSplit after the state meet sweep
. "We're all pretty focused and really want to run that race hard. I'm just happy to say I didn't leave too much out there. I had some pretty big goals for this year, and whether I achieved them or not, my main focus was to work as hard as I possibly could to get them and I'm confident that I worked my ass off in practice."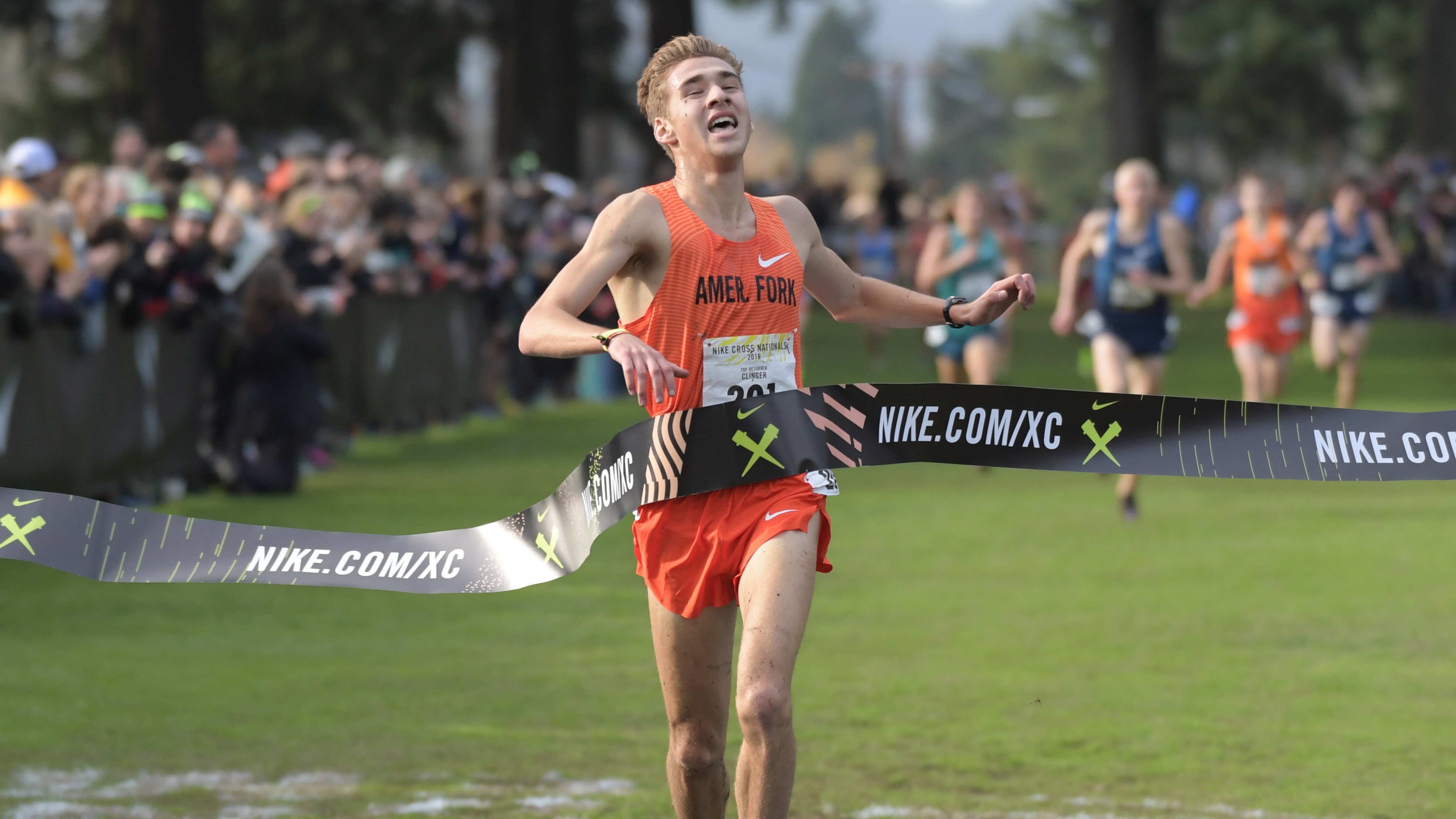 American Fork's Power Duo: Casey Clinger And Patrick Parker
There are also two big X-factors in Seattle in the form of American Fork High teammates Casey Clinger and Patrick Parker.
The town of American Fork sits at 4,606 feet above sea level in Utah, and the high school's runners do nearly all of their training and racing at elevation. Clinger is the crown jewel of the Caveman program, having become the first male runner to win Nike Cross Nationals two years in a row this past fall and racking up three straight state titles in both the 1600m and 3200m.
But two weeks ago at the adidas Dream Mile, Clinger was just third in 4:04.87 as his own teammate, Parker, earned the title and requisite wrestler's belt in 4:03.99.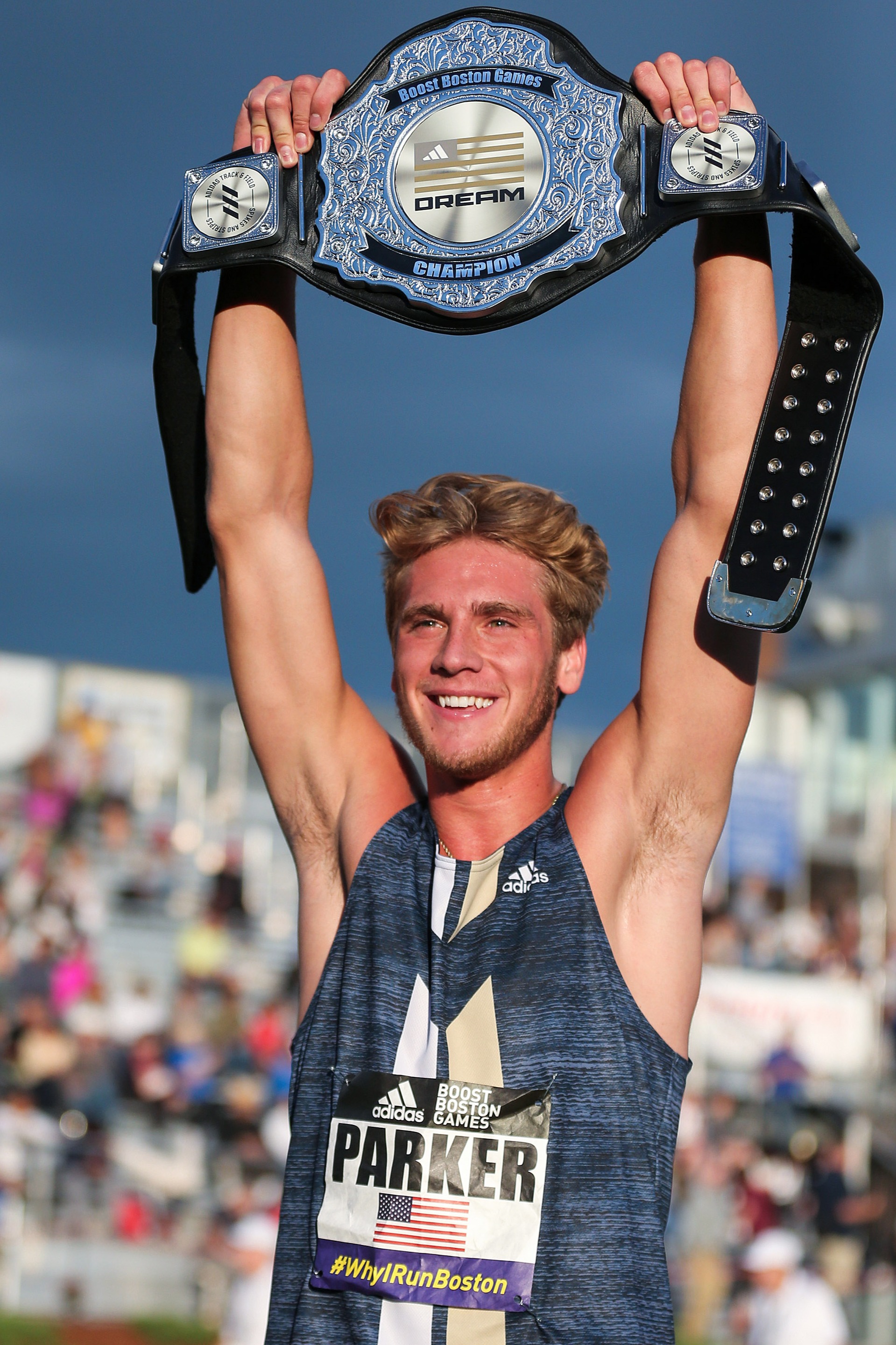 Both runners will be teammates again next year at BYU.
Perhaps what is most indicative of the depth of this year's distance class is that, even given the above field, two of the best milers in the country won't be in the race.
Tennessee junior Brodey Hasty, the New Balance Nationals Indoor two mile champion,
ran 4:01 last week at the Music City Distance Carnival
but will race the two mile at Brooks.
Brown is also slated to race in Seattle, but he'll compete down in distance for the 800m instead of making another sub-four run. Maybe it's not too late to ask him to pace the field through a few laps along with official pacer Will Laird of Seattle, who has run 1:55 for 800m.
No matter what happens on Saturday, these athletes' careers are really just beginning.
As Brown said after his sub-four mile
, "I've gotta live up to the hype now."
Watch Reed Brown's 3:59.3 at the Festival of Miles:
How to Watch
On TV:
Available on Roku and Apple TV 4 -- download the FloSports app now.
Streaming:
Only on FloTrack with a PRO subscription. A yearly PRO subscription provides access to ALL FloSports sites.
JOIN NOW