2017 Brooks PR Invitational
Here Are The Meet Records That Will Be Broken At Brooks PR
Here Are The Meet Records That Will Be Broken At Brooks PR
Here Are The Meet Records That Will Be Broken At Brooks PR
Jun 16, 2017
by Cory Mull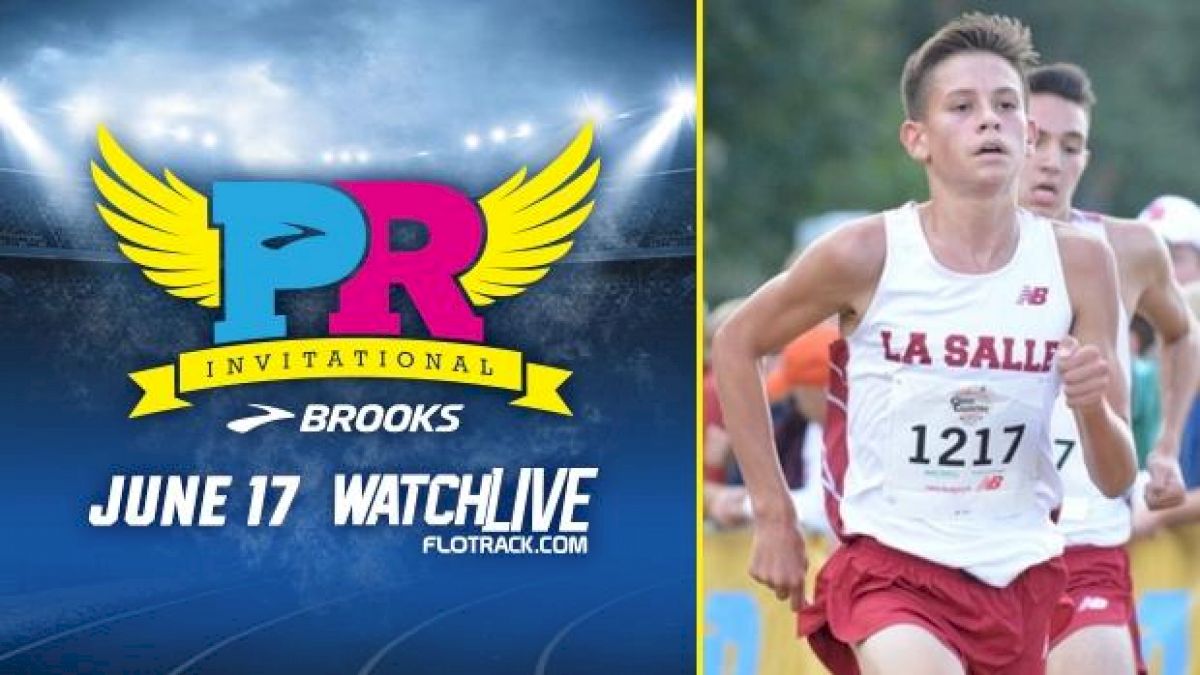 By Cory Mull for MileSplit
With one of the best -- and last -- high school track and field meets in the country less than a day away in Seattle, Washington, we must pose some interesting questions. Will any meet records go down?
Here's what we think over 11 events at
Brooks PR on June 17 on FloTrack
-- the stream is free, so make sure to check it out.
Boy's Mile | Verdict: Yes

Meet Record:
Matthew Maton, 4:06.32, 2014
Outlook:
This has been pontificated in great detail this week, and the argument is all but one-sided: The Brooks PR meet record in the mile is going down on Saturday. But will we get a sub-4 miler? Will we have more than one? That's the bigger question, with standouts Sam Worley (4:00.61), Cooper Teare (4:00.16), Casey Clinger (4:04.87), Patrick Parker (4:03.99) and DJ Principe (4:00.73) all scheduled to run.
Boy's 800m | Verdict: No
Meet Record:
Donovan Brazier, 1:47.55, 2015
Outlook:
While it's a good bet we'll have more than a few boys go under 1:50 in this race -- currently, only Dawson LaRance (1:49.63) has gone under that time in this field -- it's probably less likely that Brazier's all-time mark from 2015 will be broken.
Boy's 110m Hurdles | Verdict: Yes
Meet Record:
Isaiah Moore, 13.52, 2014
Outlook:
California's gem from CIF, Joseph Anderson, is in the field with a recent PB and US No. 1 time of 13.33. That's below Moore's best from 2014, and it's likely that Anderson -- if conditions hold up -- will do it again in this field. Arizona's Trey Johnson (13.65), Texas' Dorian Andrews (13.61) and California's Deion Lightfoot (13.62) all could be in the same conversation.
Boy's 100m | Verdict: No
Meet Record:
Christian Coleman, 10.29, 2014
Outlook:
There's an obvious (big) difference between wind-aided marks and wind-legal ones, so the odds are not in the field's favor here. Only California's Isaiah Cunningham enters with a wind-legal time that's close to the meet record. And yet, in a race so unpredictable, you shouldn't be surprised if it does happen. Athletes to watch are Chauncy Smart (10.26w), Terrance Horen (10.29w) and Jeffrey Hulon (10.16w).
Boy's 400m | Verdict: Yes
Meet Record:
Najee Glass, 46.06, 2012
Outlook:
Four athletes enter this field with times under 46 seconds. In seven years, it hasn't been done -- and there's a reason for that. Conditions most always play a factor. But this field is just too fast and too talented not to make it happen. Watch out for Jamal Walton (45.70), last year's champion Elija Godwin (45.83) and Sean Hooper (45.92) to make cases. Leander Forbes (45.95), Sean Burrell (46.19) and Hunter Woodhall (46.24) will be looking for star turns as well.
Boy's 2 Mile | Verdict: No
Meet Record:
Drew Hunter, 8:42.51, 2015
Outlook:
Not only will it take a very herculean effort to surpass Hunter's 8:42.51 from 2015, but it will take an almost pristine race at the front to make it happen. Brodey Hasty (8:45.16) has the field's best time, but Luis Grijalva (8:45.58 for 3200), Connor Lane (8:47.00 for 3200) and Finn Gesner (8:47.57 for 3200) could very well all come up stellar kicks in the final laps. And because the field is 12 deep, don't be surprised if someone else wins it, either.
Girl's 100m | Verdict: No
Meet Record:
Candace Hill, 10.98, 2015
Outlook:
Candace Hill's historic run in 2015 will take a lot to beat. Right now, seven of the eight in the girls field all have wind-aided marks, and no one is quite close to Hall's historic performance. Watch out for Texas' Kailei Collins (11.32w) and Sydney Washington (11.46w), along with Missouri's Alicia Burnett (11.47).
Girl's 100m Hurdles | Verdict: No
Meet Record:
Dior Hall, 13.32, 2014
Outlook:
Dior Hall's record looks to be safe for now ... or maybe not? Only one athlete, Alabama's Caitlyn Little (13.29), has a wind-legal mark under the meet record, while Kaylah Robinson has gone a phenomenally fast wind-aided mark of 12.98 seconds.
Girl's Mile | Verdict: Yes
Meet Record:
Sarah Feeny, 4:39.42, 2014
Outlook:
Sometimes you just have to believe. And we believe Sarah Feeny's 4:39.42 is going down with a field this loaded. You have to start with recent US No. 1 Lexy Halladay (4:41.80), of Merdian, Idaho, and last year's winner Annie Hill (4:41.52), of Glacier, Montana. But you would have to imagine that at least five girls have a realistic shot at making a run for this meet record time: Arizona's Allie Schadler (4:43.00), Wyoming's Anna Gibson (4:43.06) and California's Rylee Bowen (4:43.92).
Girl's 400m | Verdict: Yes
Meet Record:
Hannah Waller, 53.18, 2016
Outlook:
Three girls enter with times under Hanna Waller's best from last year, so they are your best bets to secure a meet record here. Those athletes include Ohio's Natalie Price (52.93), Georgia's Kennedy Simon (52.94) and Texas' Bailey Lear (53.02). But then again ... it will be tough. We think it's a 50-50 shot.
Girl's 2 Mile | Verdict: No
Meet Record:
Bethan Knights, 9:53.54, 2014
Outlook:
The field is phenomenal, which tends to suggest anything can happen. But since our overall PBs are three seconds shy of Knights' record from 2014, it could be just a little bit out of reach. But seriously, this is a good race. Brie Oakley (9:56.06) and Claudia Lane (9:57.52) should go at it, and the half mile mark should give an indication of where everything stands.