2017 USATF Outdoor Championships
USA 5K Preview: Chelimo, Jenkins & Whoever Is Still Standing After The 10K
USA 5K Preview: Chelimo, Jenkins & Whoever Is Still Standing After The 10K
It's a bit tricky to predict how top athletes will compete in the 5K at the USATF Outdoor Championships, as many are also entered in Thursday night's 10K final and might conceivably scratch the 5K if they make the world team in the longer event.
Jun 21, 2017
by Johanna Gretschel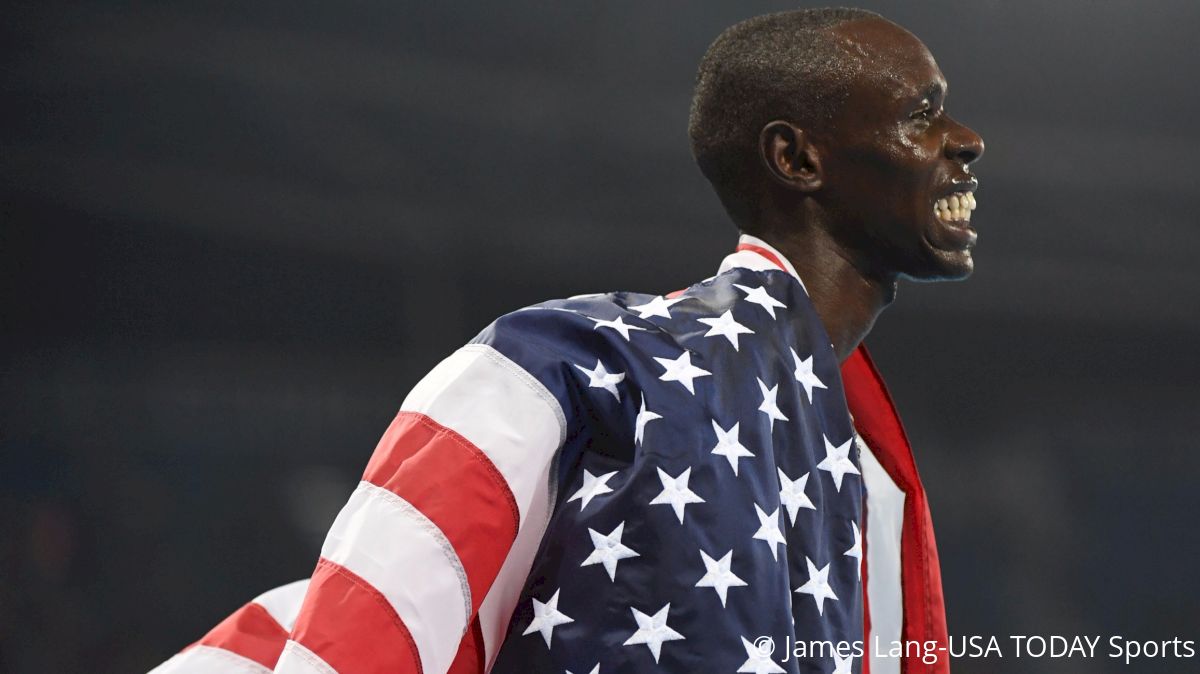 The USATF Outdoor Championships start this Thursday in Sacramento, California, and continue through Sunday afternoon. Viewers in Canada can watch the action
live on FloTrack here
. It's a bit tricky to predict how top athletes will compete in the 5K, as many are also entered in Thursday night's 10K final and might conceivably scratch the 5K if they make the world team in the longer event. Even so, we try our best at analysis and predictions below.
Men's Final:
Friday, 9:10 PM PT
The Favorite: Paul Chelimo
The world's
best pro track and field follow on Twitter
, Paul Chelimo, also happens to be the 2016 Olympic silver medalist for 5K and enters the championships with a real shot at winning his first U.S. outdoor title, especially after winning the USATF Indoor two-mile title in March. Last year's Olympic Trials saw the U.S. Army athlete run down Galen Rupp and hold on for a third-place spot in the 5K behind the fast-closing Bernard Lagat, who is now retired from the track and will not compete in Sacramento, and Hassan Mead, who is entered in both the 10K and 5K.
Paul Chelimo just walked home to a 7:31 Bernie's American record in the 3K is 7:29 #DohaDL pic.twitter.com/JaTb18btlr

— father marv (@AdamGOestreich) May 5, 2017
At the Doha Diamond League meeting in May,
Chelimo nearly broke Lagat's American record for 3K
with a gutsy 7:31.57 performance for runner-up honors behind Ronald Kwemoi of Kenya, who is one of the top runners in world this year and would go on to win the Bowerman Mile at the Prefontaine Classic in 3:49.04.
Chelimo ran the 5K at Prefontaine, where he finished seventh in 13:10.11, the second-fastest time of his career only behind his 13:03.9 run in Rio. He was also the top American in the race, finishing just three seconds ahead of the Nike Oregon Project's Eric Jenkins, who may be Chelimo's biggest rival for the 5K title in Sacramento.
The Rival: Eric Jenkins
Speaking of Jenkins... the 25-year-old Oregon alum has run like a champ in the year since missing the Olympic team by one spot. That's right, he was fourth in the Trials 5K behind Chelimo! And here we are.
Jenkins has shifted focus to his turnover in 2017 and taken down many of the United States' top middle-distance studs in the process, including an impressive win at the prestigious Millrose Games Wanamaker Mile over the likes of Clayton Murphy and Robby Andrews. In fact, Jenkins has won every mile and 1500m race that he's entered this year -- six total. He's run two 5Ks in 2017: a 13:05.85 at February's BU Last Chance for second place behind only Canadian Olympian Mo Ahmed. The run marked a new personal best for Jenkins and a win over U.S. rivals Ben True, Ryan Hill, Lopez Lomong, and Chris Derrick. Jenkin's other 5K this year was his ninth-place performance at Prefontaine in 13:13.3, the third-fastest time of his career.
​Watch Eric Jenkins win a tune-up 1500m at the Portland Track Festival last week:
The Contenders: Ryan Hill, Ben True, Lopez Lomong, Anyone Still Standing After The 10K

As mentioned earlier, a long list of top athletes will race both the 5K and 10K. It stands to reason that at least a few will drop out of the 10K if they are not in qualifying position in order to save their legs for another go in Friday's 5K. Double entrants Mead, Derrick, Shadrack Kipchirchir, Leonard Korir, and Abbabiya Simbassa are all in the running to join the nine-time champion Rupp in the top three of the 10K finals;
you can read more about their resumes to date here
.
Of the athletes focusing solely on the 5K, Ryan Hill and Ben True stand out.
The prize moment of the 27-year-old Hill's career is a silver medal at the 2016 IAAF Indoor World Championships 3K, earned in a photo finish with Yomif Kejelcha of Ethiopia and Augustine Choge of Kenya; Chelimo was seventh in that race. Hill would go on to place sixth in the Olympic Trials 5K final, barely three seconds behind Chelimo. The Bowerman TC athlete ran the second-fastest 5K of his career in February's Boston race versus Jenkins, finishing in 13:07.61, but more recently dropped out of the Prefontaine Classic 5K. Since then, he ran a 3:38.89 1500m tune-up at the Portland Track Classic, again finishing behind Jenkins.
Don't forget that Hill has made the U.S. team for the last two IAAF World Championships in 2013 and 2015 AND advanced to the world 5K final both years.
True was fifth at the Olympic Trials 5K, between Jenkins and Hill. The 31-year-old True was sixth in the 2015 IAAF World Championships 5K final and has a diverse resume that, even just limited to 2017, includes the American 5K road record of 13:20 at the BAA 5K and personal bests in four different track events: 3:57.31 for the mile, 7:40.96 for 3K en route to an 8:11.3 two-mile win at the Millrose Games, and 13:06.74 for the indoor 5K, which also stands as his fourth-fastest 5K of all-time including outdoor marks. However, like Hill, True had a tough go at the Prefontaine Classic and placed 22nd in 13:28.24.
​Watch Ben True break his own American record for the road 5K by two seconds:
Lomong has had a quiet year, but the 32-year-old is a huge talent and should still be under consideration for top placement in Sacramento. He, along with Derrick, was part of the pace group for Nike's two-hour marathon attempt in Italy, which likely affected traditional training and racing plans. The two-time Olympian was just 10th in the 5K finals at last year's Olympic Trials, but he did run his fastest 5K in two years, 13:12.27, in February. He was eighth in the non-Bowerman Mile race at Prefontaine in 3:55 behind U.S. 1500m hopeful Andrew Wheating but ahead of Cristian Soratos.
Prediction:
1. Chelimo, 2. Jenkins, 3. True