2017 USATF Outdoor Championships
USA Steeplechase Preview: Clear Favorites, But 2-3 Spots Are Up For Grabs
USA Steeplechase Preview: Clear Favorites, But 2-3 Spots Are Up For Grabs
The favorites to win are obvious, but the contenders and dark horses are another story when it comes to the steeplechase at the USATF Outdoor Championships.
Jun 21, 2017
by Taylor Dutch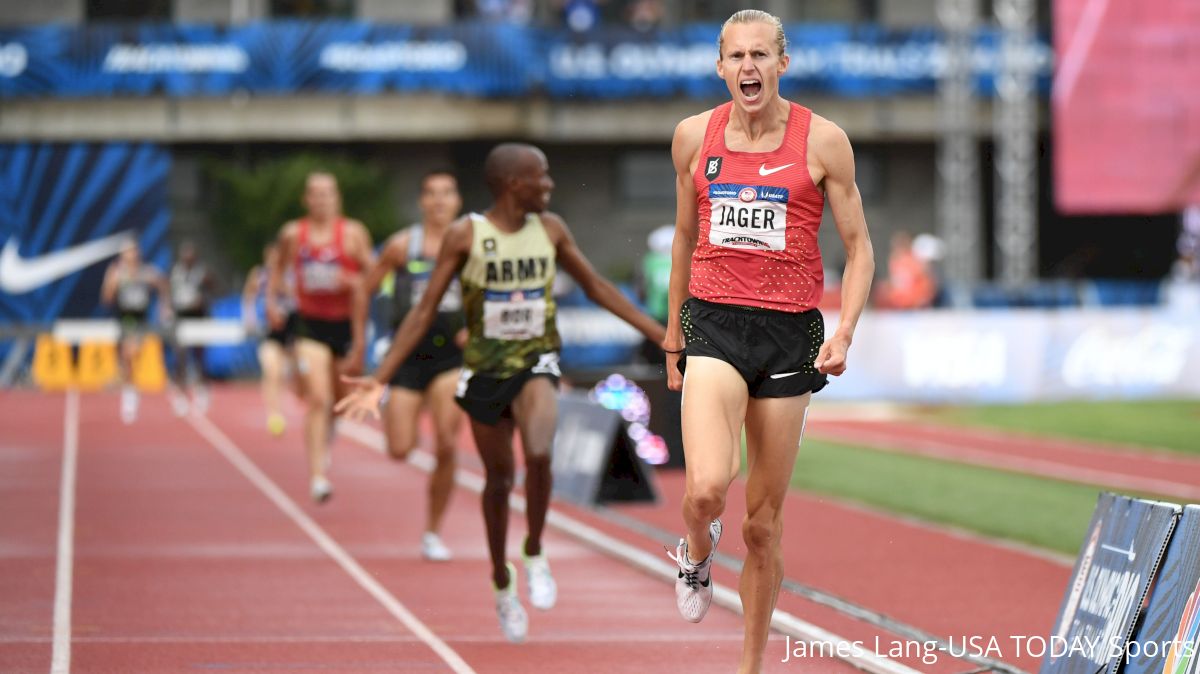 The favorites to win are obvious, but the contenders and dark horses are another story when it comes to the steeplechase at this weekend's USATF Outdoor Championships in Sacramento, CA.
Watch LIVE on FloTrack in Canada
.
Men's Steeplechase

First round:
Friday, 5:45 PM PT |
Final:
Sunday, 2:16 PM PT
The Favorite: Evan Jager
Evan Jager is the favorite because he has won the past five USATF Outdoor Championships. In the history of the national championship, only Henry Marsh (1981-87) has won more consecutive titles in the steeplechase.
Jager's last title at the 2016 Olympic Trials kicked off a breakthrough Olympic Games for the Bowerman Track Club athlete. He went from being a close medal contender on the international stage to a podium finisher. In Rio, Jager finally earned his Olympic medal when he finished runner-up to Kenya's Conseslus Kipruto, missing out on gold by just one second. Kipruto's 8:03.28 winning time also set an Olympic record. Jager's performance marked the first time an American man has medaled in the event since the 1984 Los Angeles Games.
Jager hasn't competed in a steeplechase this year, which will make USAs his first of the season. It shouldn't matter one bit for the American-record holder, who is looking to improve upon his silver medal from Rio.
The Contenders

Hillary Bor

Last summer, Hillary Bor found himself in a dream situation. He finished runner-up to Jager in a thrilling Olympic Trials steeplechase final and made his first Olympic team. It was a surreal moment for Bor, who quit running after graduating with multiple All-American honors at Iowa State. After a year off, the Kenyan-born runner returned to the sport after joining the U.S. Army and competing in the Army Ten-Miler. In three years, Bor was running better than ever and ultimately finished seventh in the Olympic final. Tommy Birch of the
Des Moines Register
spoke to Bor about his comeback last summer.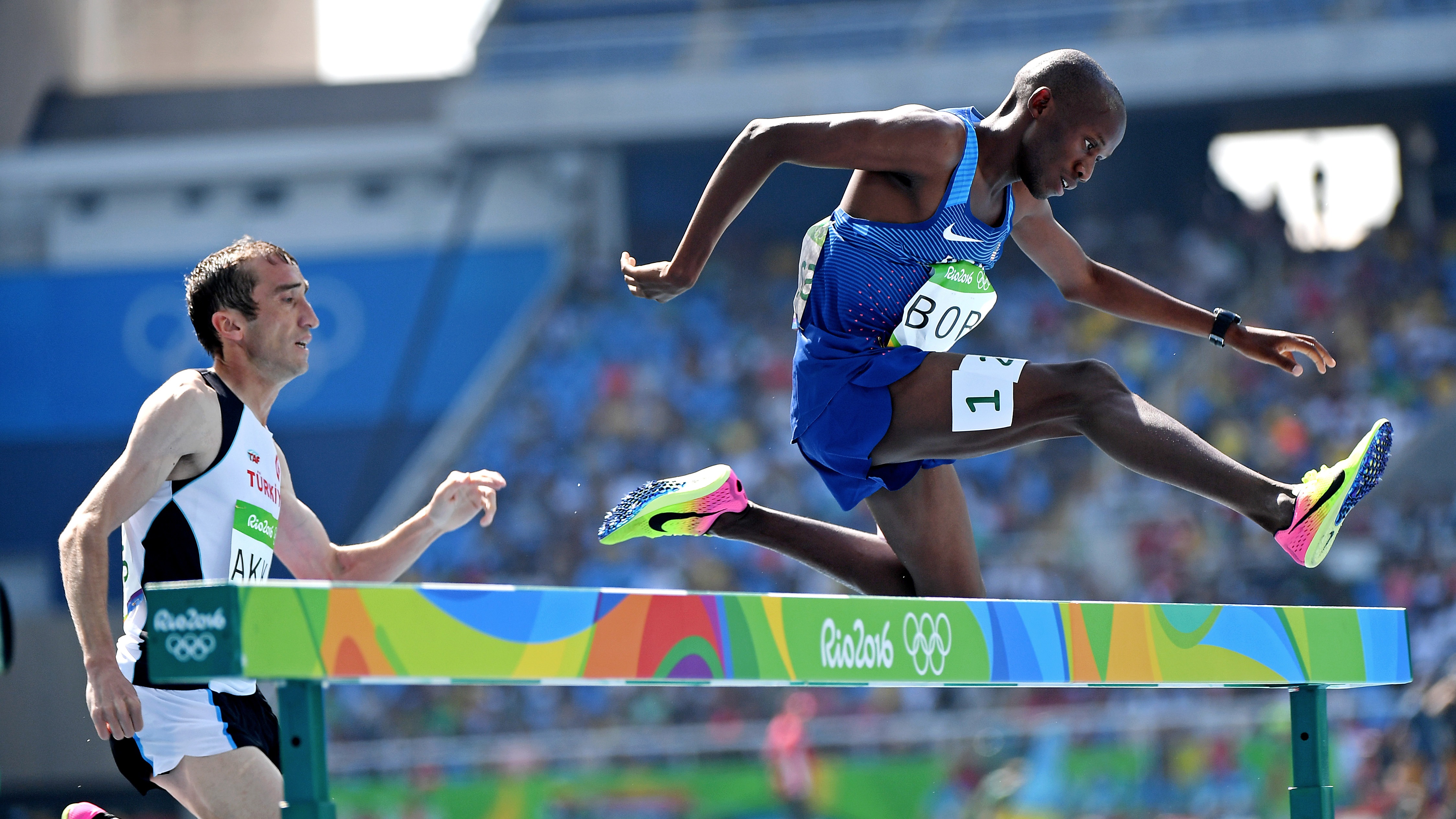 The progression continued this season when Bor posted a personal best of 8:11 at the Rome Diamond League meeting on June 8. The performance was a two-second improvement on his previous best mark.
Donn Cabral

Since 2012, Donn Cabral has made nearly every international team for the United States. With the exception of the 2013 world team, Cabral has qualified for and competed in every international championship final in the last five years, highlighted by eighth-place finishes in the 2012 and 2016 Olympic Games. With a history of successful championship racing experience, Cabral is always considered a contender to make a team.
Andy Bayer

Last summer, Bayer was in the terrible position of finishing fourth in the Olympic Trials final. He missed out on making the Olympic team by an excruciating two seconds. He was also fourth at the 2015 USATF Outdoor Championships. But this year, Bayer has made some training changes. He moved back to Bloomington, Indiana, to train with his college coach Ron Helmer and has since posted a personal best of 8:14 at the Rome Diamond League meeting.
Could this finally be the year Bayer improves on that dreaded fourth-place finish at USAs?
Dan Huling

Dan Huling didn't make the Olympic team last year. He finished ninth in the Trials final, but that doesn't mean he should be counted out of contention for this year's world championship team. The Bowerman Track Club standout is a seasoned veteran in the steeplechase. He has made four world championship teams, highlighted by a fifth-place finish in the 2015 final in Beijing. So far this year, he has run a personal best in the indoor mile (3:57), a season's best of 3:40 in the outdoor 1500m, and a 2017 steeplechase debut of 8:30 at the Portland Track Festival. With consistency and experience on his side, Huling could make his fifth international championship team.
Stanley Kebenei

Stanley Kebenei may have had a heartbreaking Trials final last year, but he's returned even stronger in 2017. After tripping over the final water jump and dropping to 13th in the Trials race, Kebenei missed out on making the Olympic team. But he's turned his luck around this year with a 26th-place finish at the World Cross Country Championships in Uganda, a personal best of 27:58 in the 10K at the Payton Jordan Invitational, and a strong steeplechase opener of 8:18 to win the Portland Track Festival. His season debut is ranked 19th in the world this year.
The Dark Horse: Mason Ferlic
After winning the NCAA title in the steeplechase, Mason Ferlic attempted to carry the momentum over to the 2016 Olympic Trials in an effort to make his first team. He came pretty close with a fifth-place finish that was four seconds shy of an Olympic team spot. Two weeks after the Trials, Ferlic ran a massive personal best of 8:21 to finish runner-up to Cabral at the TrackTown Summer Series.
This year has been tough for the Michigan graduate. As Ferlic shared on his
Instagram
, he tripped on a root while running which interrupted his spring training. Prior to the injury, Ferlic finished seventh at the USATF Cross Country Championships, ran an indoor 5K PR of 13:42, and finished ninth in the two-mile at the USATF Indoor Championships. Since returning to competition, he has notched an 8:32 steeplechase season's best, a promising tune-up for Sacramento. Ferlic may not have the best start to the outdoor season, but as he showed at the Olympic Trials, he's an up-and-coming threat to make a team.
Women's Steeplechase


First round:
Thursday, 7:13 PM PT |
Final:
Saturday, 2:24 PM PT
The Favorite: Emma Coburn
American-record holder, Olympic bronze medalist, and five-time national champion, Emma Coburn has rightfully earned the position as the favorite heading into USAs.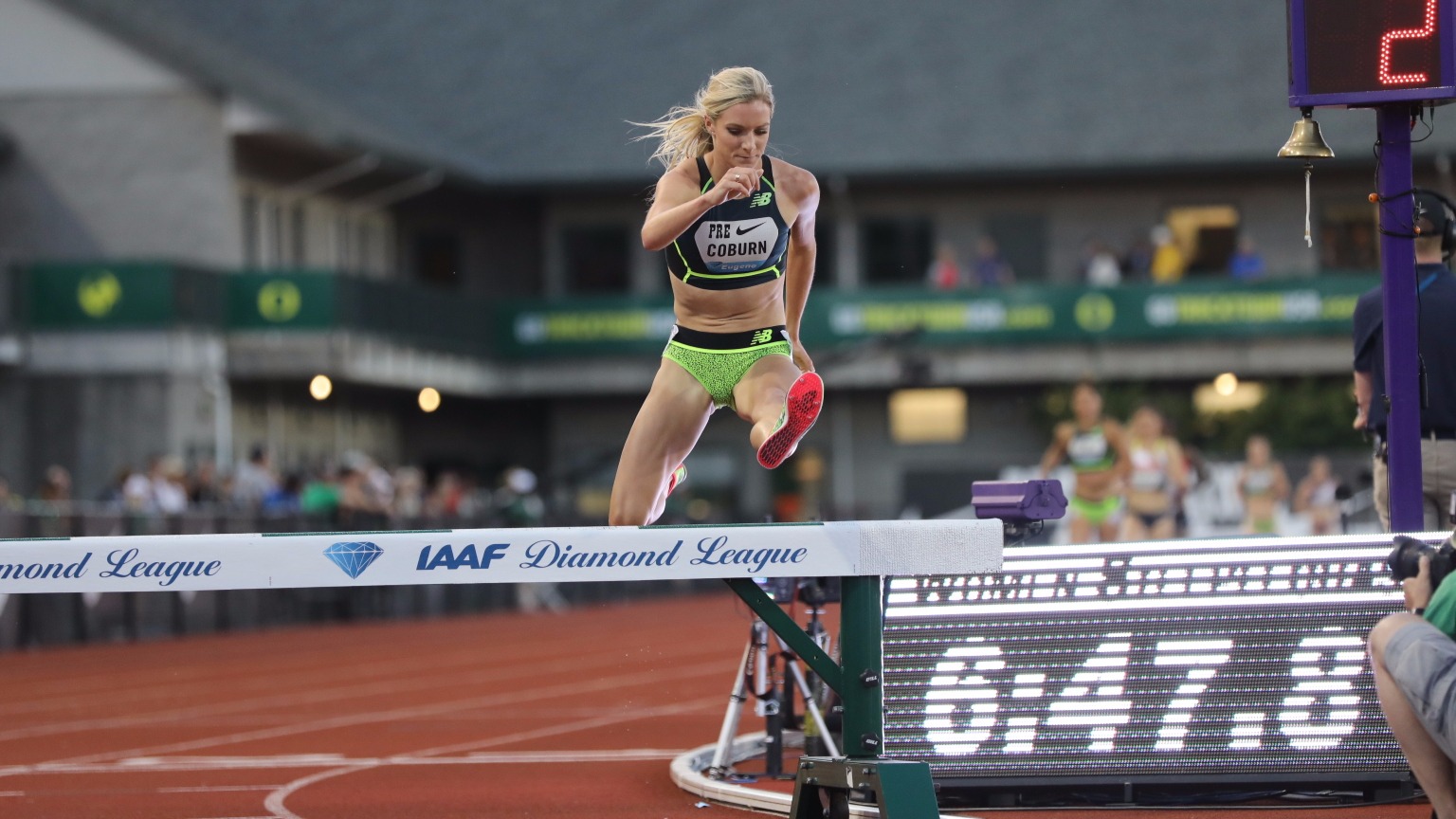 In just her second steeplechase of the year, Coburn nearly broke her own American record. She ran 9:07.96 to finish fourth at the Prefontaine Classic, which was less than a second shy of her 9:07.63 American record set while earning bronze in Rio. Coburn has also made some training changes this year, notably with her coach. She left longtime coach Mark Wetmore and is now being trained by her fiancee and fellow Colorado alum Joe Bosshard. Coburn also welcomed a new training partner in Jamaican Olympian and fellow steeplechase star Aisha Praught.
If Coburn is already this close to breaking her own American record, there's no telling how fast she'll run in London.
The Contenders

Courtney Frerichs

Courtney Frerichs had a dream season in 2016. She broke the NCAA record in the steeplechase, made her first Olympic team, and competed in the final in Rio. The Bowerman Track Club athlete is already off to a promising start in 2017 after running a personal best of 9:19 for fifth place in the Prefontaine Classic. With the help of her training partner Colleen Quigley, Frerichs should have no problem qualifying for another international team.
Colleen Quigley

Colleen Quigley executed an impressive comeback during the 2016 season. In March of last year, Quigley was cross-training after suffering from ongoing injures following the 2015 World Championships in Beijing. But she managed to return full force just in time to make the Olympic team. The Bowerman standout finished third alongside Frerichs to secure her position on Team USA with a then-personal best of 9:21.29. In Rio, Quigley finished eighth overall.
Stephanie Garcia

Stephanie Garcia narrowly missed making the Olympic team last year when she finished fifth in the Olympic Trials final. But she gained world championship experience in 2015 when she finished runner-up at USAs and finished ninth in the Beijing final.
In 2017, Garcia has already run more steeplechases than most competitors in the national field. She notched a 10th-place finish in Doha, a ninth-place finish in Shanghai, and an eighth-place finish in the Prefontaine Classic. Her season's best of 9:25 from Prefontaine is the third-fastest time run by an American this year. Garcia is also one of the most consistent performers in the field, always in the mix at every championship for the past few years.
The Dark Horse: Mel Lawrence
Mel Lawrence has been on a tear this year. With personal bests in the 1500m (4:11) and 5K (15:40), the Oiselle standout is showing her fitness at the perfect time. It's a welcomed breakthrough for Lawrence who struggled with ongoing injuries while competing at Washington and through portions of her professional career. Her 4:11 1500m personal best at Portland Track Festival was especially telling of her speed as Lawrence improved on her previous record (set in March of this year) by a whopping six seconds. In the steeplechase, Lawrence has competed successfully in various race situations. She won the USATF Middle Distance Classic in 9:40 with a kick at the line and returned a week later to contend in a world class field at the Prefontaine Classic where she finished 10th in a season's best of 9:39. Based on her recent breakthrough performances and race execution, Lawrence will surely be a competitor to watch in Sacramento.