We're bringing you LIVE updates for the evening session of day four of the IAAF World Championships -- refresh the page to get them as they happen!
Men's 200m Heat 1
Yohan Blake, coming off his fourth place in the men's 100m, highlights this heat, and he comes through with a nice W in an easy 20.39. Abdul Sani Brown and Alex Wilson are the other autos.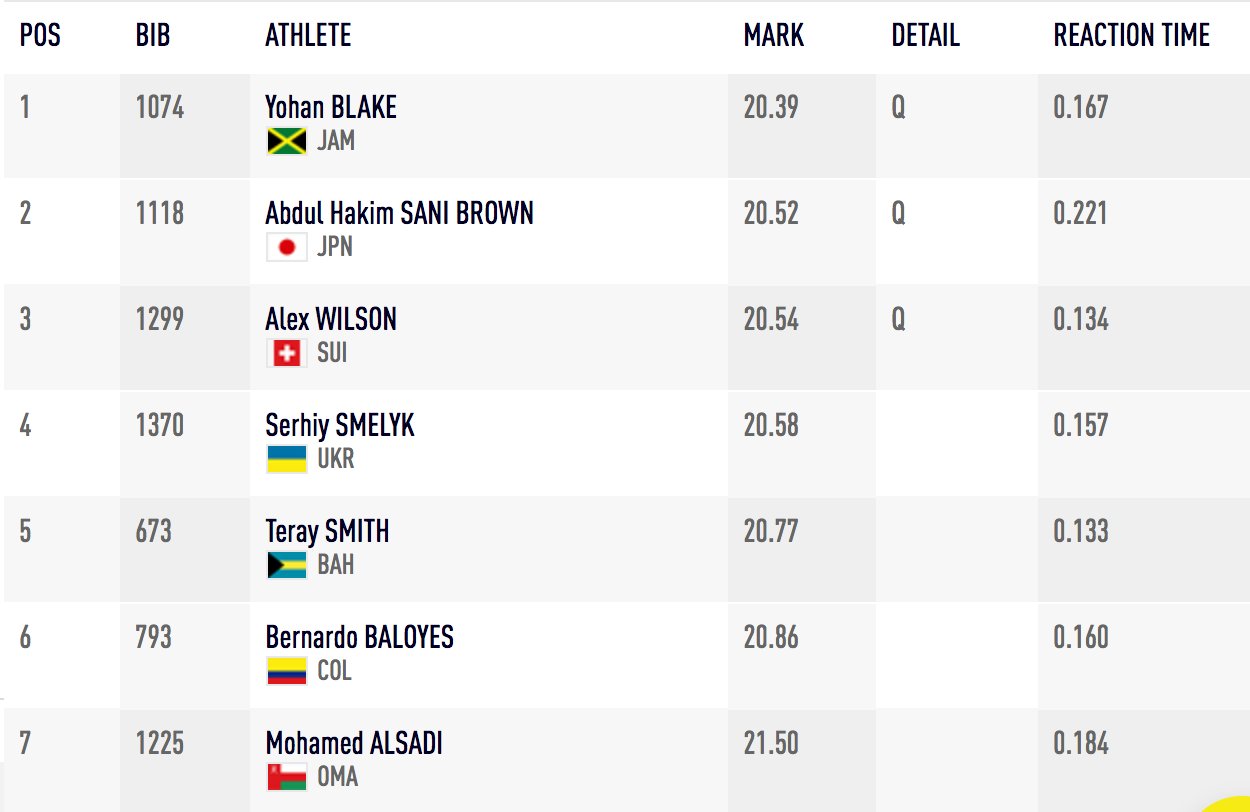 Men's 200m Heat 2

Into a headwind, Jereem Richards gives us our first surprise of the day with a 20.05 mark for the win. America's Kyree King and Jamaica's Rasheed Dwyer get the other two auto-Qs a half second behind.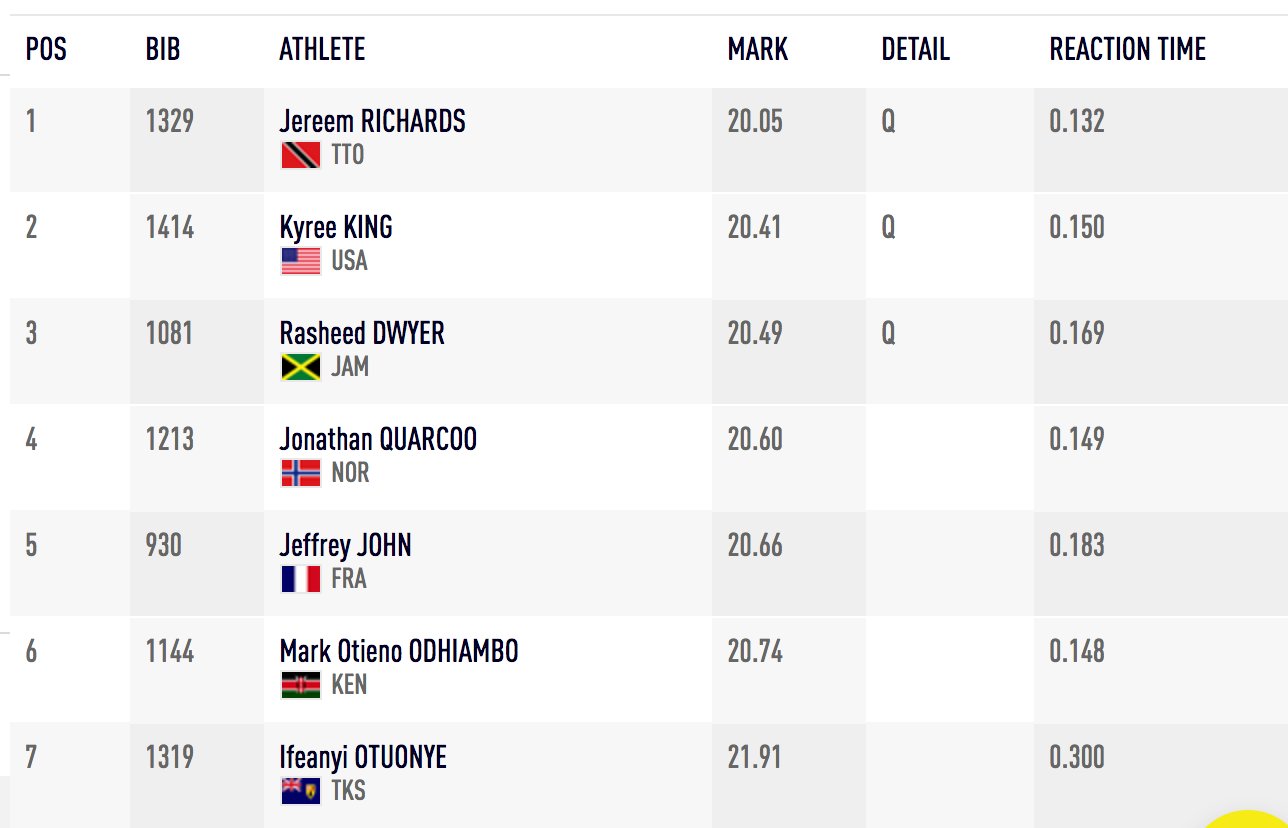 Men's 200m Heat 3

Your boy Wayde van Niekerk is finally up. He's the 400m and 300m world record holder with a 9.93 100m PB. But his PB in the 200m is "only" 19.84. We'll see what he can do in this heat.
Van Niekerk takes the W, but he coasts easy down the last 50m, just one one-thousandth of a second ahead of Brit Daniel Talbot who comes home with a PB, to the delight of the crowd. Volvo takes the last auto-Q.
Alonso Edward, a staple of the DL circuit, misses out on an auto-Q so we'll have to see if he gets in on time.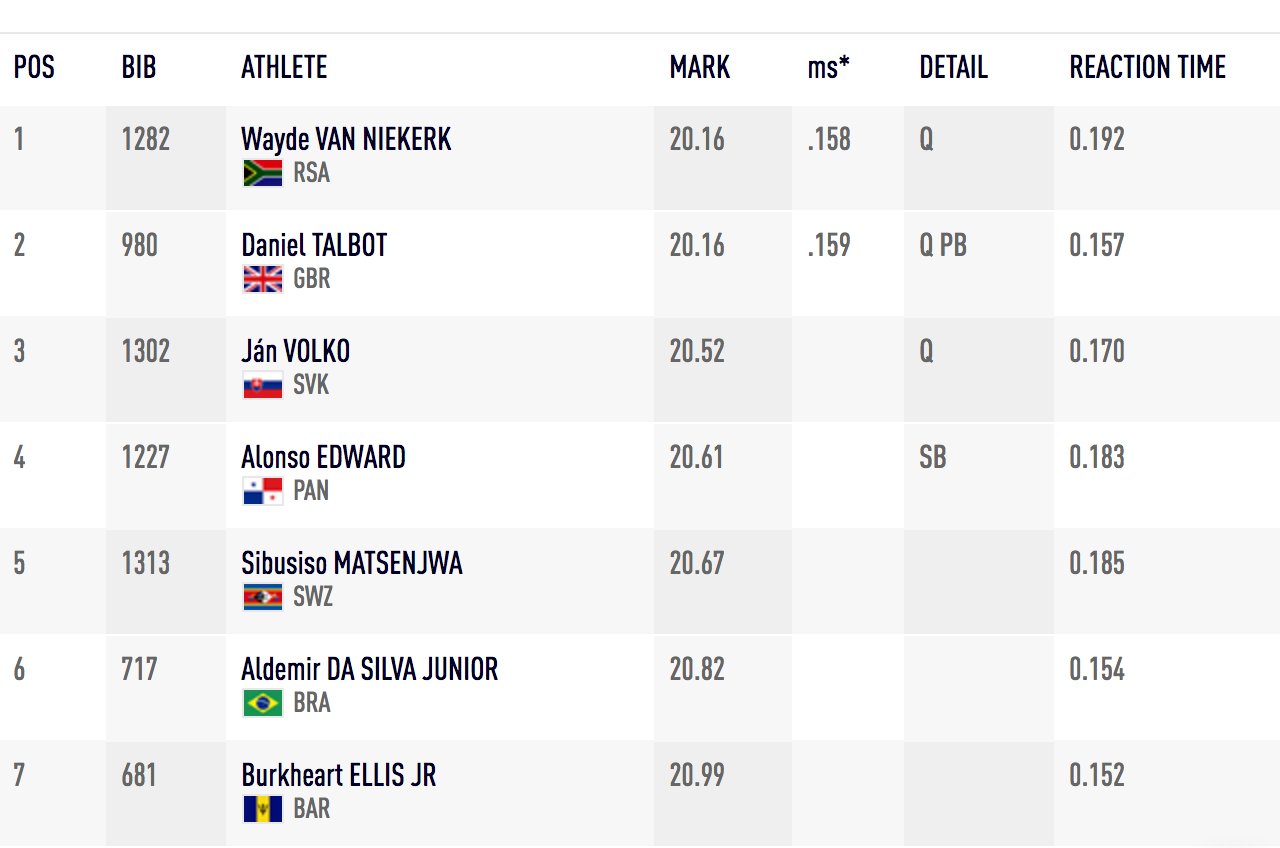 Men's 200m Heat 4

Your unlikely U.S. champ Ameer Webb will be looking for an auto-Q in this next heat, along with Christophe Lemaitre of France who has run fast in the 100m as well.
Webb does it, along with Guliyev (who won the heat in 20.16) and Lemaitre in third.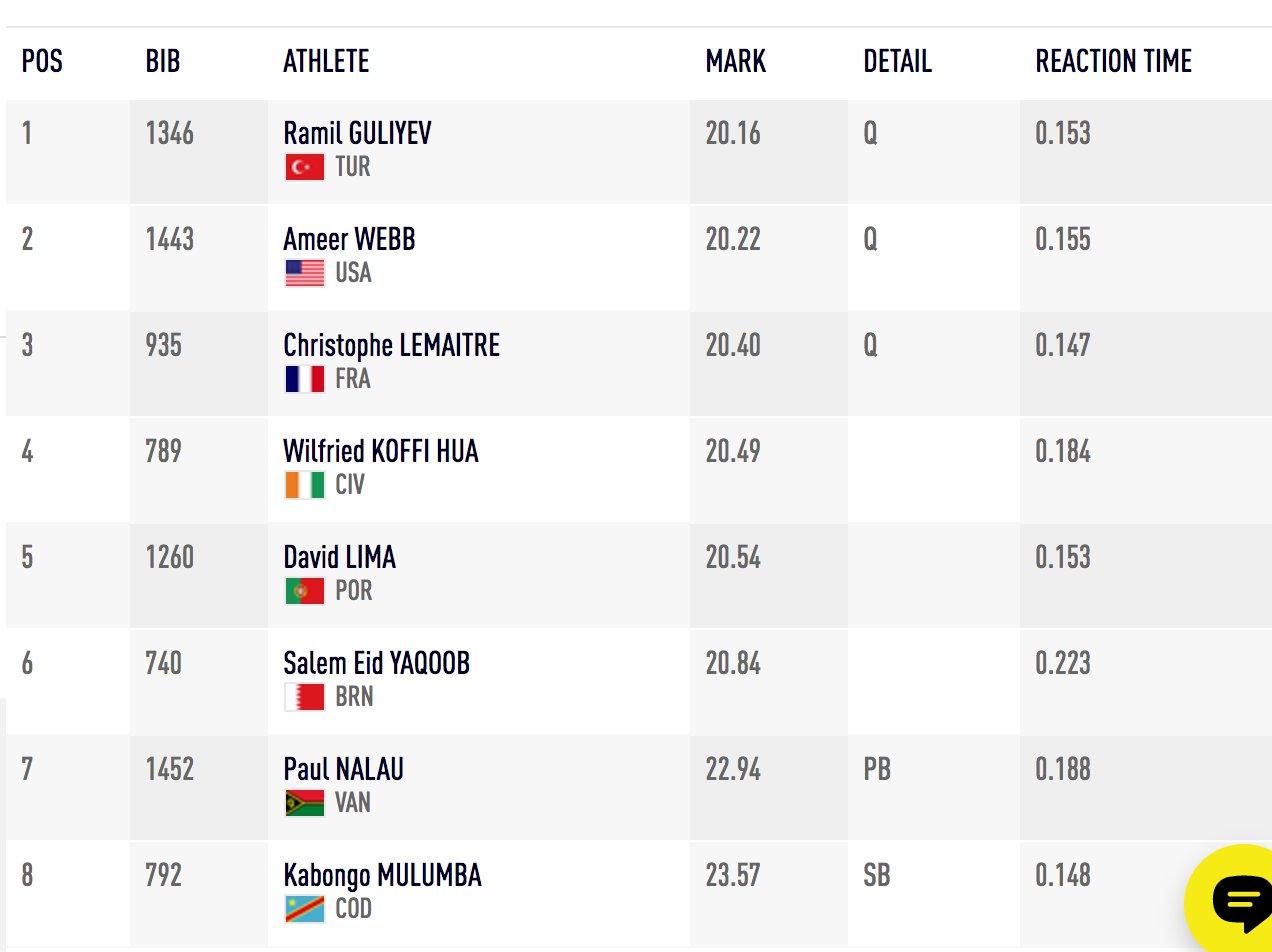 Men's 200m Heat 5

Italian young sensation Fillipo Tortu would do well to qualify in this heat, but the big dog will be Isaac Makwala, a real gold medal favorite who should easily Q.
Makwala is a DNS! This dramatically changes things for the final. On the brighter side of things, Tortu gets the last auto-Q along with Siame and Greaux.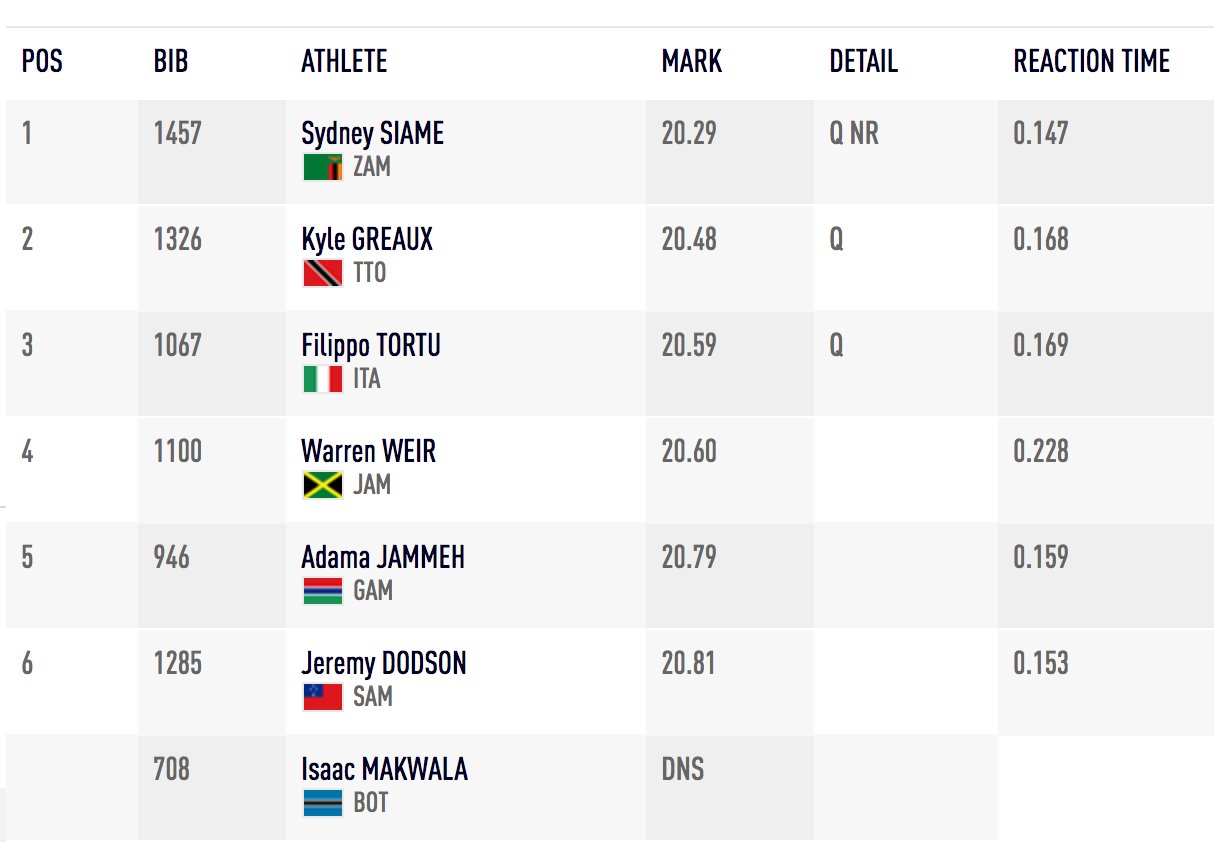 Men's 200m Heat 6

American Isiah Young gets the win with Akani Simbine (who is doubling from the 100m) and Tsakonas of Greece in tow. British favorite Zharnel Hughes will have to wait and see if his time of 20.43 qualifies.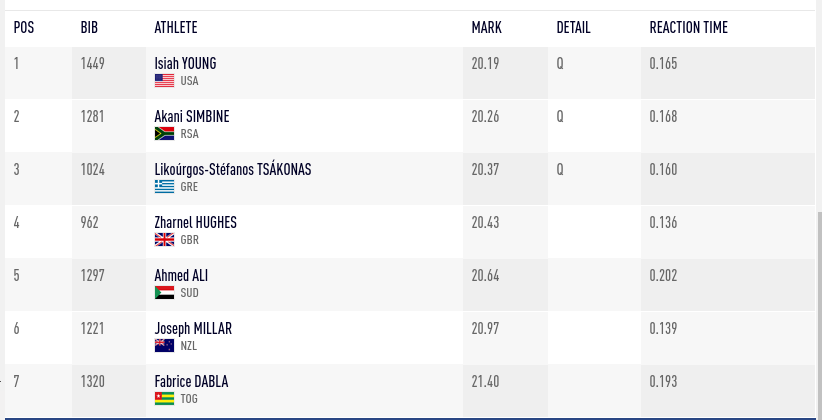 Men's 200m Heat 7
Aaron Brown of Canada takes this one as two of the three Brits will auto-Q with Mitchell-Blake's second-place finish. South Africa's Clarence Munyai gets the last auto-Q.

By the way, Hughes ended up getting that time qualifier, so all three Brits will advance!
Update:
In the men's 200, it looks like three qualifiers have been DQed for lane infringement including Canadian Aaron Brown. We'll keep you updated on this development.
Women's 400m Hurdles Heat 1
With four auto-Qs per heat, these shouldn't be tough to get through for the favorites.
The NCAA champ in Sage Watson will be pitted against gold medal favorite Dalilah Muhummad in this heat.
They go 1-2 as the Czech Rosolova and McKnight of Trinidad & Tobago get the other autos.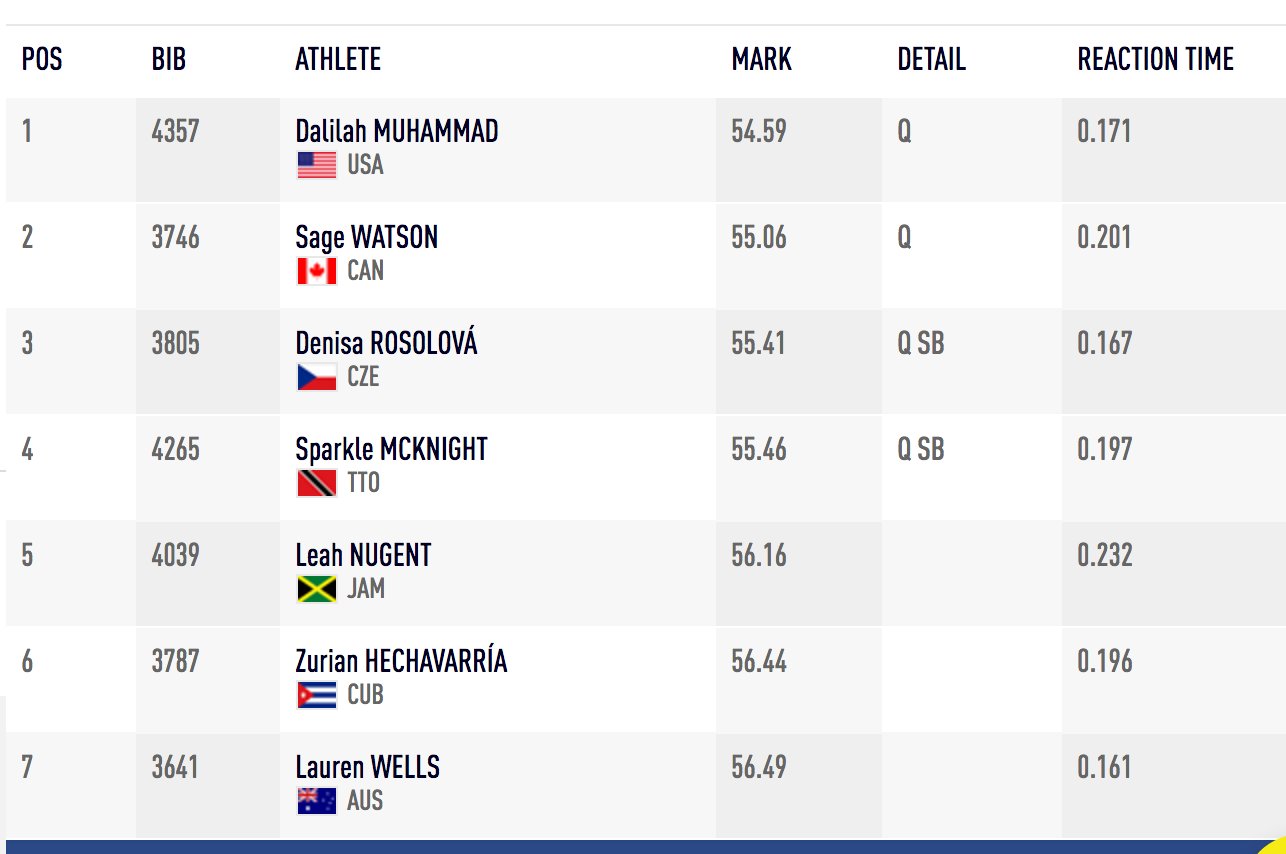 Women's 400m Hurdles Heat 2
Reigning World champion Zuzana Hejnova was the favorite in this heat and she pulled through with a win, ahead of Denmark's Sara Peterson and Team USA member Cassandra Tate, as well as Italy's Folorunso who rounds out the auto qualifiers.
Unlikely we'll see time qualifiers from this heat as it was won in a tactical 55.05.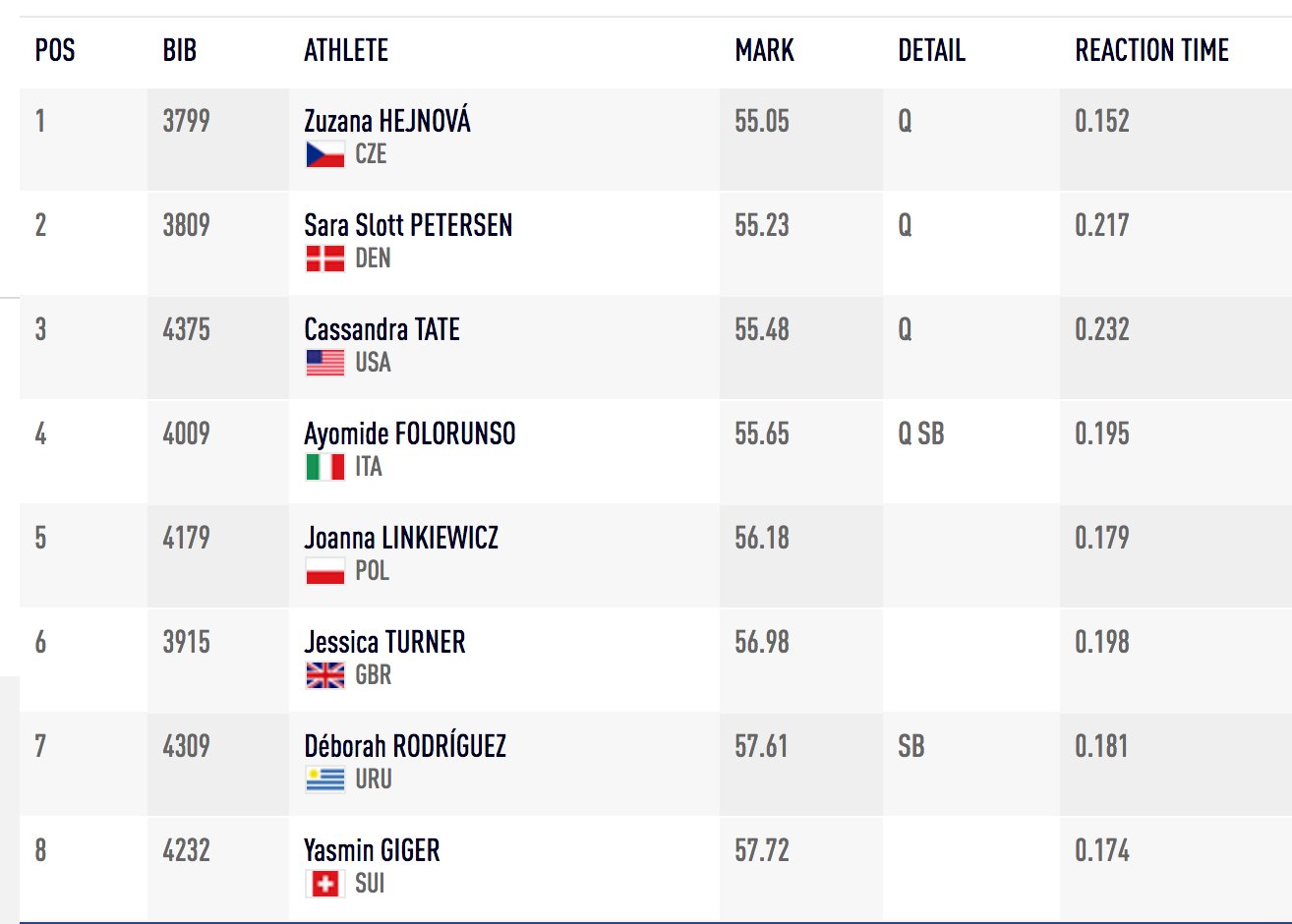 Women's 400m Hurdles Heat 3
In a big suprise, Jamaica's Ristananna Tracey dominates this heat but the favorite Shamier Little had a huge stumble on one of the last hurdles and almost found her way out of an auto-Q behind Petro Fontanive of Switzerland and ahread of Slovenian youngster Zupin.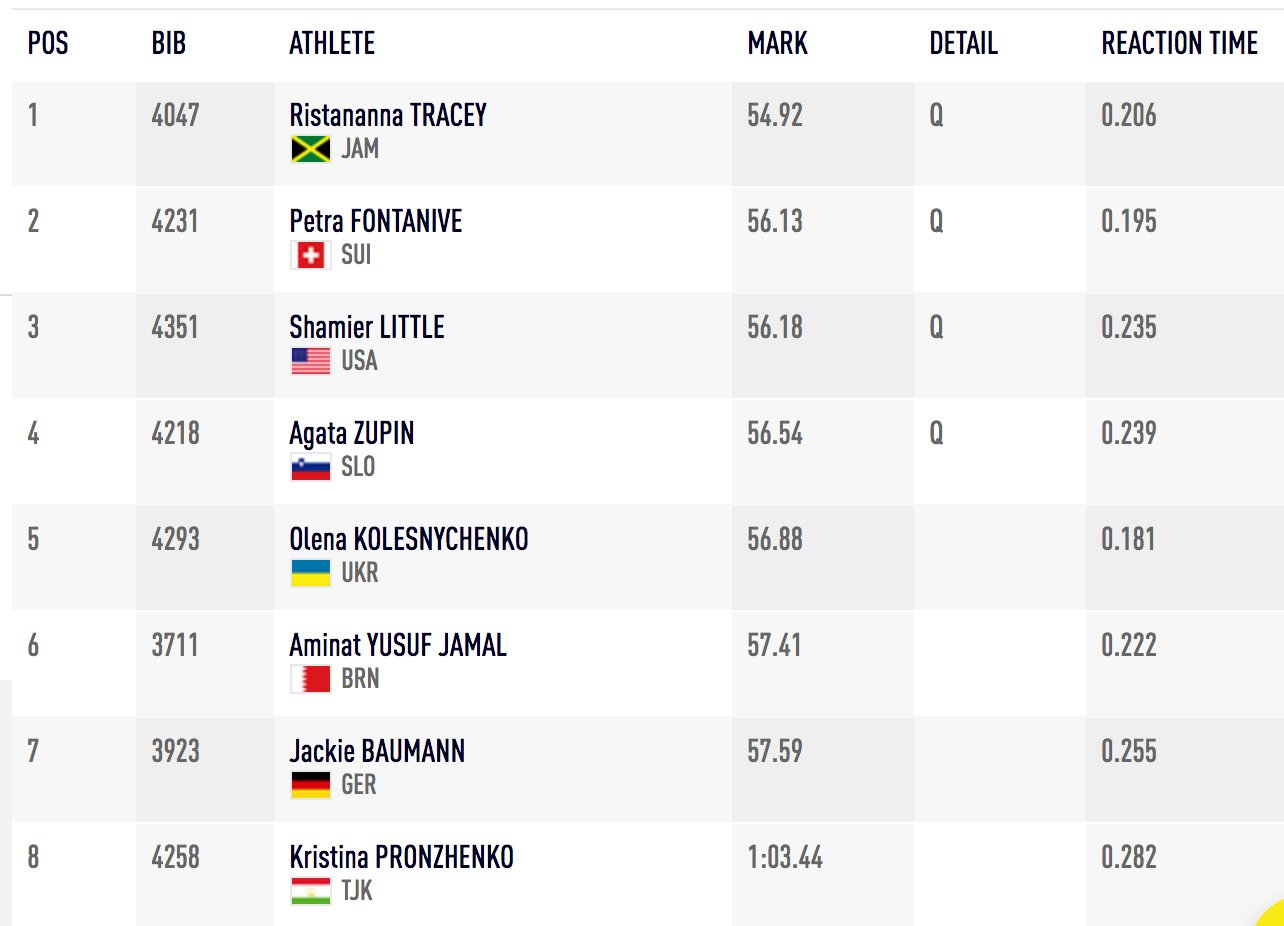 Women's 400m Hurdles Heat 4
Kori Carter crushes it in this heat, getting out strong and winning by nearly a full second in 54.99. South Africa's Wenda Nell and hometown girl (and expected finalist) Eilidh Doyle get the auto-Qs.
All four Americans make the semis!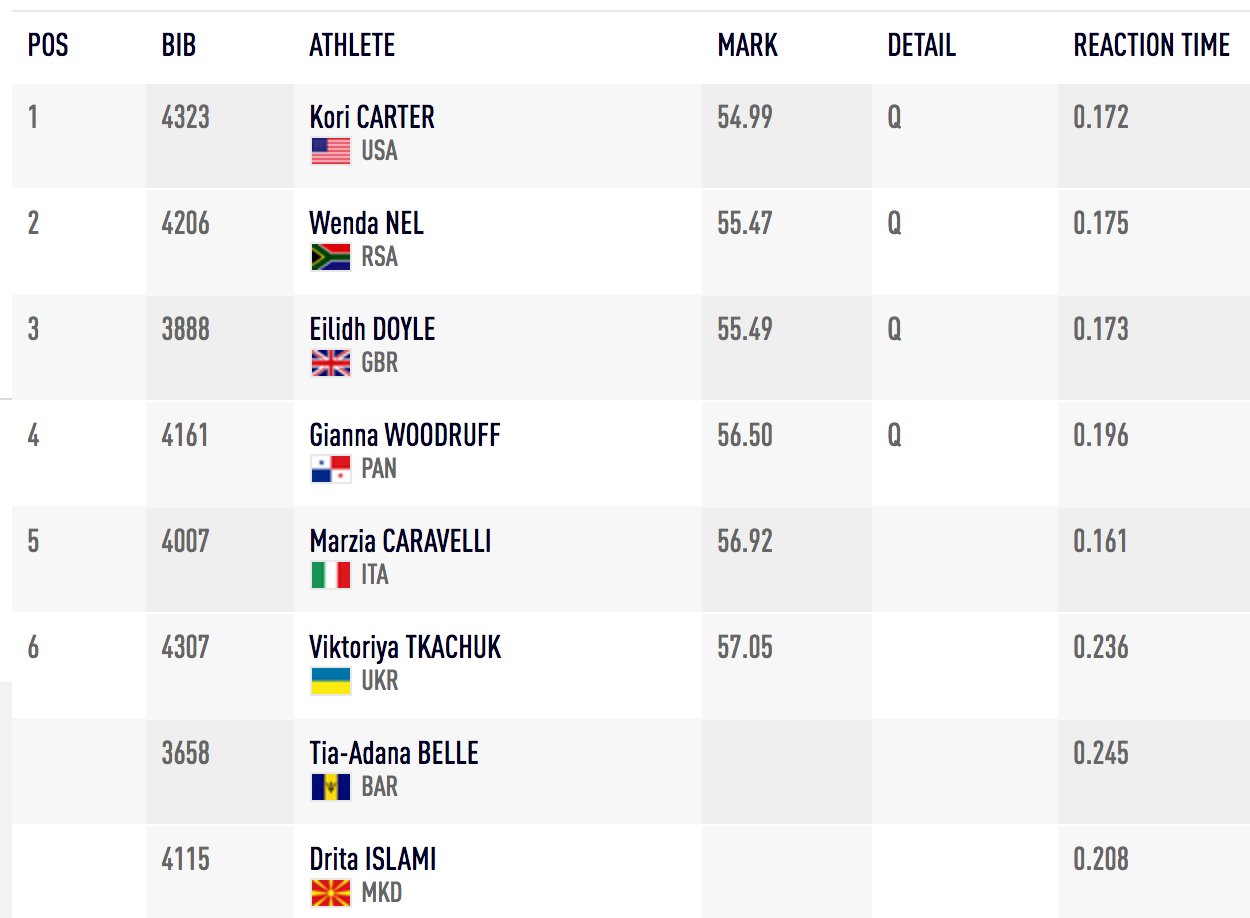 Women's 400m Hurdles Heat 5
This heat doesn't have any true medal threats, but surprisingly it yielded two time qualifiers.
The top six in Switzerland's Sprunger, Jamaica's Whyte, Nigeria's Nathaniel, Puerto Rico's Claxton, Italy's Pedroso, and Britain's Beesley all will advance.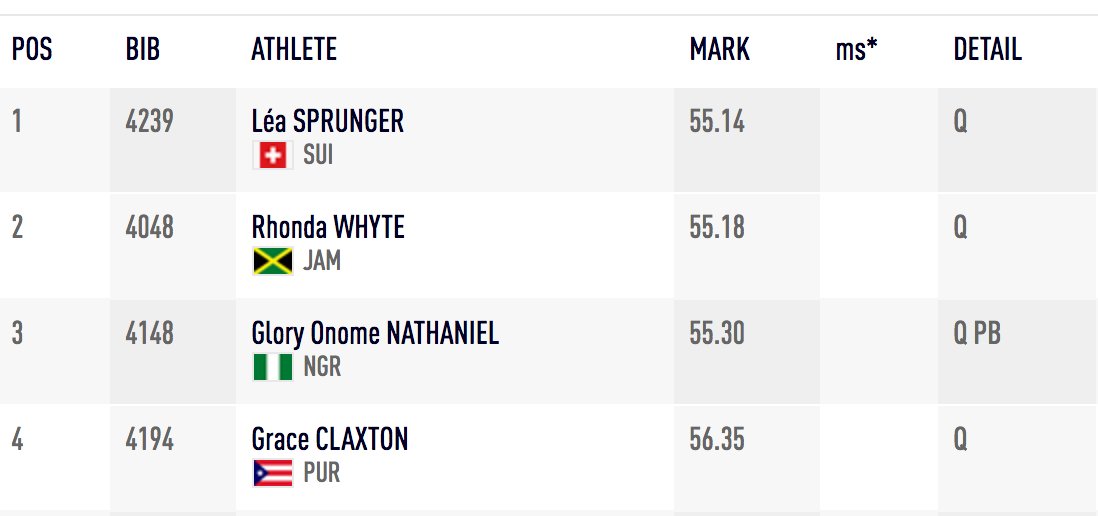 Meanwhile in the women's hammer, no shock as one of the biggest favorites of the whole meet, Anita Wlodarczyk, takes the gold ahead of China's Wang and Kopron of Poland. The lone American in the final, DeAnna Price, was ninth overall, just outside of the top eight so she didn't get three extra throws.
Men's 400m Hurdles Semifinal 1

These semis will be a tough cut as only the top two per heat will auto-Q to the final.
The reigning Olympic champ, American Kerron Clement, gives us a scare coming up out of the autos on the final bend, but he pulls through with a great last 50m to win the heat!
Karsten Warholm of Norway nabs the second auto-Q, nipped by Clement at the line.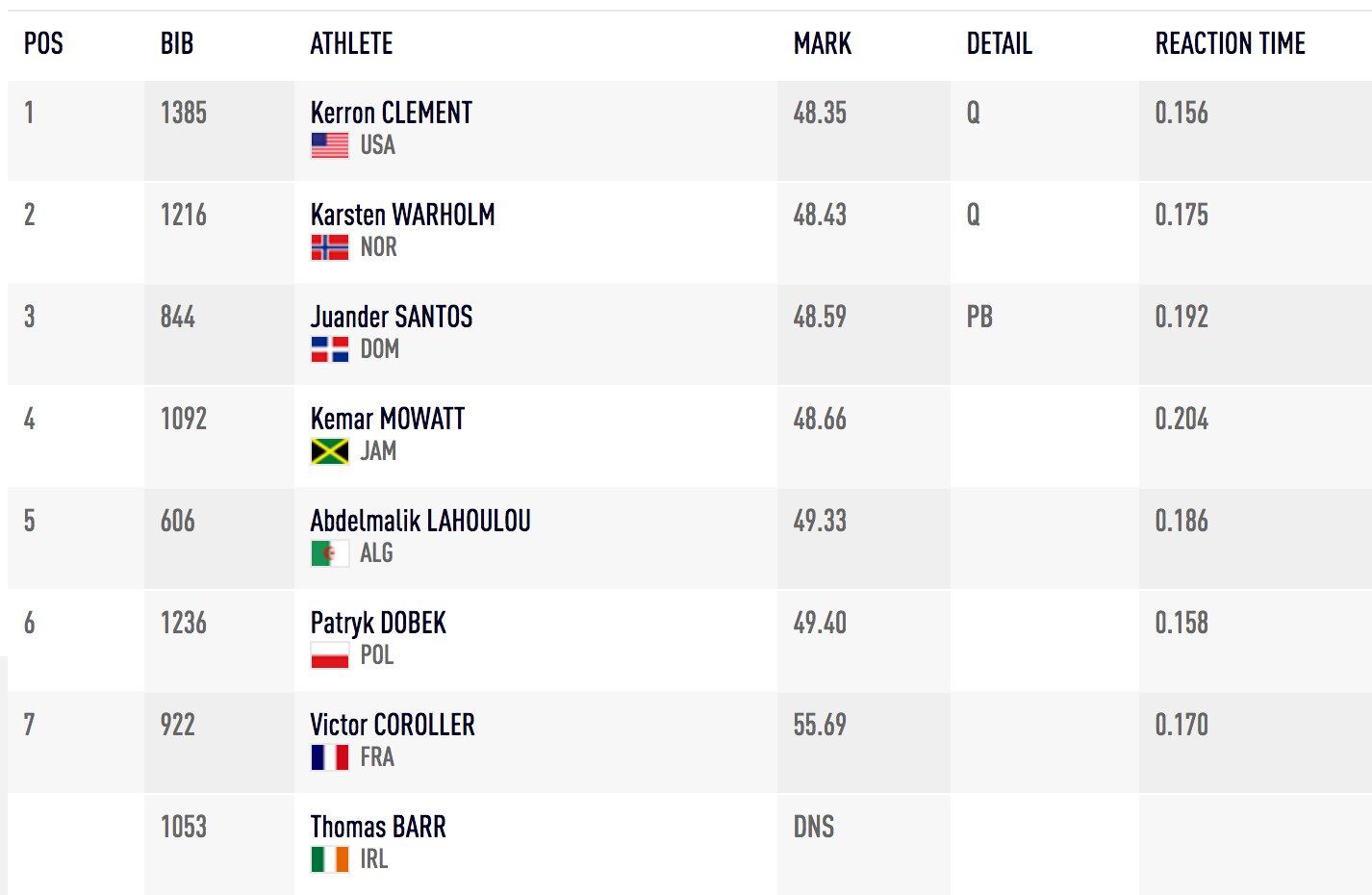 Men's 400m Hurdles Semifinal 2

Despite knocking down one of the final hurdles, USA's TJ Holmes pulls through for a win and auto-Q, ahead of Hussein and Hyde.
The Brit Jack Green in fourth doesn't have a result fast enough for a time qualifier, based on the heat one results.

Men's 400m Hurdles Semifinal 3

Team USA member Eric Futch stutter-steps on the final hurdles and just misses out on a time qualifier -- he will not advance to the final, but Abderrahaman Samba and Yasmani Copello ahead of him do with auto-Qs.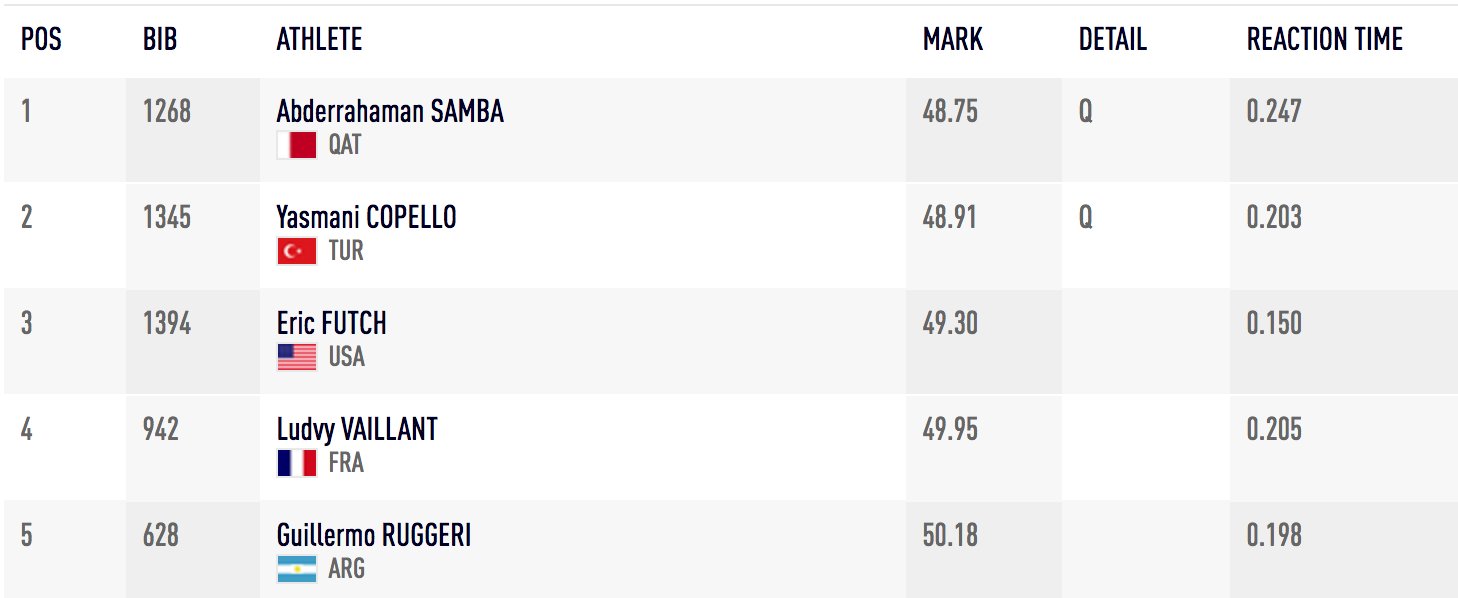 Women's 400m Semifinal Heat 1
Quanera Hayes had her work cut out for her in this heat with only two autos and reigning Olympic champ Shaunae Miller plus McPherson, and she finishes third despite a nice close. We'll see if she gets in on time.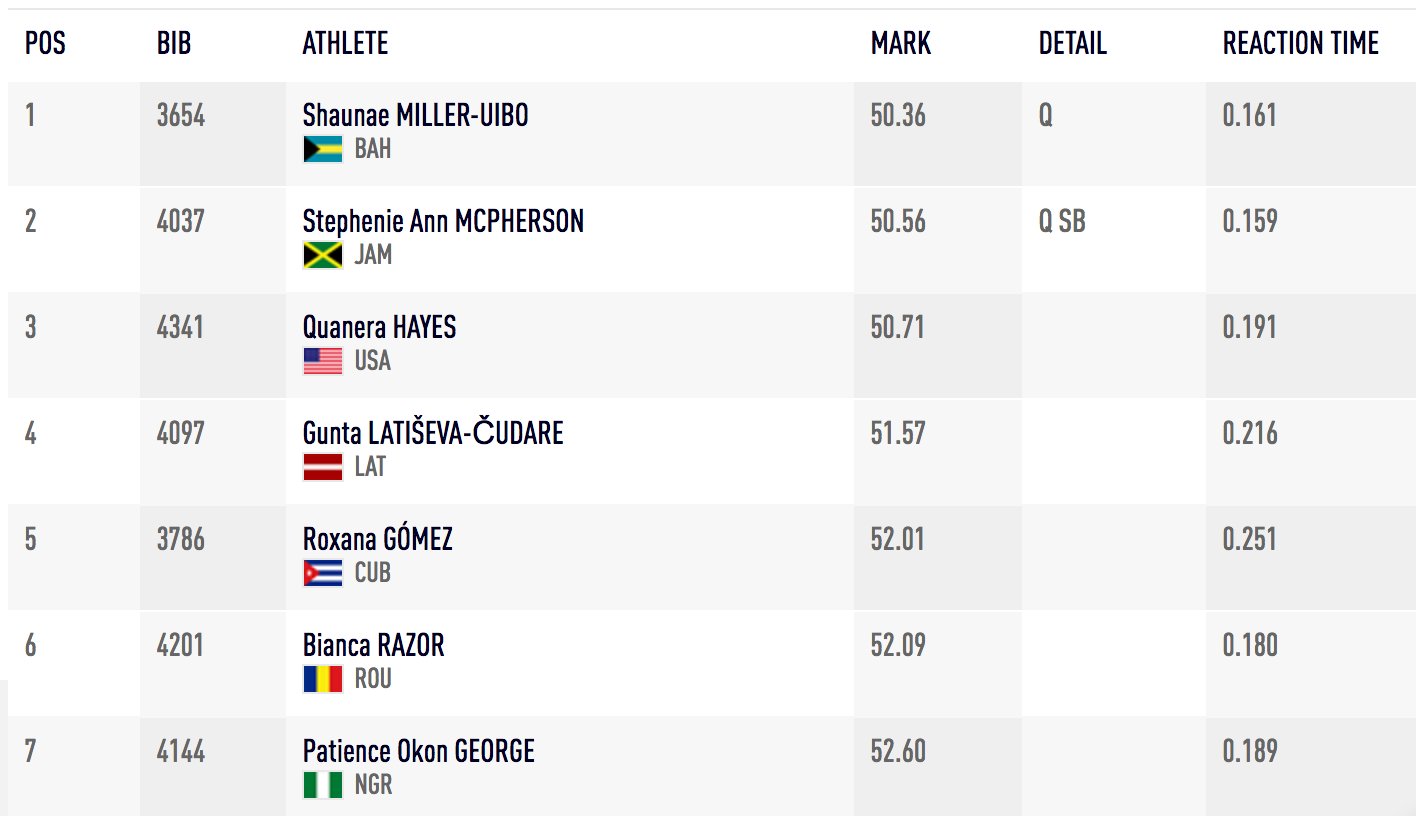 Women's 400m Semifinal Heat 2
Allyson Felix headlines this heat -- or so we thought! The nineteen-year-old Bahraini athlete Salwa Naser steals the show with a 50.08 win and national record! No worries as Felix gets second, but do we now have a new medal contender?
Jamaica's Williams-Mills is out of the autos in third, though the times in this heat were fast enough to knock out Hayes.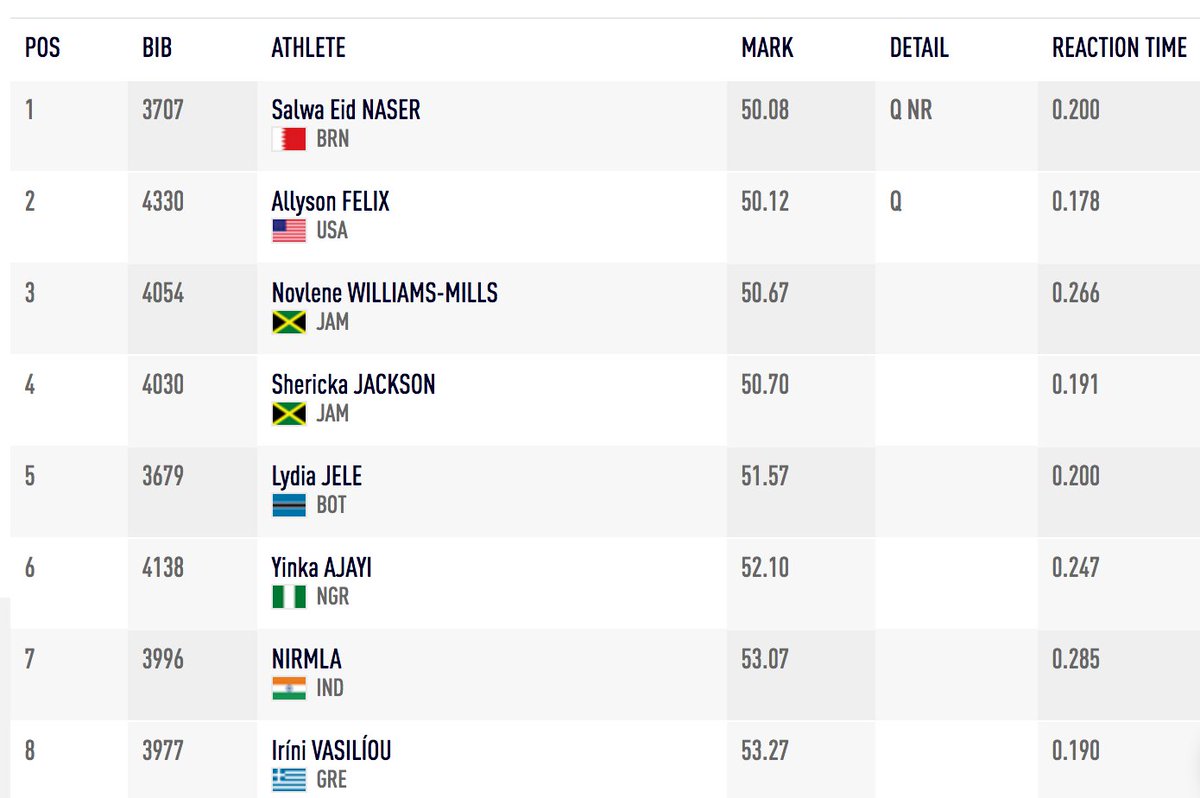 Women's 400m Semifinal Heat 3
The American Phyllis Francis takes this one in 50.37, but surprisingly Chrisann Gordon of Jamaica gets pushed out of the big Qs with her 50.87 mark, behind Zambia's Kabange Mupopo.
Her time won't qualify, as the two time qualifiers end up going to her fellow countrywoman Williams-Mills and Jackson.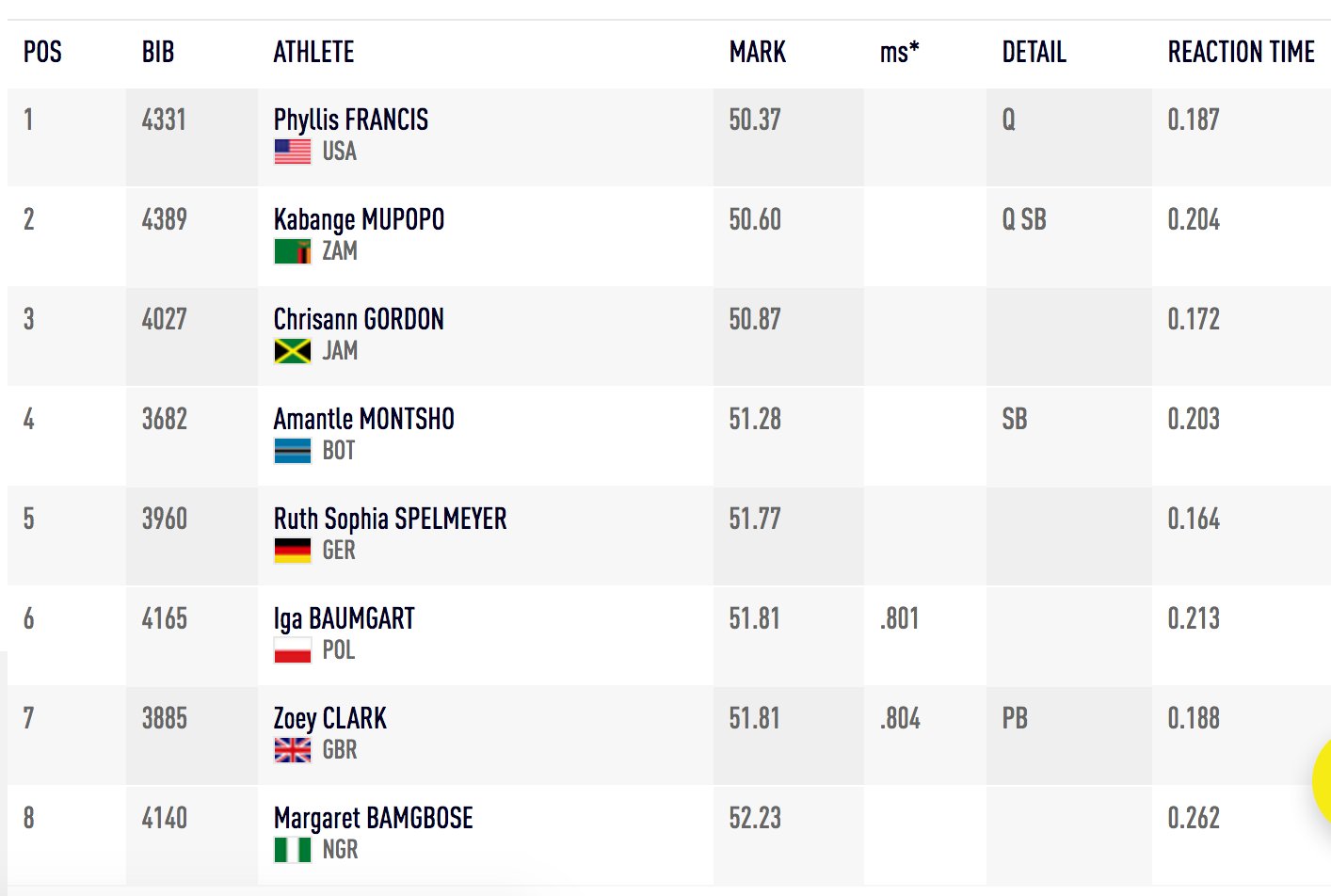 Men's 110m Hurdles Final
This will be a treat. Is Merritt finally back to form from his kidney transplant? Will we see a sub-13 from McLeod?
McLeod wins it in 13.04! And Shubenkov, the "authorized neutral athlete," gets the silver. Big surprise in Balazs Baji of Hungary claiming the bronze.
Merritt looked like he was in the fight for bronze, but he ends up fifth in 13.31.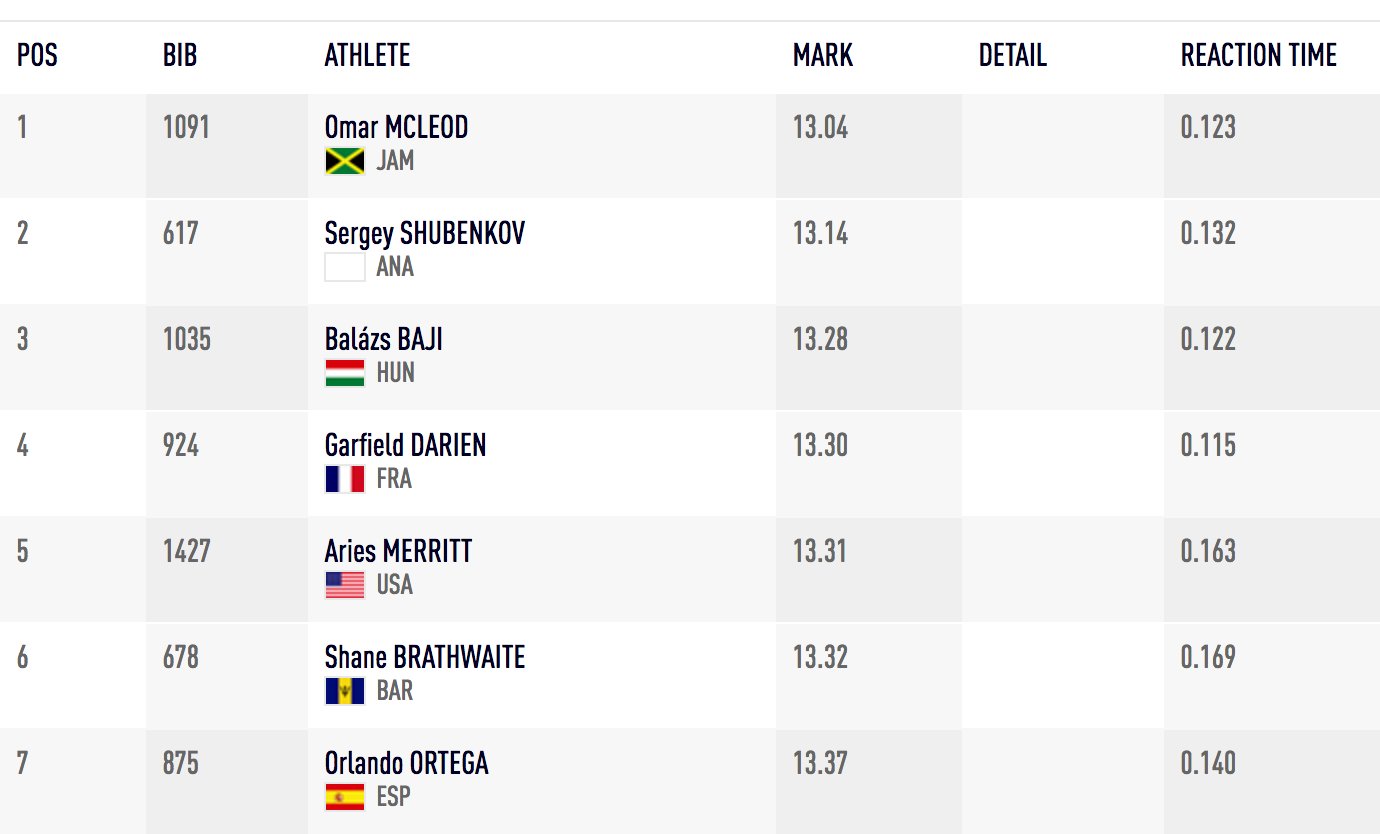 Women's 1500m Final
Jeez. The world record holder in Dibaba. The totally dominant 800m champ in Semenya, who has yet to prove herself in the 1500. The Dutch come-from-behind hope in Hassan. And the U.S. medal hope in Jenny Simpson. Not to mention the British hope in Laura Muir who isn't afraid to fight for gold. Who can take it in this star-studded field?
It goes out in 65, but quickly slows to a 2:17 first half. Muir tries to make it honest but it's Kipyegon and Hassan battling for it with Muir in tow looking for bronze!
Kipyegon takes it and SIMPSON CHARGES to get 2nd, Semenya comes out of nowhere to edge Muir for third!
Jenny Simpson is your U.S. medalist in the 1500! Wow!
This photo from Getty Images tells it all: