2017 IAAF World Championships
LIVE UPDATES: 2017 IAAF World Championships Day 5
LIVE UPDATES: 2017 IAAF World Championships Day 5
Live play-by-play of Day 5 at the IAAF World Championships.
Aug 8, 2017
by Johanna Gretschel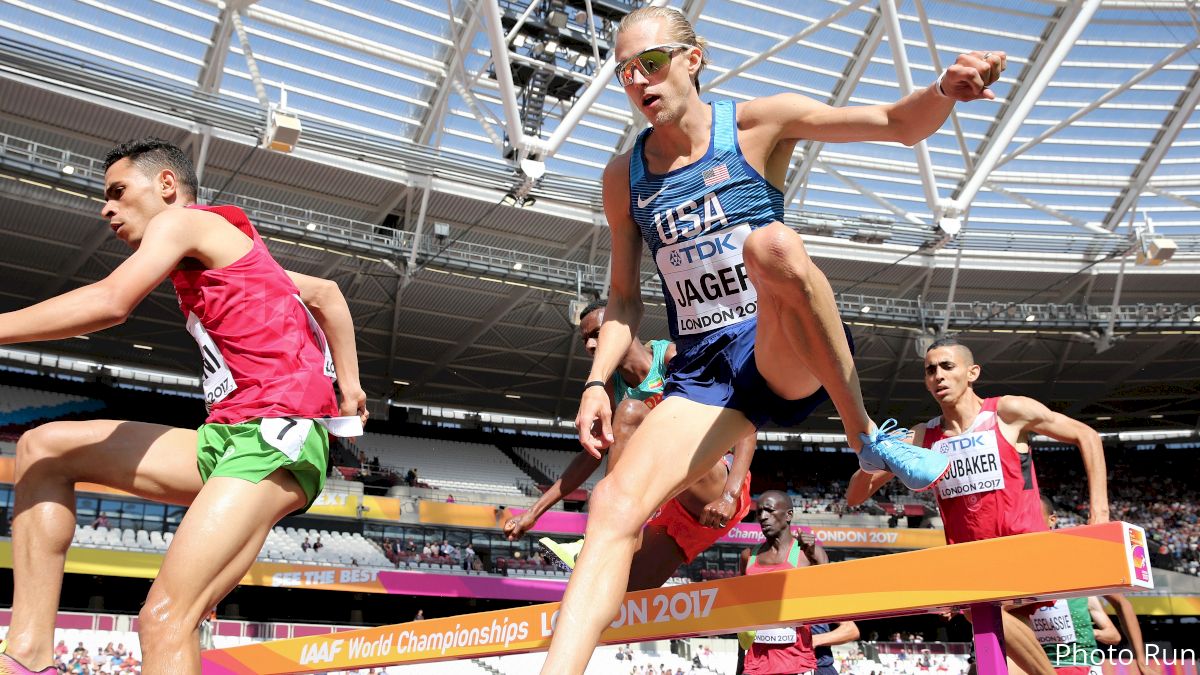 Follow along with live updates from Day 5 of the IAAF World Championships in London! Keep refreshing this page to see what happens in real time.

Women's 200m Heats


Heat 1
Defending world champion Dafne Schippers safely advances to the next round.

Heat 2
American Kimberlyn Duncan accelerates well over the final meters to take the heat win and advance. "I made it to the next round, that's all that matters," she said to Lewis Johnson after the race. "Thinking back on '13 [where she did not advance from semi-final], I was letting the whole thing get to me, I was young, I kind of made mistakes but I'm much older and know better now."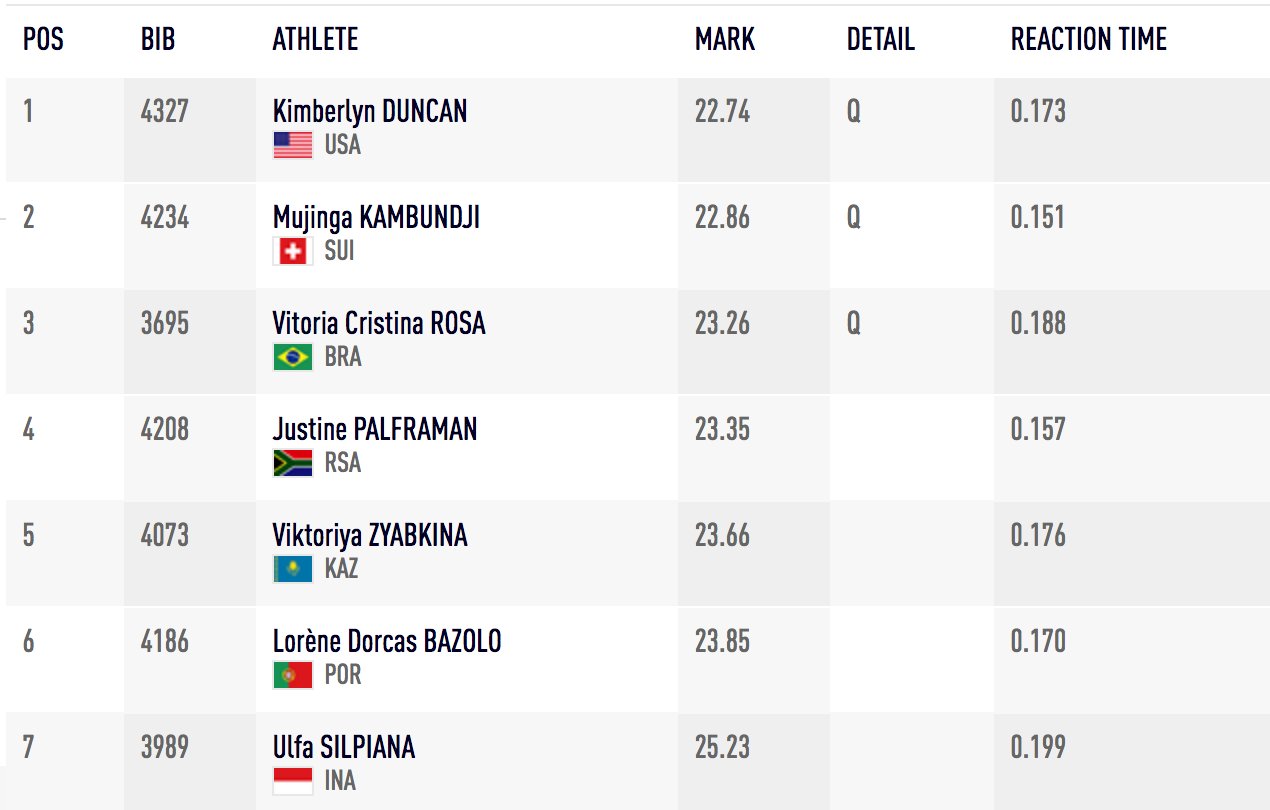 Heat 3
Deajah Stevens wins in 22.91 and gets another shot at advancing to the final after being nipped out of 100m semi-final. "I was just looking to come out here and keep my confidence up, keep positive thoughts," she said to Johnson.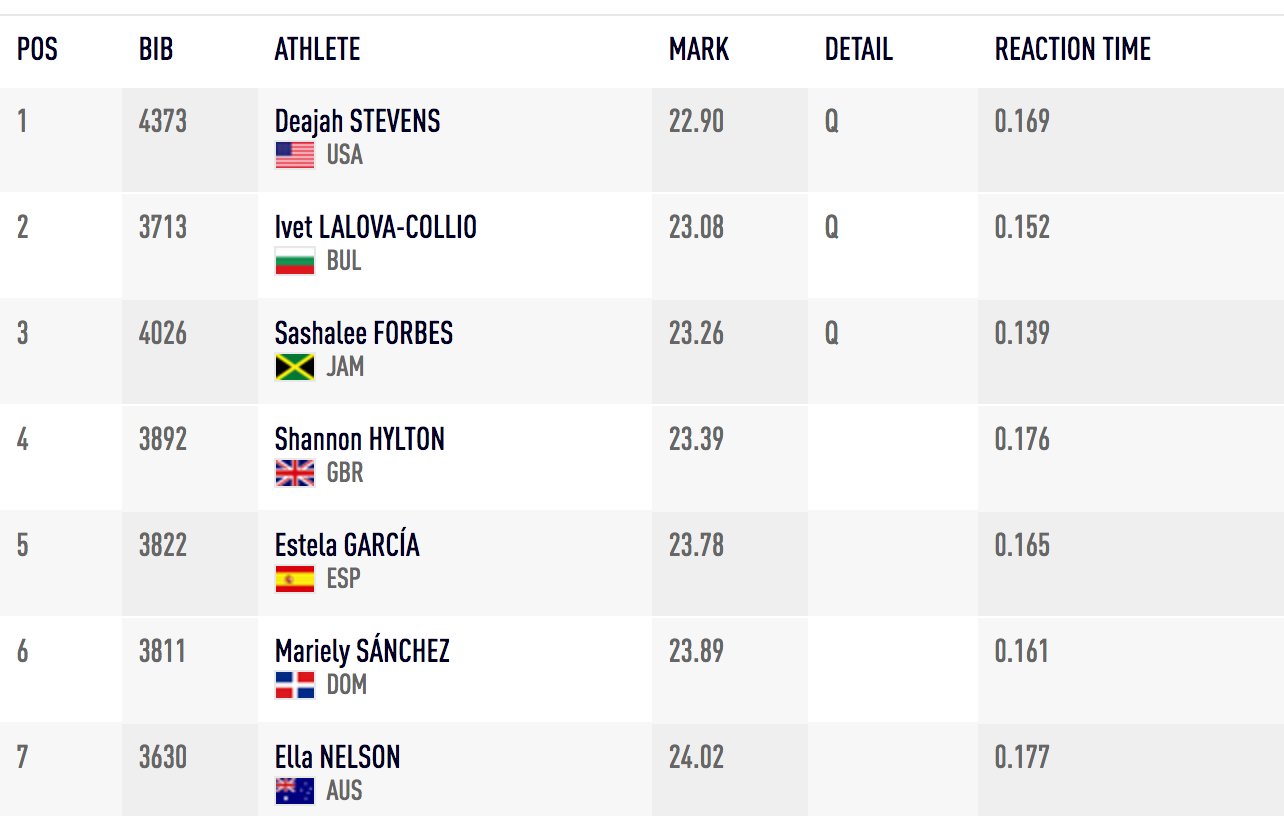 Heat 4
Simone Facey of Jamaica leads after the curve, but the 6-1 Olympic 400m champion, Shaunae Miller-Uibo eats up the gap on the homestretch to win in 22.69. That's the second-fastest time so far behind only defending world champion Schippers.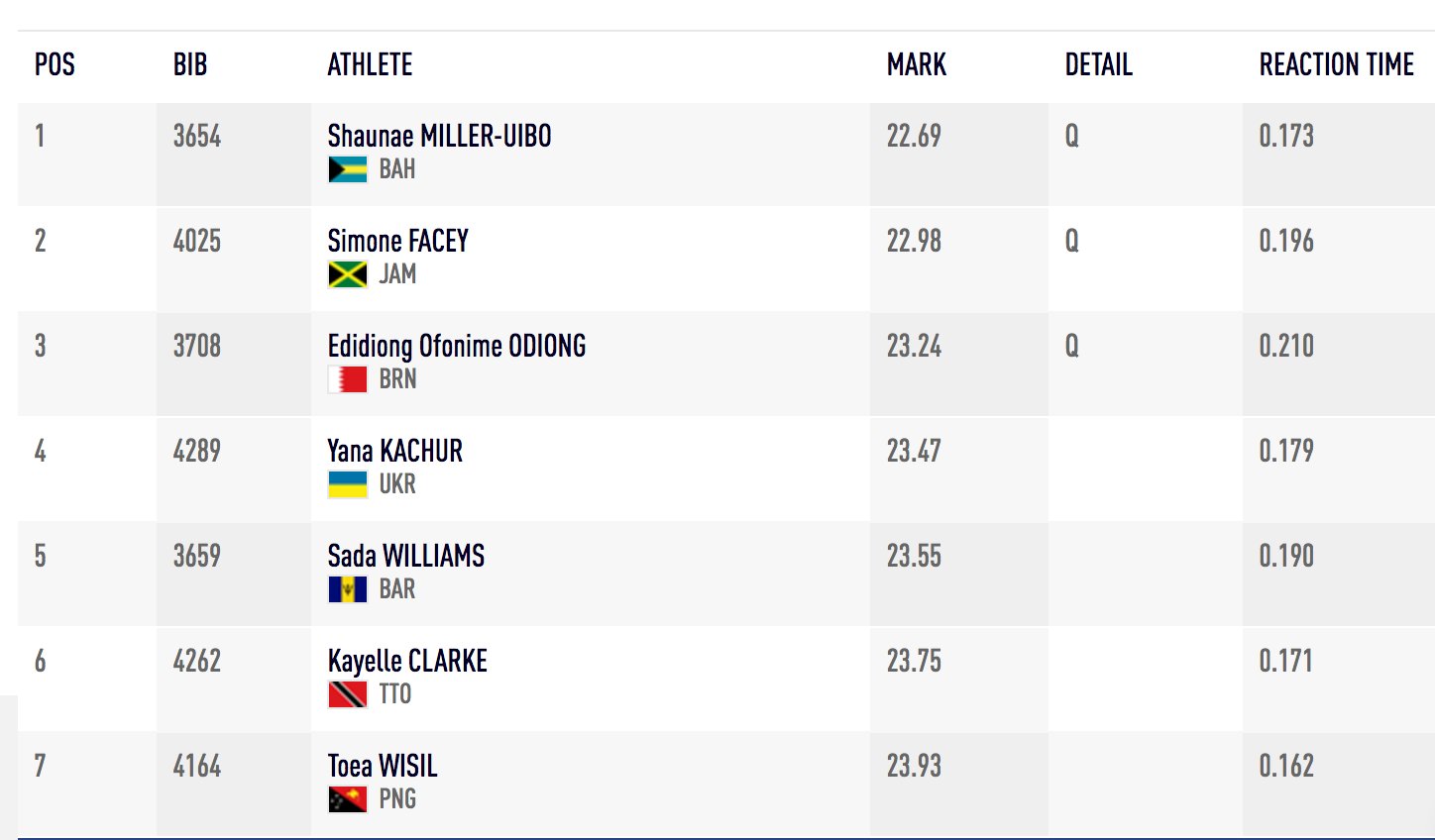 Heat 5
Great Britain's Dina Asher-Smith, fifth at the Olympic Games, holds off early leader Crystal Emmanuel of Canada, 22.73 to 22.87.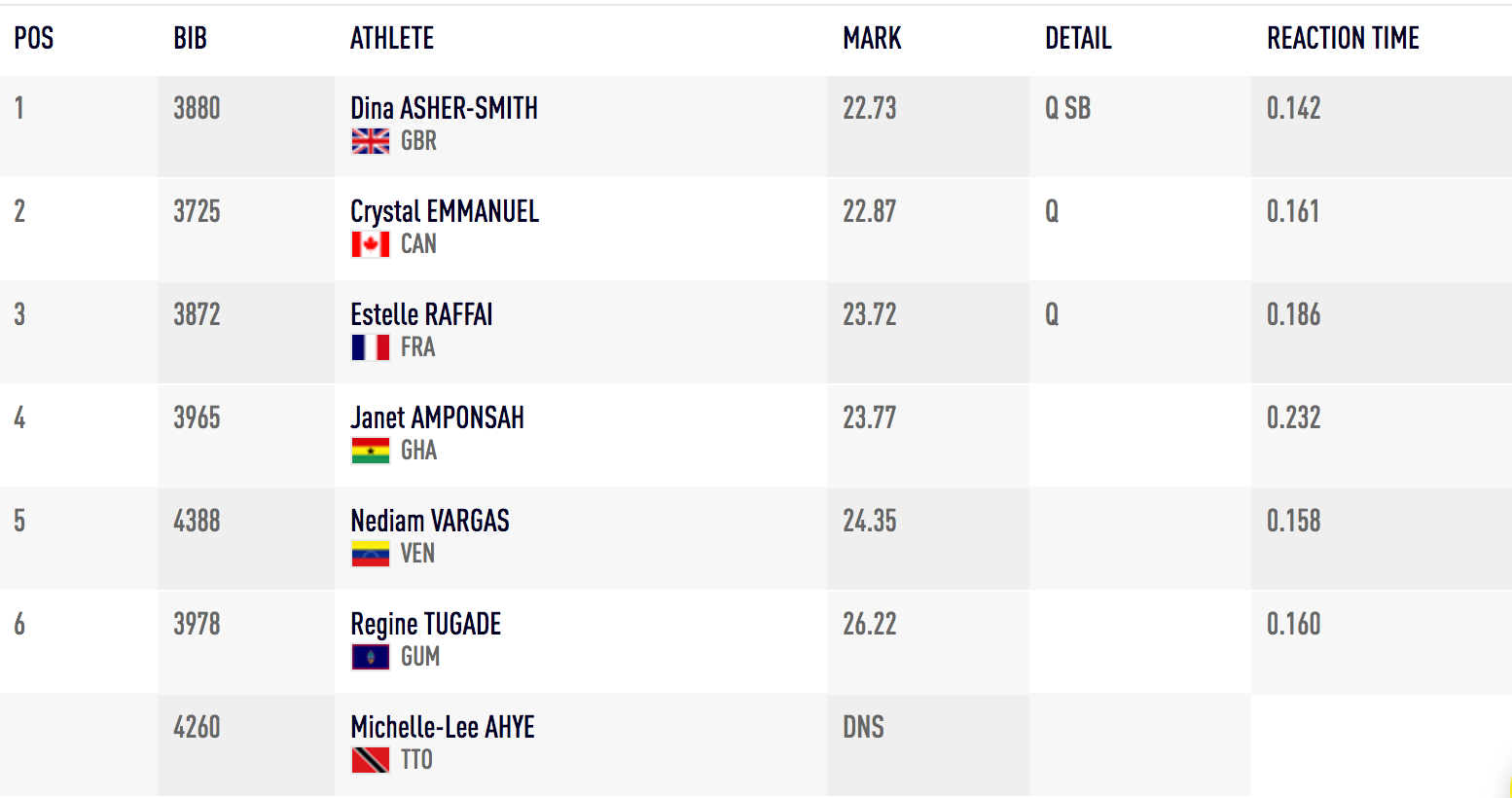 Heat 6
Marie-Josée Ta Lou "sets a record for turning around" at these championships with three turns of the head to see how close her competition is. Her 22.71 looked much smoother than anyone else's 22.7 today. The world silver medalist for 100m looks poised to be a big medal threat.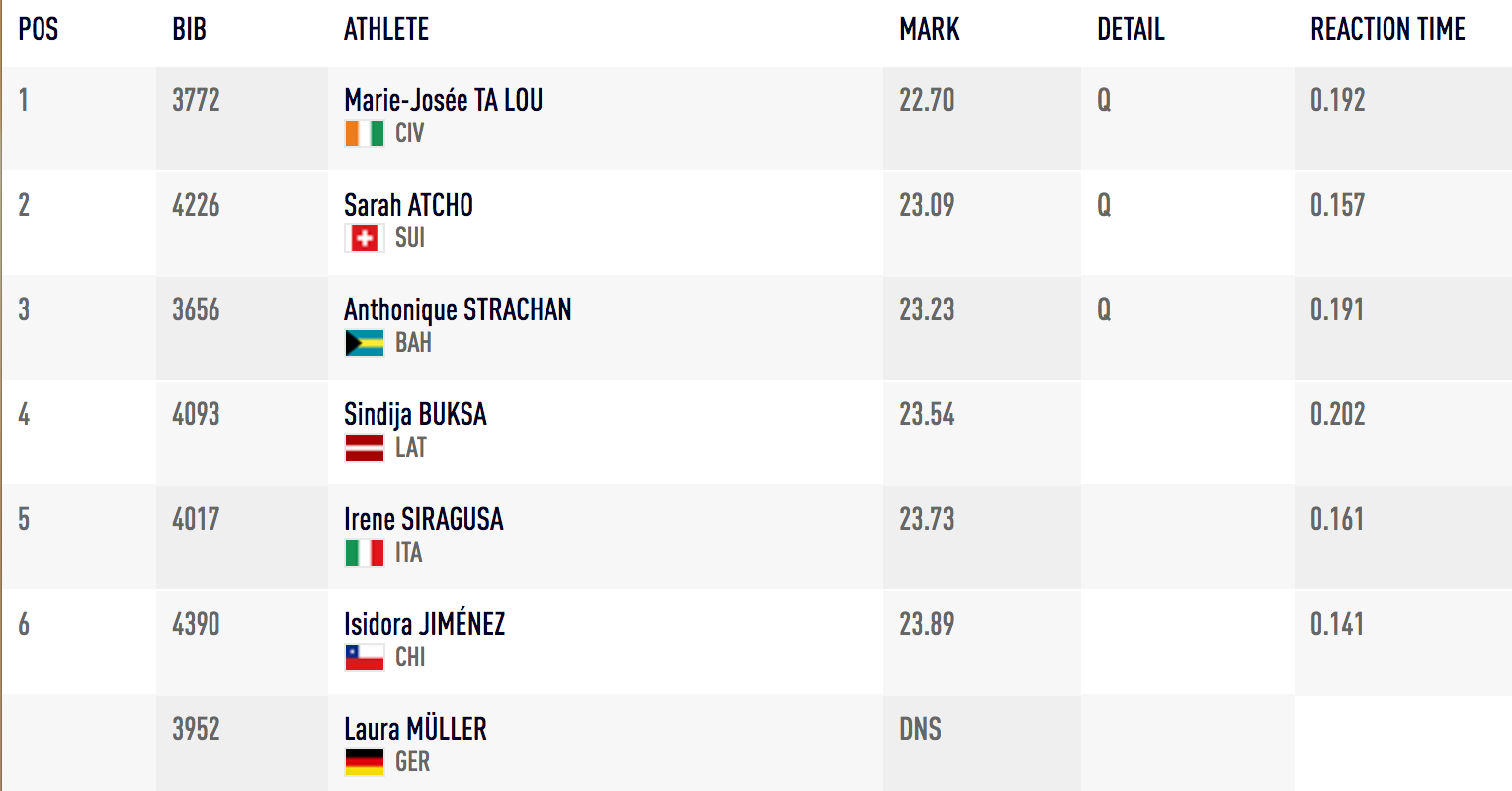 Heat 7
Tori Bowie is a late scratch! The American, who won the 100m on Sunday night,
had hinted at USAs that she was not interested in doubling at worlds
. Still, it's a little disappointing not to see her race in the 200m, as she put the hurt on everyone who would pose a challenge here with her impressive win at the Prefontaine Classic in May.
As for the people actually racing... there's another quick German in the sprint prelims, Rebekka Haase runs 22.99.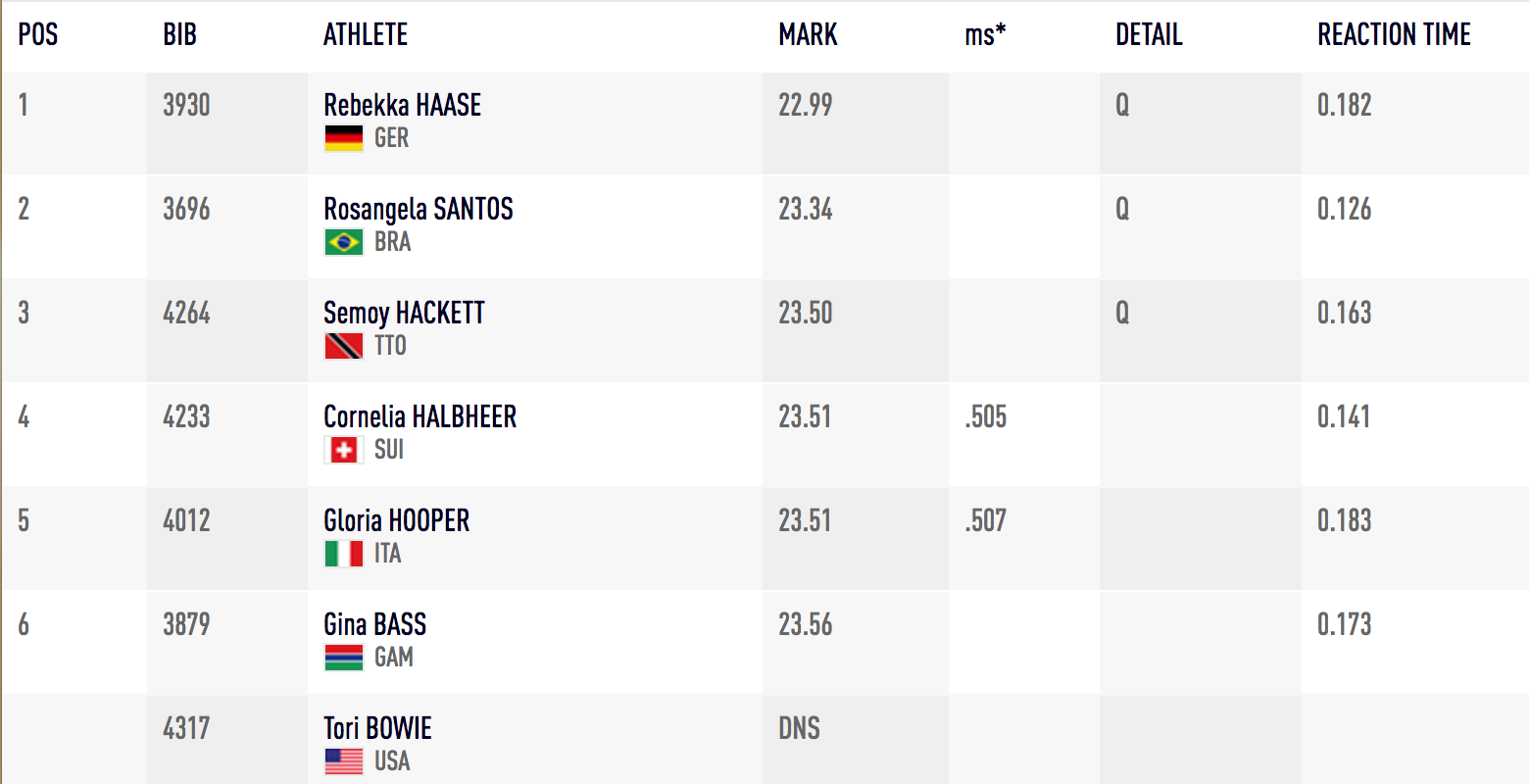 Men's Pole Vault Final


Opening Height: 5.90m
Most of our favorites are safely through the opening height of 5.90m on first attempt, including Louisiana-based teen Mondo Duplantis, who is representing Sweden here. Defending world champion Shawn Barber of Canada makes the height on his second attempt.
5.65m
World leader and U.S. champion Sam Kendricks and world record holder Renaud Lavillinie of France are safely through. Duplantis, Barber and Poland's Piotr Lisek miss first two attempts.
Officials struggling to get the bar set right. Left side higher, Mondo is like WTF? They fix it. #London2017

— Pole Vault Power (@polevaultpower) August 8, 2017
No such luck for Mondo at 5.65, he brushes off the bar on his third attempt and buries his head in his hands in despair #London2017

— Pole Vault Power (@polevaultpower) August 8, 2017
17yo @mondohoss600 still a HS JR for stats purposes, qualified for WC finalsOpened at 18'Defeated former World ChampPlaced 9th!

— Pole Vault Power (@polevaultpower) August 8, 2017
Duplantis misses third and final attempt. He will end his exciting season as ninth in the world, and at 17, the youngest man to qualify for a world pole vault final. Lisek and Barber make their third attempt over 5.65m.
5.75m
Defending champ Barber is out, as is Kurtis Marschall of Australia and Axel Chapelle of France.
5.82m
Kendricks and Xue clear the height. Lavillenie, Lisek and Poland's Wojciechowski miss their first attempt, then opt to move straight to the next height of 5.89m.
5.89m
Xue and Wojciechowski are out! Kendricks, Lisek and Lavillenie are clear
5.95m
Lisek is out! It's down to Kendricks and Lavillenie, who each have recorded two misses. Kendricks clears it! Lavillenie will pass on his last attempt to go straight to 6.01m.
6.01m
If Lavillenie misses, he gets bronze and Lisek takes silver. Kendricks just missed! Lavillenie also misses! That means Kendricks = gold, Lisek = silver, Lavillenie = bronze!
Women's Javelin Final
36-year-old Barbara Spotakova of the Czech Republic wins the competition thanks to her second attempt effort of 66.76m, 10 years after her first world title. China takes the silver and bronze medals as Lingwei Li sets a PB of 66.25m for silver and Huihui Lyu throws a competition-best mark of 65.26m.
There were no Americans in the women's javelin final.
Women's 400m Hurdles Semi-Final
Heat 1
USA runner-up Shamier Little draws the eighth lane after a poor performance in the prelims that saw her lose form after breaking a hurdle. She tries to get out but looks rough going over the last two hurdles again and takes fourth in 55.76; she'll have to wait and see if that's fast enough for a time qualifier. Kori Carter, third at USAs, battles with Zuzana Hejnova of the Czech Republic for the first two positions and auto qualifiers.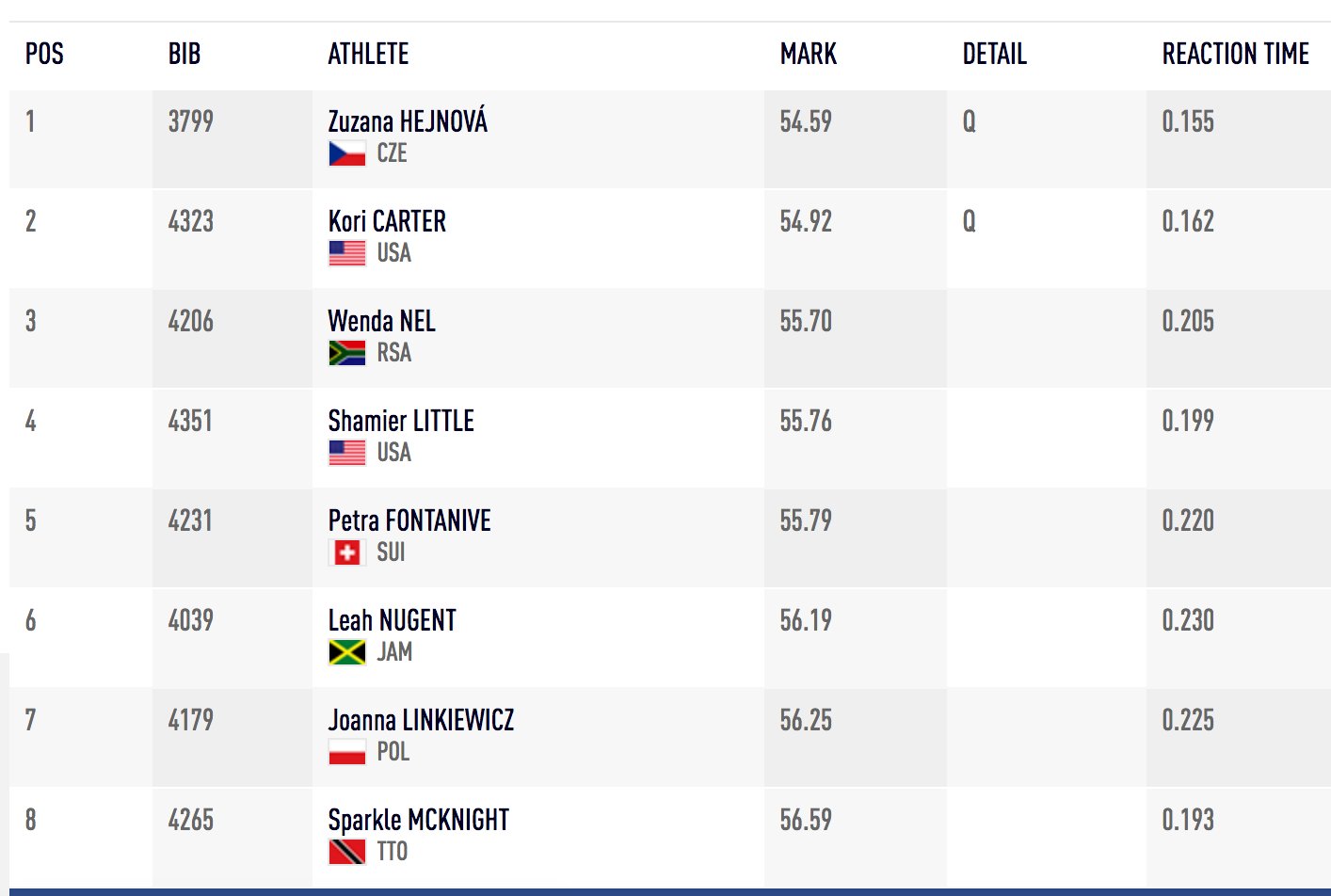 Heat 2
Cassandra Tate of the U.S. also slotted with the eighth lane and fares a bit better than Little, taking third in 55.31, not an auto qualifier but still the fastest non-qualifier so far and pushing Little out of contention. Ristananna Tracey of Jamaica and Lea Sprunger of Switzerland both break 55 seconds to take the auto qualifiers convincingly.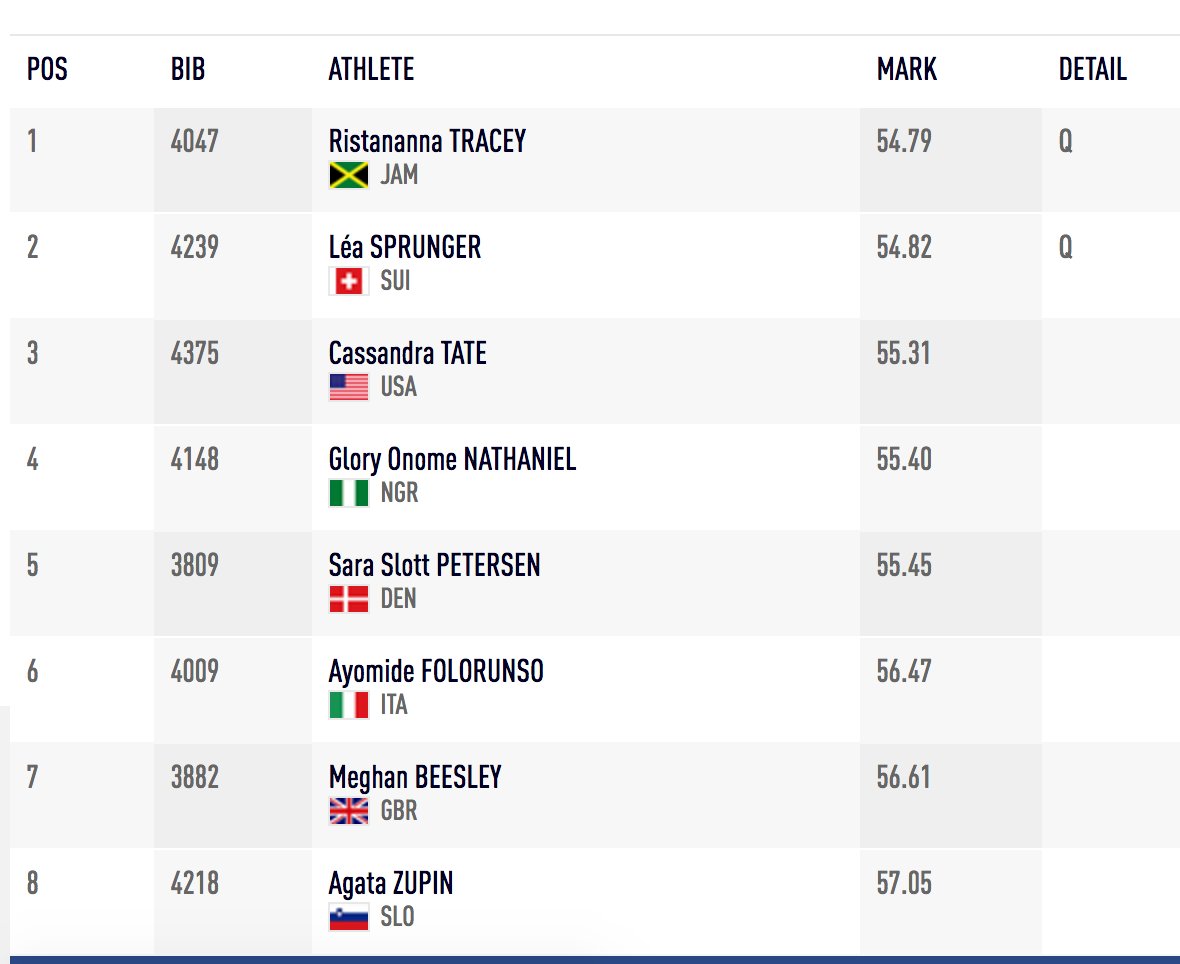 Heat 3
Olympic champion Dalilah Muhammad vs. NCAA champion Sage Watson of Canada... Muhammad of the United States gets out hard but fades a bit down the homestretch as Watson gobbles up the gap and pushes her to finish, 55.00 to 55.05. Eilidh Doyle of Great Britain will be a time qualifier, as will Tate of the United States, so red, white and blue gets three women to the final!
Is a sweep still possible?
"This is how I train, I train going out hard and still being able to finish strong," Muhammad said to Johnson after her race. "For this round, I just wanted to do something different... I wanted to get out at the first hurdle, I think I cruised too much."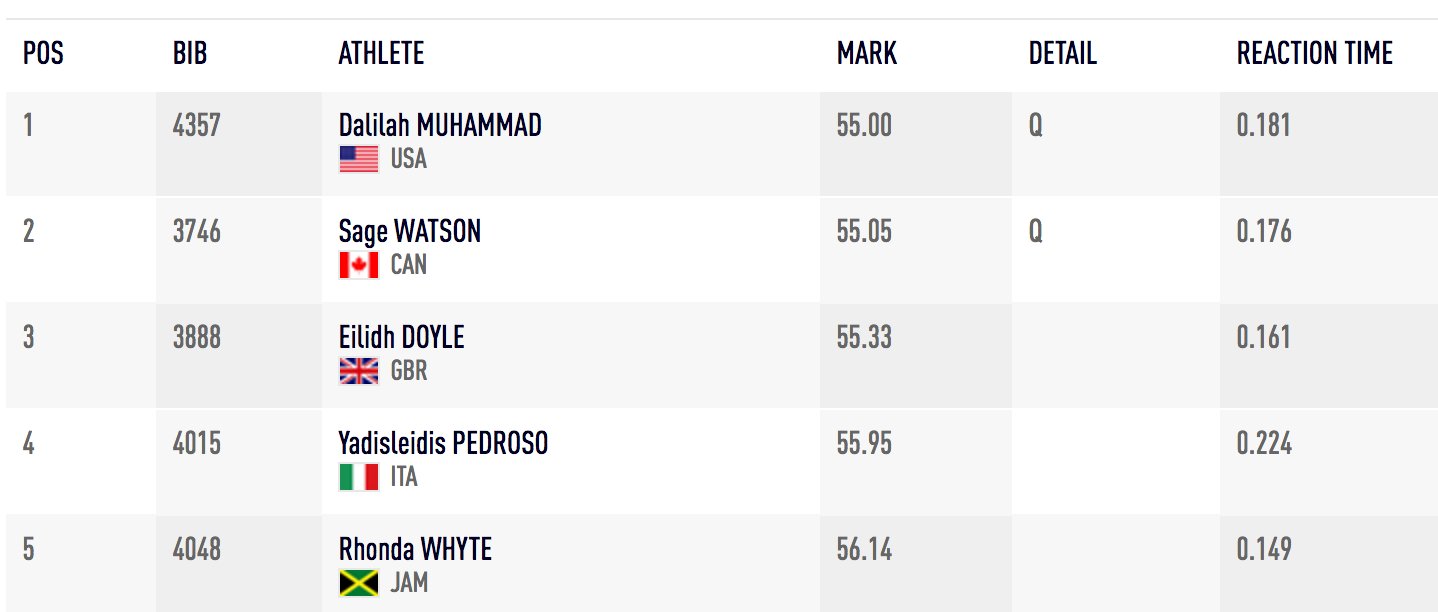 Women's Shot Put Qualification
Two Americans qualify for the final: Olympic champion Michelle Carter, who turns in an 18.92m mark, and Raven Saunders of Ole Miss, who throws for 18.63m. Daniella Bunch throws for 17.39m and does not advance to the final.
Men's 3K Steeplechase Final
Can Evan Jager win Team USA's first medal in the steeplechase at the World Championships?! What about gold?
We think yes
...
Birech leads, Jager running in third place after 400m (about 66 seconds)
Second water jump... Jager stumbles a bit but catches himself before hitting the ground. Still running in third/fourth place
Third water jump... Jager clears it safely then takes the lead!!! Birech
3 laps to go... Jager, Kipruto, Kemboi, Elbakkali
Jager's ratched the pace down to 63 seconds, the pack is separating to a top four with Jager, Kipruto, Elbakkali and Kemboi.
Bell lap.. Kebenei moving up into fourth!!! Jager still leads!
Kipruto moves into the lead, Elbakkali follows, they're at the water jump! Jager in third
Kipruto and Elbakkali are just a little too fast down the homestretch and Jager can't match their move, he'll still earn Team USA's first-ever world medal in the steeple with a bronze
What a race! Jager went for it and is rewarded with a medal -- barely, as he was just able to hold off Mekhissi of France. Pretty impressive run for Kipruto, who had only a season's best of 8:30 heading into the world championships.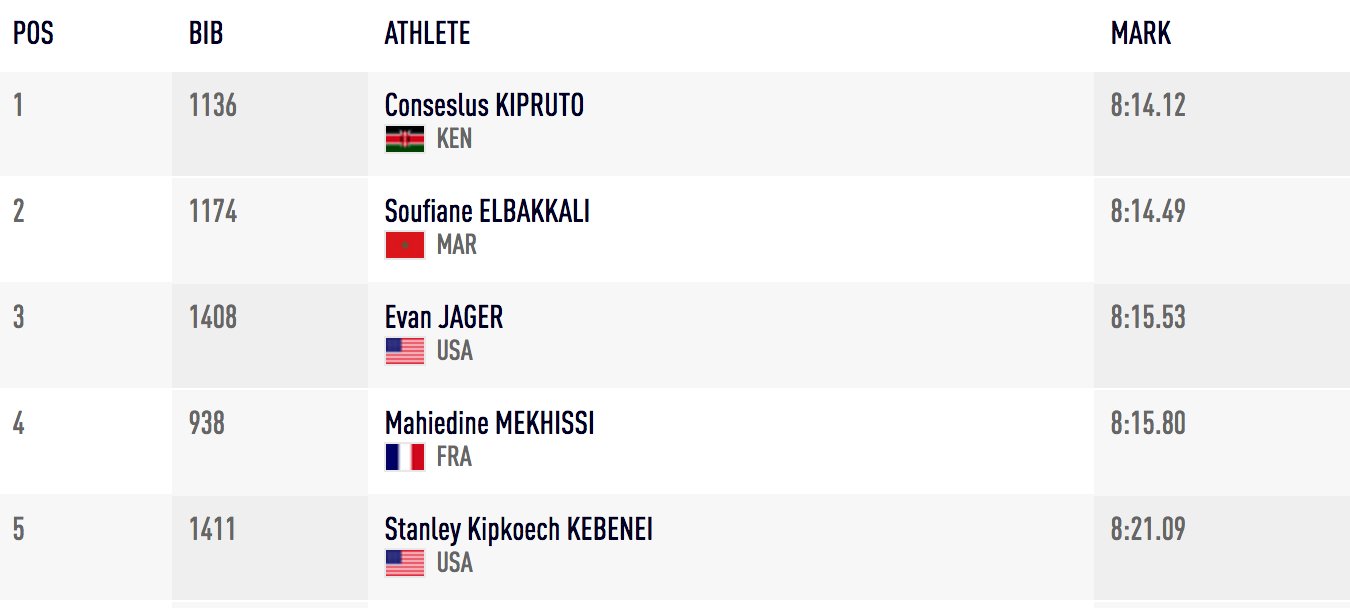 Men's 800m Final
McBride cuts in first! 50.76 for the opening 400m! Amos in second, Bett and Andre in third
Bosse just made a huge move on the backstretch!!! No one can match his move! The Frenchman can't even believe it, he points at himself after the finish in shock! 1:44.67 for the win, as Kszczot of Poland goes from fifth to second in the final 50 meters and Kipyegon Bett of Kenya barely holds on to bronze ahead of Kyle Langford of Great Britain, 1:45.21 to 1:45.25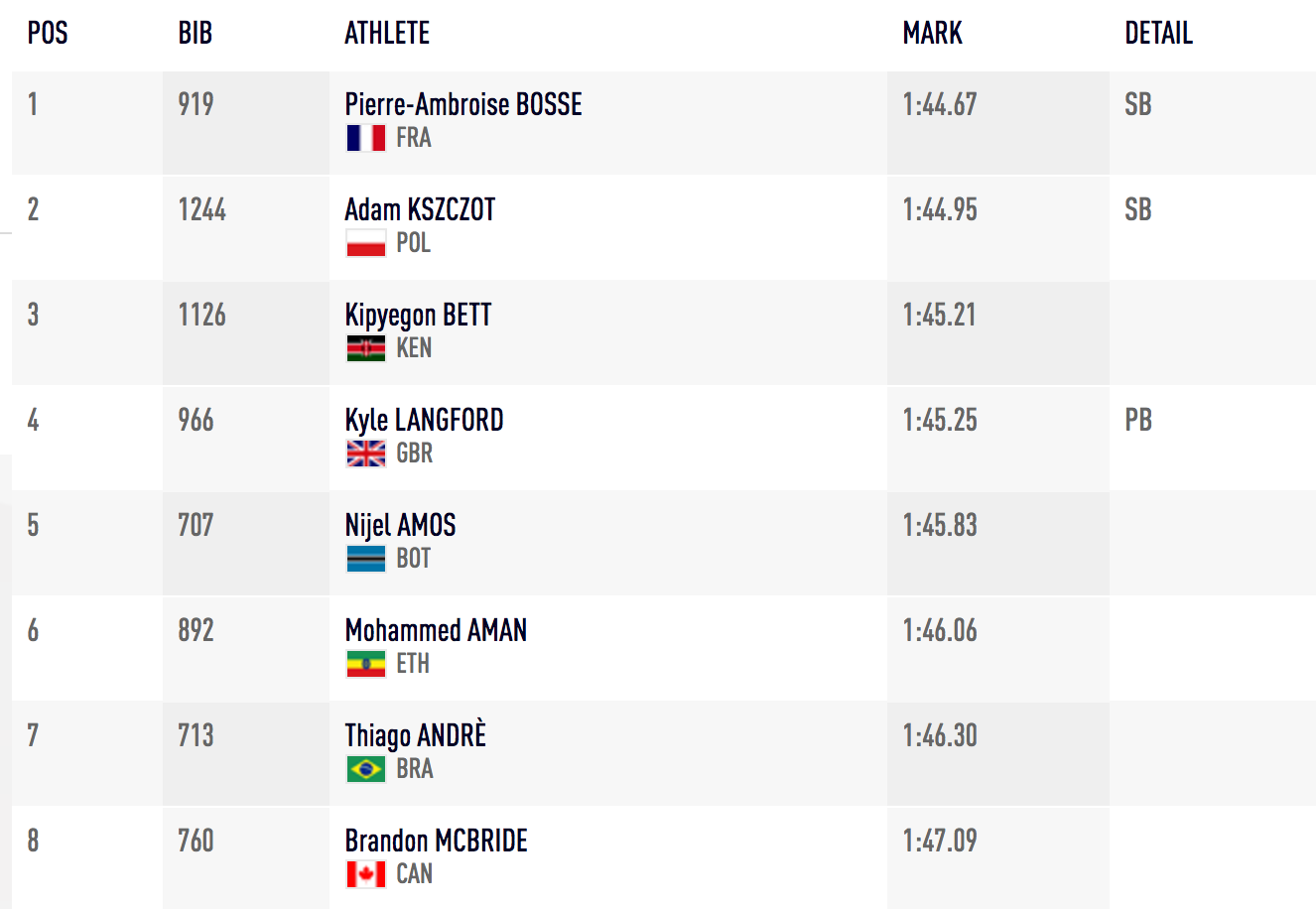 Men's 400m Final
Medal threat
Isaac Makwala of Botswana has officially been banned from competing in the 400m
by the IAAF due to a contagious stomach virus which has affected dozens of athletes staying in various hotels around the venue.
Wayde van Niekerk!!! Can he capture his third consecutive global 400m title? Will he threaten the world record?
Not close to the record, but van Niekerk wins going away in 43.98 ahead of Steven Gardiner of Bahamas, who holds off Haroun of Qatar, 44.41 to 44.48. The South African is
50% on the way to matching Michael Johnson's historic 200m/400m World Championship double
.