Create a free account to unlock this article!
Get Started
Already a subscriber? Log In
After pulling up in the 4x100m relay at the IAAF World Championships in London on Saturday, Usain Bolt announced that he is suffering from a tear in his hamstring.
The 11-time world champion tweeted a picture of the MRI scan which showed the tear.
"Sadly, I have Tear of the proximal myotendineous junction of biceps femoris in my left hamstring with partial retraction. 3 months rehab," the Jamaican sprinter wrote before deleting the post.
"I don't usually release my medical report to the public but sadly I have sat and listened to people questioning if I was really injured. I have never been one to cheat my fans in anyway & my entire desire at the championship was run one last time for my fans. Thanks for the continued support my fans and I rest, heal and move onto the next chapter of my life #Love&LoveAlone," he continued.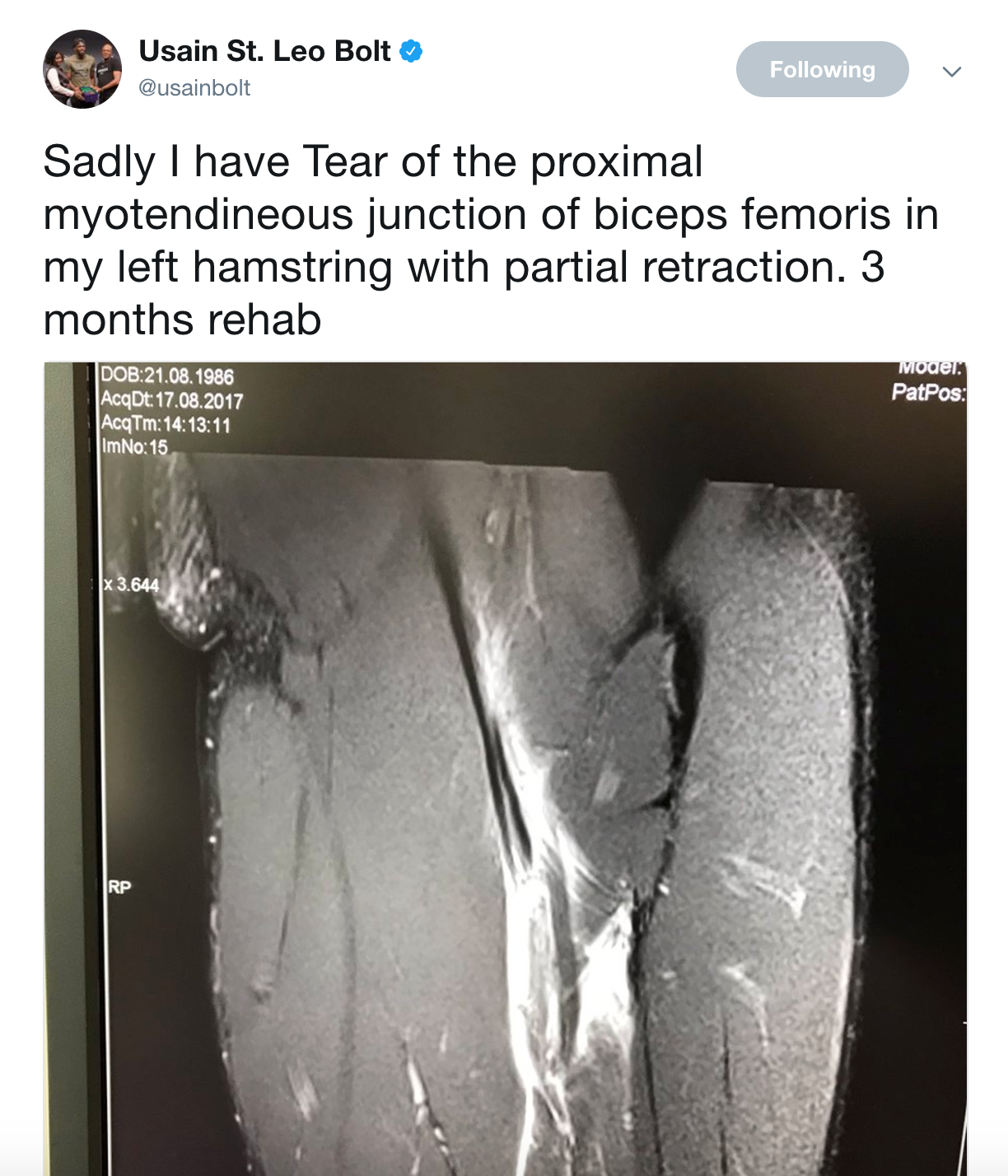 Bolt competed in the 100m and 4x100m relay at the world championship to mark his last track races before retirement. Both races ended in disappointment when he finished third to Americans Justin Gatlin and Christian Coleman in the 100m and fell to the ground with an injury while running as the anchor leg in the relay.
Bolt's 100-meter semifinal performance marked the end of his 45-race winning streak. He finished second to rising star Coleman, marking the first time since 2013 that Bolt didn't win a race that wasn't a relay performance. Gatlin and Coleman went on to beat Bolt in the 100m final, the first final Bolt lost of any kind in over four years.
A week later, Bolt returned to the track for redemption in the relay. But just a few steps after receiving the baton from teammate Yohan Blake, he stopped and started limping in pain. He stumbled while favoring his left leg and quickly fell to the ground in tears as medics and his teammates rushed to his side. Eventually his Jamaican relay members helped him walk across the finish line, effectively ending his illustrious track career.


Get all the hype!
Sign up for the FloTrack newsletter for instant access to: Breaking News, Results, Rankings, Archived Race Footage, Live Broadcasts and more!