One week after the conclusion of the IAAF World Championships in London, world champions and medalists are returning to the track in England for a stacked Birmingham Diamond League meet. Some will seek to carry championship success into personal bests and Diamond League points, while others will be looking to earn redemption after less-than-stellar global championship performances. Either way, the competition will be fierce in Birmingham on Sunday.


Men's 3K

After losing his final championship race on the track, Mo Farah is returning to compete in the 3K in front of the home crowd. Last week, Farah put together a stellar double at the IAAF World Championships. He notched a victory in the 10K, his 10th global championship title of his career, and he returned to place second to Muktar Edris in the 5K, his first 5K loss at a global championship since 2009.
After this season, Farah will be focused on road racing. Following the transition, Farah recently announced that he is ditching the name "Mo" to become known as "Mohamed," according to
The Guardian
.
"My road name is Mohamed. I just feel like Mo is done. I need to forget about what I've achieved and what I've done," he said.
Birmingham and the Zurich Diamond League competitions will be his final races on the track before he switches his focus to the marathon.
Women's 100m

A handful of world champions will toe the line of the women's 100m sprint, including 200m champion Dafne Schippers, 100m hurdles champion Sally Pearson, 400m Olympic champion Shaunae Miller-Uibo, and 100m/200m Olympic champion Elaine Thompson.
Thompson's performance follows a disappointing fifth-place finish in the 100m final at the IAAF World Championships last week, a race in which the reigning Olympic champion was heavily favored.
Schippers enters Birmingham after capturing her second consecutive world title in the 200m.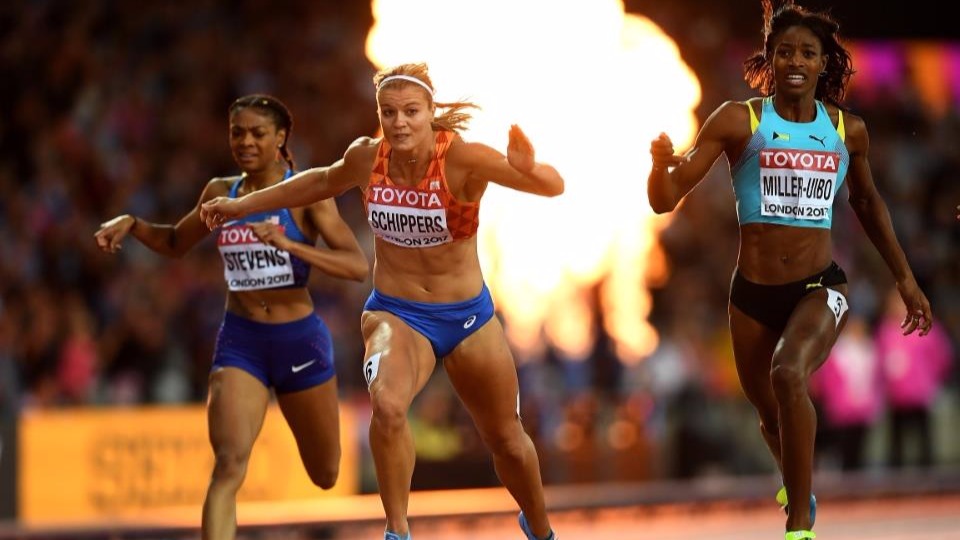 Pearson will compete after a comeback victory in the hurdles. The 2012 Olympic champion suffered from several injuries, including a shattered wrist last year, to earn her first global title since 2012.
After faltering in the last moments of the 400m final, Miller-Uibo returned to earn bronze in the 200m at the IAAF World Championships. The all-around sprint talent holds a 100m personal best of 11.19, a 200m PR of 21.91, and a 400m PR of 49.44.
Men's 800m

UPDATE: As of Friday morning, Clayton Murphy is no longer listed on the men's 800m entries.
For just the second time since the USATF Outdoor Championships, Olympic bronze medalist Clayton Murphy will be competing in the 800m. He attempted to complete the difficult 800m/1500m double at the national championship but was unable to do so when he suffered an injury in the final of the 1500m. He returned to the track on Wednesday night with a 1:48 performance at a meet in Sopot, Poland. Birmingham will be his second race this week.
Murphy will face world silver medalist Adam Kszczot, world champion Asbel Kiprop, world bronze medalist Kipyegon Bett, Olympic finalist Brandon McBride, and world leader Nijel Amos.
Women's 3,000m

After throwing down a world title, championship record, and American record in the 3K over steeplechase barriers, Emma Coburn will return to contest a flat 3K. World silver medalist and fellow American Courtney Frerichs will also be joining her after setting a new steeplechase personal best by 16 seconds. Heading into the race, Coburn holds a 8:59 3K personal best and Frerichs has a PR of 8:56, which will likely drop significantly in such a stacked field.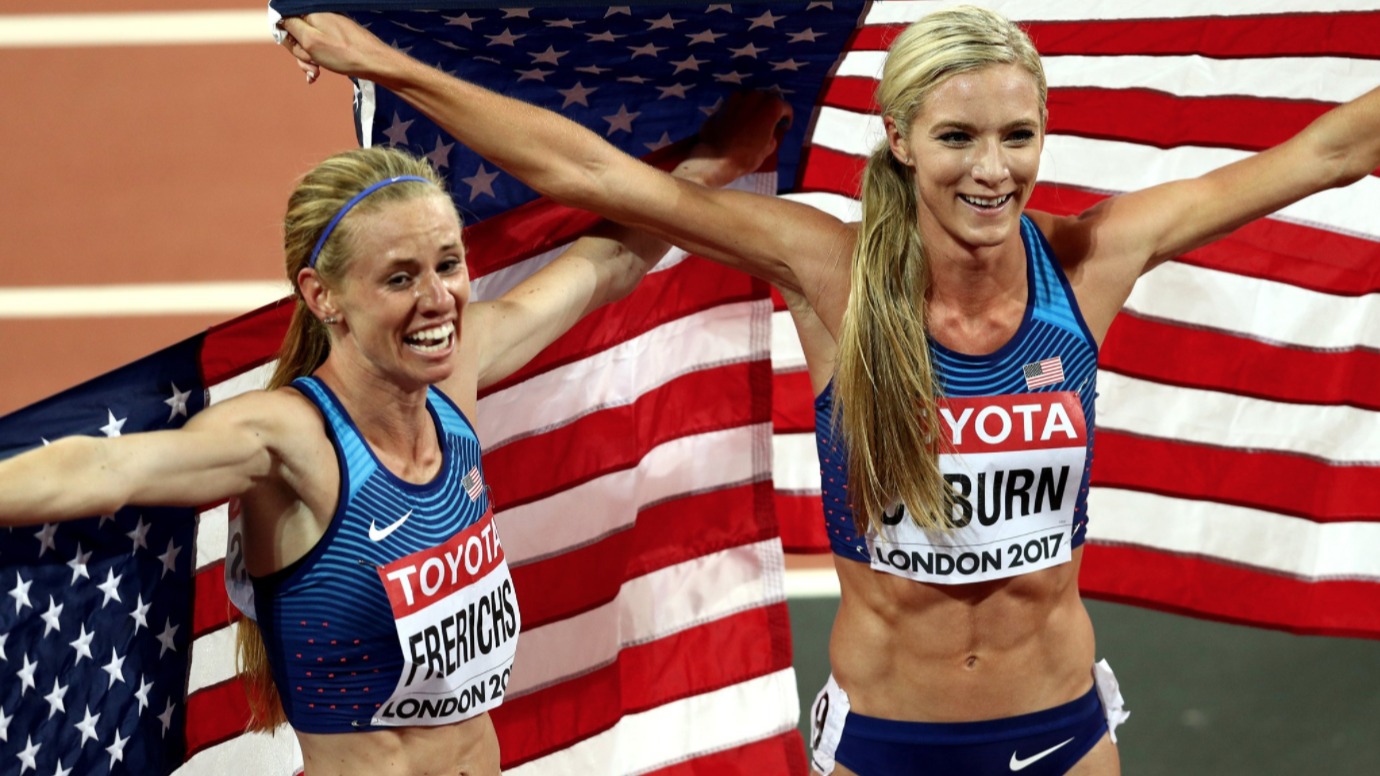 Hellen Obiri, the 5K world champion, will contend after beating 10K world-record holder Almaz Ayana at the IAAF World Championships. Former 5K American-record holder Molly Huddle as well as current record holder Shannon Rowbury will line up. World bronze medalist Sifan Hassan will contest after earning her first medal in the 5K at a global championship. And 2015 10K world bronze medalist Emily Infeld will compete after finishing sixth in the 10K final in London.
Men's 200m

An almost exact London rematch will ensue in the men's 200m with world champion Ramil Guliyev entered as well as finalists Nathaneel Mitchell-Blake, Isaac Makwala, Ameer Webb, and Isiah Young. Guliyev earned Turkey's first gold medal at the IAAF World Championships when he beat 400m champion Wayde van Niekerk to end the South African's double-gold pursuit in the sprint double.
Mitchell-Blake finished fourth in the 200m final and anchored Great Britain to an upset victory in the 4x100m relay over Team USA.
Makwala ended up being one of the main human-interest stories of the championships when the world leader contracted a contagious virus and was forced into quarantine for 48 hours, missing the 200m heats and the 400m final. The IAAF put together a time trial for Makwala to qualify for the 200m semifinal, and he eventually finished fifth overall in the 200m final. Prior to London, Makwala ran a world-leading mark of 19.77.
The Americans Webb and Young will also compete after finishing fifth and sixth, respectively, in the 200m final, which marked both of their first times competing in the final of a global championship.
Women's 1500m

A star American contingent is set to roll in the women's 1500m with world silver medalist Jenny Simpson, Olympic finalist Colleen Quigley, 2013 world silver medalist Brenda Martinez, and national 5K champion Shelby Houlihan. Simpson's runner-up performance in London marked her fourth medal at a global championship. Quigley is also poised for a personal best after notching a 4:03 performance in Heusden three weeks ago. Martinez will be returning after a near miss to make the 800m final, but she has produced season's bests of 1:58.43 in the 800m and 4:02.75 in the 1500m. Houlihan's run will follow a 13th-place finish in the 5K at the world championships.
Women's 400m

The meet will conclude with a performance by 11-time world gold medalist Allyson Felix, who is returning from earning bronze in the 400m and gold in the 4x100m and 4x400m at the World Championships. Felix's 4x400m performance marked her 16th career world medal. She is the only athlete in history to accomplish the feat.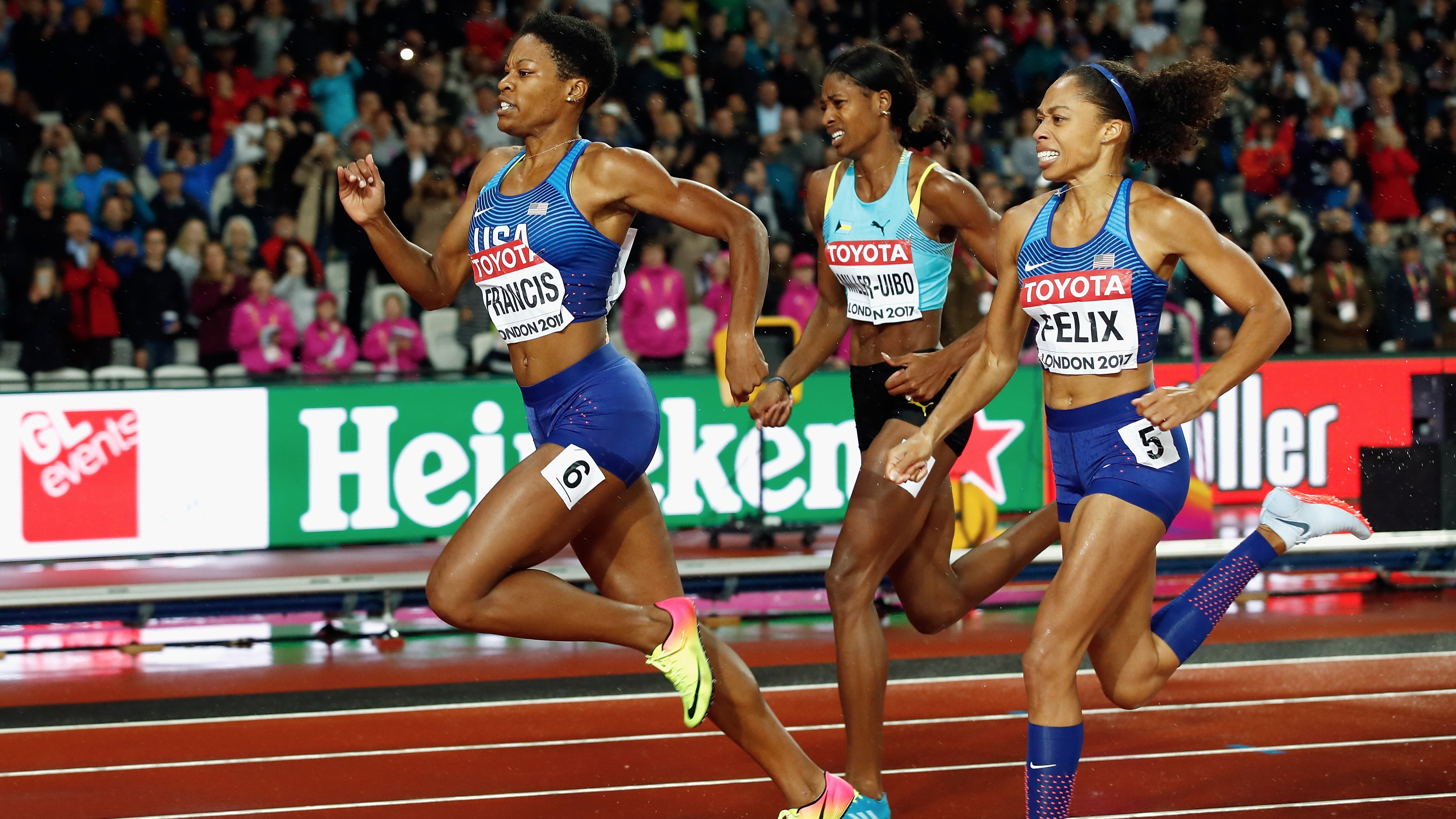 Felix will be joined by fellow American and world champion Phyllis Francis, who beat Bahrain's Salwa Eid Naser and Felix at the line for gold in the 400m final. Francis' performance marked her first individual medal at a global championship.