Buoyed by the honesty of fellow Team USA member
Tianna Bartoletta about her exclusion
from the 4x100m relay at the 2017 IAAF World Championships, 4x4 stalwart Natasha Hastings published a blog today titled
"Pushed Out Of The Zone"
that details how she was led to believe she would race the relay final at Worlds right up until race day arrived in London two weeks ago.
In the past 10 years, the 31-year-old has helped Team USA win two Olympic gold medals (2012, 2016), four world outdoor titles (2007, 2009, 2011, 2013) and three world indoor titles (2010, 2014, 2016). Hastings wrote that she is only sharing her story because she has been "bombarded with calls, texts, tweets, DM's and emails" asking why she was not in the final.
Unlike Bartoletta -- a two-time Olympic champion in the 4x100m relay who did not make the 100m final at USAs this year -- the 31-year-old Hastings did make the 400m final and placed fourth in 50.14. She was one spot out of racing individually in London, but had earned a spot in the 4x400m relay pool.
"I knew that the opportunity to run the open 400M was gone, but I had the rest of the season to prove to myself that I am even better than I can imagine and have lots left in the tank. I had another chance to represent Team USA on the 4x400M Relay. I knew that while the decision was discretionary, my history on the relays and further display of fitness would ensure my spot."
When the team arrived in Birmingham for relay camp, Hastings remembers that she "
was a bit apprehensive, mainly because I've become starkly aware of my age difference with most of the team... I noticed out of the 'veteran crew' only myself, Justin Gatlin, Mike Rodgers and Allyson Felix were present. Another moment that gave me pause and reason to be grateful that I am still performing well at this level."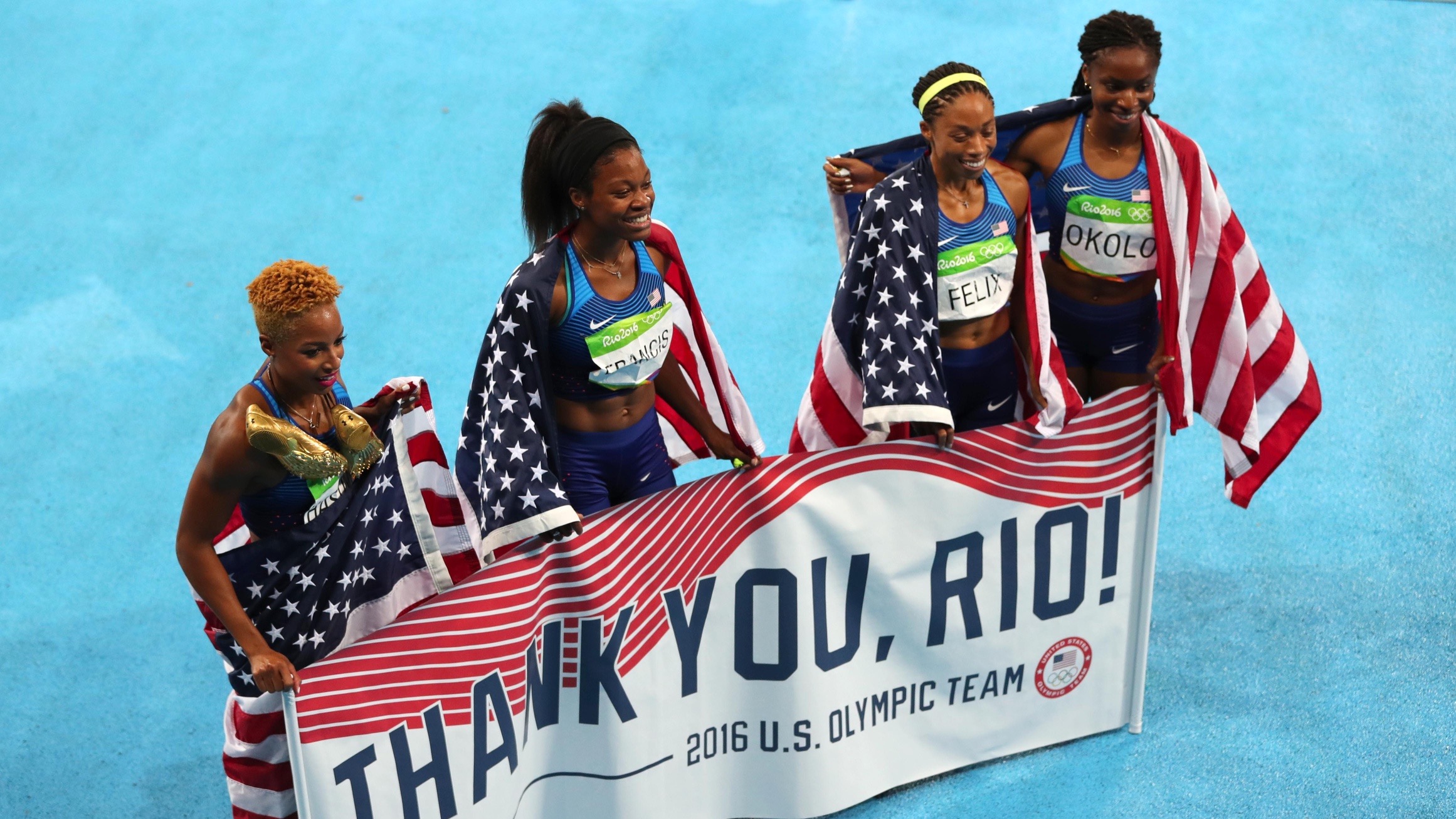 Hastings says that the members of the 4x400m relay pool did not have an official practice until they arrived in London, at which point USATF relay coach Orin Richburg asked her, as the veteran of the group, to lead the other women through runs and exchanges. The group consisted of alternates Shakima Wimbley and Daina Harper as Allyson Felix, Quanera Hayes, Phyllis Francis, and Kendall Ellis were focused on the individual 400m rounds.
"Afterwards, Richburg pulled me to the side and asked how I felt things went. I was confident the girls were picking up on what we taught them and with a little more practice we would be safe. He went on to say we would have another practice once the ladies competing in the individual 400M finished up. He told me for the semi-final round we would run Quanera Hayes to Kendell Ellis to Wimbley to me. For the final we would take the two young ones off, and bring on Phyllis Francis and Allyson. He looked me in the eyes and said in the final he thought I would run the second leg, since I do such a nice job there."
The semi-final went as planned and Hastings enjoyed a comfortable lead at the final exchange. [Here she writes she coasted to a 50.2 split while our calculations put that time closer to 50.9 as estimated from
IAAF splits
].
The 4x400m relay final would close the competition on day ten, the very next evening in London. Hastings recalls feeling uneasy that there was no official team meeting that night to go over relay order. When she approached Richburg at lunch the next day, hours before the final, she was told it would be discussed with the whole team at the track.
"I was the only one that appeared shocked by this news. It was understood that Felix and Francis would be on the final as medalists in the individual. Hayes was U.S. Champ so that was also understood. Ellis showed tired legs by not advancing out of the preliminary round. That left me and Wimbley. I placed fourth at nationals, she placed fifth. I've displayed fitness since then, and I was told I was in the final."


Accompanied by assistant relay coach Wallace Spearmon, whom she also calls a "close friend," Hastings confronted Richburg to ask why she was not selected as promised.

"He said, not making eye contact with me, that we had a 49.2 leg last night and I ran 50.20 so he went with the faster split. I said I was not aware that I was in a run-off for a position that he previously told me was mine. Had I known I was in a run-off I would've certainly run a lot differently, but I ran as the 'veteran' that he'd been referring to me as all week, knowing that there was no need to over-exert myself with another 400 to run tomorrow in the final."

Team USA ended up with gold in a world-leading time of 3:19.02. Hastings does not speak poorly of the women who ran, but writes that she wishes the relay selection would have been more straightforward to avoid the situation that both she and Bartoletta endured. She ends the blog with the following:

"One of the things that I respect most about our team selection is there is no favoritism or politics involved. You make the qualifying standard, place top three at nationals, you earn the right to compete in that event at the major championship. This same format does not apply to the relays, and this is why coaches in years past (this didn't just begin this year) have been able to make the decisions they have."

There should be a clearer set protocol for deciding teams."

Read the full blog
here
.