By Mark Rice for MileSplit


The Roy Griak Invitational girls gold race may be one of the most competitive and exciting national-caliber high school races of the regular season. Need proof? Check out this list of the top 11 girls who will toe the line in the elite race on Saturday at the Les Bolstad Golf Course in Falcon Heights, Minnesota.
WATCH THE 2017 ROY GRIAK INVITATIONAL LIVE ON FLOTRACK
Grace Ping, Winona Cotter (Minnesota)
The well-known story of Grace Ping feels like equal parts fact, myth, and legend. It was at Roy Griak in 2015 when Ping burst onto the national stage in dramatic fashion, beating eventual NXN fourth-place finisher Judy Pendergrast. It was only her first high school 5k. Later that year she finished 14th at NXN, then moved to Utah in the summer before her eighth grade year. In spite of not being allowed to compete against Utah high school competition, she again qualified for NXN and again was All-American, finishing 6th. She spent much of the rest of the season competing against college athletes and pros. Now back in Minnesota, her first two races have been a rousing success, running winning times of 17:45 at the St. Olaf Showcase and 18:16 at the Rochester Mayo Invitational. In both races, her seventh grade sister Lauren turned in great performances as well, finishing 3rd (18:21) and 2nd (19:21) respectively. Now returning to Griak for the first time since her 2015 win, US#5 Ping is not only the favorite, but possibly the most successful middle school runner ever.
Tierney Wolfgram, Math & Science Academy (Minnesota)
Not to get overshadowed by Grace Ping's return to Griak is the fact that the top returner from Griak in 2016 is another Minnesota freshman. Wolfgram finished 4th in 19:17 on a wet and soggy course, which proved to be her breakout race on her way to winning three state championships last year. In her first two races this fall, Wolfgram has started picking up a lot of momentum and attention, first as the runner-up to Ping at the St. Olaf Showcase in 18:04, then in handily defeating then-US#16 Anna Fenske at the Faribault Invitational with a time of 17:58. Those two performances have earned her a spot on the Flo50 rankings at #18. With such a track record, it's hard to imagine that she entered the season viewed as only the third-best freshman in her own state, but that very well-could change for the foreseeable future after Saturday.
Sarah Schmitt, Naperville North (Illinois)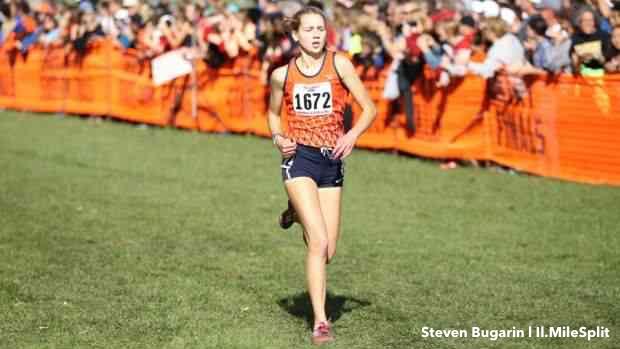 The sixth-place finisher at last year's Illinois 3A State Championships, three-time NXN qualifier, and the second highest returning athlete from last year's Griak (she finished 5th behind Wolfgram), Schmitt is off to the best start of her career. At the First to the Finish Invitational two weeks ago, Schmitt's second-place time of 16:50 not only was her fastest time at the meet by 57 seconds, but her 3 mile PR. Likewise at the Spartan Invitational 5K the week before, which she won in 17:49, she had another career best. Not only did she perform well, but her US#10 Naperville North team were the victors in both of them, beating US#13 Edina at the Spartan Invitational. Her teammate Alex Morris will also be in the individual battle, as she has been close behind Schmitt at each race. But it is Schmitt who has the best chance of anyone in the field to take down any of the Minnesota runners.
Emily Covert, Minneapolis Washburn (Minnesota)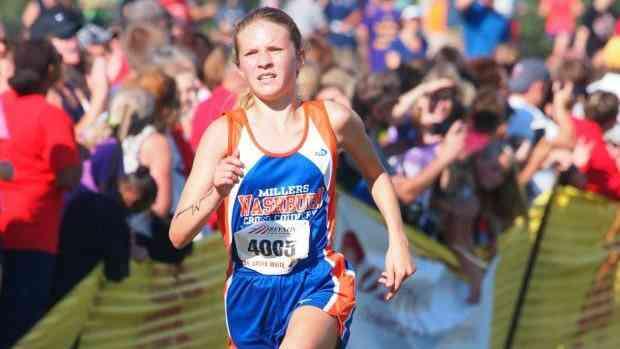 Emily Covert has run three races so far in the fall of 2017. Those three races, she has had margins of victory of 87 seconds at the Columbus Catholic Invitational, 79 seconds in the Ron Kretsch Invitational (which was a 3200m), and 103 seconds at the Twin Cities Championships. Currently sitting with the 13th-fastest 5k time in the nation at 17:32, 2017 will mark the fifth time Covert has run at this event. One bit of trivia that may have gotten lost to history is the fact that it was actually Covert, not Grace Ping, who was the first seventh-grade champion at Griak, winning the maroon race in 2013 in 19:00. In subsequent years of running the gold race, Covert has finished 3rd (running 18:44 in 2014), 11th (19:07 in 2015) and 6th (running 19:19 last year). She did not end last cross country season on a great note as sickness inhibited her performance, but she is clearly ready this year to compete with the best.
Tori Gaitan, Great Oak (California)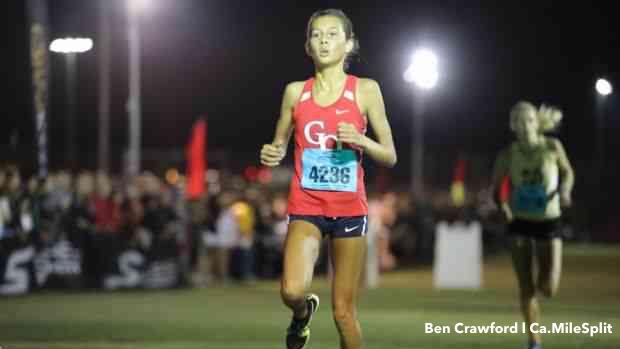 Traveling up from California, Gaitan will be leading US#5 Great Oak in their attempt not only to upstage the top Midwestern teams, but prove their own ranking among the elite teams in the nation. Gaitan herself is a sophomore who has started the season on a very impressive roll. First, she set one career best three mile at the Seaside Invitational in 16:52. Then she finished close behind several Flo50 ranked athletes at the Woodbridge Classic with her three mile time of 16:10 (which was 55 seconds better than her time from last season). While Gaitan did have an impressive track season, running 5:05 and 10:46, the speed at which she has improved and risen in the first few weeks of the season provide tantalizing visions of what she could be capable of as the season rolls on. Gaitan could even find herself in the Flo50 rankings in the near future.
Anna Fenske, Farmington (Minnesota)
Fenske enters Saturday possessing by far the fastest 5k personal best of any athlete in the field, having run an even 17:00 in qualifying for NXN last fall. Normally running in tandem with her teammate, fellow NXN runner and Footlocker qualifier Lauren Peterson, Fenske has been at the front by herself much of the early season as Peterson has been battling sickness. Fenske did not, however, begin her remarkable winning streak last year until after Griak, as her 15th-place finish was hardly indicative of what was to come. This season has been similar, with Fenske holding on for second-place finishes in both of her first two competitive races until she broke out last week with a time of 18:07 at the Lakeville Applejack Invitational. This will be the only time this season Fenske will get a chance to race both of her instate freshman rivals at the same time until the NXN Heartland regional rolls around.
Dana Feyen, Gale-Ettrick-Trempealeau (Wisconsin)
Feyen is another returning top-ten finisher from the 2016 running of Griak, running 19:26 for 8th place. The junior is also the reigning D2 State champion in Wisconsin, and her finish at Griak was the only race she did not win in the regular season. Even still, she has already set a new career-best this season running 18:08 at the Red Hawk Invitational, and again has yet to be defeated through four races in 2017. In that performance at Red Hawk, Feyen won by nearly three minutes, which is not atypical for her. Despite her success, the fact that she hasn't faced comparable competition on a regular basis makes it difficult to compare her to other elite talent and predict just how good she can be. Competing at Griak will not only give her a chance to compete against said talent, but it could prove to be a breakout race for her on a national stage.
Courtney Klatt, Sioux Falls Lincoln (South Dakota)
Klatt has an impressive track record. She was the South Dakota Class AA State Champion last year, after finishing 7th and 5th the two years before that. She also has a history of success at Griak, having run three previous times and finishing 11th last year in 19:29. That finish makes her the 5th-highest returner in the field. While her early season performances haven't been particularly impressive (she ran 18:33 at the Augie Twilight to finish 4th and 19:39 at the Millard South Invitational to finish 7th), she is right on par with how her championship 2016 season started. And with her past success at this course, she ought to feel quite comfortable in attempting to challenge the leaders towards the front.
Katie Rose Blachowicz, Sun Prairie (Wisconsin)
While having a long and successful career for Sun Prairie with multiple state qualifications, Blachowicz has never been known to be a race-winner. In fact, in the first three years of high school cross country, the senior had not won a single one. However, on the heels of an impressive track season that saw her finish 6th at State in the 3200m, she has already won three races, and has even blown away the field in them. Most notably, her 18:00 performance at the Smiley Invitational (a meet where her Sun Prairie team averaged 18:45 for their top five) is making people wonder just how much better she could get. Fellow Sun Prairie runner Autumn Dushack has also seen a similar improvement (though perhaps not quite as a dramatic one), and will certainly be trying to keep her senior teammate in sight. But if the unranked Sun Prairie team wants to pull off a shocking upset (something that our virtual meet projections suggest is possible), they will need every place Blachowicz can get.
Emily Kompelien, Edina (Minnesota)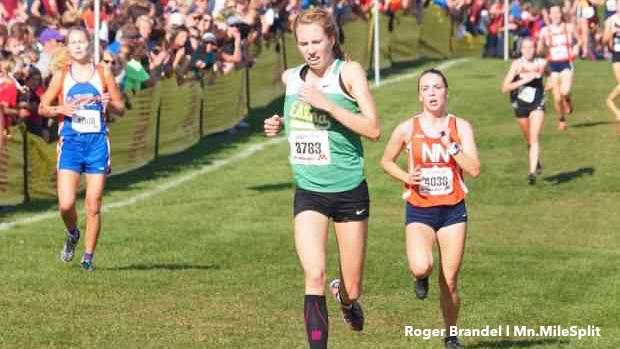 Kompelien did not actually compete on US#13 Edina's Griak-winning team in 2016 as she nursed an injury, but she was the 27th-place finisher as a sophomore. Nevertheless, in her one 5k race so far this fall at the Spartan Invitational, Kompelien ran 18:07 to finish second to Sarah Schmitt. With the graduation of three teammates from Edina's NXN-qualifying team last year, and injuries to two of her current teammates, Kompelien has had to step up into the role of Edina's lowstick in a hurry. But it is a role she is more than ready for, having run on two state champion and NXN-qualifying teams in the last two years. With a majority of the faces on Edina's varsity squad being new this year Kompelien's performance will be integral in attempting to earn her team a second consecutive win.
Emma Atkinson, Wayzata (Minnesota)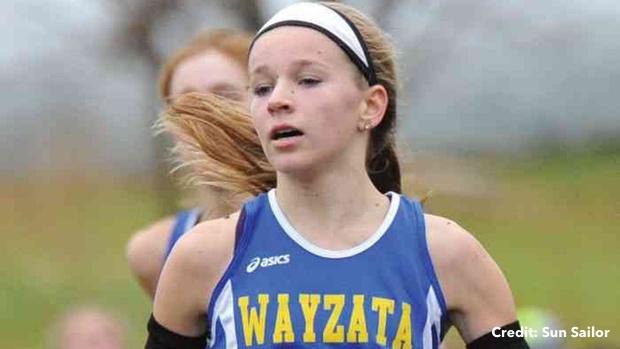 In spite of running 18:21 at the NXN Heartland Regional last year, Atkinson wasn't really even on the local Minnesota radar heading into this season. She didn't even compete at Minnesota's State Championships last fall. But Atkinson very quickly has made a name for herself early in her sophomore season, finishing 4th in 18:32 at the St. Olaf Showcase only behind Grace Ping, Tierney Wolfgram, and Grace's sister Lauren. She followed that up with a win at the Metro Invitational in 18:27, a meet which her Wayzata team won with 17 points. Much like Atkinson herself, Wayzata's team entered the season under-the-radar too, but have leaped up to being ranked 15th in the Flo50 rankings. In addition, teammate and fellow sophomore Caroline Sassan (a 2:12800m runner as a freshman) has been right on Atkinson's heals in both races. While Atkinson's performance will be critical in Wayzata's attempt to unseat the three teams ranked ahead of them, but if she continues to run like she has done, she will be in line for a strong individual finish as well.
How to Watch
On TV:
Available on Roku and Apple TV 4 -- download the FloSports app now.
Streaming:
Only on FloTrack with a PRO subscription. A yearly PRO subscription provides access to ALL FloSports sites.
JOIN NOW
Get all the hype!
Sign up for the FloTrack newsletter for instant access to: Breaking News, Results, Rankings, Archived Race Footage, Live Broadcasts and more!