By Mark Rice for MileSplit
The Roy Griak Invitational boys gold race is going to be on fire. Need proof? Check out this list of the top 12 boys who will toe the line in the elite race on Saturday at the Les Bolstad Golf Course in Falcon Heights, Minnesota. Talent is traveling from around the country to compete on a hilly and difficult course where temperatures are expected to get in the 80s.
WATCH THE 2017 ROY GRIAK INVITATIONAL LIVE ON FLOTRACK
Khalid Hussein, Wayzata (Minnesota)
From a track record standpoint, Hussein is the hands-down favorite. Currently US#21 in the Flo50 rankings, Hussein comes in as the highest returning athlete from last year's Griak (he finished 4th, the only non-senior in the top ten), the highest finisher at NXN in the field (29th), and has the second fastest 5K personal best (15:05). But while the numbers tell one story, real life has already shown us he's beatable, finishing 2nd to his teammate Grant Price in his one race this year at the Columbus Catholic Invitational by four seconds (albeit in a stellar early-season time of 15:49). He also will have a target on his back as the hometown favorite and the top senior of one of the top teams in the nation. But this two-time NXN qualifier and member of two Minnesota state championship teams has both the experience and the history of success to back up his standing.
Derick Peters, West Central (South Dakota)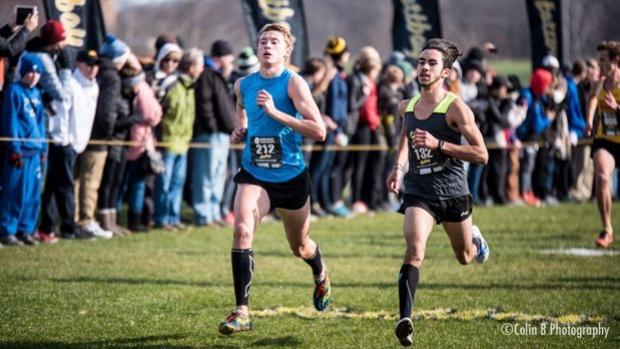 The best way to describe Peters in relation to his competition in South Dakota is "utterly dominant." In 2016, Peters went undefeated in the regular season (including dropping a 14:57 at the Lennox Invitational), the proceeded to secure an individual state title by a cool 55 seconds over the runner-up. But his steam ran out after that, finishing 31st at the NXN Heartland regional and 32nd at Footlocker Midwest. However, Peters has rebounded very nicely so far 2017, opening his season with three consecutive wins, and entering the Flo50 rankings this week in the 25thspot. While his performance against non-Dakota competition was disappointing in 2016, Peters is a year older and more experienced, and competing at Griak is surely going to be a part of his further maturation as this will be his first regular season race with competition of equal ability as himself. It is hard to imagine Peters faltering again.
Gable Sieperda, George-Little Rock (Iowa)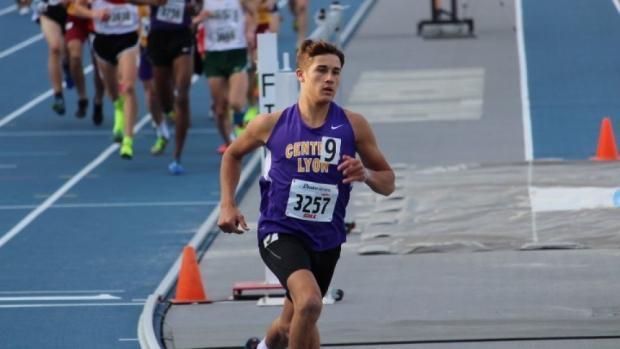 Throughout most of his career, Sieperda has been extremely consistent from year-to-year and race-to-race. To illustrate, in his first three State XC meets, his places were 6th, 6th, and 3rd, while his times were 16:30, 16:29, and 16:27. But last spring, something undeniably clicked in for him, and he went on to have an outstanding track season, taking State titles in both the 800m (1:55.12) and 3200m (9:15.30), while being runner-up in the 1600m (season best 4:17.17). He has carried that torrid momentum into cross country, finishing second to Derick Peters at the Augie Twilight in 15:29, and then running the fastest 5k of anyone in the field this season with 15:08 at the Sibley-Ocheyedan Invitational. Riding this hot streak, Sieperda is bound to have another outstanding race at Griak, and might be the most likely of any runner in the field to upstage Hussein or Peters.
Carlos Carvajal, Great Oak (California)
Traveling halfway across the country will be the biggest challenge for Hussein and Peters from an individual standpoint. Carlos Cavajal has not yet run a 5k in 2017, but his three mile results have been eye-opening. Beginning his season with a time of 14:12 at the Seaside Invitational (a time which bettered his previous career-best by 42 seconds), Cavajal then proceeded to hold his own at Woodbridge, finishing 5th in a time of 14:20 while helping lead his Great Oak teammates to a big win to justify their US#2 ranking. His 71st-place finish at NXN is also the second-highest finish of any runner in the field, and he is the only athlete competing on Saturday with a better 3200m time on the track than Hussein, having run 9:08.54 last May.
Grant Price, Wayzata (Minnesota)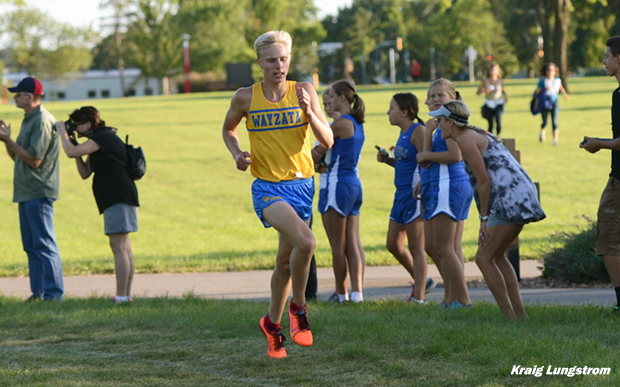 Price may only have gotten on the national radar recently by beating his teammate Khalid Hussein at the Columbus Catholic Invitational, but he does have a solid track record too, especially for a junior. Running 15:52 as a sophomore, he's already beaten that with a time of 15:45, and he was the highest finishing sophomore at last year's Roy Griak Invitational (he was 23rd in a time of 17:13). But while Price may have a shot at an individual win, his role as a member of Wayzata's team may be his most important of the day if they want to keep the Griak team championship in their possession for the fourth time in five years. If he can finish near Hussein (or beat him again), the odds of that happening will increase dramatically.
John Quigley, Millard West (Nebraska)
Taking over the reins at Millard west after the graduation of Seth Hirsch, Quigley has more of a track record at Griak than virtually any other runner listed. In 2015, he was the 27th-place finisher and the best sophomore in the field. Last year, he finished just off the top ten in 11th place, and was the second-highest junior finisher after Khalid Hussein. He also has the fifth-best personal record of all the athletes in the field having run 15:30 at last year's NXN Heartland regional. In 2017, however, he has hardly run, having not participating in Millard West's first three meets. Last Friday was Quigley's first race, where he finished second at the Norfolk Invitational in 17:10. Assuming that it was injury that kept Quigley out of the lineup until then the big question is whether or not he is ready to jump in and perform at the elite level he is capable of. But if he can, his track record suggests that he easily has the ability to try for the win.
Matthew Carmody, Dowling Catholic (Iowa)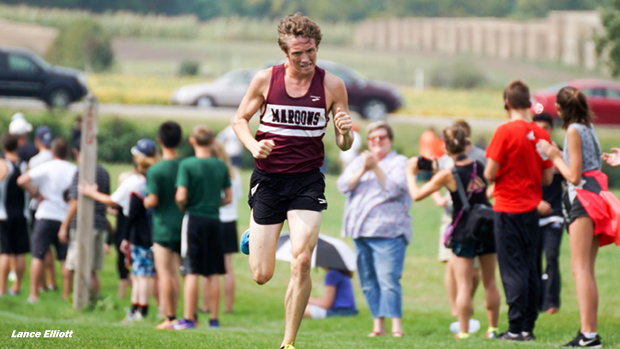 Hailing from one of Iowa's biggest cross country powerhouses, Carmody is the 34th-place finisher at Griak in 2016, and 28th from 2015. Last fall, he went on to finish 3rd at Iowa's State Championship meet, and he has been running extremely well so far this year. In his opening race at the Urbandale Invitational, Carmody won with a time of 15:48, just a second off his then-career best. He's gone on to better that time twice, winning the Heartland Classic in 15:42 last week, and the week before that placing 2nd at the Bobcat Invitational in his current career-best time of 15:26. That time ranks third among the runners in the field this fall, and we might just see Carmody continue to ride this hot streak to a high finish, if not even a win.
Max Manley, Edina (Minnesota)
With the graduation of Patrick Roos and Zach Miller from Edina's NXN-qualifying team in 2016, Max Manley, still only a junior, has firmly taken the reins as Edina's new lowstick. Finishing 3rd at the Heartland Classic in 15:52 (nine seconds behind winner Matthew Carmody), he's already bettered his 2016 best of 16:01. And as far as experience goes, he's already competed twice at NXN as a member of Edina's team. The 41st-place finisher from last year's Roy Griak Invitational, Manley will most certainly improve on that finish in 2017. Also, early season returns have strongly suggested Manley's team has not lost a step after the exodus of 2017 graduates, and will be in the thick of the team competition once again this year.
Camden Cox, Ankeny Centennial (Iowa)
Thus far in the fall of 2017, Cox hasn't exactly been impressive, per se. In his two most recent races, he has finished 5th at the Bobcax Invitational in 16:05 (39 seconds behind Matthew Carmody) and 6th at the Heartland Classic (behind Carmody and Manley). But you can't ignore his track record, in particular on the track itself. Having run 15:49 in 2016 while finishing 4th at Iowa's state meet, Cox's track personal bests of 1:55.61, 4:17.61 (in a full mile, no less), and 9:17.96 are better than all the most elite athletes in the field. If that track success can trickle out onto the Les Bolsted course, you could see Cox make a lot of people start taking notice of him.
Adam Wilkinson, Minnetonka (Minnesota)
Returning as the 40th-place finisher at Griak from 2016, Wilkinson has done nothing this year except impress. The owner of a 16:09 personal record coming into the season, Wilkinson has already bettered that twice, running15:55 at the Nike Heartland Pre-Regional (taking second to Derick Peters) and 15:50 at the Lakeville Applejack Invitational (which he won). He also has to his credit a two-mile time run in 9:50, which is remarkably just two ticks off his personal record on the track. The leader and frontrunner of a Minnetonka team that is seriously challenging Edina as the second-best team in Minnesota, Wilkinson could be on the verge of a breakout race at Griak.
Kavanaugh Fitzpatrick, Lakeland Union (Wisconsin)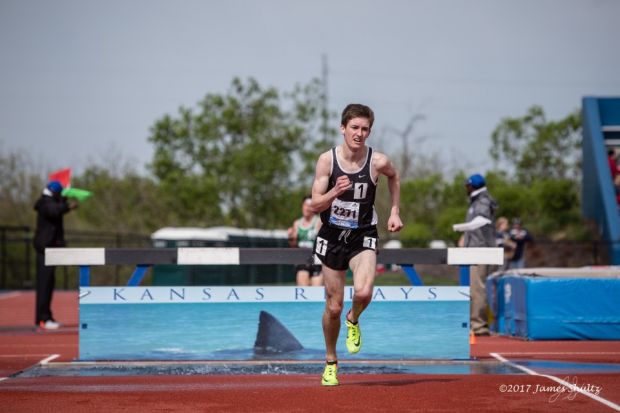 Having finished 31st in this race in 2017, FitzPatrick finished higher than all but three other athletes on this list (including Matthew Carmody). He is also fresh off a new career-best run of 15:42from the Smiley Invitational, which is the fifth-fastest time of 2017 for all runners in the field. In his three competitive races this year, the only athlete he has lost to is Drew Bosley (he finished 2nd to Bosley at the Highlander Invitational), including beating Zak Sather, Josh Becker, and Daniel Jacobs. That said, his track record is surprisingly thin, including only finishing 14th at his state meet last year and with PRs of 9:54.95 in the 3200m and 4:28.83 in the 1600m. Nevertheless, one need only compare his season results this year with those from last year to see how far it seems her has come(his winning time at Smiley was a full 60 seconds faster than 2016, while his Glen Herold Invitational time was 42 seconds faster).
Gabriel Abbes, Great Oak (California)
Just a sophomore, Abbes has been hinting at being something special in his early season races. At Woodbridge, he finished 16th overall in a career-best time of 14:32 in the three mile, finishing closer to his teammate Cavajal (twelve seconds) than he ever had before. This was one week after he had previously set a career-best of 14:42 at the Seaside Invitational. Lack of experience is the biggest concern towards putting Abbes among the top tier of expected finishers at Griak (unsurprisingly, since he is still a sophomore), as he has not yet competed in either a state or national competition. But his performance at Woodbridge certainly bodes well as far as future success is concerned.
How to Watch
On TV:
Available on Roku and Apple TV 4 -- download the FloSports app now.
Streaming:
Only on FloTrack with a PRO subscription. A yearly PRO subscription provides access to ALL FloSports sites.
JOIN NOW
Get all the hype!
Sign up for the FloTrack newsletter for instant access to: Breaking News, Results, Rankings, Archived Race Footage, Live Broadcasts and more!