The ninth annual Nuttycombe Wisconsin Invitational presented by Under Armour is going down this Friday in Madison, Wisconsin, home of the Badgers. You can watch the men's 8K and women's 6K
LIVE on FloTrack
as dozens of FloXC-ranked teams and individuals battle it out on the course for valuable Kolas points.
Click here to view entries
for Wisco,
play the FloTrack Pick 'Em! Prediction Game here
, and read on to learn more about the top women's teams and individuals set for battle this Friday. Read up on the men's race
here
.
WATCH THE WISCONSIN NUTTYCOMBE XC INVITATIONAL LIVE ON FLOTRACK
Women's Championship 6K Start Time:
12:20 PM CT
FloXC-Ranked Teams:
No. 2 New Mexico, No. 3 Stanford, No. 6 NC State, No. 8 San Francisco, No. 10 Boise State, No. 11 Providence, No. 12 Washington, No. 13 Utah, No. 14 Wisconsin, No. 15 Iowa State, No. 18 Furman, No. 19 Minnesota, No. 23 Air Force, No. 24 California
FloXC-Ranked Individuals:
No. 2 Allie Ostrander (Boise State), No. 3 Ednah Kurgat (New Mexico), No. 4 Alice Wright (New Mexico), No. 8 Brenna Peloquin (Boise State), No. 10 Grayson Murphy (Utah), No. 11 Bethan Knights (California), No. 12 Weini Kelati (New Mexico), No. 13 Charlotte Taylor (San Francisco), No. 14 Katherine Receveur (Indiana), No. 21 Vanessa Fraser (Stanford), No. 22 Amy-Eloise Neale (Washington), No. 23 Allie Buchalski (Furman), No. 24 Weronika Pyzik (San Francisco)
Who Is Karissa Schweizer's Top Challenger?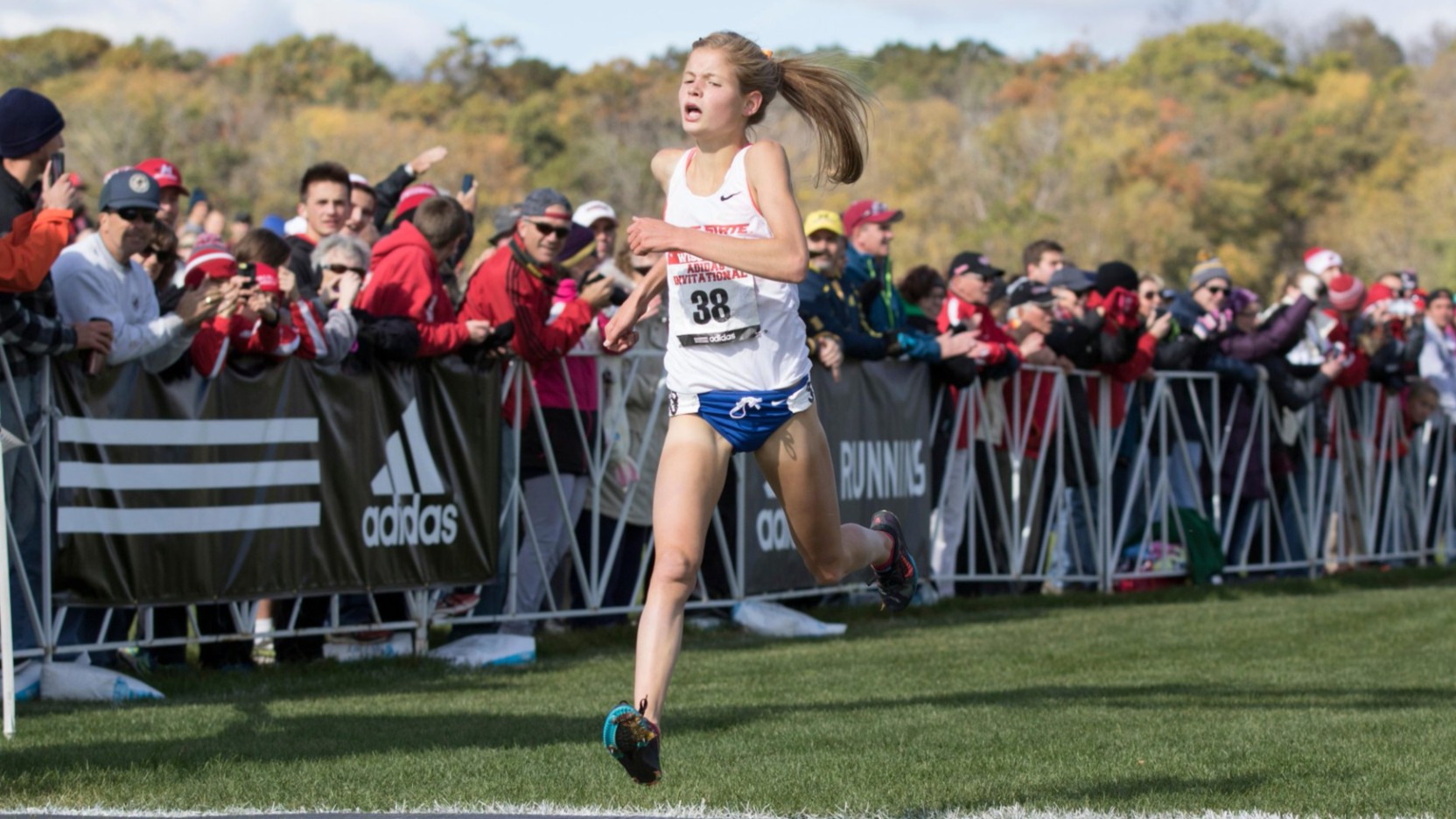 While defending
NCAA XC champion Karissa Schweizer races with Missouri this weekend at Pre-Nats
, the women's individual battle in Wisconsin will feature two of her top challengers for November's throne: Allie Ostrander of Boise State and Ednah Kurgat of New Mexico.
Alaska native Ostrander nabbed the No. 2 early-season ranking in the FloXC firstly because she won the NCAA steeplechase title and then placed fourth in the NCAA 5K on tired legs this spring, and secondly because she has finished no worse than second place in every NCAA cross country race of her career. That is truly insane. She is a redshirt sophomore, so we only have a freshman season and one race so far this year to go by, but here's her collegiate XC record:
2015 Roy Griak Invitational - 2nd
2015 Wisconsin XC Invitational - 1st (19:19 course record)
2015 Mountain West XC Championships - 1st
2015 NCAA DI West Region XC Championships - 1st
2015 NCAA DI XC Championships - 2nd
2017 Louisville Classic - 1st
​Watch Allie Ostrander take down eventual NCAA champion Molly Seidel at the 2015 Wisconsin Invitational:
The only two women Ostrander has lost to in collegiate cross country are '15 Roy Griak champ Bethan Knights of California, who will also be competing in Wisconsin this Friday, and '15 NCAA XC champ Molly Seidel of Notre Dame, who has since graduated.
So why should Ostrander be scared of Kurgat, who did not compete for the entire 2016-17 academic year after transferring from Liberty to New Mexico?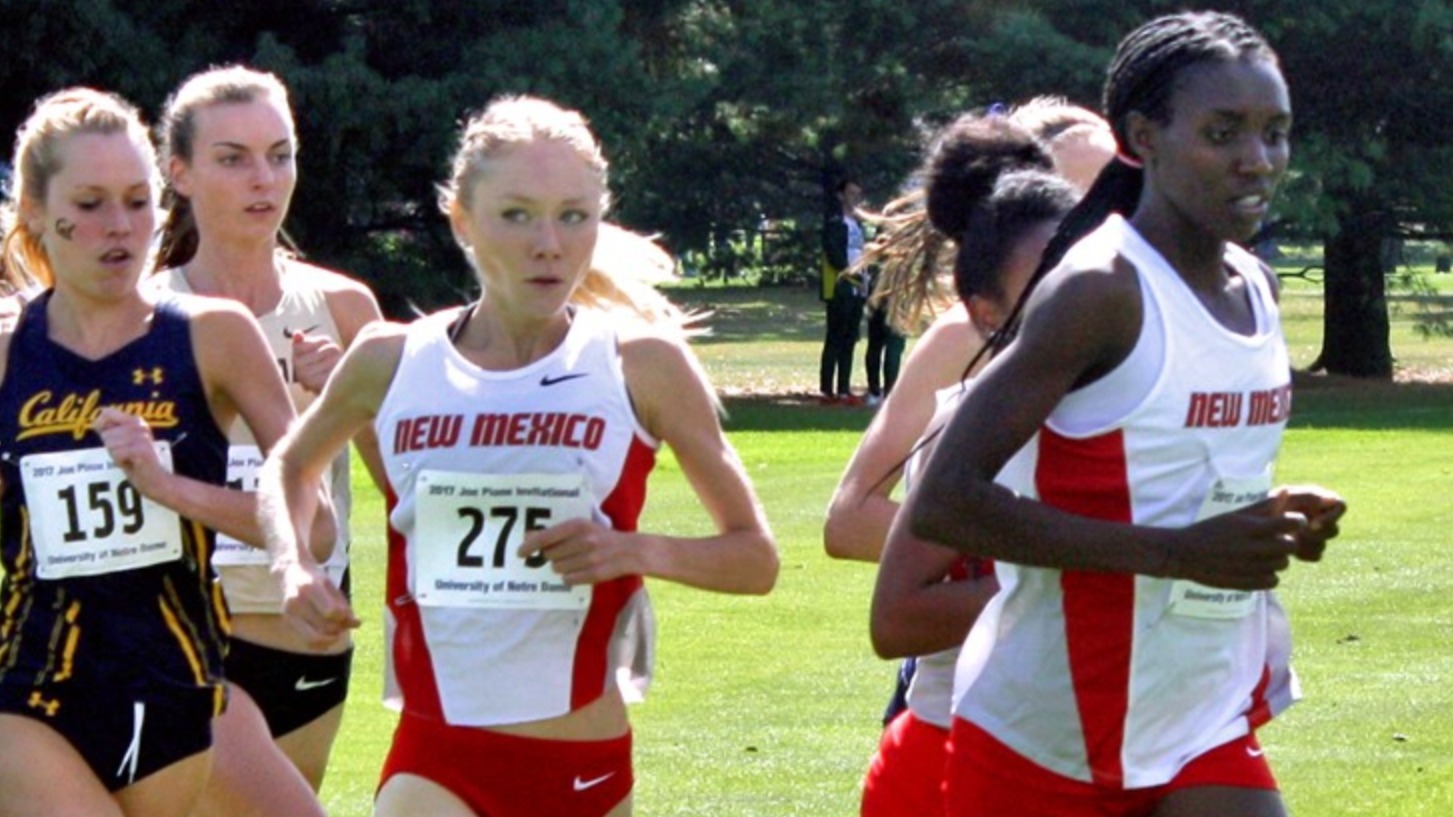 Well,
the native of Eldoret, Kenya, is pretty legit herself
. The last time she was eligible to compete, she placed 12th at the 2015 NCAA XC Championship, ninth in the 2016 NCAA Indoor 5K, and fourth in the 2016 NCAA Outdoor 5K. This spring, she lowered her 5K PB to 15:26, and now, finally rockin' the red and white Lobos jersey,
she blasted a deep field at the Joe Piane Notre Dame XC Invite
, including Dani Jones and the entire Colorado team. Also, she has a super training partner in No. 4-ranked Alice Wright, who has placed 20th, fifth, and 19th at NCAA XC in her career in addition to two runner-up finishes in the NCAA 10K. Now that I'm thinking about it, Wright seems like a potential title threat herself . . .
Let's rephrase the above question. I don't think Ostrander is really scared of anybody (
she won Louisville with one shoe and a bloody foot
), but I do think she has a big challenge in Kurgat.
No. 2 New Mexico Takes On No. 3 Stanford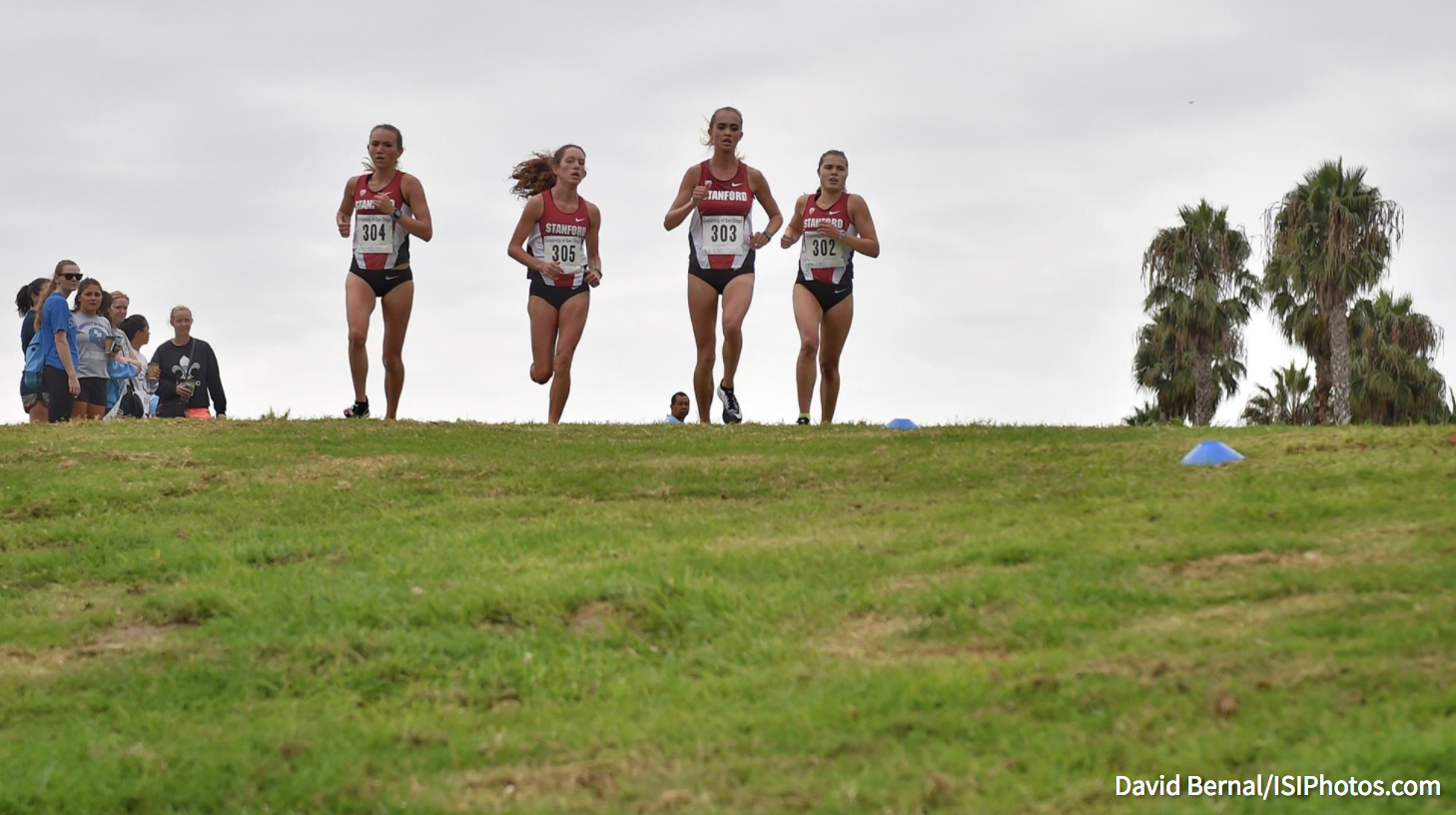 New Mexico switched places with Stanford on the FloXC rankings from No. 3 to No. 2 after giving No. 1 Colorado an impressive fight at the Joe Piane Notre Dame XC Invitational.
The Lobos lost to the Buffs by just four points
, while
Stanford took a 30-point deficit to Pac-12 rival Oregon
at the Bill Dellinger Invitational.
The main difference between the two teams is that we've seen all of New Mexico's cards, while the Cardinal have been a bit more secretive so far. The Lobos showed against Colorado that they have a sick top four between Kurgat, Wright, Weini Kelati, and Charlotte Prouse, all of whom were top-10 finishers at Notre Dame. If they can get a fifth woman to close the gap, this is a team that could challenge the
2015 NCAA XC champs as the GOATs
.
Stanford has yet to race returning XC All-Americans Courtney Smith (transfer from Harvard), Christina Aragon or Elise Cranny, who battled injury last year but was 12th as a freshman in 2014. If the Cardinal doesn't add in a few of those women, there's a good chance their ranking could slip again as Wisco will be a tough field.
Are We Underestimating Charlotte Taylor?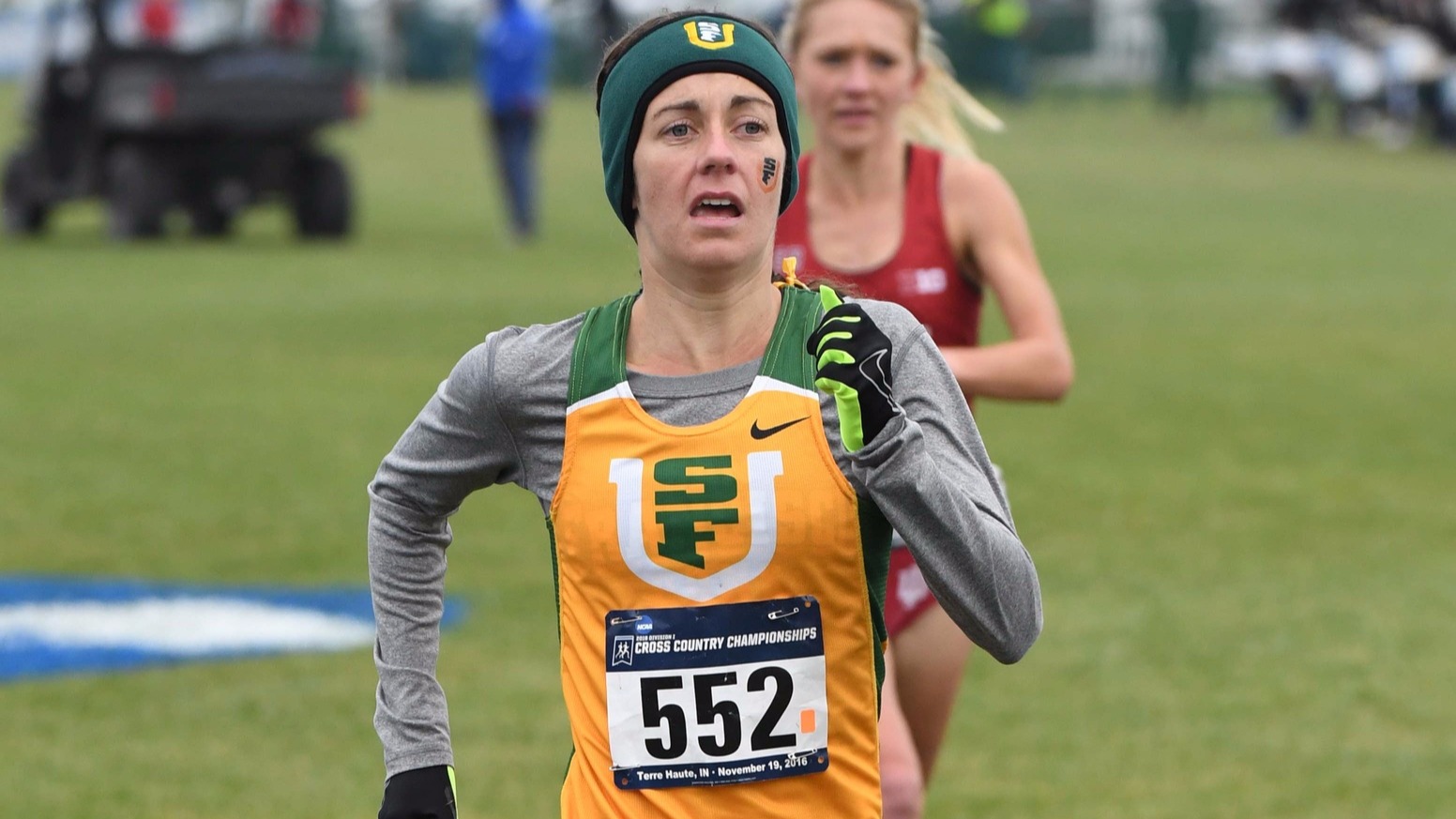 FloTrack caught some flak on Twitter for ranking San Francisco's Charlotte Taylor -- the reigning NCAA 10K champion -- "only" No. 16 in the pre-season. Due to the natural order of the universe,
she moved up to No. 13 by week two
. Taylor got a late start to training after competing in the 10K at the IAAF World Championships for Great Britain this summer and was just second at Roy Griak to her teammate, No. 24 Weronika Pyzik, after she led a Dons tempo run through most of the Minnesota course. We're not giving the "loss" that much weight for now. But Wisco is definitely the chance to definitively prove the ranking wrong.
And if Pyzik really is that good, then maybe the Dons are also worth more than their No. 8 rank. They'll be chasing on the heels of No. 6 NC State, who placed third at Joe Piane behind Colorado and New Mexico.
​Watch Weronika Pyzik battle San Francisco teammate Charlotte Taylor at the 2017 Roy Griak Invitational:


Speaking of teams who may be better or worse than their ranking, we'll be keeping an extra eye on No. 10 Boise State and No. 13 Washington. Boise State has Ostrander, sure, but if two-time XC All-American Brenna Peloquin is redshirting this year, they drop a significant amount in the standings. Whether or not the junior races this weekend will likely indicate if she's redshirting. The Huskies, meanwhile, had an off day with a fourth-place finish behind BYU at Bill Dellinger, but expect them and leader Amy-Eloise Neale, sixth at BD, to rebound in Madison.
How to Watch The 2017 Nuttycombe Wisconsin XC Invitational

On TV:
Available on Roku and Apple TV 4 -- download the FloSports app now.
Streaming:
Only on FloTrack with a PRO subscription. A yearly PRO subscription provides access to ALL FloSports sites.
JOIN NOW
Get all the hype!
Sign up for the FloTrack newsletter for instant access to: Breaking News, Results, Rankings, Archived Race Footage, Live Broadcasts and more!