Who's Signing Where? 10 Biggest Prep Names To Choose Their College Early
Who's Signing Where? 10 Biggest Prep Names To Choose Their College Early
Top recruits in the Class of 2018 announce college decisions during early signing period.
Nov 9, 2017
by Johanna Gretschel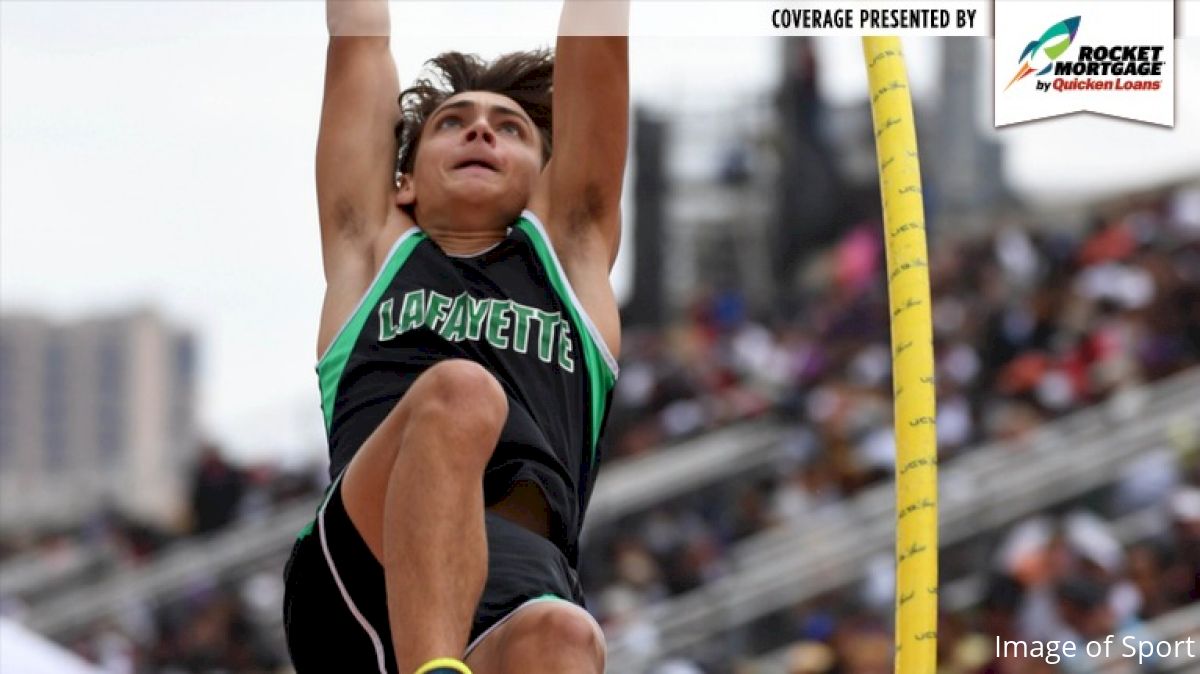 The early signing period for NCAA DI track and field and cross country opened yesterday, Nov. 8 and lasts until next Wednesday, Nov. 15. Below are the top athletes to commit on the first day.
1. Armand "Mondo" Duplantis to LSU

High School:
Lafayette High, LA
College:
Louisiana State University
Event:
Pole Vault
Stats:
5.90m PB, national high school record holder, world junior record holder, 2017 IAAF World Championships finalist, 2015 IAAF World Youth champion, age group world record holder for ages 7, 8, 9, 10, 11, 12, 17
Louisiana native Mondo Duplantis stayed true to his fam and followed in his parents' and brothers' footsteps to LSU, where he is almost guaranteed to lock up the next four years' worth of SEC and NCAA indoor and outdoor titles in the pole vault. With his 5.90m world junior record, Duplantis was good enough in his junior year of high school to turn professional but -- like teenage Olympian Sydney McLaughlin, a freshman now at Kentucky -- opted to spend the years leading into the 2020 Olympics in the NCAA system.
We're pumped to see the renewed prep rivalry between Mondo and South Dakota's 5.75m vaulter Chris Nilsen, who won NCAA indoors as a freshman last year. Both athletes made the senior world team this summer, though in an added twist Nilsen represents the United States while Duplantis competes for Sweden at the international level.
​Watch Mondo Duplantis: Prodigy to get an inside look at the precocious pole vaulter
2. Caitlin Collier to Stanford
Our first signee of the 2018 class is a great one ... 17 US Junior Champ and Pan-Am Junior Medalist Caitlin Collier! #gostanford pic.twitter.com/pGPyCifaGp

— StanfordXCTF (@StanfordXCTF) November 9, 2017
High School:
Bolles, FL
College:
Stanford University
Event:
800m
Stats:
2:03.32 800m PB, 4:19.05 1500m PB, 10:30.39 3200m PB, 2017 USATF Jr. 800m champion, 2017 Pan-American Games 800m bronze medalist, 10x Florida state champion
Florida's Caitlin Collier was the best prep half miler in the nation not named Sammy Watson last year and with a 2:03.32 PB, will be a solid addition to the Farm's stable of half milers -- especially since Olivia Baker graduates this year. She's also pretty good at cross country for a middle distance specialist, winning the Florida 2A state title last fall and qualifying to Nike Cross Nationals.
​We talked to Caitlin Collier after her win the 2017 USATF Jr. Nationals:


3. Thomas Burns to Miami
U.S No. 1 300m hurdler Thomas Burns picks Miami and will join a star-studded @CanesTrack recruiting class: https://t.co/u90y5GYSnA pic.twitter.com/8PzZefYcWQ

— MileSplit US (@milesplit) November 7, 2017
High School:
Miami Northwestern, FL
College:
University of Miami
Event:
400m hurdles
Stats:
35.25 300m hurdles, 14.37 110m hurdles, 50.12 400m hurdles, 48.84 400m, 2017 New Balance Nationals Outdoor 400H champion, 2017 USATF Jr. 400H runner-up, AAU Club Nationals 400H champion
Thomas Burns is the top-ranked long hurdler in the Class of 2018 with PBs of 35.25 for the 300m hurdles and 50.12 for the 400m hurdles, the former of which is the second-fastest time in prep history. His first season moving up from 300m to 400m hurdles saw him win New Balance Nationals Outdoor and place second at USATF Jrs. For more on Burns,
check out this feature from Florida MileSplit
.
4. Sha'Carri Richardson to LSU
I will be taking my talent to ...... pic.twitter.com/ziXWhUIIHS

— Carri Richardson (@itskerrii) November 8, 2017
High School:
Dallas Carter, TX
College:
Louisiana State University
Event:
100m/200m
Stats:
11.28 100m PB, 23.39 200m PB, 3x Texas state champion
Sha'Carri Richardson was the fastest girl over 100m at the Texas state championship as a sophomore in winning her first state title and she hasn't looked back since. As a junior, she was undefeated in the 100m and her only loss in the 200m came via a third-place finish against a nationally elite field at the Prefontaine Classic 200m. The Tigers will look for her to fill in when defending NCAA champion Mikiah Brisco and All-American Aleia Hobbs (10.85 PB) graduate this year.
5. Eric Edwards to Oregon
Its official #GoDucks pic.twitter.com/UP8xL1e8y0

— Eric Edwards Jr (@YouNgeSaVage__) November 8, 2017
High School:
Langham Creek, TX
College:
University of Oregon
Event:
110m hurdles, 400m hurdles
Stats:
13.32 110H, 36.26 300H, 52.21 400H, 2017 Texas state champion 110H, 2017 USATF Jr. 110H champion, 2017 Pan-Am Jr. 110H champion
Eric Edwards set the national junior class record this spring in running 13.32 into a -1.8 headwind to win the USATF Jr. National title. He went on to win the Pan-American Junior title in what was a breakout summer. He was top athlete across all classes in the event last year and is by far the top recruit for 110H in the Class of 2018.
​Eric Edwards after winning the 2017 USATF Jr. 110m hurdles title:


6. Kennedy Simon to Texas
Welcome Kennedy Simon to the Forty Acres! No. 1 recruit in the nation in 400m. #HookEm #ThisIsTexas pic.twitter.com/y9hJsncpmn

— Texas T&F/XC (@TexasTFXC) November 8, 2017
High School:
Westlake, GA
College:
University of Texas
Event:
400m
Stats:
52.94 400m, 24.14 200m, 2:14.49 800m, 19-2.25 long jump, 42.85 300m hurdles, 4x Georgia state champion in 200m/400m/long jump
The Longhorns nab the nation's top recruit for the 400m in Kennedy Simon, whose 52.94 PB makes her the only girl in the Class of 2018 to break 53 seconds. Simon was third in the 400m as a sophomore at the Prefontaine Classic and fourth as a junior at the Brooks PR Invitational. She won three titles at this spring's Georgia State Championships in the 400m, 200m and long jump. She should be an immediate impact performer on the Longhorns' 4x400m relay and may even join All-American Ariel Jones in the 400m hurdles, given some prior experience with the 300m hurdles.
7. Emily Sloan to Oregon
Officially a duck! Eugene, Oregon here I come pic.twitter.com/7eagIHTNGD

— Emily Sloan (@Emcsloan) November 9, 2017
High School:
Rock Canyon, CO
College:
University of Oregon
Event:
100m hurdles
Stats:
13.40 100H, 8.39 60H, 41.24 300H, 1:00.87 400H, 4x Colorado state champion, 2016 Brooks PR runner-up, 2017 New Balance Nationals Outdoor third
The University of Oregon has truly grown into a NCAA sprint and hurdle power by now, so it should be no surprise to see the nation's top short hurdle prospect in Emily Sloan choose the Ducks over suitors from the SEC. She was runner-up in her specialty event, the 100m hurdles, as a mere sophomore at the Brooks PR Invitational in 2016 and was third at New Balance Nationals Outdoor this past summer. Her PB of 13.40 ties her with Britten Bowen of Michigan as the fastest recruit in the Class of 2018, though her 60H PB of 8.39 is faster.
8. Titiana Marsh to Georgia
Welcome to the #Dawgs family, Titiana Marsh! #UGA won 3 combined #NCAATF TJ, LJ titles in '17 & has even MORE potential on the roster now! #GoDawgs #BrightFuture pic.twitter.com/nfoNte1tnp

— Georgia Track&Field (@UGATrack) November 8, 2017
High School:
Thomas Dale, VA
College:
University of Georgia
Event:
long jump, triple jump
Stats:
20-5 LJ, 43-5 TJ, 10x Virginia state champion, 2x New Balance Nationals runner-up
If you're a jumps specialist, head to Athens, Geogia. The Bulldogs nearly took down a super-versatile University of Oregon squad for the NCAA outdoor title this June on the strength of their field event squad alone. Titiana Marsh joins a strong tradition in Georgia that head coach Petros Kyprianou has built over the past decade. With PBs of 20-5 for long jump and 43-5 for triple, Marsh is the top overall jumps recruit in the nation.
9. Annie Hill to Colorado
Kalispell Star Distance Runner Annie Hill Commits to Colorado @CUBuffsTrack https://t.co/d9tea6th8f #mtscores pic.twitter.com/B9W6XsDUNE

— Dillon Tabish (@djtabish) October 26, 2017
High School:
Glacier High, MT
College:
University of Colorado
Event:
Distance/XC
Stats:
10:14 3200m, 4:19.42 1500m, 2:09.27 800m, 6x Montana state champion, 2016 Brooks PR mile champion, 2x Foot Locker finalist
The University of Colorado women are perennial NCAA XC title contenders and the addition of Montana standout Annie Hill bodes well for the future of the team. Hill broke out on the national scene as a freshman in high school with an eighth place finish at Foot Locker Nationals; since then, she's qualified for Foot Locker or NXN each year, won a total of six state titles (not an easy feat when your competition includes the likes of Christina Aragon), won the 2016 Brooks PR mile title as well as the high school mile at the 2016 U.S. Olympic Trials. She will fit in well with the Buffs, who have another top Montana native in former prep phenom Makena Morley on the roster.
10. Gabrielle Wilkinson to Florida
I'm blessed to announce that I will be continuing my academic and athletic career at the University of Florida! #GoGators #ChompChomp pic.twitter.com/yKzC1LLOFb

— GaBBy (@GWilk212) November 6, 2017
High School:
Friends' Central, PA
College:
University of Florida
Event:
800m
Stats:
2:06.03 800m, 4:25.04 1500m, 10:08.48 3K, 5x AAU Jr. Olympic champion
Not since Cory McGee has there been a better girls middle distance recruit headed to the Gators. Gabrielle Wilkinson has been a fixture at the AAU level for years, racking up five titles and setting age group records in the 800m and 1500m. She was third at the 2017 USATF Jr. Nationals 800m behind Collier and Virginia Tech freshman Laurie Barton.
​Watch Gabrielle Wilkinson break the AAU Junior Olympic Games record for 17-18 Girls 800m in 2:07.03:
For more signing day coverage, check out the following from our friends at MileSplit:
Girls Live Commitment Updates
Boys Live Commitment Updates
Subjective Girls Class of 2018 Recruit Rankings
Subjective Boys Class of 2018 Recruit Rankings