Create a free account to unlock this article!
Get Started
Already a subscriber? Log In
Foot Locker Nationals is right around the corner on December 9 at Balboa Park in San Diego, California.
No question, Foot Locker is a historic meet where the nation's best have always competed against each other to decide an individual national championship. And Saturday's event will continue to offer some memorable performances.
With reigning champion Claudia Lane of Malibu (CA) High back, and prolific talent literally all over the girls field, we are on tap to witness one of the best races on the cross country calendar.
Top Contenders From The Northeast Region
Marlee Starliper, Northern (PA), sophomore
The Northern High sophomore, ranked No. 7 on the Flo50 national rankings, has risen quickly up the national radar ever since a breakout performance at the Carlisle Invitational on September 30, which was a then-national best in the 5K of 16:50.00. But the underclassman hasn't tapered off since, moving on to post a PIAA District 3 Championship record in 17:25.00 and her first PIAA Class AA championship on a very tough Hershey course in 17:50.00. Her performances, though, reflect a major improvement from a year ago; in some cases, she cut more than a minute off times year-over-year. Those statement-like efforts have also moved Starliper into the conversation among the best class of 2020 recruits, including the likes of North Rockland's (NY) Katelyn Tuohy, McKinney North's (TX) London Culbreath, and Glenbard West's (IL) Katelynne Hart. Expect Starliper to shoot for a top-five finish at Foot Locker Nationals.
Katherine Lee, Shoreham-Wading River (NY), senior
The Georgetown signee has improved ever so incrementally since October -- coincidentally after she made her pledge to the Hoyas final -- and seems in top form heading into Foot Locker Nationals. A year ago, Lee qualified for NXN through a big performance at NXR New York, a race in which she won over Kelsey Chmiel and Katelyn Tuohy. This season, Lee hasn't reached the heights of 2016 -- her best still remains her 16:45.45 from her junior season -- but she's coming off arguably her best effort of her senior campaign with a second-place finish at Foot Locker Northeast. Lee has the potential to stick with the top pack and go for a top-10 finish at Balboa Park. Lee won her second straight Class B title this year and won her letter race at the Manhattan Invitational in 14:25.00.
Jacqueline Gaughan, Exeter (NH), senior
Gaughan has had an up-and-down season, complete with highs and lows. The big performance? Her now-U.S. No. 3 mark of 16:48.29 at the Brown Northeast Invitational on October 14. And her forgettable sixth at the New England Championships on November 11 (18:06.50) after winning the NH Meet of Champions in 16:51.20. Gaughan could have used the effort as a workout -- or was playing it conservative -- but chances are we'll see the best of the Notre Dame signee on Saturday. She finished third at Foot Locker Northeast in 17:54.70 and is the third-fastest returner back from a year ago. Don't be surprised if Gaughan sneaks into the top five.
Watch the Foot Locker Northeast girls championship: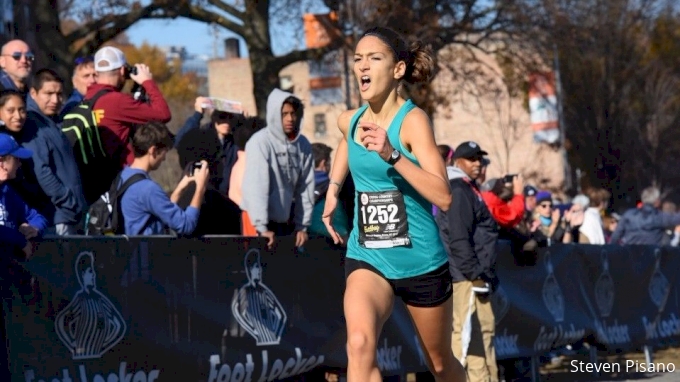 Unlock this video, live events, and more with a subscription!
Get Started
Already a subscriber? Log In
Full List of Qualifiers
| | | | | |
| --- | --- | --- | --- | --- |
| PLACE | TIME | NAME | GRADE | CITY / STATE |
| 1 | 17:47 | Marlee Starliper | SO | Wellsville, PA |
| 2 | 17:50 | Katherine Lee | SR | Wading River, NY |
| 3 | 17:54 | Jacqueline Gaughan | SR | Exeter, NH |
| 4 | 18:10 | Morgan McCormick | SR | Wilton, CT |
| 5 | 18:12 | Page Lester | SR | Washington, DC |
| 6 | 18:14 | Savannah Shaw | SR | Pittsburgh, PA |
| 7 | 18:17 | Abigail Green | SR | Bethesda, MD |
| 8 | 18:20 | Eleanor Lawler | SR | Wakefield, RI |
| 9 | 18:23 | Abby Loveys | JR | Mendham, NJ |
| 10 | 18:25 | Taryn Parks | SO | Greencastle, PA |
Top Contenders From The South Region
Rebecca Story, Christian Academy of Knoxville (TN), senior
Much like last year, Story will find out the extent of her fitness at Foot Locker Nationals. But she'll also test herself against the best talent she's faced this season, including favorite Claudia Lane of Malibu (CA). The Stanford signee is the second-fastest returner back from 2016. She finished third in 2016, posting a time of 17:35.43. So what's different this time around? Story won the Foot Locker South Regional on November 25 in 17:24.00. And the same? She generally dominated action in Tennessee over the course of the season, winning her second straight state title and producing wins at the Wendy's Invite and the Cherokee Farm Invitational. Story's career will end on a high note regardless of how she finishes, but another top-five performance would certainly be a great conclusion to a fantastic cross country career.
Heather Holt, George C. Marshall (VA), senior
Holt is a sleeper to watch out for in San Diego. The George C. Marshall and North Carolina State signee was injured to begin the season and is on training just shy of two months, so just reaching Foot Locker Nationals is an accomplishment in itself -- she was seventh at the South region --- after racing for the first time on November 10 at states in Virginia. She managed to finish third in the Group 6A championships in 18:20.0, then dropped 50 seconds in her qualifying bid at the South Region just two weeks later. So what can we expect from Holt? This will be her second straight appearance at nationals after placing 27th in 2016, but don't be surprised if she goes inside the top 20 here.
Bailey Hertenstein, Newsome (FL), senior
Florida runners don't always have the best of times in San Diego -- the hills at Balboa Park can be brutal -- but Hertenstein, a University of Indiana signee, is no stranger to Foot Locker Nationals. She finished 20th last year and is back for the second straight year after placing fifth at the South Region. Hertenstein also won her third straight Florida Class 4A championship in November and would be a safe pick to expect to finish in the top 20 again. Her best in 2017 was at state, where she ran 17:26.61.
Watch the Foot Locker South girls championship: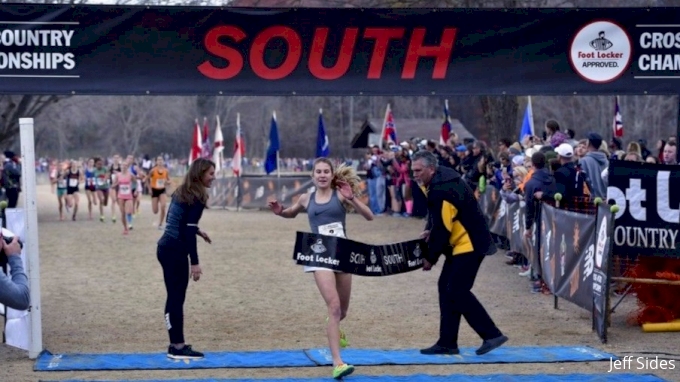 Unlock this video, live events, and more with a subscription!
Get Started
Already a subscriber? Log In
Full List of Qualifiers
| | | | | |
| --- | --- | --- | --- | --- |
| PLACE | TIME | NAME | GRADE | CITY/STATE |
| 1 | 17:24. | Rebecca Story | 12 | Knoxville, TN |
| 2 | 17:28. | Victoria Starcher | 10 | Ripley, WV |
| 3 | 17:28. | Ana Wallace | 12 | Tallahassee, FL |
| 4 | 17:29. | Mariah Howlett | 12 | Charlotte, NC |
| 5 | 17:30. | Bailey Hertenstein | 12 | Brandon, FL |
| 6 | 17:30. | Halena Rahmaan | 11 | Montgomery, TX |
| 7 | 17:30. | Heather Holt | 12 | Fairfax, VA |
| 8 | 17:30. | Alyssa Hendrix | 10 | Riverview, FL |
| 9 | 17:30. | Adoette Vaughan | 11 | Dallas, TX |
| 10 | 17:31. | Heidi Nielson | 9 | Katy, TX |
Top Contenders From The Midwest Region
1. Olivia Theis, Lansing Catholic (MI), senior
It would be conceivable to think that Theis is in store for a big performance here. After finishing 14th as a junior, Theis returns to Foot Locker as one of the favorites to produce a top-five finish. She's had one of Michigan's top seasons -- and certainly the best in school history -- and posted her best effort on November 4 at the state championships, running a PR of 16:52.10 in securing her first state cross country title. Theis has raced a lot in 2017, totaling at least 12 races across the fall, but she also hasn't raced in two weeks leading into Foot Locker. Theis is also coming off a win at Foot Locker Midwest in 17:13.40, posting arguably the second-best performance among the most difficult field at regionals. Theis, a University of Michigan signee, will likely close this season with a bang.
2. Katelynne Hart, Glenbard West (IL), sophomore
Hart has made the figurative "leap" in 2017 after a very successful freshman season, bumping up training, mileage, dedication, and now, success. She will arrive in San Diego after a tremendous performance at NXN, where she finished fourth, and likely has the same goals in mind here. The Illinois sophomore, who won her second straight state championship on November 4 in 16:22.0 and earned a win at NXR Midwest, was second at Foot Locker Midwest, only behind Theis. The sophomore has done it all this season -- she's gone out hard, she's solo'ed, she's race conservative and smart, and ultimately has the knowledge to produce another quality outing here. Hart will be among the lead pack and will likely run a smart race against a talented field. Another top-five finish isn't out of the question.
3. Emily Covert, Minneapolis Washburn (MN), junior
Covert didn't have her best race at NXN, finishing 77th in 19:08.60, but there was a reason for that, too. The junior was sick before the race, and it impacted her on a very difficult Glendoveer Course. It was unlike really any of Covert's performances through the season, including a third-place effort at Foot Locker Midwest (17:17.40) and a runner-up bid at NXR Heartland, where she went a career-best 16:55.71. Covert has been killing it all year, winning her first state title in Class AA (17:30.10) and another prestige victory at Roy Griak (18:13.0). With health back in her favor, Covert score a top-20 finish here at Foot Locker.
4. Sarah Schmitt, Naperville North (IL), senior
Schmitt has been running for her team all season, and that certainly paid off when Naperville North scored its best finish at NXN in the program's history, a runner-up bid. Schmitt's eighth-place race in Portland, Oregon, showed the senior did her part. But now Schmitt, a University of Indiana recruit, will have a chance to run on her own for the first time. And what can we expect? Schmitt has the potential to run a great race. Her PR at 5K came at the Foot Locker Midwest Regional on November 25 in 17:30.60, and she also secured a PR at the Illinois Class 3A championships at 3-miles in 16:33.0. While Schmitt hasn't won many races over her career, there is one personal best she could shoot for: Breaking Judy Pendergast's all-time best at Balboa Park, a time of 17:20.00. That's within reach here if Schmitt runs the right race.
Full List of Qualifiers
Top Contenders From The West Region
1. Claudia Lane, Malibu (CA), junior
The defending Foot Locker Nationals champion is the undisputed favorite heading into the race on December 9 in San Diego. Lane will likely win her second straight national title. The question, however, is just how impressive will it be? Will Lane set a course record at Balboa Park? That came in 1990 by the effort of Melody Fairchild, who ran 16:39.20 at Balboa Park; the overall meet record, held by Amber Trotter and last accomplished in 2001 in Kissimmee, Florida, stands at 16:24.10. Whatever Lane does, though, she probably won't disappoint -- and surely, there are a lot of prognosticators out there she doesn't need to worry about. Will she run a course record? Will she not? In Lane's mind, that's not really the question. She's done enough over the season to prove it's been a wildly successful one, setting course records at the Lake Casitas Twilight (16:32.00) and the Mt. SAC Invitational (15:49.00). While it would be easy to compare her season to Katelyn Tuohy -- a recent NXN champion -- maybe let's just pump the brakes and allow Lane to have her day, too. The defending champion, only a junior, still has one more season left, too.
Watch Claudia Lane break the course record at Foot Locker West: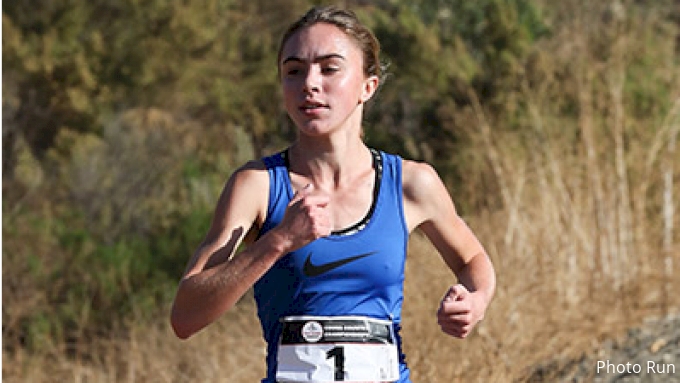 Unlock this video, live events, and more with a subscription!
Get Started
Already a subscriber? Log In
Full List of Qualifiers: