At 24, Shaquille Walker Retires From Track
At 24, Shaquille Walker Retires From Track
Shaquille Walker is only 24 years old and already boasts a decorated career in middle distance running, but he's retiring to pursue another interest.
Jan 4, 2018
by Kevin Sully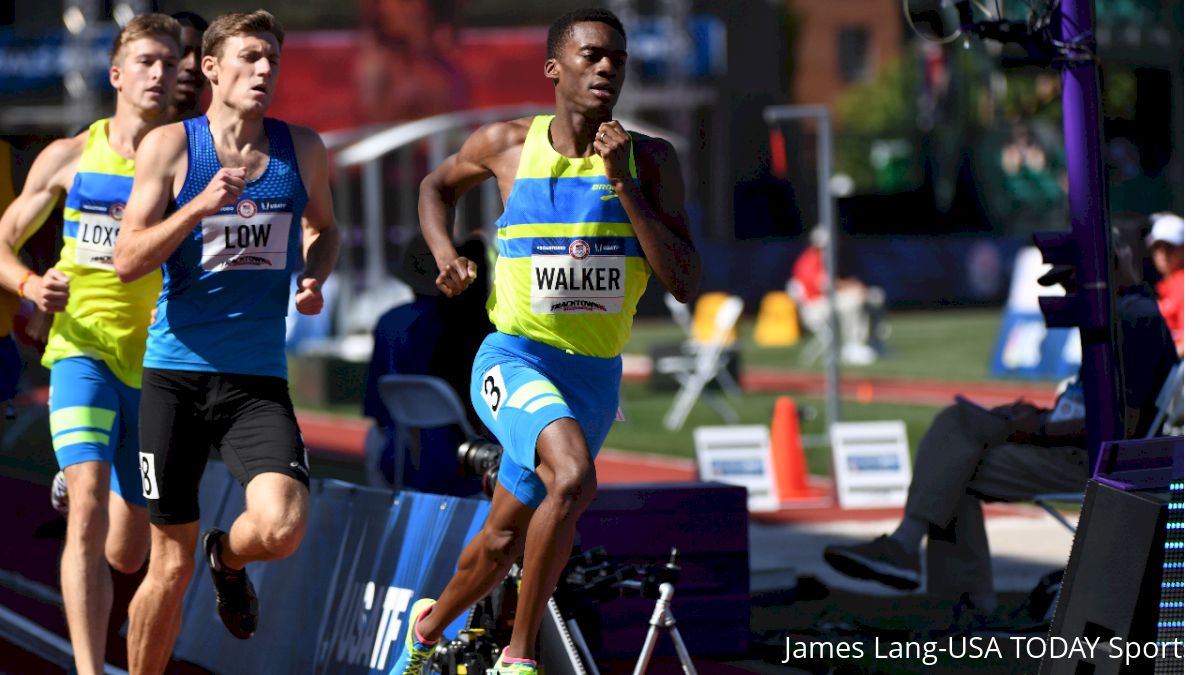 Shaquille Walker has heard all the questions.
"How could you give up running? Isn't this what you wanted? How can you walk away with another five years in you and Olympic teams to make?"
But the 24-year-old 800m runner has decided to retire, ending his brief career that saw him place third at the 2016 NCAA Championships and make the semifinals of consecutive U.S. championships. Walker leaves the sport with two years on his contract and — in the eyes of his coach — the potential to set the American record.
"Since I was 14, all I've known is Shaquille Walker the runner," Walker said. "I never even planned on running in college. So many things happened with running that I wasn't planning. Then it happened again in the pro realm. Except this time it was different. At this point in my life I can actually pursue something else at that exact moment that would lead to an ultimate career."
That ultimate career is dentistry, a field Walker's had in mind since he was 19, something that will give him the stability and freedom to spend more time with his family.
One Book, Two Responses
Early in 2017, Walker's coach Danny Mackey sensed that the 800m runner, who he recruited out of BYU in the summer of 2016, might not be fully interested in continuing with professional running.
As he frequently does, Mackey had his Brooks Beasts team read a book as a group. The readings are designed to spark reflection, build camaraderie, and provoke reflection. The book for last winter was Essentialism: The Disciplined Pursuit of Less, by Greg McKeown — the 2014 book that makes the case of using time and energy efficiently.
After reading it, Walker asked Mackey if he thought running was the right career and the best use of his talents.
"Most people on the team read that and said, 'I need to remove all these other sacrifices and stick to running,'" Walker said. "For me, it was almost the opposite. I'm just doing this short-term thing for fame and glory and a little bit of money, but all this is a sacrifice to me and my family and that's where I started thinking about it."
He continued to grapple with the realities of his new career throughout beginning of the 2017 season. He was recently married and didn't like the time away from his family. The structure of a 24/7 running-focused lifestyle cut into other activities he enjoyed.
"Everything impacts your job. What you eat, how much you sleep, if your wife wants to go on a hike," Walker said. "If your wife wants to go on a weekend vacation — sorry, can't sit in a car all day. So it started to impact things that I really enjoy a lot."
"For me, it was almost the opposite."
The decision of what to do weighed on Walker throughout the first half of 2017. On the track, though, he was running well. At the U.S. indoor championships, he finished third in the 600m. Outdoor, he ran the fastest 800m opener of his life by two seconds.
"And I said, wow. This is by far going to be my best year, but I still wasn't excited about it," Walker said. "I was thinking about other things."
Talent & Misfortune
Walker had done the math. If he continued running through the 2020 Olympics he'd still be in dental school in his 30s. He still needed to finish a year at BYU to complete his undergraduate degree. The longer he ran, the more he'd delay his career.
"With running, no matter who you are you have to move on at some point," Walker said. "So if it was me at 24 or me at 32 it was gonna happen sooner or later. Best-case scenario I go on, I make 2020 (Olympics). I make the final. I medal. Even then, my situation from an overall life standpoint, having a wife and maybe kids by then. It just seemed like I could possibly be sacrificing a lot for things that I care more about."
Despite the divided attention, Walker entered the U.S. championships in June with a chance to qualify for the world championships and make up for the misfortune of the previous year's Olympic Trials. In 2016, his first race as a professional, Walker was in a qualifying position in his semifinal. On the final straightaway, Craig Engles tried to pass Walker on the inside. The two made contact in the final 50 meters. Engels stumbled to the ground and Walker lost his momentum and did not qualify for the finals.
Misfortune struck again before the 2017 U.S. Championships when Walker was diagnosed with an external hemorrhoid just over two weeks before the biggest race of the year. The condition prevented him from running and required two surgeries. His training interrupted, Walker could only reach the semifinals.
Did the consecutive years of heartbreak impact his decision to retire?
"Those two things combined, back to back years just kind of . . . man, can I get a break? I love this sport, but there's something else I love, too," Walker said.
"If I didn't know what I wanted to do after running I think that (the two setbacks) would have been really good for me in terms of a running aspect. I think I would have been able to stay a lot more focused if there is no back-up plan. But having something else that I've been passionate about for so long it was bound to eventually weigh on me and say, 'Okay, I'm having fun, but am I trading a fulfilling career that I feel ultimately will be good for my family for a couple years of fun?'"
No Compromise
Walker ran three more races that summer. By the end of the track season his mind was made up. He initially thought he'd do one more season before retiring — a compromise between staying through 2019 and stopping in 2017. But he soon decided otherwise.
"That would be a waste of my time and a waste of (Brooks') money," he said. "If I'm not going to be 100 percent in. If I'm thinking about anything else. If I'm 99 percent in I won't run a PR."
His mind made up, he still needed to inform Mackey — the person who recruited him to the team 14 months before. But another one of Mackey's athletes, Drew Windle, qualified for the world championships and Walker didn't want to distract his coach's attention heading into the biggest meet on the calendar. Instead, Walker waited until the day after Windle's 800m race to tell his coach that 2017 would be his last year.
"Even when we signed him he knew what he wanted to do after he ran," Mackey said. "A lot of athletes don't. Almost no athletes that I've worked with know. I really respected why he did it. I wish more athletes realized that they have choices in what they do and they don't have to run just because they are good at it."
"I love this sport," Walker said, "but there's something else I love, too."
The next month Walker moved from Seattle back to Utah. He enrolled back at BYU was working to complete his undergraduate courses next fall with a goal beginning dental school the following year. Freed from running obligations, he's doing the best he ever has in school and calls himself a casual runner.
"I care more about having time to be with my wife and my family and having a career that is stable and safe . . . running wasn't that, at least for my situation," Walker said. "It's kinda one of those 'in another life jobs.' You know, in another life, let's say I'm 24 I'm not married. I don't plan on having kids until mid-30s, maybe 30. Then, oh man there's no better career, right? You are running, traveling the world. It's awesome."