2018 NYRR Millrose Games
Nick Willis: 'My Last Chance To Win' Millrose Games Wanamaker Mile
Nick Willis: 'My Last Chance To Win' Millrose Games Wanamaker Mile
Nick Willis, Brenda Martinez and others comment ahead of the 2018 Millrose Games Wanamaker Mile.
Jan 9, 2018
by Johanna Gretschel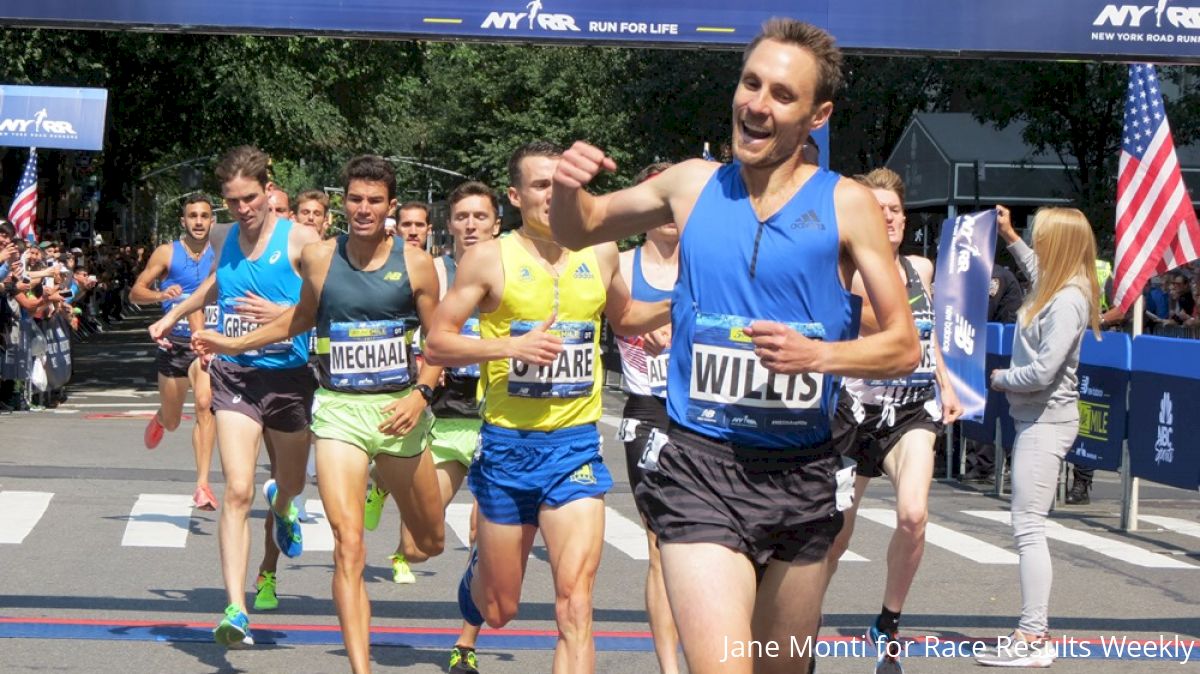 NEW YORK (09-Jan) -- Two-time Olympic medalist Nick Willis and 2013 IAAF World Championships silver medalist Brenda Martinez are the leading entrants for the NYRR Wanamaker Miles, part of the 111th NYRR Millrose Games scheduled for Saturday, February 3rd, at the Armory Track & Field Center here in Upper Manhattan. New York Road Runners, the meet's title sponsor and co-organizer, announced the fields here this morning.
Willis, a 34 year-old New Zealander who lives and trains in Ann Arbor, Mich., has run the Wanamaker on five previous occasions, but has yet to win the race. He has finished second three times (2009, 2015 and 2016), and third twice (2008 and 2014). A four-time New Balance Fifth Avenue Mile champion, Willis is the fastest athlete in the 11-man field which boasts 10 sub-3:55 milers. The former NCAA champion at the University of Michigan has a personal best of 3:49.83.
"I've run the Wanamaker Mile five times, and come third twice, and second three times," said Willis through a statement. "I still am yet to get the victor's trophy. At 34, this may very well be my last chance to win this historic race, so I have put a huge focus of my training to make this happen. I love running in New York, and The Armory was the first track in America that I ever raced on, at the National Scholastic indoor meet in 2001. I can't wait to come back and attempt to execute the perfect race."
Willis will face defending champion, Eric Jenkins of Portland, Ore., who showed an explosive last-lap sprint in the 2017 edition of the race, winning in a career best time of 3:53.23. Jenkins, who won the Fifth Avenue Mile in 2016, was the 2015 NCAA indoor 3000m and 5000m champion when he represented the University of Oregon.
"I am very excited to come to New York and defend my NYRR Wanamaker Mile title," Jenkins said through a statement. There's no place like The Armory when it comes to racing. The energy from the crowd is on a whole other level and winning there is something I plan to keep doing."
Also hoping for the 2018 Wanamaker men's title are 2017 USA 1500m champion Robby Andrews of Manalapan, N.J.; 2016 Olympian Ben Blankenship of Eugene, Ore.; 2016 British 1500m champion Charlie Grice of England; two-time European championships bronze medalist Chris O'Hare of Scotland; and 2017 NCAA indoor mile champion Josh Kerr of the University of New Mexico and Scotland.
Martinez, 30, who lives and trains in Big Bear Lake, Calif., was the 2013 IAAF World Championships silver medalist at 800m (upgraded from bronze), and made it to the semi-finals of the 2016 Rio Olympic Games 1500m. Her fastest mile is 4:26.74, a marks he hopes to improve upon at the NYRR Millrose Games.
"I'm really excited to return to New York to race the NYRR Wanamaker Mile," Martinez said. "The timing fits perfectly with my training and my race plans for indoors. I love racing at The Armory; the energy is always incredible. New York Road Runners always set up a world-class field. My indoor personal best is 4:32.05, so I'm definitely looking to lower it."
Martinez will be challenged by Ireland's Ciara Mageean, the fastest woman in the field with a 4:22.40 personal best. Also competing will be Sara Vaughn, the 31 year-old mother of three from Boulder, Colo., who finished third at the USA Track & Field Championships last summer and made it to the semi-finals of the 1500m at the IAAF World Championships. Vaughn's mile best is a relatively modest 4:34.29, but she's run a world-class 4:04.56 for 1500m.
"I'm thrilled to be running the NYRR Wanamaker Mile again," Vaughn said via e-mail. "I'll be looking to put up a fast time and improve my PR, as it's always a strong field. I'm grateful for the opportunity to compete in what I think of as the most prestigious indoor track meet in the county."
Other contenders for the women's podium include 2016 NCAA indoor mile champion Kaela Edwards of Boulder, Colo.; 2017 NCAA indoor mile champion Karisa Nelson of Samford University; 2014 IAAF World Indoor Championships 1500m bronze medalist Nicole Sifuentes of Canada; and USA junior 1500m record holder Alexa Efraimson of Camas, Wash.
"We are thrilled to have such first-class fields for this year's NYRR Wanamaker Mile, which continues to prove itself as one of the most prestigious and historic track and field events in the world year after year," commented Peter Ciaccia, NYRR's president of events and the race director of the TCS New York City Marathon. "With Nick in search of his coveted first victory and Eric trying to defend his title in the men's race, along with Brenda and Sara setting up a great match-up in the women's race, fans are in-store for star-studded races filled with exciting storylines."
The NYRR Millrose Games will be broadcast live on NBC at 4:00 p.m. on Saturday, February 3rd (check local listings for broadcast details). Meet tickets are still available at http://www.nyrrmillrosegames.org/
---
By David Monti, @d9monti
(c) 2018 Race Results Weekly, all rights reserved