2018 Nittany Lion Challenge
Isaiah Harris Returns To The Track At Nittany Lion
Isaiah Harris Returns To The Track At Nittany Lion
Saturday's Nittany Lion Challenge features 800m stars Isaiah Harris and Cas Loxsom, who are racing in the mile.
Jan 11, 2018
by Kevin Sully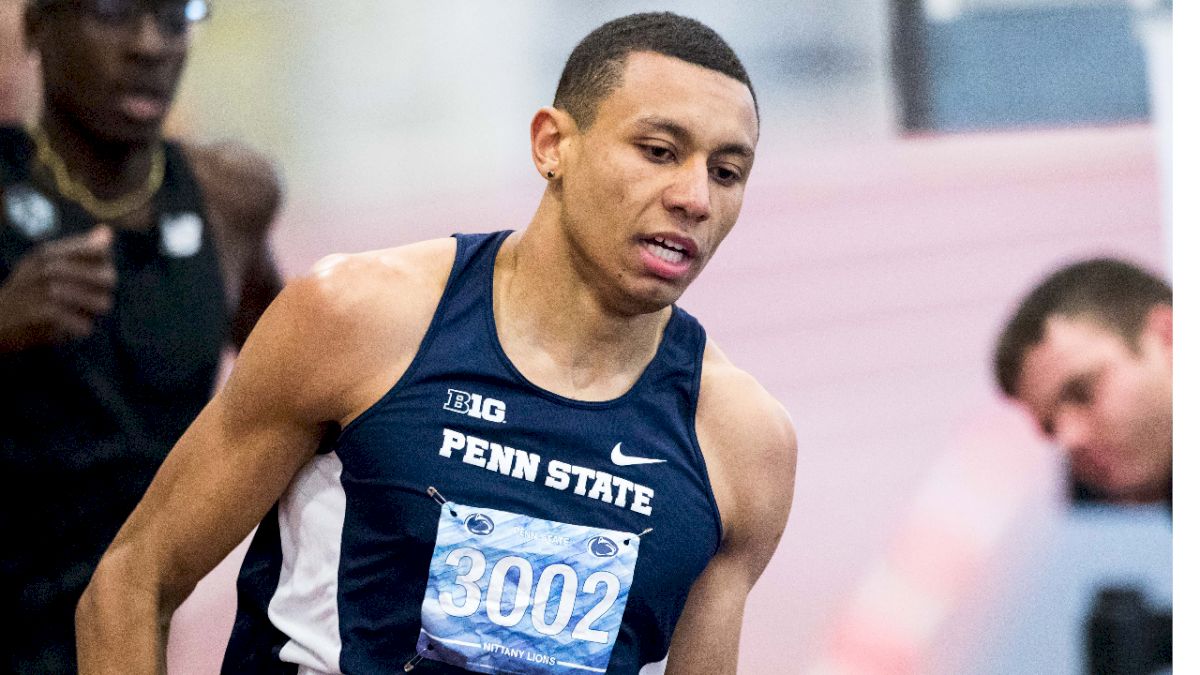 This weekend's Nittany Lion Challenge in State College, Pennsylvania, features athletes from Penn State, Villanova, Georgetown, Cornell, Pittsburgh, Virginia Tech, Iowa State, Bucknell, Connecticut, and Maryland, as well as a smattering of post-collegians.
Here are the full entries and the schedule for Saturday's meet, and you can watch the Nittany Lion Challenge LIVE on FloTrack.
Here are a few events and storylines we're following.
Isaiah Harris Returns To The Track
Who: Isaiah Harris
What: Men's mile, men's 4x400
When: 12:15 PM ET, 4:55 PM ET
Why: NCAA 800m runner-up Isaiah Harris will make his first appearance on the track since he ran at the 2017 World Championships in London. The Penn State junior ran a lifetime best of 1:44.53 to finish second at the U.S. championships and earn a berth on the national team. On Saturday, he will be racing the mile and running a leg on Penn State's 4x400.
Dominic Perretta is set to pace a mile field that features Harris, former Nittany Lions Cas Loxsom and Robby Creese, Villanova's Logan Wetzel, and Penn State's Timothy McGowan. Harris will be looking to improve on his personal best of 4:05.89, while Loxsom will be running his first race since last July according to Tilastopaja. Loxsom and Harris both broke the indoor 600m world record in an exciting race last winter at Penn State.
Since then, Loxsom left the Brooks Beasts group in Seattle and relocated back to State College.
At the end of the meet, Harris will also be able to get some speed work in. His Penn State 4x400 will run against teams from Villanova, Georgetown, Cornell, Pittsburgh, Virginia Tech, Iowa State, Bucknell, and Maryland
More Athletes With World Championship Experience
Who: Siofra Cleirigh Buttner
What: 600m
When: 3:05 PM ET
Why: Cleirigh Buttner gained valuable international experience racing at the world championships for Ireland. The Villanova senior comes in with an 800m personal best of 2:01.98 and will be stepping down in distance to run the 600m on Saturday. Her best time in that event, 1:31:55, comes from 2015. In the 600m, also keep an eye on Villanova's Rachel McArthur. The freshman ran at the NCAA cross country championships for the Wildcats and ran 2:05.42 in the 800m in high school.
Big East Distance Battle
Who: Jonathan Green (Georgetown), Scott Carpenter (Georgetown), Ben Malone (Villanova), Andrew Marston (Villanova)
What: Men's 3000m
When: 3:50 PM ET
Why: A pair of Georgetown upperclassmen will kick off their 2018 in the 3000m. Jonathan Green will try to build on his 10th-place finish at the NCAA XC championships. He enters the meet with a personal best of 8:08.31.
He will be joined on the start line by Scott Carpenter. Carpenter anchored Georgetown's distance medley relay team to a third-place finish at last year's NCAA indoor championships. In the spring, he finished fifth in the steeplechase at the NCAA championships and has a personal best in the flat 3,000m of 7:51.51.
Villanova will counter with Ben Malone (personal best of 3:39.42 in the 1500m) and Andrew Marston (personal best of 8:15.23 in the 3000m).
Rust Busters
Who: Tessa Barrett (Penn State), Tori Gerlach (Penn State), Bella Burda (Villanova)
What: Women's mile
When: 12:25 PM ET
Why: Penn State will run Gerlach and Barrett, both of whom are coming off outdoor seasons in which they qualified for the NCAA championships. Gerlach finished third in the steeplechase, running a personal best of 9:46.76. Her lifetime best in the mile is 4:37.83. Barrett was 20th in the 5,000m in Eugene last June and will be looking to improve her 4:42.56 personal best in the mile.
Villanova's Burda was the Mid-Atlantic Region cross country champion and finished 65th at the NCAA championships.
Off Distance Matchups
Who: Roshon Roomes (Iowa State), Robby Creese (Penn State), Harry Purcell (Villanova), Brian Faust (Villanova), Gregory Chiles (Virginia Tech)
What: Men's 1000m, Men's 600m
When: 2:10 PM ET, 2:55 PM ET
Why: Long sprinters, middle distance runners, and hurdlers will all try their hand at some off-distance races. In the men's 1000m, Iowa State's Roshon Roomes will go over distance and face off against Robby Creese. Roomes has personal bests of 46.98 in the 400m and 1:47.69 for 800m. Creese will be doubling back from the mile. His personal best in the 1000m (2:19.53) comes from the 2012 edition of the meet, when he was a freshman at Penn State. Dominic Perretta is scheduled to pace the race.
The men's 600m features last year's Big East runner-up in the 400m, Harry Purcell. Purcell is a junior for Villanova and has run 47.57. His Wildcat teammate, Brian Faust, will be making his collegiate debut after an impressive high school career where he ran 47.16 for 400m. Gregory Chiles of Virginia Tech is also entered in the 600m. The 400m hurdler competed at the U.S. championships last summer and has personal best of 46.98 (400m) and 50.39 (400m hurdles).