Today, in his first meet of the year, Christian Coleman set the bar for his season incredibly high and put the world on notice.
The Nike sprinter torched Maurice Greene's 6.39 60m world record from 1998 — and his former PR of 6.45 — with a time of 6.37 today at the Clemson Invitational.
Watch Coleman reset the record:
Coleman got off to a hot start by running to a world lead of 6.47 in the preliminary heat, but managed to one-up himself in the final.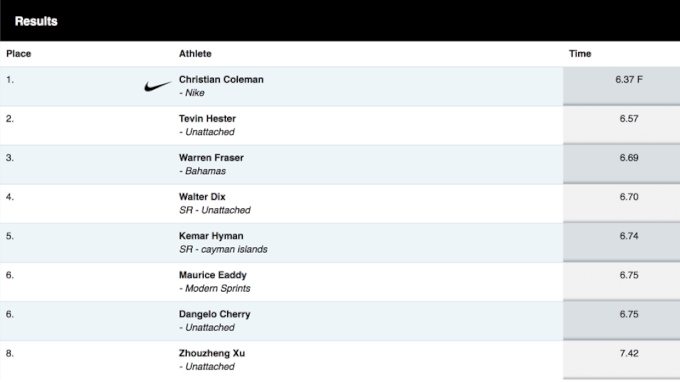 Updated World All-Time 60m List:
| | | | |
| --- | --- | --- | --- |
| RANK | TIME | ATHLETE | DATE |
| 1 | 6.37 | Christian Coleman (US) | 01/19/18 |
| 2 | 6.39 | Maurice Greene (US) | 02/03/98 |
| 3 | 6.41 | Andre Cason (US) | 02/14/92 |
| 4 | 6.42 | Dwain Chambers (Great Britain) | 03/07/09 |
| 5 | 6.43 | Tim Harden (US) | 03/07/99 |
| 6 | 6.44 | Asafa Powell (Jamaica) | 03/18/16 |
| 7 | 6.45 | Bruny Surin (Canada) | 02/13/93 |
| 7 | 6.45 | Justin Gatlin (US) | 03/01/03 |
| 7 | 6.45 | Ronald Pognon (France) | 02/13/05 |
| 7 | 6.45(A) | Leonard Myles-Mills (Ghana) | 02/20/99 |
| 7 | 6.45(A) | Terrence Trammell (US) | 02/17/01 |
| 7 | 6.45(A) | Trell Kimmons (US) | 02/26/12 |
| 7 | 6.45(A) | Ronnie Baker (US) | 03/05/17 |
Track Nation has responded appropriately:
WR in a opener !! @__coleman 💯

— IamTrayvonBromell (@TrayvonBromell) January 19, 2018
@__coleman
Me: pic.twitter.com/HfUKNsNVVb

— Michael Stigler (@MySwag_Spiffy) January 19, 2018
Me seeing my my brudda @__coleman running 6.37 pic.twitter.com/FJPNydflQy

— Manteo Mitchell, OLY (@ManteoMitchell) January 19, 2018
Welp 6.37 for @__coleman he has claimed that he want to be the man

— Dwight Phillips (@Dwightdagreat) January 19, 2018
🔥🔥🔥 @__coleman in an opener though?? 6.37! Congrats

— Ronnie Baker (@ronnie_baker14) January 19, 2018
That was nasty 🤧 @__coleman

— Sydney McLaughlin (@GoSydGo) January 19, 2018