2018 NYRR Millrose Games
Nick Willis Hopes Sixth Time Is A Charm At The 2018 Millrose Games
Nick Willis Hopes Sixth Time Is A Charm At The 2018 Millrose Games
Nick Willis has come excruciatingly close to the Wanamaker Mile title at the Millrose Games. Can he get the elusive win this year?
Jan 31, 2018
by Kevin Sully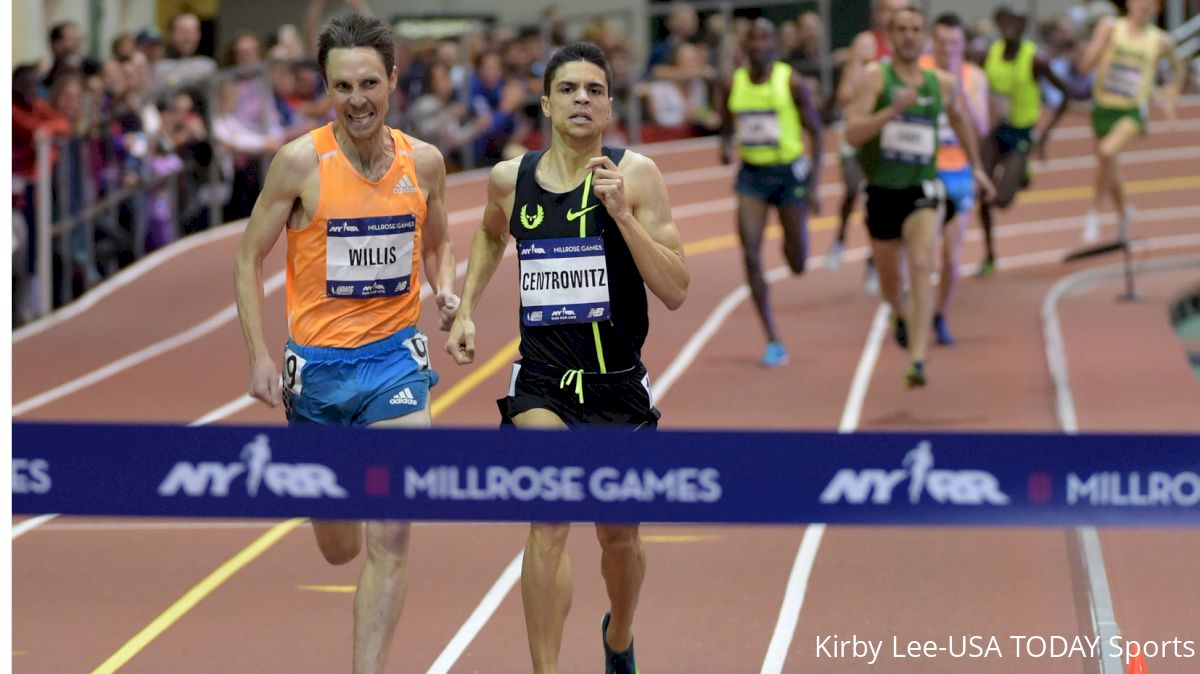 Nick Willis is 0-5 in the Wanamaker Mile.
And, as he outlined in a post this week about his history at the Millrose Games, in those five races he's lost in every conceivable way possible: leading at the bell, trying to come from behind, a big move with two laps to go — he's tried it all. The opponents have changed; even the venue of the Millrose Games has shifted. The only commonality is that the margins have all been excruciatingly small.
In his five appearances in the Wanamaker Mile, Wills has never finished lower than third. The combined margin of all the losses? Just 2.65 seconds.
It's a testament to Willis's consistency that he's never fallen out of the top three. But it also has to be infuriating to be so close on so many occasions.
He first raced in the Millrose Games in 2008 when Madison Square Garden hosted the meet. Willis finished third that night Bernard Lagat and Craig Mottram (but ahead of Galen Rupp). In between his maiden voyage at Millrose in 2008 and his 2016 defeat at the hands of Matthew Centrowitz in the Armory, Willis has won two Olympic medals, broken 3:30 in the 1500m, and become one the most reliably great middle distance runners in the world.
Despite all that, he hasn't yet been able to win the marquee race of the indoor season.
In what he says might be his last chance at victory at Millrose, the 34-year-old hopes to change that on Saturday night. His indoor season was interrupted when he came down with the flu, but Willis says that is behind him. He's raced twice during the indoor season — a 3:57.99 effort to win the mile in Ann Arbor and an 1:53.66 800m on the same day.
Surveying his competition for the Wanamaker Mile, it's fair to call Willis the favorite. Since he won't have to face an opponent like Centrowitz, or an in-prime Lagat, this looks like his best opportunity to win the race. But with his history in the race, I don't think he will take anything for granted.
The biggest challenge to Willis might come from a pair of Brits.
Chris O'Hare has a personal best of 3:52.91 and is coming off a year in which he set lifetime bests in the 800m, 1500m, and mile. Charlie Grice has also run 3:52 and already has a race under his belt this year, a third-place finish at last weekend's mile race in the Dr. Sander Invitational at the Armory.
This early in the season, it's tough to determine who is in racing shape. Robby Andrews doesn't look like a threat to win after his sixth-place finish in the 800m last weekend at the Armory, but he has made a career of making quick turnarounds and screwing up pre-race predictions.
Andrews is an experienced indoor runner and is hoping to build off a 2017 season where he won the U.S. title in the 1500m outdoors. Ben Blankenship's 4:01 at altitude a week ago didn't grab any headlines (especially because Edward Cheserek ran 3:54.73 in the same race), but, like Andrews, he's capable of quickly shaking the rust and popping a big one.
The wildcard is New Mexico's Josh Kerr. Kerr is a redshirt sophomore and the reigning NCAA champion indoors and outdoors. His personal best is 3:59.60. At the very least, he will walk away from the evening with a new personal best. I think he might be capable of more than just a PR. Don't be surprised if he creeps into the front of the pack and makes himself a factor late in the race.
The meet is also a hosting the Invitational Mile, which precedes the main professional competition time window. Pat Casey, Mac Fleet, Will Geoghegan, and Eric Avila are all entered. So is high schooler Brodey Hasty. The senior from Tennessee has a personal best of 4:01.75. If he's able to go under four minutes on Saturday, Hasty would be the 11th American high schooler to break the barrier and the third to do it indoors.
In other mid-distance action, the men's 800m features a crowded field of 10 athletes. Clayton Murphy, Donavan Brazier, Drew Windle, and Emmanuel Korir are the headliners. Murphy is looking to erase the memory of his 1:53 last week at the Dr. Sander Invitational. Brazier hasn't run an 800m this indoor season, but he has run a mile under four minutes, a sub 47-second 400m and a relay leg on a 4x400m. How all that computes when he gets to run his best event will be fun to see.
Like Brazier, Windle hasn't run an 800m yet this year. He did a 400/1000m double in his one appearance of the year. Korir was last season's NCAA indoor champion and comes in with a outdoor personal best of 1:43.10. This will be his first race of 2018.
The men's 3000m will play a host to a rematch between Shadrack Kipchirchir and Justyn Knight. The two met in Boston last week with Kipchirchir besting Knight in a mile race where both men ran personal bests. That race came the day after Kipchirchir turned in another personal best of 7:42 in the 3000m. Bowerman Track Club teammates Ryan Hill and Woody Kincaid are both making their 2018 debuts. Hill is racing a distance he's well acquainted with, and one where he took home silver at the 2016 World Indoor Championships.
In the sprints, Asafa Powell, Ronnie Baker, Noah Lyles, Clayton Vaughn, Cameron Burrell, and Omar McLeod are all entered in the 60m. It's an interesting mix of 60m specialists, long sprinters, and hurdlers and doesn't have a clear favorite. Defending champion 500m Vernon Norwood heads up a 400m field that features Mike Berry, David Verburg, Lalonde Gordon, and Michael Cherry.
McLeod's decision to run the 60m weakens the hurdle field a bit, but the race still provides a chance to see Devon Allen and Aries Merritt square off in a preview of the U.S. indoor championships. Merritt's season's best is 7.54, while Allen has run 7.58.