On Saturday night at the Armory, Ajee Wilson, Raevyn Rogers, Charlene Lipsey, and Chrishuna Williams will take a crack at the world record in the women's 4x800m relay — a mark held by a Russian team from 2011. While the relative strength of various indoor records varies, it's important to note that most record attempts in the relays don't have this much firepower behind them.
Due to scheduling or circumstances, not all the most qualified runners make it to the start line. In that way, this group is different. It has more in common with the quartet that gets tasked with running the 4x400m in the Olympic final than it does your typical hastily thrown-together indoor record chase.
Watch the 2018 Millrose Live In The UK And Ireland
You can quibble that they could make the team stronger with a substitution here or there, but overall this is an extremely strong U.S. team — as strong as you can get when you are racing indoors in an event that doesn't take place at global championships. All four women have broken two minutes outdoors, and Wilson and Lipsey were both on absolute tears last year, with Wilson setting the American record and Lipsey breaking 1:58 on two occasions.
The mark they're aiming for — 8:06.24 — creates the perfect over/under. Arguments and scenarios can be imagined for both sides. If you add up the indoor personal bests of all four runners, you get a time of 8:00.62.
Charlene Lipsey: 1:58:64
Ajee Wilson: 1:58.27
Chrishuna Williams: 2:02:95
Raevyn Rogers: 2:00.90
Everyone running faster than their personal best is unlikely to happen on Saturday, but as a group can they stay within six seconds of those marks? An 8:06.42 requires an average split of around 2:01.60. If someone in the group runs slower than that, can Wilson go under 2:00 to make up the difference?
Last week at the Dr. Sander Invitational, Wilson ran 2:00.90, but Lipsey ran 2:03.74 and Williams went 2:04.62. Splits like that on Saturday would be very hard to come back from and still have a shot at the record.
And then there's the element of competition.
The Jamaican team has Natoya Goule and the New York/International All-Star squad has Lynsey Sharp, but they don't have the overall depth to stick with the American team. The order that Sharp and Goule run on their respective squads could determine whether the United States is running by themselves for the duration or has company for at least part of their record journey. One thing is for certain: the American record of 8:24.72 is certainly gone as long as the four stay upright.
Plenty Of Questions In The Women's Mile
It's hard to to pick out a favorite in the women's Wanamaker Mile. Last year, Sifan Hassan came in a cut above the field and lived up to her status as favorite. This year's edition of the race is much more difficult to sort out.
Kate Grace was runner-up to Hassan last year and finished second at the 2017 U.S. Championships in the 1500m. This will be her first race running for the Bowerman Track Club. Also making her first appearance of the indoor season is Alexa Efraimson. The 20-year-old already has plenty of big race experience and has a personal best of 4:03.39 in the 1500m.
Ireland's Ciara Mageean has the best mile personal best of the field — a 4:22.40 from the London Diamond League last year. Sara Vaughn finished behind Grace at the U.S. championships to qualify for the world championships. Her mile personal best of 4:34.29 puts her toward the bottom of the entry list, but she has run 4:04 for 1500m.
One other name to watch is Nicole Sifuentes. She has run well indoors and she just posted a 4:27.93 in the mile two weeks ago.
Tuohy Back On The Track
It doesn't appear that Katelyn Tuohy is targeting Mary Cain's high school record of 4:28.25 in the mile. But after the 15:37 5000m, I'm not going to say anything is out of Tuohy's reach. She is entered in the junior mile, so she will be racing fellow high schoolers and not the professional field in the Wanamaker Mile. She should separate herself quite early in the race. Behind her, Kelsey Chmiel should lead the chase pack. Chmiel has a 1500m personal best of 4:23.
The women's 3000m has an interesting combination of collegians and pros as well as mid-distance and long-distance specialists. Steeplechase gold medalist Emma Coburn will be racing for the first time at sea level in 2018. Two weeks ago she ran 4:38 for a mile in Gunnison, Colorado, with an elevation of 7,100 feet. With no barriers — and a bunch more oxygen — what can Coburn run on Saturday?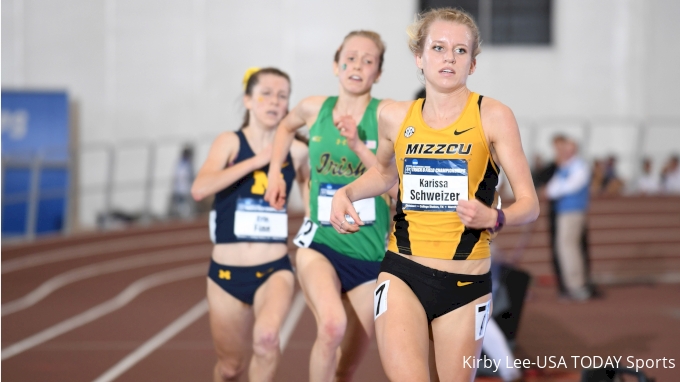 Kate Van Buskirk and Katie Mackey both look ready to run fast. Van Buskirk ran 4:26.92 in the mile to win the Dr. Sander Invitational last weekend. Mackey's only race of 2018 was a solid one — a 4:35 mile in Albuquerque. Missouri's Karissa Schweizer ran 4:27.54 for a mile last week, the fourth-fastest mark of all time and exceeded all expectations.
Miller-Uibo Debuts, Lolo Returns
Just like 2017, Shaunae Miller-Ubio will kick off her season in New York. The Olympic champion won the 300m last year in 35.71. That time will serve as a good point of comparison as she races the same distance on Saturday. There will be others in the field who already have a races under their belt in 2018. Courtney Okolo ran 51.89 to win the Dr. Sander Invitational at the Armory last week and Jaide Stepter put up a 52.50 on the oversized track in Seattle. American 400m hurdler Ashley Spencer rounds out the field.
For an early-season race, the 60m hurdles certainly has quite a few subplots. Last year's world champion in the 400m hurdles, Kori Carter, has said she is considering dropping down in distance this year to race the high hurdles. She has run the 60/100 hurdles in the past, but it has always taken a back seat since she became professional. Dawn Harper Nelson will be making her 2018 debut after she turned in another stellar championship performance last year.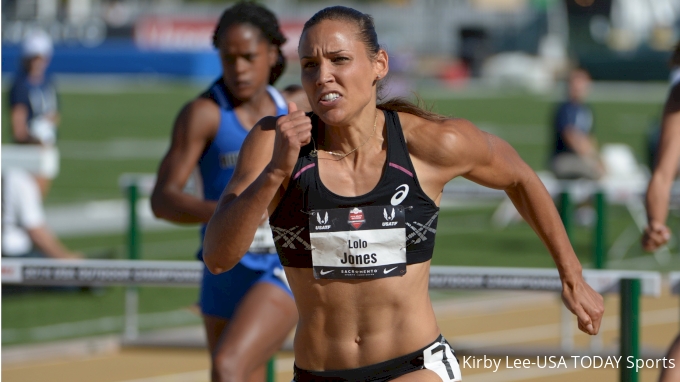 After coming up short in her bid to make another U.S. bobsled team, Lolo Jones will be making her first appearance on the track since 2016. Jones does have history with the 60m hurdle event. She's the American record holder at 7.72 and has two world titles. Tobi Amusan, Kristi Castlin, and Queen Harrison round out a field in which any one of the six women could walk away the winner.
Murielle Ahoure enters the 60m dash as the clear favorite. She's the current world leader in the event with a 7.07 clocking and finished runner-up in the 60m at the 2012 and 2014 World Indoor Championships. Tori Bowie will be making her debut in 2018 after taking home gold in the 100m at the 2017 World Championships in London last summer.
Cunningham, Stefanidi Highlight Field Events
In the field events. Vashti Cunningham will make her first appearance indoors and begin her bid to defend her 2016 World Indoor Championships title in the high jump. Thus far in the season, Mariya Lasistkene is dominating the world list with the top four marks of 2018. Lasistkene won't be in New York this weekend, so Cunningham's main competition will come from fellow American Inika McPherson. Another entry of note is high schooler Jenna Rogers. The 15-year-old from New Jersey has a personal best of 1.85m.
Sandi Morris and Katerina Stefanidi are set to square off in the pole vault. The two finished 1-2 in the last two global championships with Stefanidi winning gold and Morris taking silver on both occasions. Stefanidi has won the last eight matchups against Morris, including last year's Millrose Games.