2018 NYRR Millrose Games
Omar McLeod: Aries Merritt's Loss Is Asafa Powell's Gain At Millrose
Omar McLeod: Aries Merritt's Loss Is Asafa Powell's Gain At Millrose
Aries Merritt and Asafa Powell assumed Omar McLeod was running the 60m hurdles at the 111th Millrose Games. Neither of them was correct.
Feb 2, 2018
by Joe Battaglia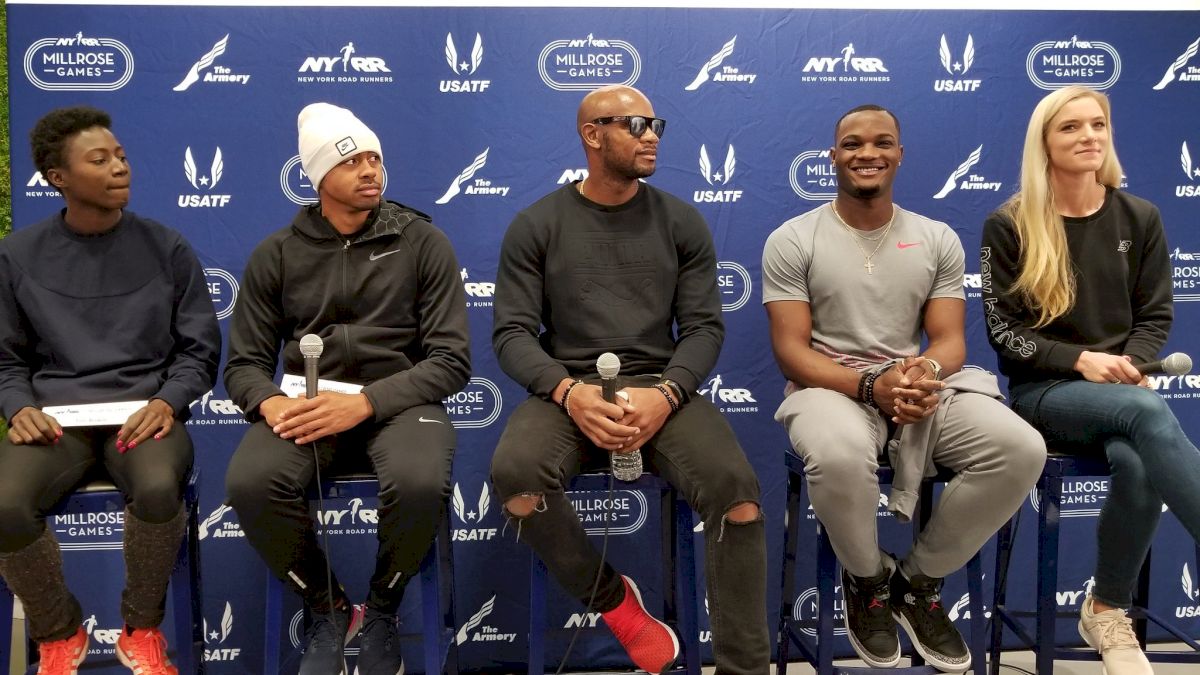 NEW YORK – Like most athletes, American Aries Merritt and Jamaica's Asafa Powell were in tune with which athletes were competing in the 111th NYRR Millrose Games.
Problem is neither seemed to be focused on the actual start lists.
Merritt, the world record holder at 110m hurdles, assumed that the presence of Jamaica's Omar McCleod meant that a showdown with the world and Olympic champion was in store in the 60m hurdles tomorrow at The Armory.
It wasn't until just before this morning's press conference that he learned otherwise.
"He told me walking over here that he wasn't running the 60m hurdles, and I was like, 'What?'" Merritt said of McLeod. "Actually, I am kind of upset that I am not racing him. I prefer to race Omar because he is a great competitor and he is always going to get out very strongly in the 60m hurdles. You're going to have to push the pace early, which is something he is very good at. It's going to be good though."
Merritt instead headlines a field that will include fellow U.S. Olympian Devon Allen, American Aleec Harris, and top collegians Trey Cunningham of Florida State and Freddie Crittenden of Syracuse.
Powell made a similar mistake as Merritt in assuming that McLeod would be lining up against Merritt in the 60m hurdles. He was completely oblivious to the fact his countryman would be his top competitor in the flat 60m.
"When you asked me earlier if I was going to win, I said yeah, then you asked me what I thought about Omar and I said, 'He's going to win,' but I thought he was in the hurdles," Powell said in addressing press conference moderator Ian Brooks. "So, I changed my mind about that. But it's going to be a great race, and I am looking forward to competing against Omar."
Should Powell, who has run an incredible 97 sub-10-second 100s outdoors in his career, prevail against McLeod and American Noah Lyles to win the 60m on Saturday he would own the largest gap between victories in the history of the Millrose Games. Powell last won the 60m here in 2005. Mary Decker Slaney had a 12-year gap between her mile victories in 1985 and 1997.
Some other takeaways from the presser: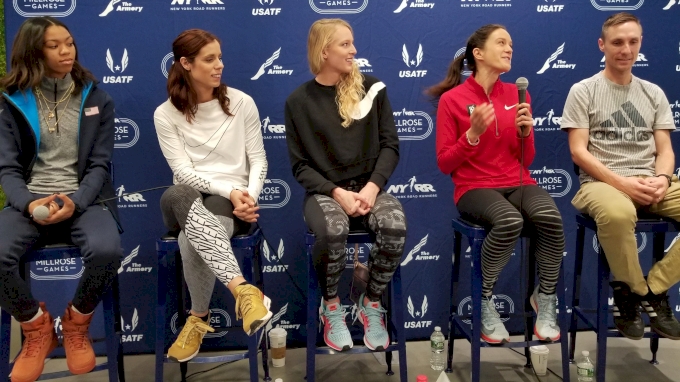 Emma Coburn, who headlines the womens' 3000m, said that she feels extremely fit after a recent altitude training stint with Aisha Praught-Leer and is shooting for a sub-8:50 finish.
"I just spent six weeks, and (Aisha) was with me for four, up at like 8000- to 9000-feet training in Colorado and everything went well. The training was perfect and we have no excuses why we shouldn't run well."
Coburn elaborated on her most dreaded workout.
"Usually, the workout I get most nervous for, but if I crush it I know I am ready, is 1K repeats over barriers right at about full steeple pace. I will do about four sets of those and the recovery changes based on what elevation we are in. It's a workout that I have a little trouble sleeping the night before."
Oh, and if you are wondering where Coburn keeps her gold medal from the World Championships, she keeps it on an Ikea bookshelf in her living room.
***
Tori Bowie will be making her first trip back to compete at The Armory since 2014, when she finished second in the 60m. She is banking on another close finish, particularly with the likes of quick-starting Murielle Ahoure of the Ivory Coast in the field.
"It's going to be really interesting," Bowie said. "I running up against Murielle and she is a great 60m runner. For me, I am just coming in here to continue working on my start. Everyone in the world knows that is what my weakness is."
Bowie said her ultimate goal for the year is "to get one of those diamonds," meaning winning a Diamond League trophy. In a summer devoid of a World Championships or Olympics, the automatic berth to the 2019 Worlds that comes with winning the Diamond League is the biggest prize available on the circuit this summer.
If she wasn't a champion sprinter, Bowie said that she would most likely be working as a psychologist because she loves studying the brain.
***
Kate Grace finished third in her Millrose Games debut in 2013. Last year, she improved to a runner-up finish. So, natural progression would point to this being the year she breaks through and wins the Wannamaker Women's Mile. If workouts are any indication, she should be well prepared.
"I joined the Bowerman Track Club in October and we have been in Colorado doing altitude training and it has definitely been a tough transition," Grace said. "But that's good. That's why I joined the team, because I wanted to push myself. The workouts are going better now, but the first few months were difficult."
One of those tough workouts was driven by Shalane Flanagan, the "matriarch" of the Bowerman group, shortly after she won the TCS New York City Marathon in November.
"All of the long stuff is tough for me, but necessary," she said. "There are a few fartleks that Shalane led that were memorable. They did this hour-long fartlek that I tried to hang on for 45 minutes of."
***
Vashti Cunningham, who is getting ready to defend her World Indoor title in the women's high jump, said that she settled on the high jump as her event at a young age simply because it was her best discipline.
"Out of all the events I was doing – I was also doing the hurdles and the long jump – the high jump was my best event," the 20-year-old said. "I'm not really the fastest one out there, so. I like the high jump because there is not really another feeling like going over the bar and being up there for a quick second. I have never experienced anything like that."
***
With Olympic and World Championship gold to her resume in the last two years, Katerina Stefanidi of Greece was asked why she still pole vaults.
"I don't know," she joked. "But there is more out there. I have a bronze at the World Indoor Championships and I want to make that a gold, then I will have the whole collection of gold. At this point in my career I have achieved everything that I have ever dreamed of, really.
"I feel like I am still here because I love pole vaulting and I love competing. I feel like now I am pole vaulting for a greater purpose, to inspire young kids, especially coming from a small country like Greece. They can see that it doesn't matter what your background is, what your race is, you can achieve anything you dream and work for."