2018 USATF Indoor Championships
USATF Women's 1500m Preview: Bowerman Babes Ready For Domination
USATF Women's 1500m Preview: Bowerman Babes Ready For Domination
Bowerman Track Club's Colleen Quigley, Kate Grace, and Shelby Houlihan headline the USATF women's mile field.
Feb 14, 2018
by Johanna Gretschel
The 1500m is an unpredictable race, but even so, we wouldn't be shocked to see a sweep by the Bowerman Track Club in the women's final of the USATF Indoors Championships in Albuquerque, New Mexico, on Sunday.
Final: Sunday, 3:42 PM MT
BTC's Shelby Houlihan swept the mile and 2-mile at last year's USATF Indoor Championship and she's entered to defend both of her titles this weekend. The reigning USATF 5K outdoor champion is super versatile on the track — she was the 2014 NCAA champion for 1500m and her Twitter handle has 800m in it. It is possible she scratches the 1500m, though, if she advances to worlds in the 3K on Saturday night.
Her teammates, Colleen Quigley and Kate Grace, also have a legitimate claim to be title favorites. The duo ran 1-2 at the NYRR Millrose Games Wanamaker Mile, and Grace nearly nipped Quigley at the line when the steeplechase specialist threw her hands up in victory a bit early. Trust she won't make that mistake again.
Colleen Quigley talks about her near tactical error at the Millrose Games Wanamaker Mile: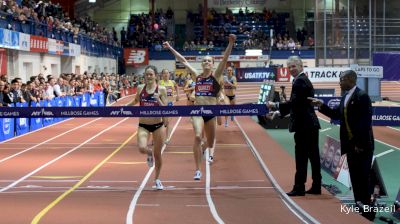 On paper, this race should be Grace's to lose — she's made an Olympic team at 800m and the world team at 1500m, but her only race since joining BTC was the Wanamaker.
Who else could sneak into a top spot?
Rachel Schneider of Under Armour has enjoyed an incredible indoor season, particularly a mile/3K double payday at Camel City Elite, where she took down Cory McGee of New Balance. Schneider, McGee, and Shannon Osika are the only women in the field to break 4:30 this season.
Schneider's 4:27.3 season best ranks No. 3 in the world this year and she's undefeated vs. American competition.
Prediction: 1. Colleen Quigley 2. Kate Grace