By Lincoln Shryack
---
UPDATED: Mutaz Essa Barshim has scratched
The last time Mutaz Essa Barshim competed at the AIT International Grand Prix, in 2015, the Qatari superstar high jumper cleared 2.41m, an Asian record and the fourth-best indoor mark in world history. Barshim was on fire that day in Athlone, Ireland, passing the 2.41m bar with such ease that he took three healthy — albeit unsuccessful — cracks at a 2.44m clearance that would've set a world record.
Now, three years later, the reigning IAAF World Athlete of the Year returns to the site of his indoor best, arriving at the AIT International Arena for tomorrow's event having lost just one competition in the last year. And with the 2018 IAAF World Indoor Championships next week in Birmingham, he enters his crucial tune-up in Athlone for the 2018 AIT International Grand Prix — which you watch LIVE on FloTrack this Wednesday — the same way he left it last: on fire.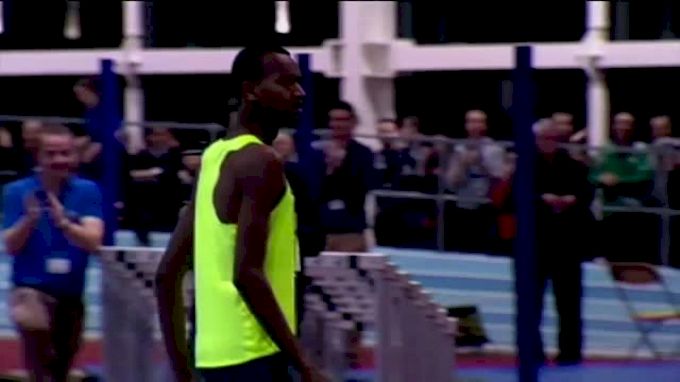 Consider this: Barshim hasn't placed outside of the top two at a high jump competition since before the 2016 Rio Olympics. Other stars of the discipline — Derek Drouin, Bohdan Bondarenko, and Gianmarco Tamberi — have experienced the highs and lows of the volatile event over the last two years, but not Barshim. In an event that demands such perfection of repetition, Barshim has been as reliable as they come in the high jump. There's a reason no male high jumper before him has won athlete of the year; it's a damn hard event to get right consistently.
In 2017, Barshim became the first man ever to jump over 2.40m five years in a row. Not even the great Javier Sotomayor, who holds the indoor and outdoor world records that Barshim so covets, can claim that feat. Now with Usain Bolt and Mo Farah each retired from the track, Barshim is positioned to become the most dominant man in the sport — if he can avoid the nagging injuries that hampered him early in his career.
Much of the credit for Barshim's unrivaled success of late can be traced to that one factor: his health. Barshim dealt with various injuries off and on from 2012 to 2016, collecting championship medals every year besides 2015 despite his ailments. Those results speak to Barshim's incredible talent, and this run of dominance underscores his potential when firing on all cylinders. The eye-popping marks and championship medals have come in droves even in years interrupted by injury; how much more does the 26-year-old have in him now that he's perfectly healthy?
That question has only started to be answered, and to that end, Barshim is off to a flying start in 2018. His 2.38m performance at at the Asian Indoor Championships on February 1 was the second-best season-opener of his career and established him as the firm favorite for Birmingham. Barshim will look to win his second world indoor title there, and with the rest of 2018 serving as an off year, he can soon begin to turn his attention to prepping for 2019. With the next IAAF World Outdoor Championships in his hometown of Doha, Qatar, Barshim will have more eyes — and pressure — on him than ever before.
Don't forget to catch Barshim's high jump and other events live on FloTrack.