Create a free account to unlock this article!
Get Started
Already a subscriber? Log In
Over the past two days, we've previewed the men's and women's distance races at the 2018 World Indoor Championships this weekend in Birmingham, England.
In this post, I'll look at a few of the other storylines that we are curious about in Birmingham from the sprints and hurdles to the field event and the relays.
Canadian subscribers can watch the 2018 IAAF World Indoor Championships LIVE on FloTrack!

Men's 60m: Can Christian Coleman Break The World Record Again?
It's tough to ask Coleman to run under Maurice Greene's old world record of 6.39 three times in one season, but Coleman did celebrate a bit early during his 6.34 in Albuquerque. Did that leave a hundredth of a second on the table? Perhaps, but Coleman did a bunch of things right in that race and had the benefit of racing at the high altitude of New Mexico. Birmingham's elevation is less forgiving for sprinters, so the extra boost to run under 6.34 will have to come from his competition.
Records aside, this is a historically fast race. Three of the top seven men all-time are entered in the 60m. Ronnie Baker ran 6.40 in Albuquerque, the fourth-fastest mark of all time, but was completely overshadowed by Coleman's dominant performance. Baker's presence doesn't leave much room for Coleman to slip up, and could make sure he has to run all 60 meters to secure gold. China's Su Bingtian put up a 6.43 earlier this season. Any other year that would make him a big favorite in this race, but in 2018 it only makes him destined for bronze.
Women's 60m: Will Javianne Oliver Keep Setting Personal Bests?
Oliver came from nowhere to storm through the 2018 U.S. Indoor Championships. The 23-year-old, one year out of the University of Kentucky, ran consecutive personal bests in the prelims and final, and then put up the top time in the world with a 7.03. She will need another effort like that to take gold in Birmingham, because there's an experienced group of medalists waiting for her.
Murielle Ahoure, Marie-Jose Ta Lou, Elaine Thompson and Dafne Schippers are all entered this weekend. Ahoure and Thompson have personal bests under seven seconds and Thompson was the 2016 Olympic champion in the 100m and 200m. Ahoure has four silver medals from global championships, including two in the 60m. Schippers has a personal best of 7.00 and took gold in the 200m at last summer's world championships. Ta Lou has a pair of silver medals from the 100m and 200m at those same championships.
The presence of those four women means the final in Birmingham will look much like an outdoor championship. Throw in Mujinga Kambundji and Tatjana Pinto — two women who have run their lifetime bests this winter — and it will be a competitive race for the medals.
Women's High Jump: Can Vashti Cunningham Repeat?
Cunningham's victory at the 2016 World Indoor Championships was part of the teenager's rapid ascent ahead of the 2016 Olympics. She jumped 1.96m to take gold and has since improved her personal best to 1.99m. The 1.96m she jumped in Portland, however, is the best she's put up in a global championship. Cunningham finished out of the medals in both the Rio Olympics and the last year's world championships, clearing 1.88m and 1.92m, respectively. If she's able to clear 1.95m (which she already has done twice this year), she should be in the medals.
Getting to gold is a much tougher task.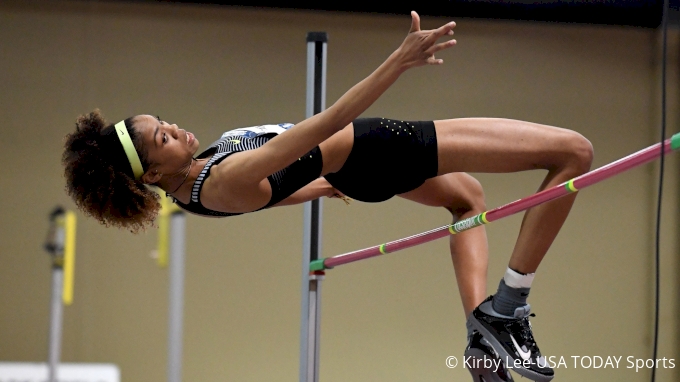 Russia's Mariya Lasistkene, competing this weekend as an Authorized Neutral Athlete, has jumped 2.04m this year and is the clear favorite. In five other meets in 2018, she has cleared two meters or higher. Cunningham would have to set a personal best or get an off day from Lasistkene to repeat her gold medal from Portland in 2016.
Women's 60m Hurdles: Will It Take A World Record to Win?
Sharika Nelvis set the American record at the U.S. championships of 7.70, and Keni Harrison and Christina Manning followed behind in 7.72 and 7.73. That puts three American women within 0.05 of Susanna Kallur's world record of 7.68 from 2008. As with Christian Coleman in the 60m, there's no guarantee that the sprint times will be faster in Birmingham than they were in Albuquerque. That many people that close to the mark, though, does make it an interesting proposition.
As for the competition itself, Manning's victory in the World Indoor Tour earned her a wildcard berth into this meet and put a U.S. medal sweep on the table. A 1-2-3 finish in the high hurdles looks likely in theory, but is always tough to pull off. The U.S. women did it at the 2016 Olympics and also finished 1-2 at the 2016 World Indoor Championships. But they also won only one medal at the 2017 World Championships and were shut out entirely in 2015. The trio of Nelvis, Harrison, and Manning have never won a global championship medal. If they run as they did in Albuquerque, that will change for all three this weekend.
Men's & Women's Pole Vault: Who Will Emerge In The Pole Vault?
American Katie Nageotte vaulted a lifetime best of 4.91m at the U.S. championships to score an upset win. Sandi Morris, silver medalists at the last two outdoor championships, finished second after clearing 4.86m. The ascendance of Nageotte adds an extra dimension to a competition that was previously thought to boil down to Morris and Stefanidi. Those two finished 1-2 at the 2016 Olympics and again at last summer's world championships. Stefanidi is 17-9 all-time against Morris and has won the last eight meetings between the two.
But Nageotte's clearance in Albuquerque matches Stefanidi's lifetime best in the event making this a three person race.
In the men's pole vault, the usual names of Renaud Lavillenie, Shawn Barber, Konstadinos Filippidis, Thiago Braz Da Silva, Raphael Holzdeppe, and Sam Kendricks will compete. Since 2013 there have been six different global championships and in the pole vault there have been six different winners. All six of those men are in Birmingham.
2017 World Championships: Sam Kendricks
2016 Olympics: Thiago Braz Da Silva
2016 World Indoor Championships: Renaud Lavillenie
2015 World Championships: Shawn Barber
2014 World Indoor Championships: Konstadinos Filippidis
2013 World Championships: Raphael Holzdeppe
Two other names to take notice of are Piotr Lisek, who is the world leader with a jump of 5.91m and a lifetime best of 6.00, and LSU commit Mondo Duplantis. Last weekend, Duplantis vaulted 5.88m setting a indoor world junior record.
Women's 4x400m: Can The U.S. Break The World Record?
If the top four finishers from the U.S. championships run in the 4x400m relay, then the U.S. is assured a gold. Courtney Okolo, Shakima Wimbley, Phyllis Francis, and Georganne Moline form a team that no country can match this weekend. They also could put a scare into the world record. A Russian team from 2006 currently has the indoor 4x400m relay record of 3:23.37 — an average of just under 51 seconds per person. Okolo, Wimbley, and Francis ran 51.16, 51.17, and 51.19. With a flying start, they are capable of faster, but they would need someone to split well under 51 seconds to have a chance.
The U.S. team from the 2014 World Indoor Championships of Natasha Hastings, Joanna Atkins, Francena McCorory, and Cassandra Tate ran 3:24.83 — a mark good for fourth best of all time. For comparison, Hastings, Atkins, and McCorory ran 50.85, 51.13, and 51.34 in the 400m at the U.S. championships leading into that meet.
Men's 400m: Can The US Break Their Gold Medal Drought?
Before the U.S. championships, I previewed the 400m and noted the lack of men's medals in the 400m over the past 15 years. The U.S. hasn't won gold at the world indoor championships since 2003, and in that same time period has only won three medals total. I brought that up and suggested Fred Kerley would be the antidote. Then, Kerley got bumped at the U.S. championships and the U.S.'s top 400m man didn't qualify for the world championships.
Michael Cherry and Aldrich Bailey advanced out of Albuquerque and are the two men who can right the ship for the United States. But Grenada's Bralon Taplin will make it difficult to get to the top of the podium. He ran 44.88 and is the only man entered in the meet who has broken 45 seconds this season. Also in the race is Deon Lendore of Trinidad and Tobago and Pavel Maslak of the Czech Republic. Maslak comes in to the race with a season's best of 46.14, but is superb in this setting. He won the 2014 World Indoor Championships and then defended his title two years ago.