Compared to yesterday's festival of disqualifications, the Saturday morning session at the IAAF World Indoor Championships was relatively uneventful. The United States advanced all their athletes in the men's 60m, men's 1500m, women's 800m and both 4 x 400m relays. Here's a full play-by-play recap of this morning's track events in Birmingham.
Canadian subscribers can watch the 2018 IAAF World Indoor Championships LIVE on FloTrack!
Men's 60m Hurdles Heptathlon | 10:00 AM GMT (5:00 AM ET)
Heat 1
Maicel Uibo and Zach Ziemek get out well, but it's Kai Kazmirek who emerges as the clear leader at the midway point. Kazmerik takes the heat in 7.95, a personal best and screams his delight after he crosses the line. Ziemek holds on for second place with a 8.14. Uibo runs a personal best of 8.19 for third place.
Heat 2
Kevin Mayer and Damian Warner, the favorites at this point in the competition for gold and silver, get off to solid starts and lead the field. Warner holds his form through the line and puts up a mark of 7.67. Mayer is safely in second with a time of 7.83.
Results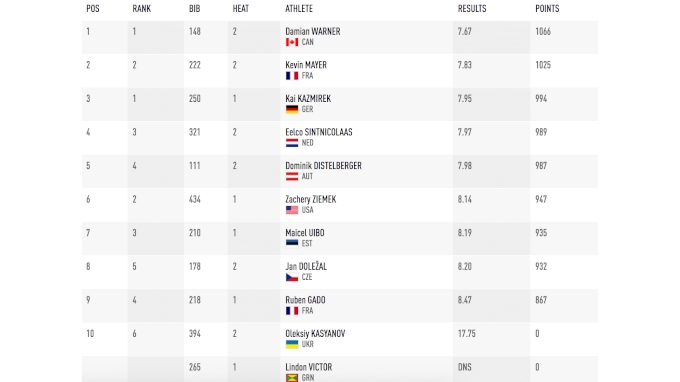 Overall Results
Through 5 Events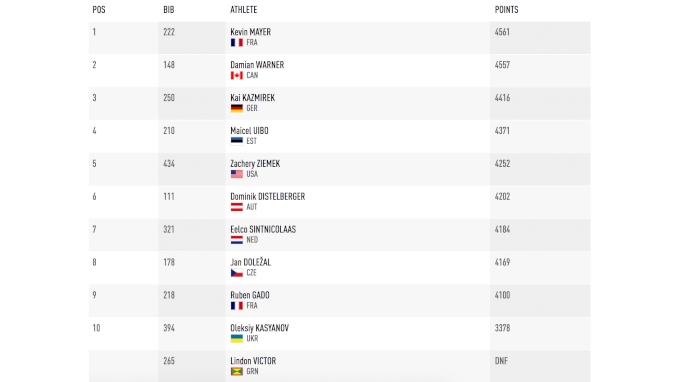 Men's 60m Heats | 10:15 AM GMT (5:15 AM ET)
First 3 in each heat plus the next 3 fastest
Heat 1
It doesn't take long to have our first disqualification of the morning. Kemar Hyman is DQ'd after a false start in the first heat of the men's 60m. Christian Coleman reacts to the gun well, but has a brief stumble in the first 10 meters. Once he gets going he is in the clear lead. The last 30 meters he looks to be running 80% and then he shuts it down well before the line for an easy victory. Coleman runs 6.71, Odain Rose of Sweden is second in 6.75 and Kim Collins gets the third auto spot with a time of 6.77.
Heat 2
Su Bingtian charges out of the blocks and grabs command of the race by the 20 meter mark. He keeps his foot on the gas and only eases off in the final meters, winning in 6.59. Warren Fraser of the Bahamas is second in 6.71 and Kimmari Roach of Jamaica gets third in the same time. Of note, Trinidad's Keston Bledman runs 6.79 for fifth.
Heat 3
Austin Hamilton of Sweden is the top seed in this heat, but he has a nightmare start. He stumbles in the first few meters and is never able to regain his balance and is never in the race. Jan Volko of Slovakia runs 6.66 to get the victory ahead of Hassan Taftian of Iran who runs 6.74. Dominik Zalesky also runs 6.74 to get the third auto qualification spot.
Heat 4
More false starts in this heat. It's Andrew Robertson of Great Britain who leaves his blocks first, but the official shows a yellow caution card to Emre Barnes of Turkey and the whole field remains. Barnes has a great start and it carries him to the victory in 6.58. Zhenye Xie of China is second in 6.62 and Michael Pol of Germany takes third in 6.73.
Heat 5
After the gun, the three leaders come from the two outside lanes and the middle of the track. CJ Ujah of Great Britain runs 6.59 to take the heat and the crowd is quite happy. Arthur Cisse of Ivory Coast takes second in 6.66, the same time as Sean Safo-Antwi of Ghana. All three advance to the next round.
Heat 6
It's an even start with most of the field still in contention after 30 meters. Ben Youssef Meite closes hard to win the heat in 6.63. He grimaces after he finishes the race though and looks to be favoring his leg. In second, Remigiusz Olszewski of Poland put up 6.65 to finish ahead of Jamaica's Everton Clark who ran 6.70.
Heat 7
After a couple scratches, there are only five starters in this heat. Ronnie Baker of the US and Abdullah Akbar Mohammed of Saudi Arabia are shoulder-to-shoulder. Baker pulls away and looks very easy running 6.57. Mohammed posts a 6.62 for second.
Overall Results: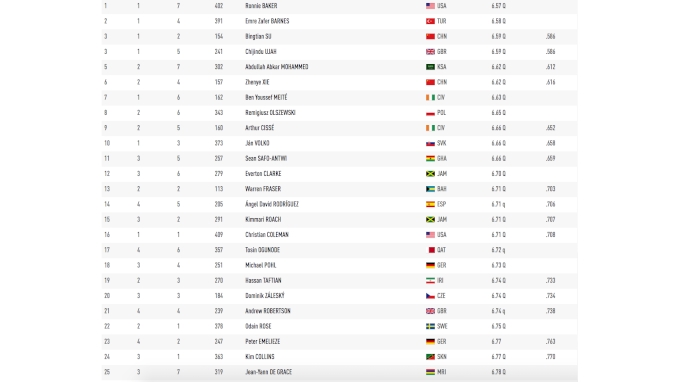 Men's 1500m Heats | 11:10 AM GMT (6:10 AM ET)
First 2 in each heat plus the next 3 fastest
Heat 1
Abdelaati Iguider takes the field through 200m in 30.83 as the whole field is running together. Soon after, Aman Wote of Ethiopia takes over and whittles the pack down to five runners. With four laps to go, it's Wote, Iguider, Chris O'Hare, Ben Blankenship and Marcin Lewandowski running in a straight line. All five are running together for the three auto qualification spots. Lewandowski makes a move to get into third position at the bell. O'Hare falls off the pace in the last lap as Iguider and Wote go 1-2 through the line, 3:40.13 to 3:40.20. Blankenship closes quickly to get third ahead of Lewandowski, 3:40.23 and 3:40.78. O'Hare takes fifth and will have to see if his 3:42.46 will advance on time.
Heat 2
Uneventful first 800m with Musa Hajdari of Kosova taking the field through 800m in 2:05.50. Samuel Tefera of Ethiopia takes command ahead of Hajdari, while Vincent Kibet is in third. They hit 1200m in 3:03 and the wind up has begun as Ryan Gregson of Australia is in the lead pack. Tefera leads in the last lap ahead of Kibet and Gregson. Tefera wins in 3:44.00 and Kibet takes the last auto qualification spot in 3:44.26. Right now, all three time qualifiers are from the first heat which means Blankenship, Lewandowski and O'Hare are still alive.
Heat 3
This heat was supposed to feature Ayanleh Souleiman, but the 2014 world indoor champion had an issue with his visa that prevented him from getting to Great Britain. Benjamin Enzema leads the group through a moderate pace, but it's enough to cut the field down to just four runners as they pass 800m in 2:06.49. Craig Engels is in second and is on the outside shoulder of Enzema. Brahim Kaazouzi and Jake Wightman and also in contention. Wightman makes a strong move to get to the lead at the bell and it's a three person race between Wightman, Kaazouzi and Engels. The slow early pace means that only the top two will qualify. Wightman wins in 3:47.21, Engels passes Kaazouzi in the last 10 meters to get second in 3:47.55. All three time qualifiers will come from heat 1.
Overall Results
Women's 800m Heats | 11:50 AM GMT (6:50 AM ET)
First 1 in each heat + next 3 fastest
Heat 1
The set-up is quite unforgiving with only the heat winner earning an automatic qualifying spot into the final. This heat features two of the best in the world, Ajee Wilson and Ethiopia's Habitam Alemu. Wilson goes to the lead with a first 200m of 29.63. Alemu is close behind with Angelika Cichocka of Poland on the rail as they pass 400m in 61.42. The order remains the same as Wilson takes the bell in 1:32.88. Alemu moves to Wilson's outside, but Wilson isn't giving up the lead. Wilson wins in 2:01.90. Alemu holds off a desperately charging Cichocka for second in 2:02.18.
Heat 2
Jenna Westaway of Canada runs the first 200m in 27.94 and is out to a lead. She goes through 400m in 57.47 and has 10 meters on the chase pack that includes Raevyn Rogers, Britain's Shelayna Oskan-Clarke and Switzerland's Selina Buchel. Rogers moves from 4th to 2nd as Westaway hits the bell in 1:29.44. Westway's lead has evaporated with 150 meters remaining as Rogers goes to the front. Oskan-Clarke is on her shoulder and looks strong. In the final straightaway, Oskan-Clarke goes past Rogers to win the heat in 2:01.76, Buchel also passes Rogers to run 2:01.84. Rogers takes third in 2:02.17.
Rogers is still alive to advance on time.
Heat 3
Natoya Goule of Jamaica leads the field through 400m in 59.70. Francine Niyonsaba is in second and Margaret Wambui are running 2-3. With 300 meters remaining, Niyonsaba overtakes Goule and hits the bell at 1:30.71. Wambui makes a strong move on the back straight to pass Goule for second. The places hold as Niyonsaba wins the heat in 2:00.99. Wambui takes second in 2:01.32, but was listed as a DQ on the final results.
Overall Results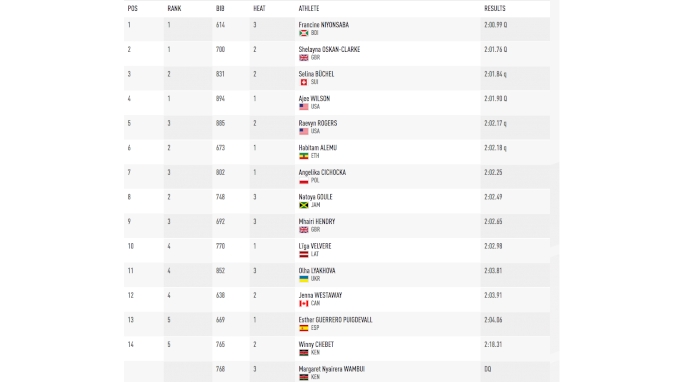 Men's 4 x 400m Heats | 12:31 PM GMT (7:31 AM ET)
First 2 in each heat advance to final plus the next 2 fastest
Heat 1
Poland leads at first exchange as Belgium, who are running three members of the Borlee family on this relay, move into the second position with Trinidad and Tobago in third. On the third leg Poland and Belgium separate from the rest of the field. As they arrive on the final exchange. Kevin Borlee is running anchor and he passes Poland with 100 meters to go. Poland tries to claw back but there isn't enough room. Belgium takes the heat in 3:05.22 with Poland in second at 3:05.24.
Heat 2
Fred Kerley runs a superb lead off leg for the United State, 45.20, and gets them a big lead. Great Britain is chasing, but they are well back as the third leg takes the baton. The lead remains the same through the third leg and the United States will have a 15 meters lead for the final two laps. Vernon Norwood is running anchor for the United States and maintains the US cushion, cruising to victory in 3:04.00. Great Britain runs 3:05.29 for the second automatic qualifying spot.
Overall Results
Women's 4 x 400m Heats | 1:20 PM GMT (8:20 AM ET)
First 2 in each heat advance to final plus the next 2 fastest
Heat 1
Quanera Hayes puts the US in front after the first lap with Italy in second. Joanna Atkins of the United States is running second and the lead shrinks as Italy makes up some some ground. Georganne Moline gets the baton third and bumps up the US lead again with Italy and Great Britain giving chase. Raevyn Rogers is running anchor for the United States less than an hour after she ran in the 800m. She keeps the US advantage as they cross the line first in 3:30.54. Great Britain squeaks past Italy 3:32.57 to 3:32.62 for second place.
Heat 2
Jamaica gets the pole position after the first 200m meters and leads at the first exchange with Poland in second and Ukraine in third. Those three remain close heading into the anchor leg. A slow exchange by the Jamaica sets them back, but they are able to recover with a quick move on the back stretch. It's a close race coming off the curve as Jamaica, Poland and Ukraine are running three across. Jamaica runs 3:32.01 to win, Ukraine is second in 3:32.06 and Poland is third in 3:32.07. A great race to close out the morning session.
Overall Results