Christian Coleman and Keni Harrison's first global gold medals highlighted the action from Saturday's evening session at the IAAF World Indoor Championships. Harrison equalled the American record in the 60m hurdles, while Coleman remained unchallenged in the event he has owned this year. There were also finals in the women's 1500m, men's 800m and the women's and men's 400m. Oh, and a fair share of disqualification drama including American Drew Windle taking home silver after initially being disqualified. Here's a full play-by-play recap of this evening's track events in Birmingham.
Canadian subscribers can watch the 2018 IAAF World Indoor Championships LIVE on FloTrack!
Women's 60m Hurdles Semifinals | 6:05 PM GMT (1:05 PM ET)
First 2 in each heat plus the next 2 fastest advance to the finals
Heat 1
The three Americans are spread out between the three heats and all three are favorites to advance. Christina Manning is the US representative in heat one and she gets to the first hurdle before the rest of the field. Manning cruises through the next four hurdles and gets an easy win in 7.83. Devynne Charlton of Bahamas and Tobin Amusan of Nigeria finish second and third in 7.89 and 7.91. Charlton's mark is a national indoor record.
Heat 2
On name recognition and past performances, this is the strongest of the three heats. Keni Harrison, Sally Pearson of Australia, Cindy Roleder of Germany and Alina Talay of Belarus are all aiming for the two auto qualification spots.
Pearson reacts well to the gun and she and Harrison are even after the first hurdle. Harrison gets rolling and moves into the lead. Roleder closes quickly and passes Pearson. Harrison's time is 7.79, Roleder is second in 7.86 and Pearson will have to wait to see if she qualifies on time after running 7.92.
Heat 3
American record holder Sharika Nelvis doesn't get the best start and has to play a bit of catch-up. Nadine Visser of Netherlands and Isabelle Pedersen of Norway both run well. Visser takes the win in a new Dutch indoor record of 7.83, Nelvis slows across the line and runs 7.86, just ahead of Pedersen who also runs 7.86. All three Americans will advance, though it didn't look as easy as their seed times would indicate.
Pedersen and Amusan are the time qualifiers and Sally Pearson is the first one eliminated.
Results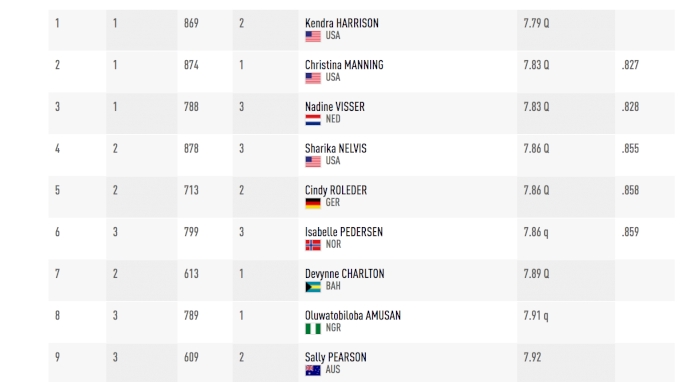 Men's 60m Hurdles Heats | 6:30 PM GMT (1:30 PM ET)
First 4 in each heat plus the next 4 fastest qualify for the semifinals
Heat 1
This heat doesn't feature any of the names that most would consider for the medals, but there is always room for surprises at the World Indoor Championships. Milan Trajkovic of Cyprus emerges from the pack out of lane one to win in 7.56. France's Aurel Manga leans hard at the line to take second in 7.62. Koen Smet of Netherlands and David King, both timed at 7.69, get the other two automatic qualifying spots.
Heat 2
Jarret Eaton gets out well for the United States and runs a strong race in the middle of track. Roger Iribarne of Cuba keeps Eaton company in the front. Eaton prevails in 7.56, Iribarne takes second in 7.59 (personal best). Balazs Baji of Hungary is third and Vitali Parokhonka of Belarus takes fourth.
Heat 3
After the starter held the field in their blocks for a long time, Ronald Levy of Jamaica gets out well. Ahmad Al-Molad finishes strong and leans at the line to get past Levy 7.63 to 7.63. Yidiel Contreras of Spain and Gabriel Constantino of Brazil run 7.68 and 7.72 to place third and fourth. Through three heats, Eaton and Trajkovic have the fastest times.
Heat 4
Aries Merritt gets out of the blocks well, but Great Britain's Andrew Pozzi is right with the world record holder throughout the middle of the race. Pozzi slides past Merritt at the lane, 7.53 to 7.61. The mark is a season's best for Pozzi. Konstadinos Douvalidis of Greece takes third in 7.66 and Erik Balnuweit of Germany runs a 7.67 for fourth place.
Andrew Pozzi wins and Aries Merrit takes second to advance to the next round! #IAAFWorlds pic.twitter.com/RIjz7Mnpa3

— FloTrack (@FloTrack) March 3, 2018
Heat 5
Pascal Martinot-Lagarde of France runs up as expected and handles the field running 7.62 to get the victory. Petr Svoboda of the Czech Republic and Johnathan Cabral of Canada are in a tight battle at the line with Svoboda running 7.68 to Cabral's 7.70. Eddie Lovett gets the final automatic qualifying berth.
Overall Results:
Men's 60m Semifinals | 7:11 PM GMT (2:11 PM ET)
First 2 in each heat plus the next 2 fastest
Heat 1
We were due for a disqualification and we have one in this first heat as hometown favorite, and a medal contender, CJ Ujah false starts and is shown a red card.
Su Bingtian gets out in front and never relinquishes his lead, running 6.52 as he slows in the final five meters. He's been remarkably consistent this year. Sean Safo-Antwi of Ghana runs 6.59 for second and Arthur Cisse of Ivory Coast was also timed at 6.59 and places third.
Heat 2
41-year-old Kim Collins is a scratch, depriving the field of its oldest competitor. Collins has said this would be the last competition of his career.
As it has been all year, this race is about American Christian Coleman. He's start isn't superb, but nobody can match his top end speed. Once again, he shuts it down in the final 10 meters, running a 6.45 with daylight between himself and second place. Zhenye Xie is second in 6.57.
SLIGHT WORK. Christian Coleman eases into the final with an insanely smooth 6.45! #IAAFWorlds pic.twitter.com/8Io3IL37t6

— FloTrack (@FloTrack) March 3, 2018
Here's Coleman post-race:
I guess we'll just have to wait and see... #IAAFWorlds pic.twitter.com/6MMGPdjDUM

— FloTrack (@FloTrack) March 3, 2018
Heat 3
Ronnie Baker jumps to an early lead and once he gets out of his drive phase he's in command of the race. Like Coleman, he downshifts in the final meters to run 6.52. Hassan Taftian gets second place for Iran with a time of 6.57. Jan Volko of Slovakia gets third in 6.58 and qualifies on time.
As expected Coleman, Baker and Su are the top qualifiers.
Overall Results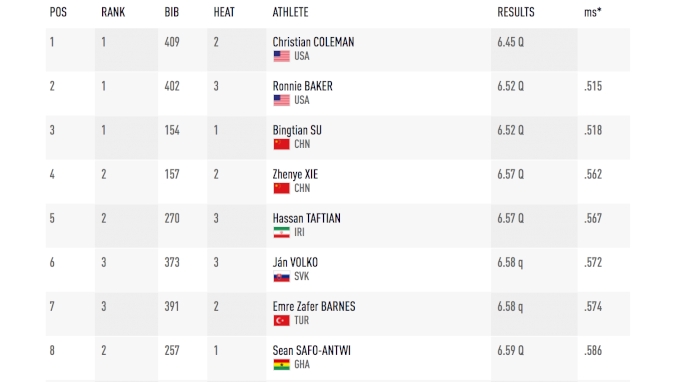 Men's 800m Final | 7:35 PM GMT (2:35 PM ET)
This field in the final is much different than anyone anticipated with absences of Donavan Brazier and Emmanuel Korir.
The pace goes out slowly with Mostafa Smaili taking the field through the first 200m in 26.73, American Drew Windle is on the rail in third place. At 400 meters, Saul Ordonez leads in 55.77, but everyone is in this race because of the slow pace. Adam Kszczot of Poland is in second at 600 meters.
Kszczot launches an attack just before the bell and grabs the lead. Everyone moves at once, but Kszczot has a clear lead. Windle is trapped on the rail and can't escape until the final straightaway. Kszczot races home for gold in 1:47.47. Windle passes two people in the last 50 meters and gets silver with a time of 1:47.99. Saul Ordonez is outleaned by Windle and takes bronze with a time of 1:48.01. That is the first global gold medal for Kszczot and first global medal of any color for Windle.
Update: Windle is now listed as a DQ. Here's the contact that precipitated the disqualification.
Initial contact between Giles and Windle. Interesting... pic.twitter.com/NXoZajzfBZ

— FloTrack (@FloTrack) March 3, 2018
Another updated: Windle has been reinstated
UPDATE: @usatf appeal re @DrewWindle DQ has been accepted and he is reinstated for 🥈 #IAAFworlds https://t.co/tZbdCkRxbn

— IAAF (@iaaforg) March 3, 2018
Results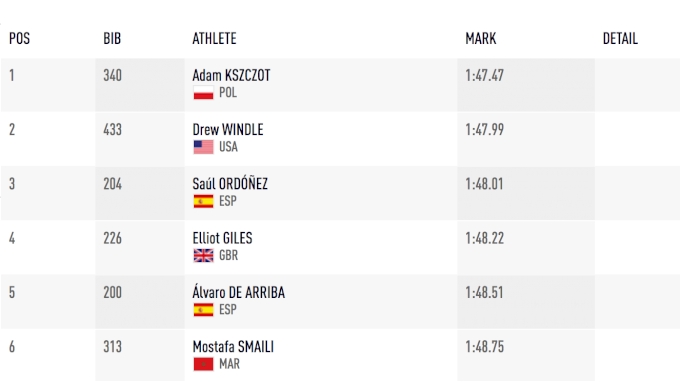 Men's 1000m Heptathlon | 7:50 PM GMT (2:50 PM ET)
Damian Warner of Canada needs to beat Kevin Mayer by three or more seconds to pass him in the overall standings. All eyes are on that gap as Warner takes the lead early in the race. The lead grows as Mayer is struggling to stay on the pace. With a lap remaining it looks like Warner just might do it. Warner wins easily, but did he do it by three seconds? Mayer rallies a bit in the last 50 meters and throws himself across the line. Warner runs 2:37.12. Mayer finishes fourth in 2:39.64. Mayer wins the heptathlon by just five points!
Results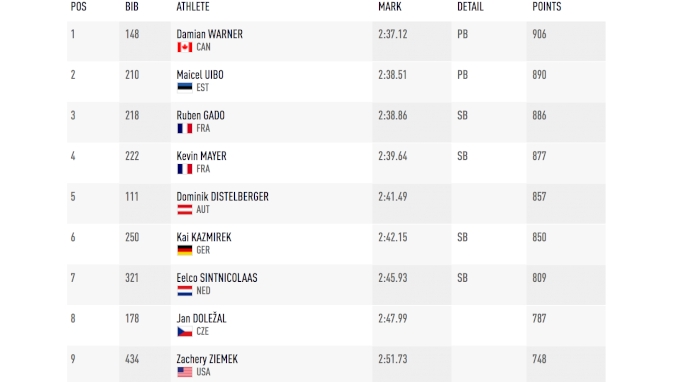 Overall Results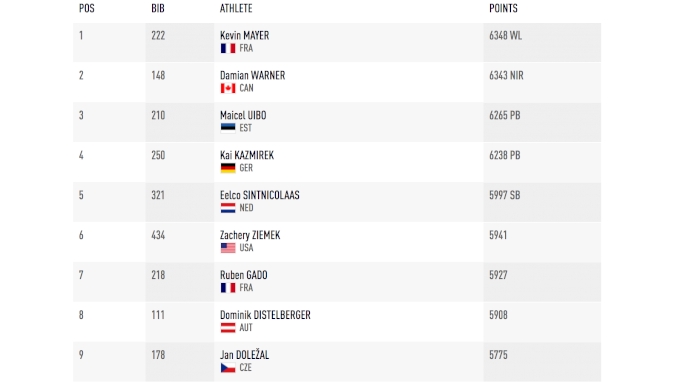 Women's 400m Final | 8:05 PM GMT (3:05 PM ET)
Shakima Wimbley and Courtney Okolo go out hard and Okolo moves into the pole position at the bell. Okolo has a free run from the front, while Elidh Doyle passes Wimbley to move into second. There's no doubt about the race winner in the final 50, but Wimbley rallies back to pass Doyle for silver. Okolo runs a personal best of 50.55. Wimbley gets second in 51.47. Doyle is third in 51.60.
.@courtneyokolo WORLD CHAMPION!! pic.twitter.com/7zzsOXK37K

— FloTrack (@FloTrack) March 3, 2018
Results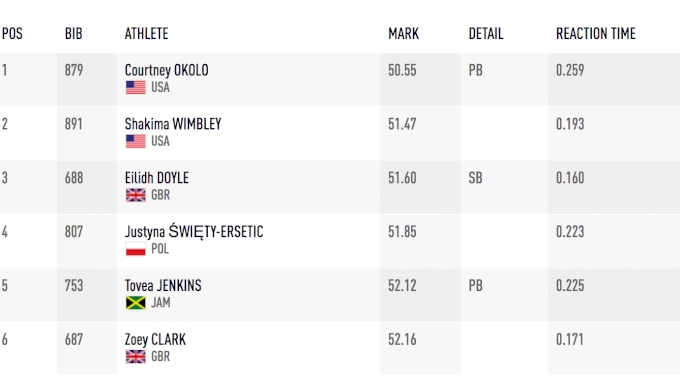 Men's 400m Final | 8:20 PM GMT (3:20 PM ET)
Michael Cherry stumbles a bit around the first curve and loses some time. Both he and Aldrich Bailey are off the pace at the bell. Instead, it's a race between Pavel Maslak, Oscar Husillos and Lugelin Santos. Santos cuts across at the bell and Maslak gives him a shove. Out front, Husillos is away and storms to victory in 44.93, a meet record. Santos gets the silver in a personal best of 45.09. Maslak takes bronze with a 45.47. Cherry finishes fourth and Bailey takes sixth. The US has not won a gold medal in this meet since 2003.
Update: Santos and Husillos are both DQ'd. That moves Maslak into gold and Cherry to silver.
Results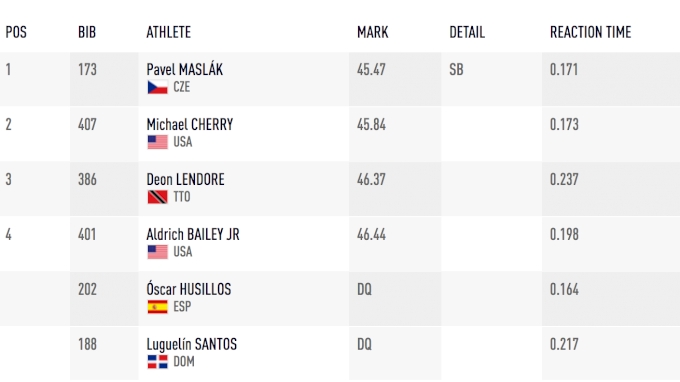 Women's 1500m Final | 8:39 PM GMT (3:39 PM ET)
Genzebe Dibaba, Sifan Hassan, Laura Muir won the medals in the 3000m and are all back for this 1500m.
The pace starts out incredibly slowly with a 39.25 first 200m. Rababa Arafi is at the front, but all of the women are in tow. Dibaba takes the pace with five laps remaining and Hassan, Muir, Beatrice Chepkoech and Winny Chebet give chase. Dibaba continues to press and with two laps to go the group is down to Dibaba, Muir and Hassan -- just like in the 3000m. Dibaba maintains the lead and runs to her second gold medal of this meet in 4:05.27. Muir makes a move on the back stretch and gets past Hassan before the last curve. She holds her lead and turns the tables on Hassan from Thursday night to take silver. Shelby Houlihan of the US takes fourth, four seconds back of Hassan.
Results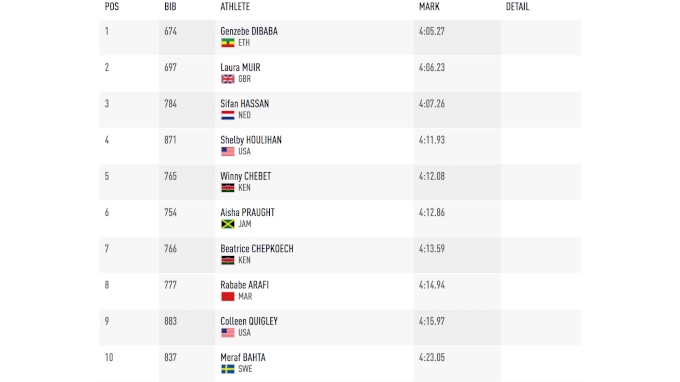 Women's 60m Hurdles Final | 8:55 PM GMT (3:55 PM ET)
All three of the Americans in this field have yet to win a global medal. Will that change tonight?
Harrison and Manning fly out of the blocks and quickly separate themselves from the field. Harrison moves in front and is not going to be caught. Harrison wins the race in 7.70, equalling the the American record and setting a lifetime best. Manning gets silver with a 7.79. Nadine Visser catches Nelvis at the line to break up the American sweep and runs 7.84 to Nelvis' 7.86.
Results
Men's 60m Final | 9:09 PM GMT (4:09 PM ET)
Coleman points to his watch before the race, perhaps giving warning of what is to come. He gets a great start and is at the front early in the race. Bingtian Su and Ronnie Baker are doing their best to give chase, but Coleman is too good and runs 6.37. The mark equals what he ran earlier this season at Clemson and is just .03 off his world record from the US Championships. Coleman also sets the championship record. Su runs a personal best, and area record, of 6.42. Baker gets bronze with a 6.44.
6.37 and a championship record for Christian Coleman! Ronnie Baker with an outstanding performance grabbing Bronze! pic.twitter.com/9x5JtXCam2

— FloTrack (@FloTrack) March 3, 2018
Results