Last year, Christian Coleman swept the 60m and the 200m at the NCAA indoor championships, while Fred Kerley completely dominated the 400m. Both men have since moved on to the professional ranks, leaving an opening for new stars to emerge at this weekend's 2018 NCAA Indoor Championships in College Station, Texas.
While there is some mystery about those events, the men's 60m hurdles is all about one man — Grant Holloway. The Florida sophomore broke the collegiate record this year and will try to add to his perfect record in NCAA championships.
Below is a preview of all the men's sprint and hurdle events. For full 2018 NCAA Indoor Championships event information, check out our coverage page where you can find entries, schedule, and the full list of previews.
Men's 60m
Time: Semifinals, Friday 6:05 PM CT; Finals, Saturday 4:30 PM CT
Top Seed: Andre Ewers - Florida State, 6.52
Top Returner: Jaylen Bacon - Arkansas State, 3rd Place
Five men have run under 6.60 this year with five other posting season bests right at exactly 6.60 mark. Ewers of Florida State ran 6.52 in his first meet of the year, but hasn't broken 6.60 in his next two appearances and finished second to his teammate at the ACC championships.
The second seed, Jeryl Brazil of UL-Lafayette, also didn't win his conference meet. The senior, who has a season best of 6.55, false started and was disqualified from the Sun Belt championships. Elijah Hall had a great outdoor campaign where he finished third at the USATF championships in the 200m. He's put up a great indoor season so far with this opener of 6.60 and a season best of 6.58.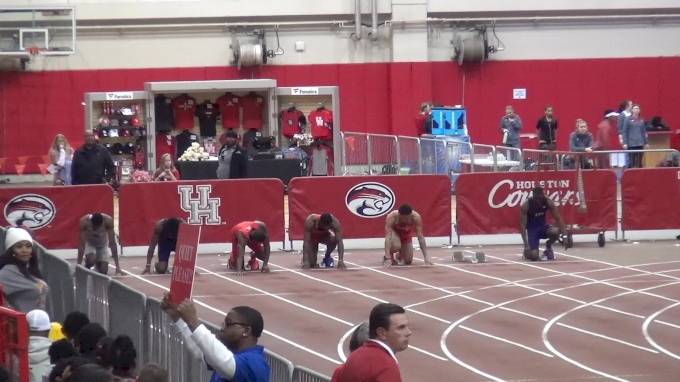 Arkansas State's Jaylen Bacon is tied for sixth on the NCAA performance list, but is a big meet performer. He finished fourth at the USATF outdoor championships last year and was third in this meet in 2017. In a race of this magnitude, experience will be vital.
In the team competition, keep an eye on the two runners from Texas Tech: Divine Oduduru and Andrew Hudson. Both men are doubling this weekend for the Red Raiders, who are ranked fourth in FloTrack's latest team rankings. Georgia and Arkansas, two other teams with team trophy aspirations, have entrants in Kenzo Cotton (Arkansas) and Kendal Williams and Cejhae Greene (Georgia). Williams and Greene enter with marks that put them 11th and 14th, so any points they get will be a bonus for the Bulldogs.
Men's 200m
Time: Semifinals, Friday 7:35 PM CT; Finals, Saturday 5:50 PM CT
Top Seed: Divine Oduduru - Texas Tech, 20.25
Top Returner: Kenzo Cotton - Arkansas, 7th Place
Oduduru is undefeated in his three appearances in the 200m this year. He competed sparingly last year outdoors so this will be his first NCAA championships. Oduduru's 20.25 mark is a converted 20.18 that the redshirt freshman ran at altitude in Lubbock. Behind Oduduru is a crowded group — there are seven men between 20.45 and 20.56. That group includes Ncincilili Titi (South Carolina), Nick Gray (Ohio State), Andrew Hudson (Texas Tech), Elijah Hall (Houston), Rai Benjamin (USC), Mustaqeem Williams (Tennessee), and Terrance Laird (Penn State).
Hall, Gray, and Williams all won their respective conference championships in the 200m. Williams' victory at SECs — where he beat Kenzo Cotton, Jaron Flournoy and Titi — gives him some added momentum heading into these championships.
WATCH: Divine Oduduru wins Big 12 200m
But this field is deep. Hudson, Oduduru's Texas Tech teammate, has run an altitude adjusted 20.49 and beat Oduduru in the 60m at the Big 12 championships. Speaking of the 60m, this race will feature several runners doubling back from the short sprint. Oduduru, Hudson, Hall, Andre Ewers (Florida State), and Cotton (Arkansas) are all scheduled to race both the 60m and 200m. Can any of them pull off the double that Chrisitan Coleman did in 2017?
When it comes to the team race, Texas Tech is expected to finish toward the top of the standings, so Oduduru and Hudson's performances are critical. Ditto for Benjamin for USC and Cotton of Arkansas.
Men's 400m
Time: Semifinals, Friday 6:25 PM CT; Finals, Saturday 4:50 PM CT
Top Seed: Michael Norman - USC, 45.00
Top Returner: Mylik Kerley - Texas A&M, 3rd Place
Six of the eight finalists last year were seniors, leaving the door open for a new crop of quarter milers to get on the podium. Michael Norman comes in with the top mark and will be one of three Trojans in the field (the Trojans fourth man who ran a qualifier, Rai Benjamin, is entered in the 200m, not the 400m). The top two entry times, Norman's 45.00 and Auburn's Akeen Bloomfield's 45.02 both took place at the Clemson Tiger Paw Invitational three weeks ago. The two sophomores have a chance to go head-to-head again this weekend, this time with much higher stakes.
WATCH: USC goes 1-2-3 in MPSF 400m
Bloomfield won the SEC title two weeks ago and is in good form. That SEC championship race had its usual quick times across the board with six of the eight finalists set to compete this weekend. Nathon Allen of Auburn finished third in that race behind Bloomfield and Nathan Strother of Tennessee. It was just the second indoor 400m of the season for the redshirt freshman Allen. Last year, he was runner-up to Fred Kerley outdoors and went on to run 44.19 and turn in a fifth place finish at the world championships for Jamaica. Thus his yearly rank of 46.03 is a bit deceiving and its a good bet that he jumps up into the finals.
In the team race, the USC trio will be trying to rack up the points. Norman is expected to score, but the Trojans will also try to get contributions from Ricky Morgan Jr. and Zach Shinnick. Texas A&M (Mylik Kerley and Robert Grant) and Arkansas (Obi Igbokwe and Rhayko Schwartz) have two entrants apiece.
Men's 60m Hurdles
Time: Semifinals, Friday 6:55 PM CT; Finals, Saturday 5:10 PM CT
Top Seed: Grant Holloway - Florida, 7.42
Top Returner: Grant Holloway - Florida, 1st Place
Holloway enters the weekend as perhaps the largest favorite of the entire week. His time of 7.42 is a collegiate record and is tops in the world this year. All indications point to Holloway defending his 2017 title with ease and more post-racing dancing in College Station.
A&M facility record for Grant Holloway at #SECTF pic.twitter.com/IFt1rgKTlM

— Travis Miller (@TravisMillerFlo) February 25, 2018
How much faster can Holloway go? He has been so dominant in all of his appearances this year, turning in one flawless performance after another. When he ran the 7.42 at Clemson he didn't just take down the collegiate record, he beat Omar McLeod — the best hurdler in the world. With someone like Holloway, you never want to rule anything out. The American record of 7.36 would require another significant improvement, but with Holloway's season it is possible.
7️⃣.4️⃣2️⃣ = COLLEGIATE RECORD!!!

🔥🔥🔥🔥🔥🔥🔥🔥🔥@Flaamingoo_ tops @Warrior_omz's record!

It was all 😭😭 for Grant, and all love from @HeadGatorTRK, Grant's father, and Omar and Co. after the race ✊ pic.twitter.com/texZLsedrw

— Gators Track and Field & Cross Country (@GatorsTF) February 9, 2018
Behind Holloway is Alabama's Ruebin Walters. Walters has the second best mark of year, a 7.61 that he ran in the same meet as Holloway's 7.42. He's finished second to Holloway at the SEC championships two weeks ago and is in good position to improve upon his fifth place finish from the 2017 Indoor Championships. There's four other hurdlers with season best marks faster than 7.70 — Jaylan McConico (Illinois State), Chad Zallow (Youngstown State), Antoine Lloyd (Nebraska), and Angelo Gross (Syracuse). Zallow tore through the Horizon League championships winning the 60m, 60m hurdles and 200m. He also brings some big meet experience after competing in a field with professionals at this year's Millrose Games.
For the team title, keep track of Gross of Syracuse and his teammate Matt Moore. Syracuse is currently ranked seventh on the FloTrack team rankings and could use some points in this event to complement the truckload of points that distance star Justyn Knight is expected to put up for Syracuse. Georgia, ranked second behind Florida, also has an entrant in Michael Nicholls. His entry time of 7.76 puts him 15th in the entries so it would be a huge boost for the Bulldogs if he can work his way into the final.