The four men's distance events at the 2018 NCAA Indoor Championships all have clear favorites. But favorites have come to this meet before and fallen victim to the deep field of challengers that NCAA championships always produce. Josh Kerr was one of those challenges last year when, as a redshirt freshman, he took the lead with two laps to go in the mile and ran away from 17-time NCAA champion Edward Cheserek.
Will someone play that same role this year and end Kerr's reign in the mile? Can anyone in the field put the brakes on 800m man Michael Saruni's runaway season? And who can stop Justyn Knight from pulling off the 3000m/5000m double? We'll find out this weekend in College Station, Texas.
Below is a preview of all the men's distance events. For full 2018 NCAA Indoor Championships coverage, check out our event page where you can find entries, schedule, and the full list of previews.
Men's 800m
Time: Semifinals, Friday 7:15 PM CT; Finals, Saturday 5:30 PM CT
Top Seed: Michael Saruni - UTEP, 1:44.89
Top Returner: Isaiah Harris - Penn State, 4th Place
Saruni's 1:44.89 seed time is actually a 1:45.19 that has been adjusted for altitude. But even if you take his actual time, the next-closest competitor this year is almost two back from Saruni. Entry times don't always tell the whole story, but here they are an unambiguous reminder of Saruni's dominance this season. In addition to his 1:45.19, Saruni has also put up a 1:45.92 and run the fastest time in history in the indoor 600m this winter.
The new 600M world best pic.twitter.com/B24ZbLeaBZ

— Paul Ereng; OGW, M.Ed. (@ErengP) January 20, 2018
If something is going to derail him in College Station, it will have to be something out of the ordinary. But Saruni does have a relationship with bizarre happenings at NCAA championships. As a freshman last year he went out in front at the NCAA indoor championships and was running well until he got jostled a bit and eventually faded to the mid-pack. After the race, he was disqualified.
Last summer in the outdoor championships, he was again in front when he was tripped by his teammate, Emmanuel Korir. Korir went on to take the title, while Saruni lay prone on the track.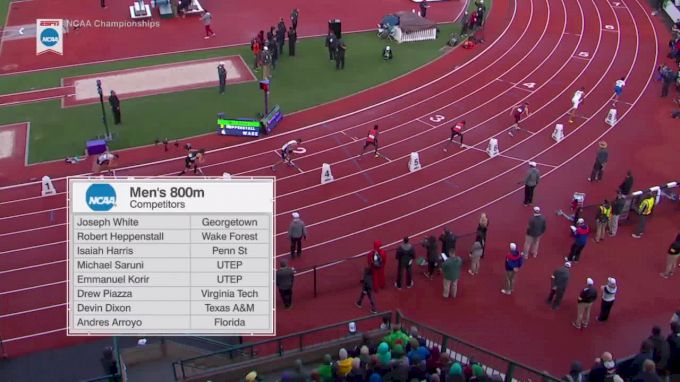 Saruni's history might lead him to minimize as much human contact as possible and go straight to the front. He certainly has the capability to do that. His cushion on the field this year means anybody following him in the early laps will do so at their own peril. Even if Saruni can't sustain the hot pace, he will be too far in front for any one to mount a credible challenge.
Since this is the 800m, and it's indoors, there's always a chance something goes haywire. After Saruni there are 12 men with season bests in the 1:47s. Big 12 champion Bryce Hoppel of Kansas has the fastest seed time of 1:47.09 and has strong closing speed. Penn State's Isaiah Harris has a 1:44 personal best and a wealth of experience after finishing fourth in this meet last year and second at the NCAA championships outdoors. Harris is undefeated on the year, including victories at the Iowa State Classic and Big Ten Conference Championships (Hoppel ran faster than Harris at the Iowa State Classic but the two were in different heats).
In that sea of 1:47s, there's also a strong presence of runners from the ACC. Their conference championship meet yielded five runners within a half a second. Three of them — John Lewis (Clemson), Robert Heppenstall (Wake Forest), and Avery Bartlett (Georgia Tech) — are racing this weekend.
In terms of the team score, Devin Dixon of Texas A&M and Vincent Crisp of Texas Tech will try to score some team points. Dixon comes in with the fifth-best seed time and Crisp is ranked ninth. Texas A&M and Texas Tech are expected to contend for a top-five finish according to FloTrack's team rankings.
Men's Mile
Time: Semifinals, Friday 5:35 PM CT; Finals, Saturday 4:10 PM CT
Top Seed: Josh Kerr - New Mexico, 3:54.72
Top Returner: Josh Kerr - New Mexico, 1st Place
Kerr is the indoor champion, outdoor champion, and owner of the fastest time of the season. All indications point to him defending his title this weekend. His 3:54.72 took place at the Millrose Games where he finished second in a field of professionals. That was a month ago, but Kerr split a 3:57 mile at altitude to anchor New Mexico's distance medley relay at the Mountain West Conference Championships. Clearly, he's still sharp and will run with as much confidence as he did at this meet last year when he took the lead with 400 meters to go against Edward Cheserek.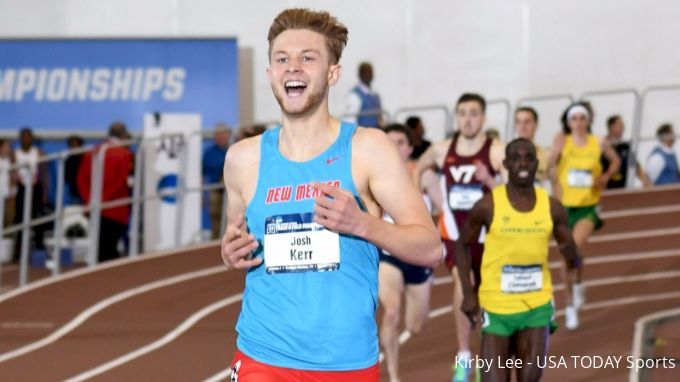 The next five athletes on the descending order list have converted marks from flat tracks or at altitude. Jonah Koech's 3:55.81, second behind Kerr, is adjusted from a 4:01 run at Albuquerque. In the third position is Kasey Knevelbaard's 3:55.95, which is actually a 4:04.85 run in Flagstaff. But if Edward Cheserek has taught us anything this year, it's that these conversions are pretty accurate. Expect Koech and Knevelbaard to run quick in the lower elevation.
There will also be a strong presence of Virginia Tech runners in the mile. Seniors Vincent Ciattei, Patrick Joseph, and Neil Gourley all ran their qualifying marks at the Camel City Invitational and sit fourth, fifth, and eighth on the season's best list. Gourley has the slowest mark of the the three, but he finished fourth in this meet last year took fifth in the 1500m outdoors.
Some other points to watch: Arizona's Carlos Villarreal owns a very strong close. If the pace goes out slowly he can kick his way into contention. There are two freshmen in the field — Oregon's Reed Brown and Sam Worley of Texas. Both men ran their qualifying mark in the same race at the Husky Classic.
The distance medley relay takes place about three hours after the semifinals of the mile on Friday night. New Mexico (Kerr), Oregon (Brown, Sam Prakel, Mick Stanovsek), Virginia Tech (Ciattei, Joseph, Gourley), Georgetown (Amos Bartelsmeyer), and Ole Miss (Sean Tobin) have entrants in both the mile and distance medley relay. How coaches decided to manage their athletes races is always a fascinating development at these championships.
Men's 3000m
Time: Finals, Saturday 6:10 PM CT
Top Seed: Justyn Knight - Syracuse, 7:45.86
Top Returner: Justyn Knight - Syracuse, 2nd Place
Knight's marks this winter in the mile, 3000m, and 5000m, as well as his cross country title, make him the favorite to complete the double in College Station. His only losses this year come at the hands of pro Shadrack Kipchirchir in races where Knight ran personal bests.
This event, the 3000m, takes place on the second day of competition. Will Knight have a tougher time in the 3000m than the 5000m? It's hard to know for sure, but the 3000m looks a bit more difficult. Last year, Knight didn't run the 5000m in this meet, but he finished second in the 3000m. His two main challengers on Saturday should come from Andy Trouard of Northern Arizona and Stanford's Grant Fisher. Those two were locked in a tight battle early this year at the Iowa State Classic, with Trouard kicking past Fisher to get the narrow victory.
Discounting Fisher based on that one result would be a mistake. Things can change quickly in the indoor season and Saturday's race could turn into the Knight-vs-Fisher showdown that most expected to see in cross country.
After Trouard and Fisher, there isn't much — or any — drop-off. Colby Gilbert of Washington has a season best of 7:48.42 and took fifth in this race last year. Jonathan Davis of Illinois sits second on the yearly mile list with a converted 3:55, but opted to run the 3000m instead. If it's tactical, look out for him or other fast milers: Colorado State's Cole Rockhold and Indiana's Kyle Mau.
Mau led a Indiana sweep at the Big Ten Championships and helped his team defeat Grant Fisher's Stanford squad in a distance medley relay earlier in the year. The Big Ten will also be represented by Oliver Hoare. The sophomore for the Badgers swept the 3000m and 5000m at the Big Ten Championships. Even the back half of this field is loaded. Mike Tate of Southern Utah is the top seed in the 5000m and has run 7:51.71 this year. Matthew Baxter of Northern Arizona was runner-up in the 2017 NCAA Cross Country Championships and Dillon Maggard (sixth) and Lawrence Kipkoech (ninth) also turned in top in top-10 performances in cross country.
Men's 5000m
Time: Finals, Friday 8:05 PM CT
Top Seed: Mike Tate - Southern Utah, 13:37.33
Top Returner: Grant Fischer - Colorado State, 9th Place
Knight's versatility at distances from the mile to 10,000m makes him awfully hard to beat. Like the 3000m, Knight is the favorite, but it won't be a walkover. Mike Tate of Southern Utah has the top mark of the year when he turned in this 13:37.33 at the Husky Classic.
All total, six of the 16 entrants in this meet earned their qualifying time in that race. Nine others did it at the Iowa State Classic in a race won by Knight in 13:39.59. In short, these athletes are very familiar racing against one another.
The only athlete in the field who didn't get his qualifying mark at the Iowa State Classic or the Husky Classic was Andy Trouard. The Northern Arizona senior ran 14:20 at the Big Sky Championships, which was converted all the way down to 13:42.16.
Tate has run 13:34 outdoors to complement his 13:37 this year, but he has never run in an NCAA championship on the track. In contrast, Knight comes in with a wealth of big meet experience.
A month ago in Ames, Iowa, Vincent Kiprop of Alabama, Rory Linkletter of BYU, Daniel Carney of BYU, and Jacob Thomson of Kentucky all finished in the top seven in that fast 5000m race. On that same day in Seattle, Hassan Abid of Oklahoma State and Jack Bruce ran 13:41.91 and 13:43.34 to finish behind Tate. Last spring, Bruce finished ahead Knight at the NCAA championships 5000m to take second place. Bruce will also be racing with team considerations in mind as his Arkansas squad is projected to finish in the top three.