While last year's women's sprint finals were dominated by the women of Oregon, the 2018 NCAA Division I Indoor Track and Field Championships look quite a bit different. Deajah Stevens and Hannah Cunliffe (as well as 4x4/800 star Raevyn Rogers) turned professional this year, and Olympian Duck Ariana Washington did not qualify for the championships after being a bit off her game this winter.
True freshman Sydney McLaughlin of Kentucky and Lynna Irby of Georgia have eagerly stepped up to fill the void, with potential team titles and podium finishes on the line for their respective Wildcats and Bulldogs — UK is ranked No. 4 in our most recent NCAA team rankings and UGA slots in at No. 1.
Read on for highlights and insights into women's sprint and hurdle action this weekend, as well as why the 400m battle between McLaughlin and Irby could be the race of the meet.
Women's 60m
When: Prelims on Friday @ 6:15 PM CT; Final on Saturday @ 4:40 PM CT
Top Seed: Mikiah Brisco, LSU, 7.10
Top Returner: Ashley Henderson, San Diego State, 4th
Analysis: Reigning NCAA 100m champion Mikiah Brisco looks to lead an LSU 1-2 punch in the 60m this weekend as she and fellow senior Tiger Aleia Hobbs have been on fire all winter.
Brisco's season-best mark of 7.08, clocked at altitude in Albuquerque, ties for the second-fastest collegiate time ever recorded — behind only Hannah Cunliffe of Oregon, who ran 7.07 last year and recently turned pro.
Watch Mikiah Brisco's 7.08 at the New Mexico Collegiate Classic: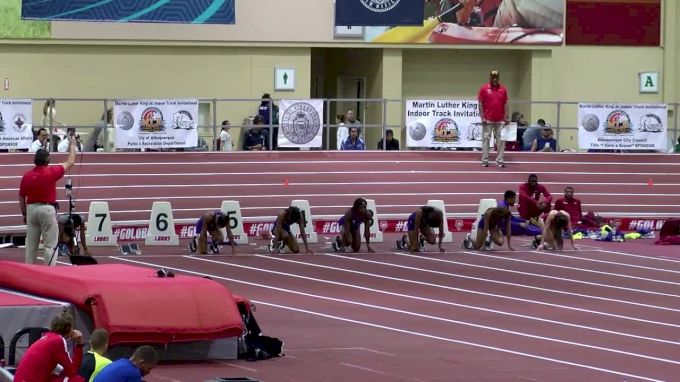 The Tigers even have a shot at sweeping the top three podium spots, as junior Kortnei Johnson ties for No. 3 in the NCAA this year with Auburn's Jonielle Smith at 7.18. She was just fifth, however, at SECs, behind Auburn's Smith and Natalliah Whyte as Brisco and Hobbs went 1-2.
Women's 200m
When: Prelims on Friday @ 7:50 PM CT; Final on Saturday @ 6:00 PM CT
Top Seed: Lynna Irby, Georgia, 22.66
Top Returner: Deanna Hill, USC, 3rd
Analysis: The women's 200m is going to be spicy from the gun as NCAA leader Lynna Irby is matched against her quarter mile rival Sydney McLaughlin in the Friday evening prelims. McLaughlin has run 22.95 (NCAA No. 9) to Irby's 22.66, but still, I don't think we've ever been so excited for a preliminary race.
Shoot @NCAATrackField let's get right to the action in the prelims. Going to be the most watched all freshmen race in history. pic.twitter.com/dVCHpAWnOt

— Ty Davis (@blaknose) March 7, 2018
Realistically, though, Irby's mark — which ranks No. 1 in the world this year — made the SEC 200m final look like a cakewalk. Brisco of LSU, the overwhelming favorite for the NCAA 60m title, ran the second-fastest mark in the world behind Irby at SECs in 22.81 and, well, she was well behind Irby.
The X-factor on Saturday, though, is how athletes handle doubling back from other races. The 400m final is at 5 PM on Saturday, one hour before the 200m final, and it's sure to be a barn-burner after McLaughlin and Irby clocked world-leading marks of 50.52 and 50.62 at SECs.
Brisco, meanwhile, has 80 minutes to recover from the 60m final before the 200m final.
The most dangerous woman on the line may be USC's Deanna Hill, who will be fresh for the final. She placed third last year behind Washington and Cunliffe, neither of whom is competing this year, and ranks No. 3 in the NCAA this winter with a season's best of 22.82.
Women's 400m
When: Prelims on Friday @ 6:40 PM CT; Final on Saturday @ 5 PM CT
Top Seed: Sydney McLaughlin, Kentucky, 50.52
Top Returner: Kendall Ellis, USC, 2nd
Analysis: The women's 400m final very well could be the best race of the entire NCAA Championships. At SECs, Olympic hurdler Sydney McLaughlin took things out hard in 23.75 for the opening 200m and had just enough gas at the end to hold off a fast-closing Lynna Irby as the true freshmen clocked 50.52 and 50.62, the fastest times in the world this year and the No. 2 and No. 4 times in NCAA history.
Watch: Sydney McLaughlin runs NCAA No. 2 all-time in the 400m with Lynna Irby close behind! pic.twitter.com/kXUufbSFS0

— FloTrack (@FloTrack) March 5, 2018
This is far from a two-woman race, however.
Don't forget about USC's Kendall Ellis, who made the world team last summer with a PB of 50.00 and placed second indoors and third outdoors at NCAAs in 2017.
Irby did beat Ellis back in January at the Razorback Invitational, 51.48 to 51.53, but the veteran will have a lot less racing on her legs than rookies McLaughlin and Irby, both of whom are running the 200m and 400m prelims on Friday.
Sharrika Barnett of Florida, fifth in the NCAA outdoor final, has split under 51 seconds on the 4x400m relay this season and ranks No. 4 with a season's best of 51.64.
Women's 60m Hurdles
When: Prelims on Friday @ 7:05 PM CT; Final on Saturday @ 5:20 PM CT
Top Seed: Jasmine Camacho-Quinn, Kentucky, 7.95
Top Returner: Pedrya Seymour, Illinois (now competes for Texas), 3rd
Analysis: The only woman who has defeated Jasmine Camacho-Quinn of Kentucky in the 60m hurdles this season is Keni Harrison, who won the world indoor title and tied the American record last weekend in Birmingham. Both women train in Louisville under UK head coach Edrick Floreal, so can you blame us for favoring Camacho-Quinn for her first NCAA indoor title?
She's already won two outdoor titles: the 2016 100m hurdles crown and the 2017 4x100m relay gold.
Only two women in the field have come close to her NCAA-leading mark of 7.95: USC duo Dior Hall and Anna Cockrell have both clocked 7.96 and of the two, Hall has been more consistent and won the MPSF title in the event.
Watch Dior Hall win the MPSF Indoor Championships 60m hurdles:
Alaysha Johnson of Oregon looked great taking runner-up honors behind Hall at MPSF in 8.03, the fifth-fastest time in the NCAA this year tied with Georgia's true freshman Tara Davis, while wildcard Jeanine Williams of Georgia Tech has run 8.02.
Pedrya Seymour of Texas is the top returner after placing third last year while competing for Illinois. She owns a season's best of 8.09, though she appeared to be injured after winning the Big 12 Championships.