2018 Texas Relays
Mondo Duplantis Could Be Forced Out Of The Texas Relays
Mondo Duplantis Could Be Forced Out Of The Texas Relays
Mondo Duplantis Could Be Forced Out Of The Texas Relays
Mar 25, 2018
by Gordon Mack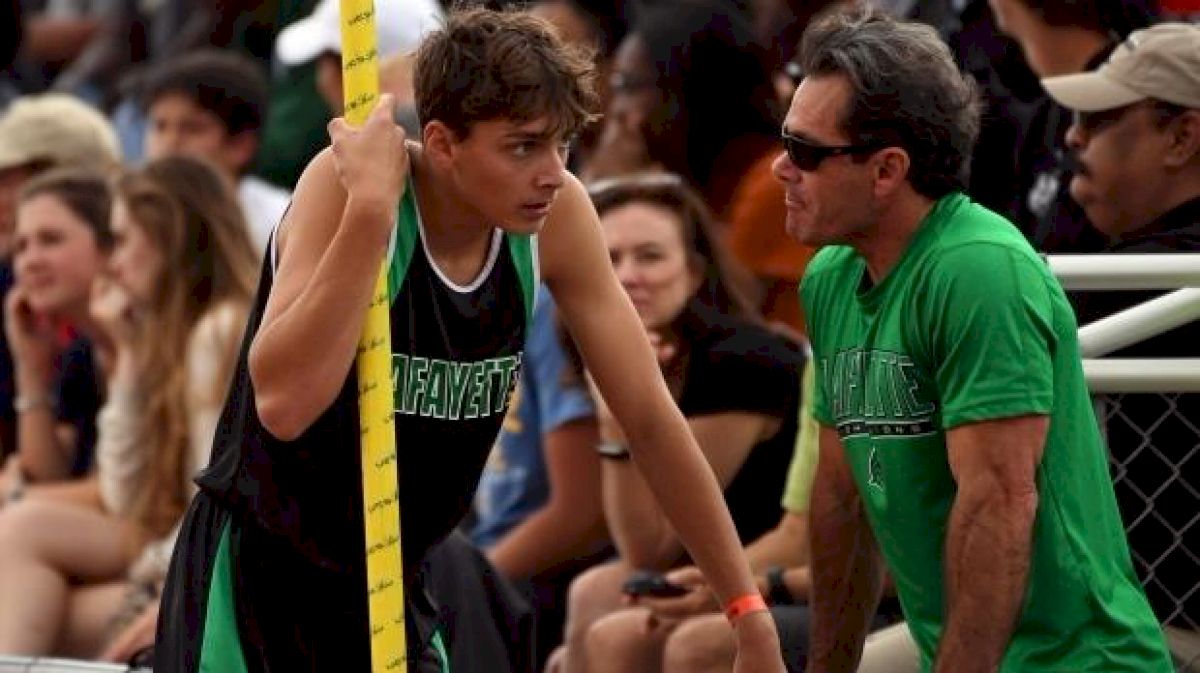 It's been a wild week for Lafayette (LA) High senior Mondo Duplantis.
And if the Louisiana High School Athletic Association has anything to say about it, it could get even wilder by weeks end.
This week, Mondo and his father, Greg Duplantis, learned that by competing in next week's Texas Relays, Mondo could be in jeopardy of losing his high school eligibility based on an ambiguous rule in the LHSAA's bylaws, which dictates that any individual athlete of a member school can't participate in an event unattached against competing schools, including collegiate or professional athletes or their teams.
Despite this, Mondo was still certain -- and willing -- to forgo his eligibility if it meant he would get the chance to compete against the best in the world at The Texas Relays. After all, as the top high school pole vaulter of all-time, there are only so few competitions in the United States where an athlete of his caliber could truly test himself.
But that may not happen after all.
According to Greg, the LHSAA has contacted the National Federation of State High School Associations and is applying pressure toward stripping the Texas Relays of its sanctioned high school events if Mondo competes in the men's elite division.
Greg says there's potentially a rule the LHSAA is contesting which says that minors cannot compete with adults. "But I'm going to ask for a copy of that rule," he said. "He's not a minor in Louisiana or in US law. But what about distance runners? They compete in road races all the time, as do tennis players and golfers. This must be something unique."
"I really don't know what they're doing," Greg said.
A year ago, Mondo, a three-time state champion in Louisiana, won the men's elite open division in a then-outdoor world junior record of 19 feet, 4.25 inches, beating professionals in the process like Shawn Barber. But it came before the LHSAA even realized Mondo was breaking a state governed rule. Ultimately, consequences never came, and Mondo continued to compete -- winning his third straight outdoor title in the pole vault -- and even received a waiver over the summer by the LHSAA to compete in London at the World Outdoor Championships.
The following fall, Greg sent the LHSAA a letter asking for an interpretation of the unattached individual for an independent team rule -- 4.2.5 in the LHSAA rule book -- but received little clarification. Greg then asked, "if it came down to it not being in his favor, we were requesting a waiver to compete."
The LHSAA apparently never bought into the compromise. And yet, this week's uproar over his potential lost eligibility wasn't the straw that broke the camel's back. The 18-year-old Mondo ultimately believed, whether he lost his eligibility or not, his best interest was to choose great competition over a state championship season. He even competed in what he believed could be his final high school competition in the Lafayette Parish Championships on Friday, running the 100 meter dash for the first time in an all conditions mark of 10.69 seconds.
Even if Mondo were given the opportunity to compete at state held meets, he would likely hold off until states, or only if a meet was held at Lafayette High. Greg said the only facilities that can even support a pole vaulter with the potential to vault over 19 feet are the state's flagship university, Louisiana State University -- where the state championships are held -- or Lafayette High. The infrastructure of existing facilities in Louisiana is one of the biggest factors for Mondo at the state level, he said.
But now things are getting dicey. The LHSAA allegedly is going above and beyond to prevent an opportunity for one of their best pole vaulters, Greg said.
"It's been very disheartening what they're doing," Greg said. "It's one thing if he loses an opportunity to vault in Louisiana at high school meets. But really, there are not opportunities for him to compete here. The facilities are not able to support a guy who jumps 19 feet, let alone 17 feet.
"He's denied opportunities," Greg continued. "His district meets have places that have 80 foot runways and a pit that you can jump 16 feet safely. We've told them this, and they're aware of this. But now we have an opportunity to vault against Renaud Lavillenie, the Olympic gold medalist and world leader, who's coming in part because of Mondo. But they're trying to put roadblocks up."
Duplantis had planned and prepared his schedule meticulously leading into 2018 to make sure he was ready for this year's version. After the Texas Relays, Mondo prepared to compete at the Prefontaine Classic in Oregon and competitions in Europe -- including one in Stockholm, Sweden, the country in which he competes for - and at the IAAF U20 Championships in Finland in July.
So the beginning of his potentially transcendent senior season was set to begin at the University of Texas. And regardless of how others interpret this potential controversy -- whether missing one meet or not is even a big deal -- the rhythmic nature of track and field lends itself to method and momentum, which means that any meet could springboard an athlete toward something performance in the future.
That's potentially why, Greg says, this matters.
"Who does it hurt if he's competing in this setting?" he said. "He's not doing anything nefarious. He's not cheating. He's jumping at a meet and there is no exception for an individual events to compete against pros -- but in other sports like distance running, golfing, swimming, there are. They don't have any exceptions for him. So it's a technical rule.
"But he's not injuring anyone or cheating in any way," Greg added. "He's a big boy. You can penalize him, but don't prevent him from doing what he loves. That's why I'm upset."