2018 San Francisco State Distance Carnival
Sydney Gidabuday, Reed Fischer Highlight SF State Distance Carnival
Sydney Gidabuday, Reed Fischer Highlight SF State Distance Carnival
Division II star Sydney Gidabuday opens up his 2018 outdoor campaign in the 10K at the 2018 San Francisco State Distance Carnival.
Mar 29, 2018
by Kevin Sully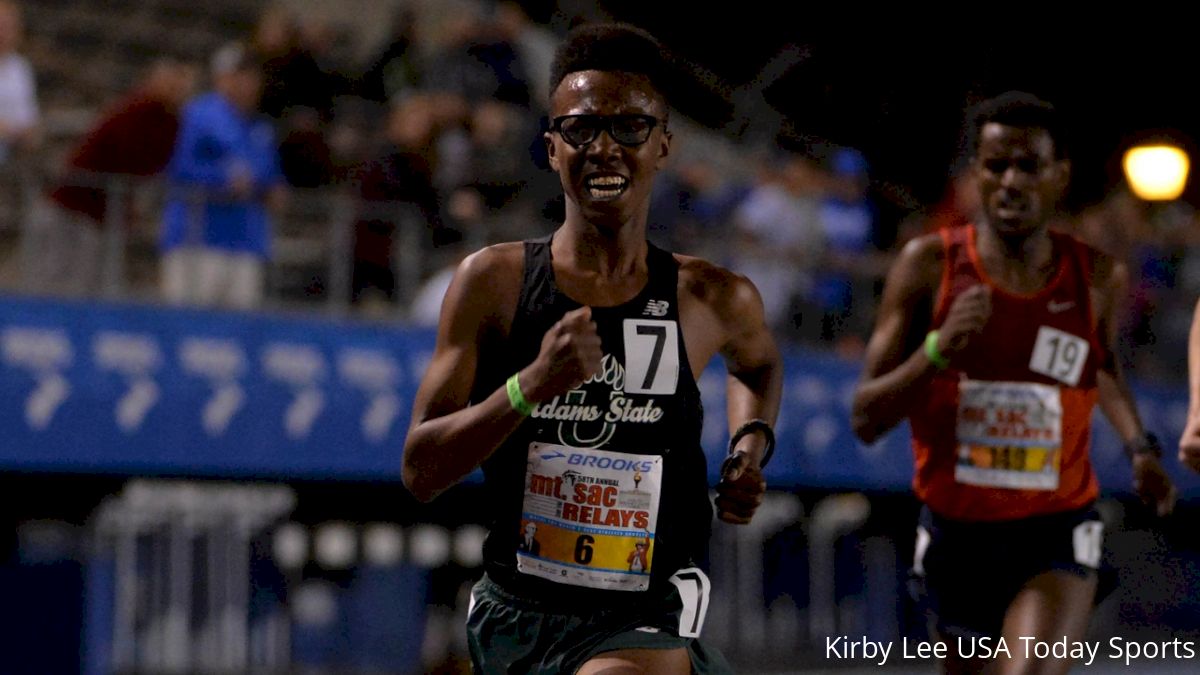 The Stanford Invitational isn't the only meet in the Bay Area that will produce some fast racing this weekend. The San Francisco State Distance Carnival takes place on Friday and Saturday, and you can watch the meet live on FloTrack.
Here are a few events we have our eyes on this weekend in California. Full entries and a schedule can be found on the event hub.
Men's 10,000m: Friday, 8:40 AM PT
Sydney Gidabuday of Adams State is a star in the Division II ranks and last month won two national titles in the DII indoor meet in the 3000m and 5000m. In 2017, he placed third and fourth in the 5000m and 10,000m outdoors. Friday's 10,000m will be his outdoor debut as he tries to continue his indoor momentum. Adams State is located at 7500 feet elevation, so San Francisco's sea level will be a welcome change for Gidabuday and his lungs. His personal best of 29:08 in 10,000m comes from this meet last year.
Reed Fischer is also entered and—depending on his early-season form—should make for a good match with Gidabuday. Fischer finished ninth at the NCAA DI championships for Drake last year and has a personal best of 28:47. This year he raced a 3000m indoors in Seattle and competed at the U.S. cross country championships where he finished 16th in a very competitive field. Gonzaga alum Willie Milam is another name to watch. He has a personal best of 29:49 and ran 1:03:08 in the Houston Half Marathon and 44:33 at the Gate River Run 15K.
Men's 1500m: Friday, 1:20 PM PT
There is a heavy Utah State presence with Clay Lambourne, Jordan Beutler, and Brody Smith all slated to represent the Aggies in the first heat. Lambourne and Beutler were part of the Utah State team that took fifth at the NCAA indoor championships in the distance medley relay. Beutler ran the 1200m leg on the relay and has a personal best in the 1500m of 3:50.
Lambourne ran the 800m on the relay and also qualified in the individual 800m. He's never run a 1500m in college, but does have a mile personal best of 4:09. His 1:47.09 800m speed indicates that he will be able to put up something quick. Smith wasn't on the DMR team but is a strong runner in his own right. The sophomore won the Mountain West Conference title in the 3000m and has a 1500m personal best of 3:49.
Also of note in the 1500m start list is Mark Husted. He has personal bests of 3:44 and 1:47, both from 2013.
Women's 800m: Saturday, 11:20 AM PT
Juniors Addy Townsend of Simon Fraser and Danielle McCormick of Alaska Anchorage finished sixth and seventh at the Division II outdoor championships last summer. Their personal bests aren't far apart either—Townsend has run 2:07.31 while McCormick has a best of 2:07.60. A close race looks destined to happen on Saturday. Carmen Mejia was second at the 2017 Division III outdoor championships and has run 2:08.02. She now competes for the Strava Track Club and opened her season two weeks ago with a 2:12.83.
Tracee Van Der Wyk also figures to be in the mix. She has run 2:07.49 in the 800m and 4:16 for 1500m.
Men's 5000m: Friday, 4:47 PM PT
Louis Serafini looks to be the top seed in this field. He had a productive indoor season, running personal bests in the 1500m, mile, and 3000m. Although he has always focused more on the longer distances, the speed he honed this winter by breaking four minutes in the mile for the first time will undoubtedly help him in the 5000m and 10,000m. His outdoor personal best of 14:32 is ripe for the picking as long as the tempo doesn't lag.
Alec Baldwin and George Parsons both have the ability to make sure the pace stays quick. Baldwin ran 14:15 two years ago indoors and Parsons finished 15th at the NCAA championships in the 10,000m and has a 5000m personal best of 13:52.